Chatta's Character, Style Inspired My Nollywood Decision ~~ Ibrahim Bashir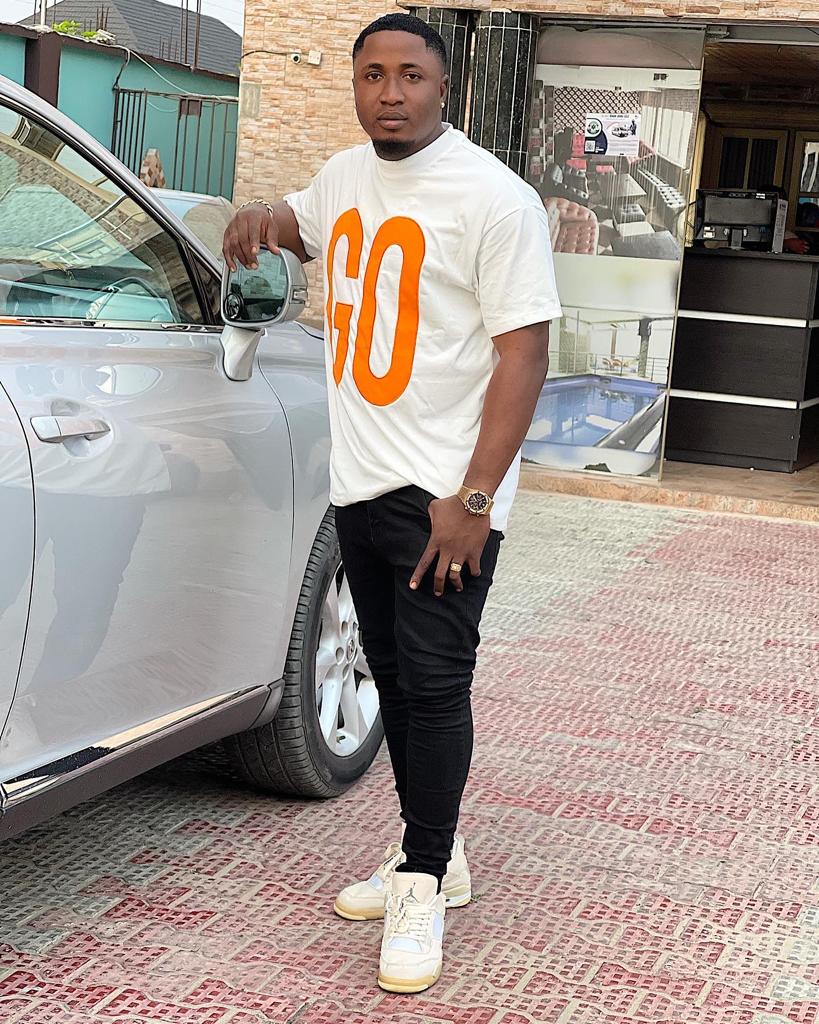 Chatta's Character, Style Inspired My Nollywood Decision ~~ Ibrahim Bashir
Ibrahim Bashir is relatively new on the competitive turf of Nollywood, but he hit the ground running almost immediately. With the spate of 24 months, he already has to his credit, two productions aside other incubating projects. In this interview, Bashir does not see anything stopping his progression except something he mentioned in this interview. Read on to find out what that is.
Q: Who is Ibrahim Bashir
A: He is an actor and producer who, though new, yet making a name for himself in Nolywood especially in the Yoruba indigenous category.
Q: Can you lead us to your background
A: A native of Ibadan OYO state. Born in 1992,21,03, born and raised in Iwaya Yaba Lagos and still lives there. I attended Fazliomar primary school and Fazliomar senior secondary school and currently a student of the University of Lagos. I had always been passionate about acting from childhood. This was inspired and still being inspired by the likes of veterans like Taiwo Hassan, Saheed Balogun , Ibrahim Chatta and the likes.
Q:When did you come to the movie industry and who is your mentor
A: I am barely two years in the movie industry but has however been putting his skills to the screen and known for his passion driven style and character. Although inspired by a number of veteran actors, am greatly influenced by the style and character of Ibrahim Chatta who is also my mentor .
Q: How many films have you produced ?
A: So far I have produced two movies namely "FOUR LIONS " and "ALUMOONI "
Q: What is the latest from you
A: My latest movie is "FOUR LIONS " but currently working on a number of projects soon to be made ready for my fans and admirers.
Q: What are the difficulties you are facing as an act and producer
A: One of my difficulties is really navigating through the waters of the movie industry, and aside trying to juggle my business and constant appearances at locations, i found out that only me can really be an hindrance to myself but am. ready to give the industry my all and my fans the best that they deserve.
Q: Aside from movie What other things do you do
A: Aside being a hardworking entrepreneur, am a practicing Muslim and an ardent lover of sports and music.
AdeDimeji Lateef, Dele omo Woli , Bash , Other A-list Comedians storm ijebu for Mc Baffy's Ijebu Go Laugh '23 Edition*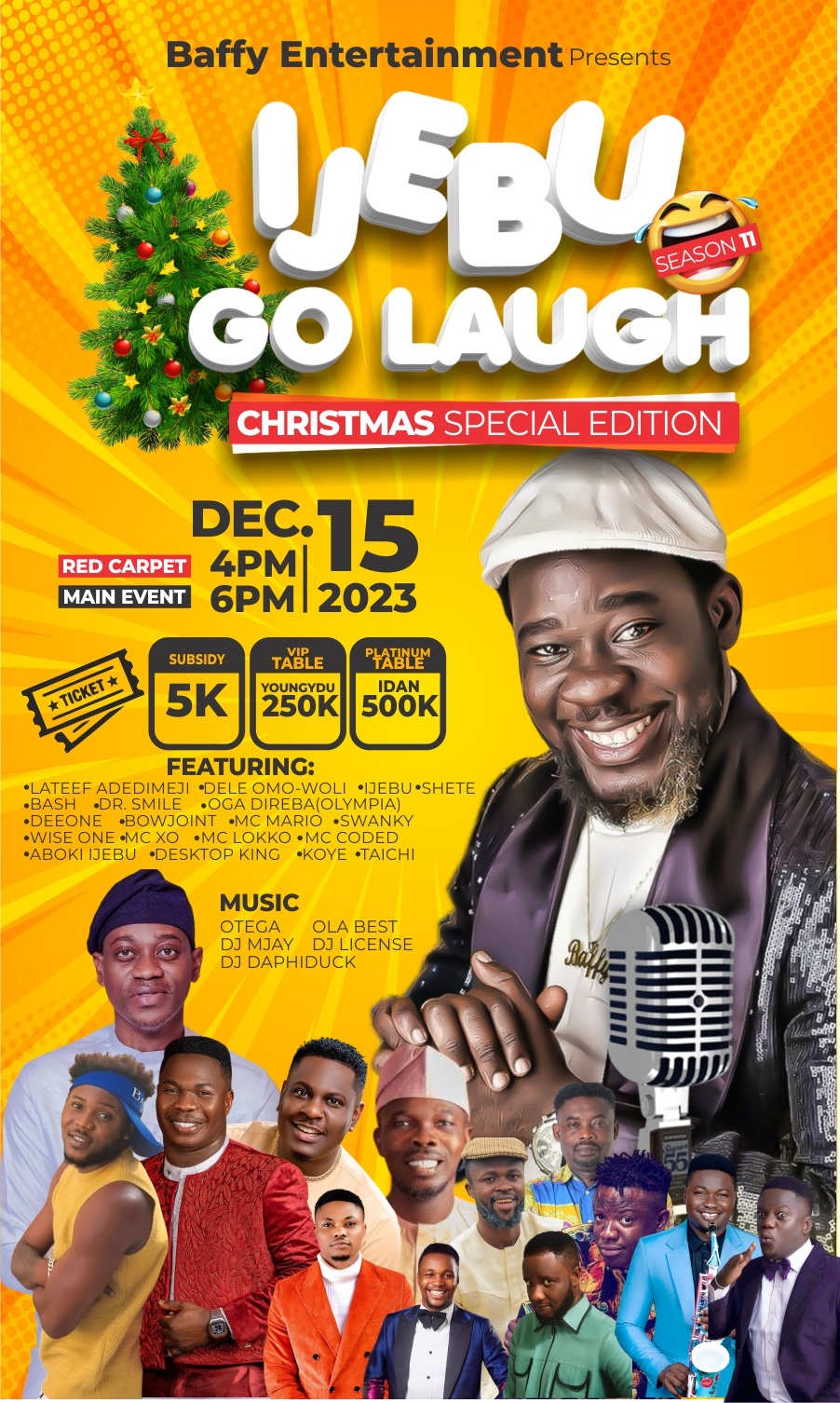 AdeDimeji Lateef, Dele omo Woli , Bash , Other A-list Comedians storm ijebu for Mc Baffy's Ijebu Go Laugh '23 Edition*
Fast-rising comedian and Master compere, Ayodeji Atanda prominently known around town as Baffy De Comedian will in few days time bring the AY Live experience to Ijebuland.
The grand event which promises to be a hit will hold on Friday, December 15, 2023 at the upscale Rolak Hotel and Suites, Imowo road, Ijebu Ode, Ogun state, starting from 4pm.
The annual comedy concert which has gathered momentum in recent years will have A-list comedians and artists like Lateef Adedimeji, Dele Omo-Woli, Ijebu, Dr Smile, Bash and Mc Mario in attendance.
Others music artistes and Nollywood celebrities expected are Olabest, Otega, Hephta, Koye, Shete, Mc Coded, Dj License and many others.
According to the convener of the award-winning programme, Mc Baffy, the comedy concert has been holding successfully in the last 11 years. We are out to thrill the audience with a breathtaking performance. I am bringing an AY LIVE experience to ijebu for ther first time and I am sure my people will be impressed.
DSS Raid: Igboho Denies Turning Into Cat To Escape Arrest
DSS Raid: Igboho Denies Turning Into Cat To Escape Arrest
Sunday Igboho, a Yoruba Nation activist, has finally spoken out about rumours that he transformed into a cat during a midnight raid on his home by the Department of State Services (DSS) in July 2021.
In an interview, Igboho refuted the report, saying that nothing like that occurred during the DSS raid.
He added that the DSS fired sporadically during the raid, killing multiple cats.
According to the activist, the DSS wanted to either kill or arrest him during the raid.
He said, "It is true that some cats were killed during the attack. Because the DSS just kept firing bullets in all directions. I was rearing cats as pets, and I had many of them in my house. So, anything or movement attracted sporadic gunshots.
"Their mission was to either kill me or arrest me and take me to an unknown destination, but the Almighty God is greater than anybody in this world, including the despotic ex-President Muhammadu Buhari."
Igboho added that he does not know whether the DSS brought three herbalists during the raid.
Yoruba Movie Gist Awards To Hold At RM Place Magodo Lagos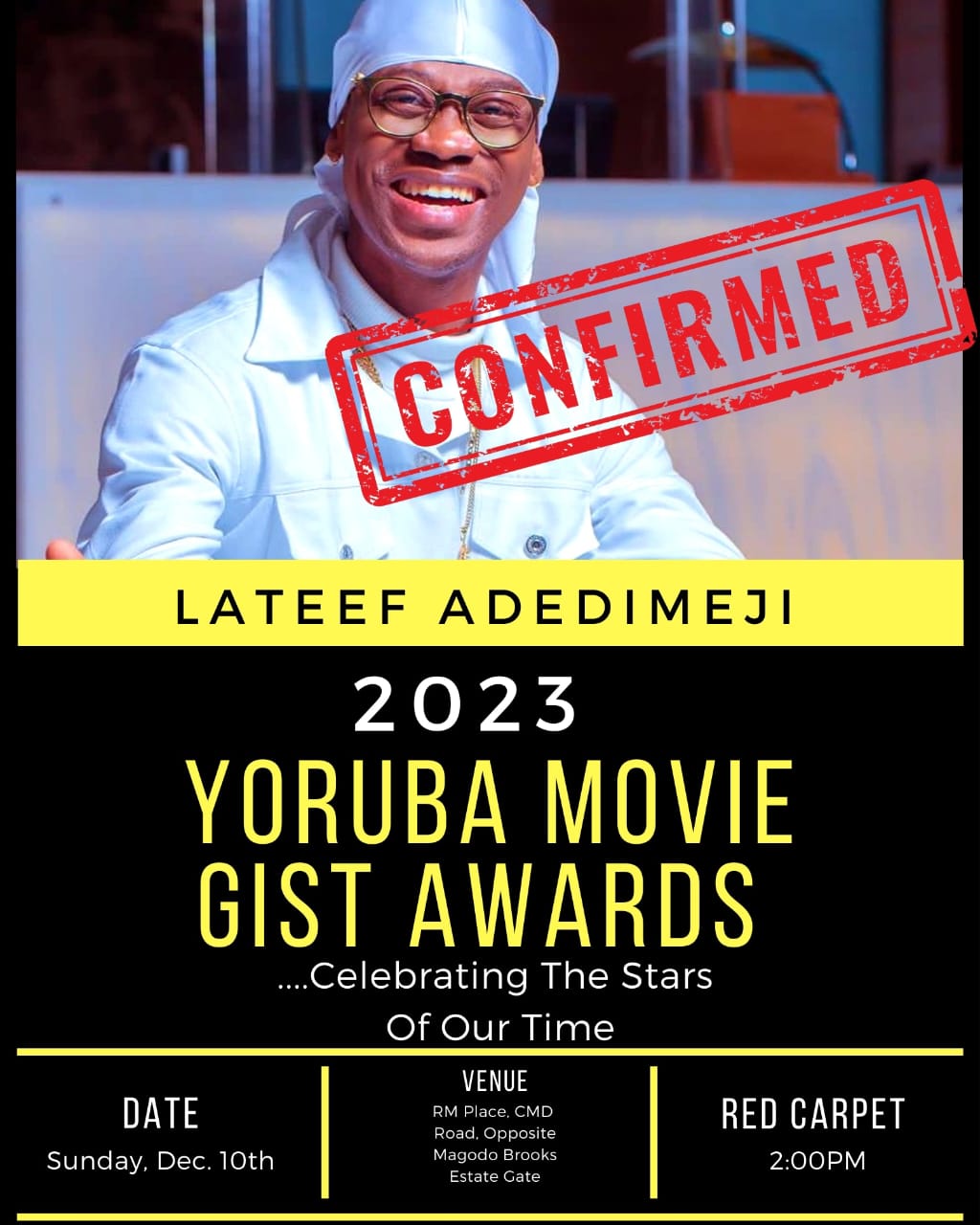 Yoruba Movie Gist Awards To Hold At RM Place Magodo Lagos
Olakiitan Adetutu Communications, spearheaded by Gbolahan Adetayo, the brains behind the esteemed Yoruba Movie Gist Awards, has disclosed RM Place, Opposite Brook Estate, CMD Road, Magodo, Lagos State, as the designated venue for the much-anticipated 2023 edition of the awards.
The prestigious ceremony is set to commence with a glamorous red carpet session at 2 pm, strictly adhering to a punctual schedule, and the main event will follow suit at 4 pm. The organizers emphasize a strict "No African time" policy, ensuring a timely and seamless experience for attendees.
This star-studded occasion promises the presence of top-tier Nollywood personalities, including the likes of Lateef Adedimeji, Ayo Olaiya, Yinka Salawu, Wumi Toriola, Omowunmi Ajiboye, Biodun Okeowo, and an array of other luminaries from the Yoruba movie industry.
Save the date, as the 2023 Yoruba Movie Gist Awards at RM Place, CMD Road, Magodo, Lagos, is destined to be an evening of glamour, recognition, and celebration within the vibrant landscape of Nollywood.