Col. Gabriel Ajayi: Tortured to impotence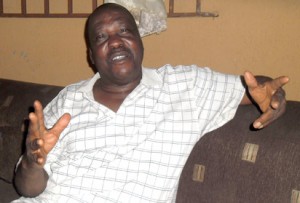 Sixteen years after General Sani Abacha's death, a Swiss delegation led by the country's Federal Councillor and Head of its Foreign Affairs Department, Mr. Didier Burkhalter, and the Swiss Ambassador to Nigeria, Mr. Eric Mayoruz were with Vice-President Yemi Osinbajo last Tuesday to sign a  memorandum on the return of another $321m  loot by the dark  goggled general.
It was a paradox of some sort that the same Sani Abacha had the temerity to engage in anti-corruption fight  at some point in the sorry story of this funny country called Nigeria.
He hounded a  number of bank chiefs to jail under the Failed Banks Decree in what would now appear to be that Abacha in his era had monopoly over stealing and whoever stole apart from him committed a grievous  offense a gainst him-not the state.
A day after the signing of the agreement that reminded us of the evil general's rapacity, I met with a gentleman whose ordeal in the hands of Abacha paints the grimmest picture of man's inhumanity to man and the excruciating pains of irreparable damage far beyond stolen funds that can be repatriated years after.
Hausa as lingua franca His name is Col. Gabriel Ajayi  who was retired from the Nigerian Army he joined in 1971 under controversial circumstances.
Ajayi left Secondary school in 1969 under the tutelage of the late Chief Adebayo Adefarati burning with a lot of passion. He was offered a job at the Nigerian Tribune where he honed his journalistic zeal before he joined the army in 1971with a hope of re-enacting the warrior streak of his ancestry.
Three years into his career in the army in 1974, he encountered his first shock of innocence at the army barracks in Ibadan where the Hausa Language was "official" language of communications.
Young Ajayi felt that was not right. He voiced out that this was supposed to be Nigerian Army barracks in Ibadan and there was no reason Hausa language should be lingua franca. His gut to say that earned him 15 days in the guardroom in the hands of a fellow Yoruba commander who was loyal to the iniquitous arrangement.
The said officer was to later apologise to him later in life after he was dealt a fatal blow by the very system he tried to protect. Col. Gabriel Ajayi (rtd) continued his career with spartan discipline and rose to become Colonel Administration and Quartermaster General, Lagos Garrison Command.
By his appointment at the Garrison Command, he was second-in-command to the then General Officer  Commanding, GOC, Major  Gen. Ishaya Bamaiyi, whose hands  infantry officer alleged were apparent in his travails over the alleged 1995 coup. Ajayi along other officers was accused of planning to overthrow General Sani Abacha. He was arrested after taking Holy Communion in a church with Bamaiyi, tried and sentenced to death alongside former President Olusegun Obasanjo, the late Major Gen. Shehu Musa Yar'Adua and Colonel Lawan Gwadabe, among others.
In the course of being tortured for an offense he insists till date he did not committed, Ajayi lost his manhood in the hands of deranged soldiers.
He was sentenced to death on July 14, 1995 by the Brigadier General Patrick Aziza's Special Military Tribunal (SMT) before it was commuted to 25 years jail term. He spent four years in Minna prison before he was compulsorily retired in 1999 when co-convict Obasanjo became President.
Ajayi holds till date that his travail was over his insistence for justice and that he was roped into a coup because he objected to the annulment of June 12 elections and the murder of hundreds of protesters in Lagos on June 23rd 1993 when Abacha drove through protesters. He recalls vividly how his boss, Bamaiyi, once boasted in an army conference that he had only pity for Yoruba women and children whose husbands and fathers would be gone when the shooting would commence.
The shootings indeed commenced and quite a number of Yoruba women became widows while a lot of children became either fatherless or motherless. I see Aliu and Kazeem Abiola every now and then with reminiscences of the unlimited ramifications of evil.
Col. Ajayi carries eternal scars of the physical and emotional violence done to him and others by mindless fellows who went to Oputa panel to brag that they would repeat the evil they did if they had the chance again. He carries with him the library of iniquities perpetrated under that dark era.
He reminded me of Prof. Agboluaje who left America in 1997 and was to have arrived at Murtala Muhammed International Airport in Lagos and has not been seen till date. Anger wells in you when you see men like Ajayi who have been deeply hurt by Nigeria's machinery of injustice without any remorse.
You are annoyed the more to see prominent men of that evil era occupying prime offices in our affairs today.   And Nigeria thinks it can make progress in the midst of such injustice? I doubt it!