COMEDY CONFERENCE IN DECEMBER' SETS TO HOLD IN CONFERENCE HOTEL ABEOKUTA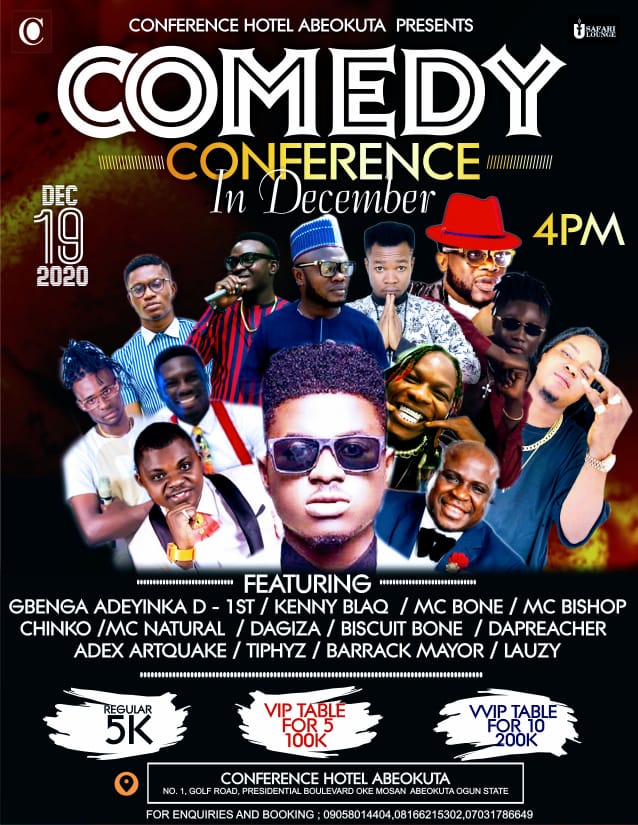 Comedy Conference In December is a new anticipated comedy show to beat and copy in this part of the world under the creativity of the organizers, Conference Hotel Abeokuta in association with Kanbitoons Company basically engaged to manage the smooth running of the show that has become the talk of the town.
Information available revealed that the up and coming Comedy Conference In December is borne out of leaving the virtual space, and bringing the comedy in its raw form to the people of Abeokuta for their maximum enjoyment as Nigerians plan to celebrate the Christmas in different parts of the country.
Moreover, the initiative by the organizers to hold the Comedy Conference In December is part of their desire to grow the comedy sector in the South-West region outside Lagos known to be the hub of comedy shows in Nigeria.
We also gathered that Comedy Conference In December is predicated on the best ingenuity to give young people in Abeokuta with such talents a platform for expression and also encourage them to follow their dreams.
The top notch forthcoming Comedy Conference In December show like no other would feature Gbenga Adeyinka D-1st, Kenny Blaq, MC Bone, Chinko, MC Bishop, Biscuit Bone, MC Natural, Dagiza, DaPreacher, Adx Artquake, Tiphyz, Barrack Mayor, Laucy and many more.
Comedy Conference In December is a unique platform that is set to treat its audience to an evening of great comedy, music, dance, fun, and un-parallel entertainment. Those in the know squealed that the anticipated audience will surely get the value for their money and maximum security is guaranteed.
It is a premium comedy show designed for family bonding, togetherness, a great time with friends and loved ones this Christmas season with a Regular Ticket 5k, VIP Table for 5 @100K and VVIP Table for 10 @ 200k to be part the Comedy Conference In December.
The must attend Comedy Conference In December show is positioned to be a new sign post for quality comedy event to be remembered this festive season as it is definitely going to be a colourful show with glitz and glamour billed to take place on Saturday, December 19, 2020 at the Conference Hotel Abeokuta – No.1, Golf Road, Presidential Boulevard Oke Mosan, Abeokuta, Ogun State by 4.00 p.m. prompt.
Popular Nigerian Musician, Jumabee Concludes Canada Tour, Heads To UK (VIDEO)
Popular Nigerian musician, Jumabee has concluded his Canada tour and is now headed for the United Kingdom (UK) to continue his music tour.
Jumabee kicked-off his annual tour on November 23 in Canada and has since been the talk of the town following the massive attendance his presence brought to the selected locations where the tour was held in the country.
In the course of his tour, the Kogi-born musician met Jamaican worldstar, Kranium in Vancouver, Canada after their performance at Enso Event Centre.
As he has concluded his tour in Canada, Jumabee would be embarking on his music tour in the UK between 1st Of December and 9th Of December, 2023.
Jumabee has been in the industry for decades and has several hit songs to his credit. Some of his songs include Brakata, Kogi, Kalima, Iva, Badamuwa, to mention but a few.
WATCH VIDEO BELOW
Stella Ebegbuna, Renowned America-Based Music Star, Gears Up for an Unforgettable 'Hangout with D'Lyte'"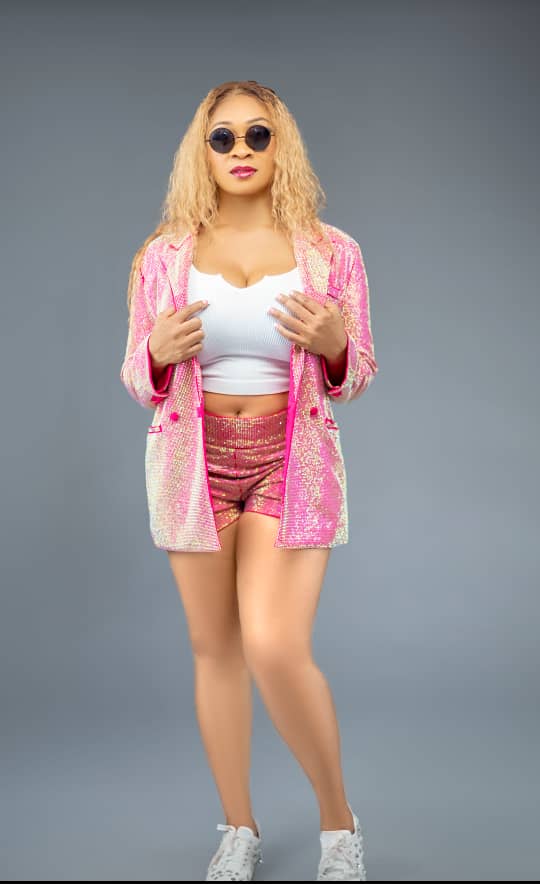 Stella Ebegbuna, Renowned America-Based Music Star, Gears Up for an Unforgettable 'Hangout with D'Lyte'"
In an exciting announcement, the accomplished music sensation, Stella Ebegbuna, is set to host the latest edition of her quarterly event, 'Hangout with D'Lyte.' The anticipated gathering promises an evening of music, camaraderie, and entertainment.
Scheduled for Sunday, November 26th, the event will kick off at 6 pm and unfold at the vibrant venue of 2641 Winrock Boulevard, Houston, Texas, 77057. Stella expresses her gratitude to everyone involved in making this event a reality, acknowledging the collaborative efforts that contribute to the success of 'Hangout with D'Lyte.'
The upcoming hangout is expected to be a star-studded affair, with notable personalities such as Dj MixMaster Brown, Tarela, Lord of Ajasa, Deankelly, Seyi Alesh, MC Hugoboss, Lepashandy, Heisot, the Energy Band and Jeff Akoh joining the celebration.
Known for her captivating performances and charismatic presence, Stella Ebegbune aims to create an unforgettable experience for attendees, bringing together music enthusiasts and fans alike. 'Hangout with D'Lyte' has become a quarterly highlight, showcasing Stella's commitment to fostering a sense of community and celebration through music.
As the countdown begins, music lovers and fans are eagerly anticipating an evening filled with rhythm, joy, and the unique charm that Stella Ebegbuna brings to every event. Stay tuned for a musical extravaganza that promises to be a highlight on Houston's entertainment calendar.
"Go Back Home" – Funmi Ayinke Drops Powerful End Of The Year Message (VIDEO)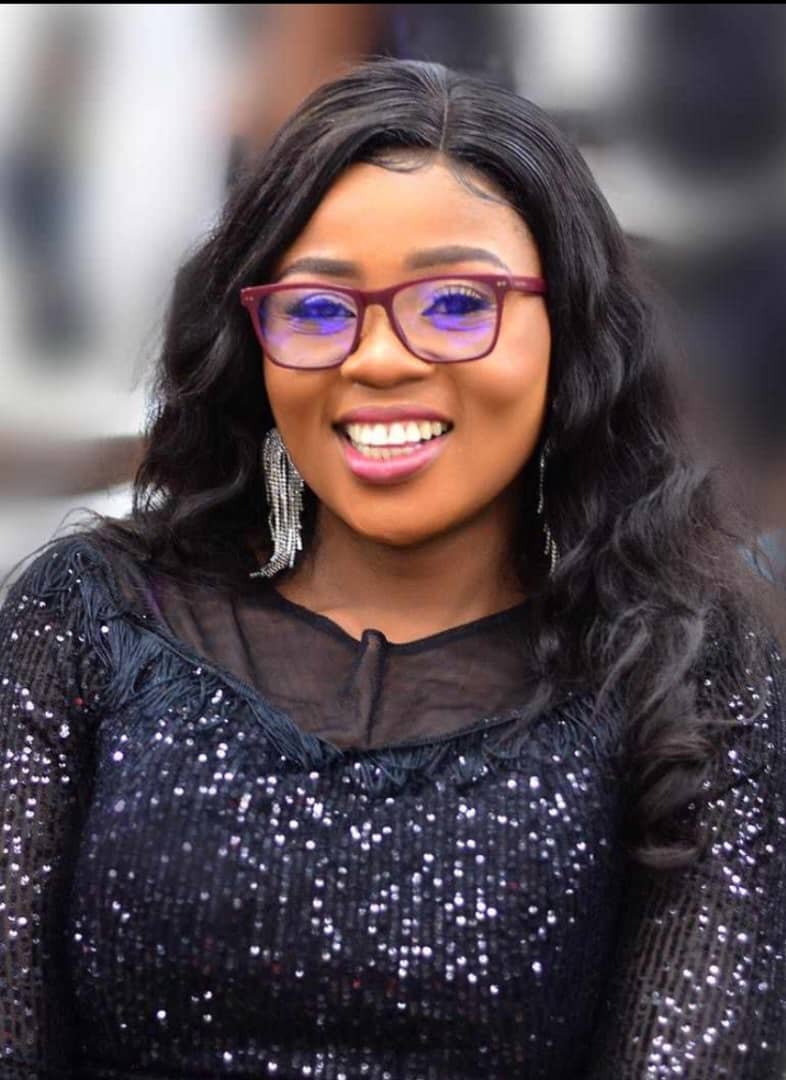 Influential Nigerian engineer cum musician, Funmi Ayinke Waheed-Adekojo has dropped a powerful end of the year message during a live performance at her well-equipped modern studio in Abuja.
The Live performance which was an unscripted session portrayed Funmi Ayinke as a ready-made musician whose songs are to edify and inspire every soul that listens to them.
As observed in the video, Funmi Ayinke made her entrance into the sophisticated studio, dressed simply yet classy, with her talented musicians ready to deliver a world-class musical presentation.
Funmi Ayinke started this unscripted session with her message 'Ile La'bo Isinmi Oko' which means that no matter how exhilarating travels are, one will always be thrilled to return home in a way to remind everyone that the year is coming to an end.
Funmi Ayinke who is known to always pass messages through songs repeatedly mentioned that there is need for everyone to remember that the home is always the final destination after every job, travel and whatever anyone is doing.
She went further to address different categories of people that have forgotten their homes, calling them to return home because there is no place like it; Those that have neglected their parents, those that haven't spoken to their parents and guardians, those that haven't seen their parents in a long while.
Below are some of the lyrics of the performance:
'' If you go to the market, if you travel out of the country, wherever you go, I want to remind you that the home is always the final destination. There is no place like home. Home sweet home. If you are listening to me and you have not called your parents or it's been long since you remembered them, I want to remind you that home is the final destination.
' They are deceiving you, they said your parents are bad, they want to kill you; parents that didn't kill you when you were still a baby. You stopped talking to your parents because you are looking for money, I want to remind you that the home is always the final destination. Call them, go back home''
'Go back home, call your parents, ask about their wellbeing, go home because that's the final destination. Send them money, remember those that took care of you, remember those who stood by you.''
WATCH VIDEO BELOW