CSOs say oil crooks behind fresh blackmail, smear campaign against Kyari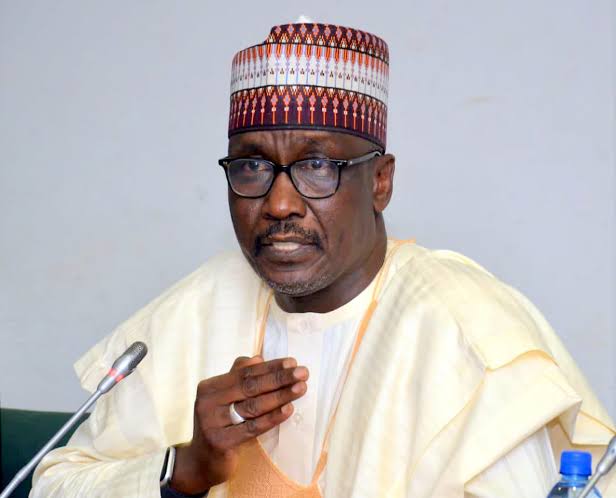 CSOs say oil crooks behind fresh blackmail, smear campaign against Kyari
A coalition of Civil Society Organizations (CSOs) on Sunday said it has uncovered fresh plot by embittered oil thieves to blackmail, smear and tarnish the image of the group chief executive officer of the Nigerian National Petroleum Company Limited (NNPCL), Mallam Mele Kyari.
The CSOs, consisting of 42 different organizations, said the move by the oil thieves whose businesses have been truncated by the recent stoppage of payment for fuel subsidy by the Federal Government and the total war declared by the Kyari-led NNPCL against oil theft and pipeline vandals, is to disinform and set Nigerians against the national oil company and its top officials under false pretext of fighting for public interest over the temporary pain being experienced as a result of the subsidy removal.
A statement signed by Abubakar Ibrahim, convener; Bashir Faisal, Comrade Rafiu Shaibu, co-conveners, of the 42 CSOs, noted that having failed in its several bids to malign him, it has now engaged some faceless, fictitious and unknown groups to gather in the streets and cause public disturbance in the name of protest calling for the removal of NNPCL GCEO.
While calling on security agencies to beam their searchlights on these groups and their sponsors, their CSOs urged Nigerians to ignore the noisemakers who are playing the cards of their corrupt, fraudulent oil crooks who have milked Nigeria dry for their personal gains.
Part of the statement reads: "Nigerians will recall that first, these corrupt oil marketers and crooks sponsored a fake news on social media in June that the President, Bola Ahmed Tinubu had sacked the hardworking GCEO of the NNPCL, Mallam Mele Kyari.
This narratives however "didn't fly as officials at the Presidency later debunked it as fake news.
"Defeated in their desperate bid to nail Kyari this set of characters finally came out in human form.
"They soon issued a statement signed by a controversial and failed politician who is a member of the All Progressives Congress (APC) hobnobbing with PDP politicians, calling on the Tinubu administration to arrest Kyari and heads of other agencies of the Federal Government under the Buhari administration.
Days after this drama, several unknown and faceless groups flocked the internet clamouring for Kyari's removel.
"Not done, another self-acclaimed political activist joined the fray, and as expected, nothing changed.
"Not desirous of backing down on their ill-fated venture, they have now contracted a faceless and unknown group to mobilise innocent Nigerians to the street with a paltry sum to achieve their motives.
"It's however interesting that Kyari's sins are his stance and fight against some sudden oil billionaires who are milking the country's resources with the continuous payment of fuel subsidy by the federal government and also, through crude oil theft.
"We understand their frustration and pains, but they should know that it's no longer business as usual. They can no longer divert our common wealth. Rather, these resources shall be used to create more jobs and make Nigeria better.
"They can no longer divert and smuggle petroleum products to neighbouring countries where they sell at higher rates and thus make more profit even after collecting subsidy money from the Nigerian government.
"The era of some persons feeding fat on our common wealth is gone. We don't have any other country; Nigeria is our own and we must join hands together to make of work.
"Therefore, the incessant attack and vituperation against the NNPCL and its GCEO can not stop the good works he (Kyari) is doing.
"It's laughable that they are calling for the removal of a man who has restored the glory of the national oil company. A man who brought transparency, accountability, performance and excellence into the company by returning the NNPC to a profit-making entity after several years of operating at loss.
"Unfortunately, Nigerians are wiser. They know your games; but they have failed even before they were hatched.
"Since Kyari assumed office even as the group managing director of the defunct NNPC, he has operated a very transparent system.
"Several times, he has made open the books of the oil company for public scrutiny.
"Nigerians should also know that for the first time in over 40 years of its existence, the NNPCL under Kyari is beginning to win the war against corruption in the system, pipeline vandalism and oil theft which has led to a major increase in daily oil production, reaching 1.6 million barrels per day.
"Nations and investors all over the world are beginning to win the confidence of the NNPCL courtesy of the great innovations introduced into the system by Kyari.
"We further use this medium to call on the security investigate these faceless groups and their sponsors who are bent of killing the nations with lies and hatred in their bid to loot the economy," the group noted.
AdeDimeji Lateef, Dele omo Woli , Bash , Other A-list Comedians storm ijebu for Mc Baffy's Ijebu Go Laugh '23 Edition*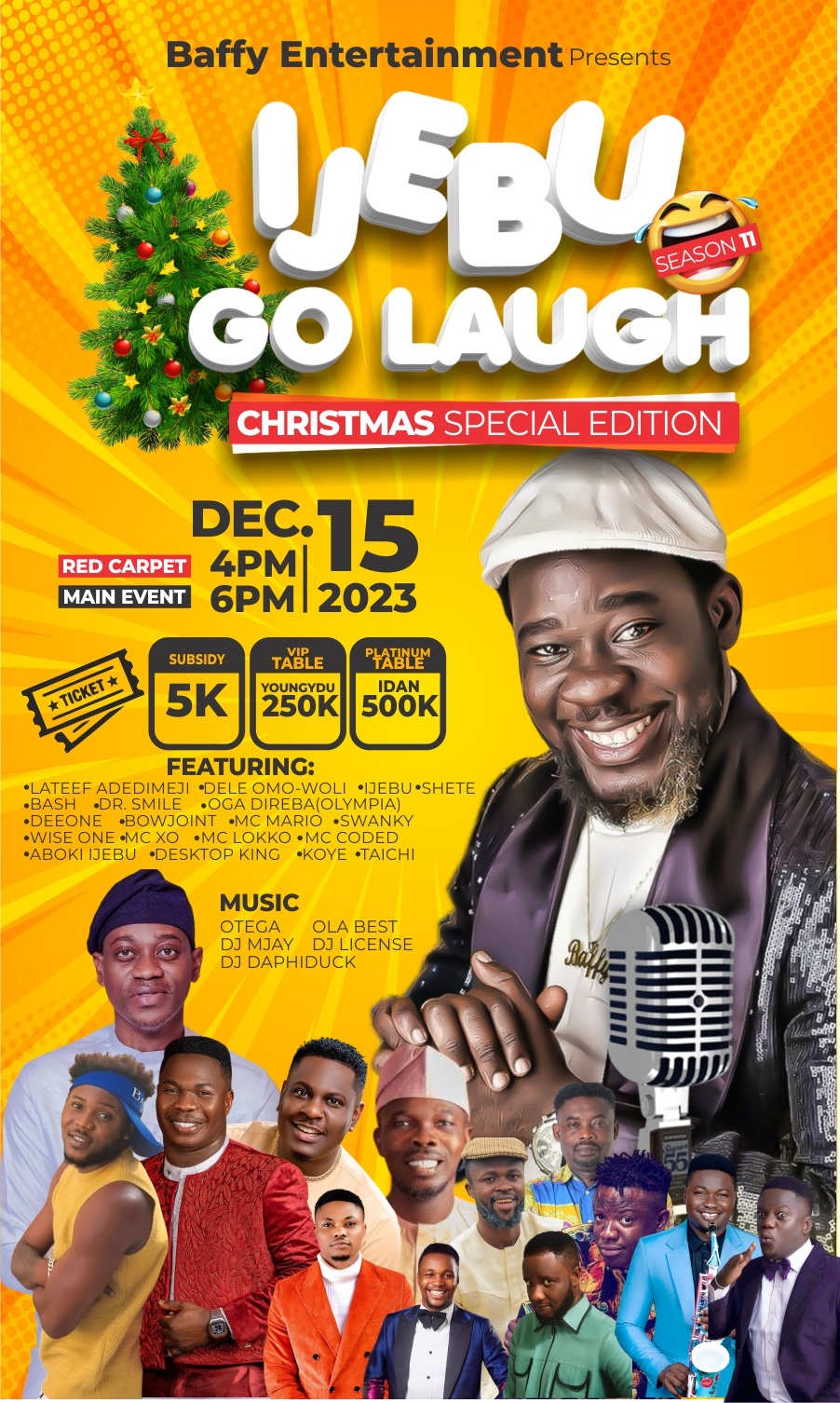 AdeDimeji Lateef, Dele omo Woli , Bash , Other A-list Comedians storm ijebu for Mc Baffy's Ijebu Go Laugh '23 Edition*
Fast-rising comedian and Master compere, Ayodeji Atanda prominently known around town as Baffy De Comedian will in few days time bring the AY Live experience to Ijebuland.
The grand event which promises to be a hit will hold on Friday, December 15, 2023 at the upscale Rolak Hotel and Suites, Imowo road, Ijebu Ode, Ogun state, starting from 4pm.
The annual comedy concert which has gathered momentum in recent years will have A-list comedians and artists like Lateef Adedimeji, Dele Omo-Woli, Ijebu, Dr Smile, Bash and Mc Mario in attendance.
Others music artistes and Nollywood celebrities expected are Olabest, Otega, Hephta, Koye, Shete, Mc Coded, Dj License and many others.
According to the convener of the award-winning programme, Mc Baffy, the comedy concert has been holding successfully in the last 11 years. We are out to thrill the audience with a breathtaking performance. I am bringing an AY LIVE experience to ijebu for ther first time and I am sure my people will be impressed.
DSS Raid: Igboho Denies Turning Into Cat To Escape Arrest
DSS Raid: Igboho Denies Turning Into Cat To Escape Arrest
Sunday Igboho, a Yoruba Nation activist, has finally spoken out about rumours that he transformed into a cat during a midnight raid on his home by the Department of State Services (DSS) in July 2021.
In an interview, Igboho refuted the report, saying that nothing like that occurred during the DSS raid.
He added that the DSS fired sporadically during the raid, killing multiple cats.
According to the activist, the DSS wanted to either kill or arrest him during the raid.
He said, "It is true that some cats were killed during the attack. Because the DSS just kept firing bullets in all directions. I was rearing cats as pets, and I had many of them in my house. So, anything or movement attracted sporadic gunshots.
"Their mission was to either kill me or arrest me and take me to an unknown destination, but the Almighty God is greater than anybody in this world, including the despotic ex-President Muhammadu Buhari."
Igboho added that he does not know whether the DSS brought three herbalists during the raid.
Yoruba Movie Gist Awards To Hold At RM Place Magodo Lagos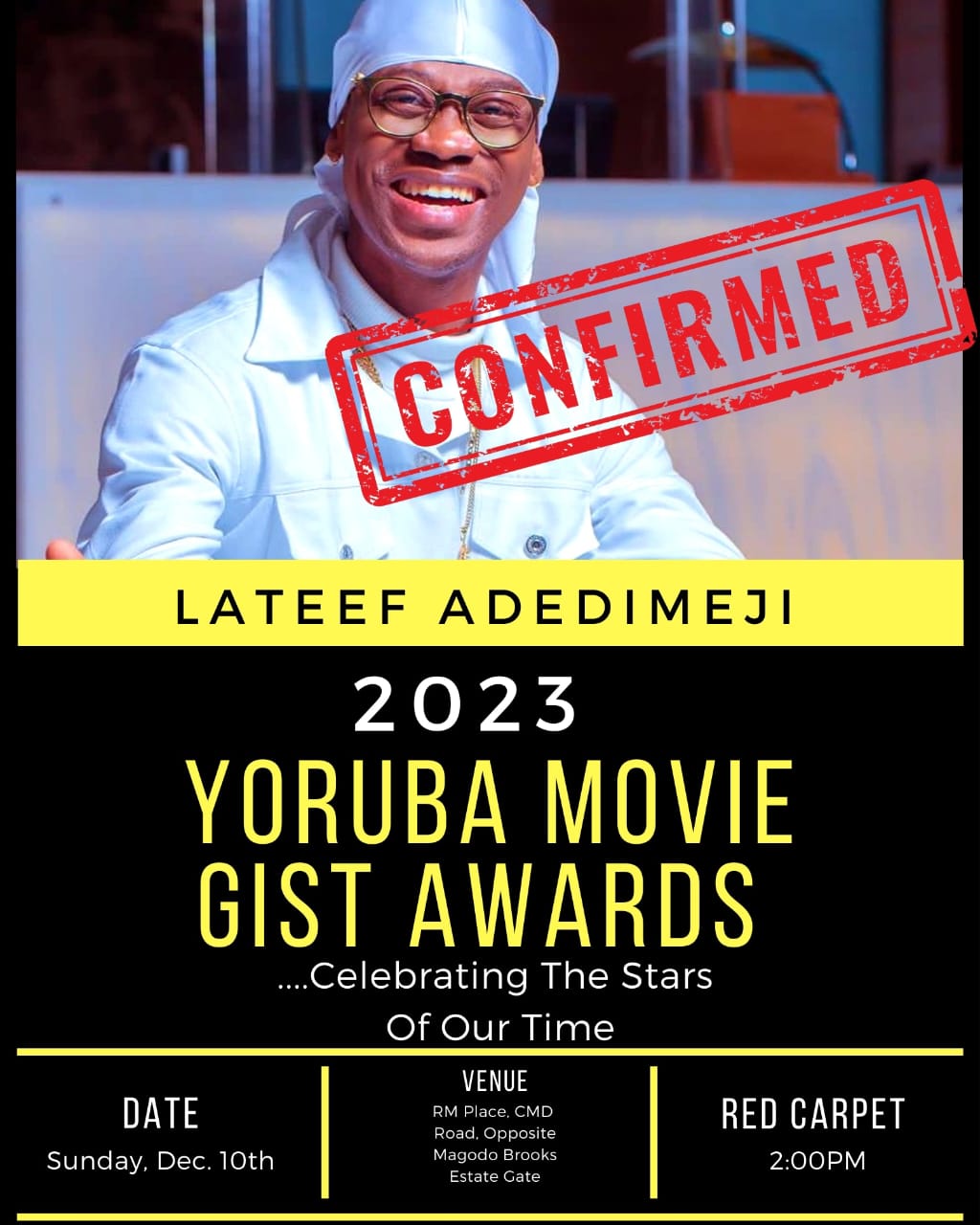 Yoruba Movie Gist Awards To Hold At RM Place Magodo Lagos
Olakiitan Adetutu Communications, spearheaded by Gbolahan Adetayo, the brains behind the esteemed Yoruba Movie Gist Awards, has disclosed RM Place, Opposite Brook Estate, CMD Road, Magodo, Lagos State, as the designated venue for the much-anticipated 2023 edition of the awards.
The prestigious ceremony is set to commence with a glamorous red carpet session at 2 pm, strictly adhering to a punctual schedule, and the main event will follow suit at 4 pm. The organizers emphasize a strict "No African time" policy, ensuring a timely and seamless experience for attendees.
This star-studded occasion promises the presence of top-tier Nollywood personalities, including the likes of Lateef Adedimeji, Ayo Olaiya, Yinka Salawu, Wumi Toriola, Omowunmi Ajiboye, Biodun Okeowo, and an array of other luminaries from the Yoruba movie industry.
Save the date, as the 2023 Yoruba Movie Gist Awards at RM Place, CMD Road, Magodo, Lagos, is destined to be an evening of glamour, recognition, and celebration within the vibrant landscape of Nollywood.