PRESIDENT BOLA TINUBU ADDRESSES NIGERIANS… ANNOUNCES BOLD, SWEEPING ECONOMIC MEASURES AND INTERVENTIONS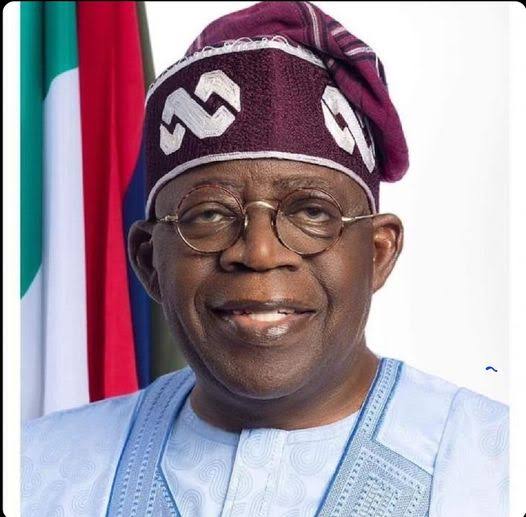 PRESIDENT BOLA TINUBU ADDRESSES NIGERIANS… ANNOUNCES BOLD, SWEEPING ECONOMIC MEASURES AND INTERVENTIONS
In a monumental speech to the nation, President Bola Tinubu addressed the current state of Nigeria's economy, and his vision for the country's future. During the speech, he empathized with Nigerians for the hardships being faced, and went further to outline bold measures to revitalize the economy and ensure that the impact of these measures are far reaching.
"The cost of fuel has gone up. Food and other prices have followed it. Households and businesses struggle. Things seem anxious and uncertain. I understand the hardship you face," said President Tinubu, acknowledging the current economic challenges. He expressed his commitment to alleviate the burden and ensure an equitable future for all Nigerians.
Furthermore, the President also announced that Nigeria has saved trillions of Naira since the removal of fuel subsidies and stoppage of the preferential exchange rate system, which previously benefited a small group of elites at the expense of the wider population.
Accordingly, the President announced measures – some of which are being implemented, to cushion the effect of these necessary changes.
Key measures include:
1) *Reinvesting Trillions already saved from Fuel Subsidy Removal*: Since the removal of the fuel subsidy, trillions have already been saved. These funds were previously funneled into select pockets, but will now be utilized in public services.
2) *Exchange Rate System Reform*: The government has dismantled the multiple exchange rate system to curb currency speculation and create more equitable wealth distribution.
3) *Business Tax Relief*: Earlier this month, President Tinubu signed four Executive Orders suspending and deferring specific taxes, aiming to boost the manufacturing sector.
4) *Manufacturing Sector Investment*: Between now and March 2024, the administration will invest N75 billion in the manufacturing sector. This initiative will fund 75 enterprises, each with access to N1 billion credit at 9% per annum, repayable over a maximum of 60 months.
5) *MSMEs and Nano Business Investments*: N125 billion will be injected into Micro, Small and Medium-sized Enterprises (MSMEs) and nano businesses. This sum includes a N50 billion Conditional Grant for 1 million nano businesses and N75 billion for 100,000 MSMEs and start-ups. The administration's target is to give N50,000 each to 1,300 nano business owners in each of the 774 local governments across the country
6) *Affordable Food Initiatives*: President Tinubu has ordered the release of 200,000 Metric Tonnes of grains and is providing 225,000 metric tonnes of farming inputs to ensure food prices remain affordable.
7) *Agricultural Land Investment*: N200 billion will be invested into cultivating 500,000 hectares of farmland. N50 billion will be allocated to each of rice, maize, wheat, and cassava cultivation.
8) *Infrastructure Support Fund*: A new Infrastructure Support Fund is being established, allowing States to invest in critical infrastructure areas.
9) *Affordable Mass Transit*: N100 billion will be invested from July 2023 to March 2024 to acquire 3,000 units of 20-seater CNG-fuelled buses for affordable mass transit across Nigeria. These will be provided to major transportation companies in the states.
10) *National Minimum Wage Review*: A new national minimum wage is being introduced in collaboration with Labour unions, providing a salary boost to Nigerian workers.
11) *Exchange Rate and Inflation Monitoring*: The government will monitor the effects of exchange rates and inflation on fuel prices and intervene if necessary.
President Bola Tinubu also revealed that his administration is working with Labour unions to introduce a new national minimum wage, assuring workers that a salary review is imminent.
"All of our good and helpful plans are in the works. More importantly, I know that they will work," affirmed President Tinubu. "We are exiting the darkness to enter a new and glorious dawn."
President Bola Tinubu remains steadfast in his mission to transform the economy, with the ultimate aim of delivering the greatest good for the greatest number of Nigerians.
Otega Ogra
Office of Digital Engagement
The Presidency
AdeDimeji Lateef, Dele omo Woli , Bash , Other A-list Comedians storm ijebu for Mc Baffy's Ijebu Go Laugh '23 Edition*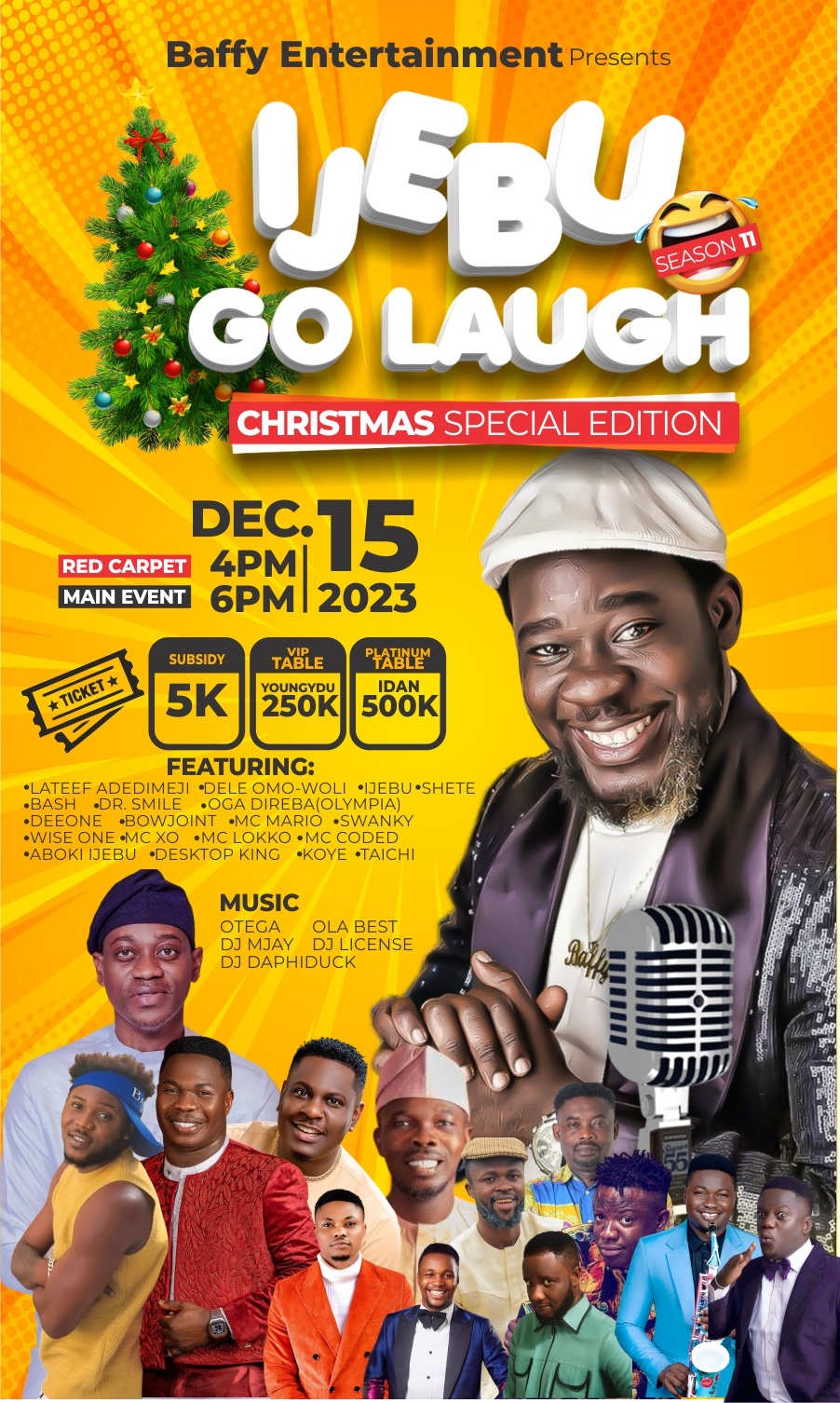 AdeDimeji Lateef, Dele omo Woli , Bash , Other A-list Comedians storm ijebu for Mc Baffy's Ijebu Go Laugh '23 Edition*
Fast-rising comedian and Master compere, Ayodeji Atanda prominently known around town as Baffy De Comedian will in few days time bring the AY Live experience to Ijebuland.
The grand event which promises to be a hit will hold on Friday, December 15, 2023 at the upscale Rolak Hotel and Suites, Imowo road, Ijebu Ode, Ogun state, starting from 4pm.
The annual comedy concert which has gathered momentum in recent years will have A-list comedians and artists like Lateef Adedimeji, Dele Omo-Woli, Ijebu, Dr Smile, Bash and Mc Mario in attendance.
Others music artistes and Nollywood celebrities expected are Olabest, Otega, Hephta, Koye, Shete, Mc Coded, Dj License and many others.
According to the convener of the award-winning programme, Mc Baffy, the comedy concert has been holding successfully in the last 11 years. We are out to thrill the audience with a breathtaking performance. I am bringing an AY LIVE experience to ijebu for ther first time and I am sure my people will be impressed.
DSS Raid: Igboho Denies Turning Into Cat To Escape Arrest
DSS Raid: Igboho Denies Turning Into Cat To Escape Arrest
Sunday Igboho, a Yoruba Nation activist, has finally spoken out about rumours that he transformed into a cat during a midnight raid on his home by the Department of State Services (DSS) in July 2021.
In an interview, Igboho refuted the report, saying that nothing like that occurred during the DSS raid.
He added that the DSS fired sporadically during the raid, killing multiple cats.
According to the activist, the DSS wanted to either kill or arrest him during the raid.
He said, "It is true that some cats were killed during the attack. Because the DSS just kept firing bullets in all directions. I was rearing cats as pets, and I had many of them in my house. So, anything or movement attracted sporadic gunshots.
"Their mission was to either kill me or arrest me and take me to an unknown destination, but the Almighty God is greater than anybody in this world, including the despotic ex-President Muhammadu Buhari."
Igboho added that he does not know whether the DSS brought three herbalists during the raid.
Yoruba Movie Gist Awards To Hold At RM Place Magodo Lagos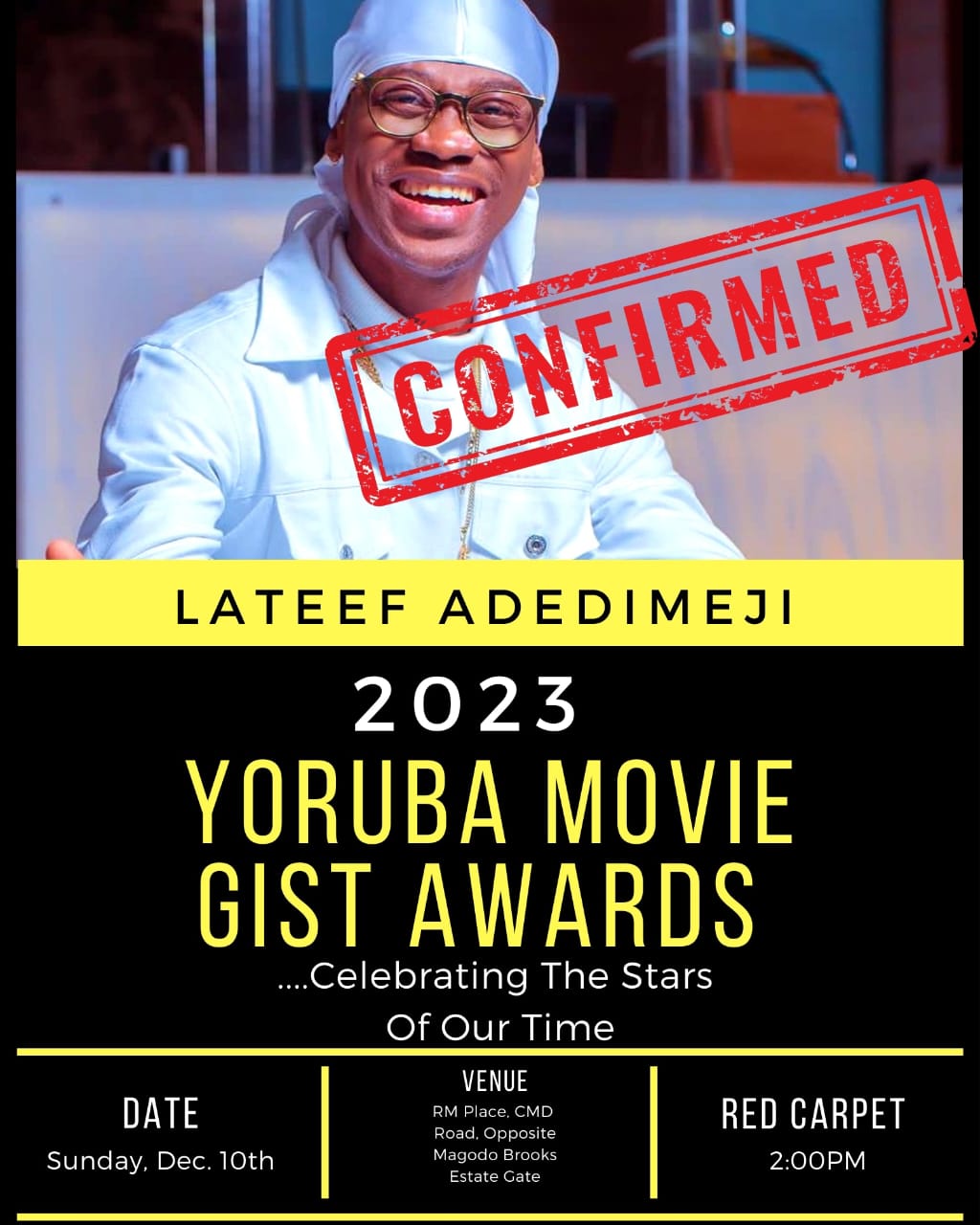 Yoruba Movie Gist Awards To Hold At RM Place Magodo Lagos
Olakiitan Adetutu Communications, spearheaded by Gbolahan Adetayo, the brains behind the esteemed Yoruba Movie Gist Awards, has disclosed RM Place, Opposite Brook Estate, CMD Road, Magodo, Lagos State, as the designated venue for the much-anticipated 2023 edition of the awards.
The prestigious ceremony is set to commence with a glamorous red carpet session at 2 pm, strictly adhering to a punctual schedule, and the main event will follow suit at 4 pm. The organizers emphasize a strict "No African time" policy, ensuring a timely and seamless experience for attendees.
This star-studded occasion promises the presence of top-tier Nollywood personalities, including the likes of Lateef Adedimeji, Ayo Olaiya, Yinka Salawu, Wumi Toriola, Omowunmi Ajiboye, Biodun Okeowo, and an array of other luminaries from the Yoruba movie industry.
Save the date, as the 2023 Yoruba Movie Gist Awards at RM Place, CMD Road, Magodo, Lagos, is destined to be an evening of glamour, recognition, and celebration within the vibrant landscape of Nollywood.