Edward Norton Blasts President Donald Trump On Twitter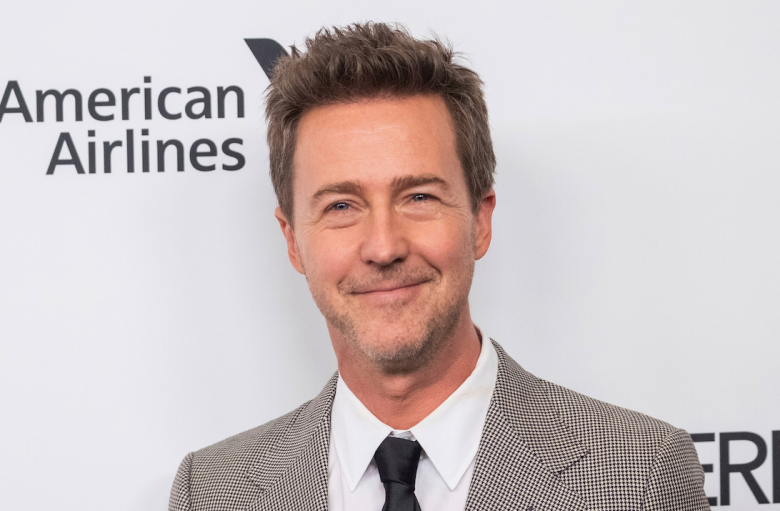 Edward Norton has laid his cards on the table – he hates what President Donald Trump  is doing in refusing to concede the election.
In a tweetstorm rant on Friday, the 51-year-old actor and filmmaker used gambling metaphors to describe his outrage. Norton was part of the cast with Matt Damon in the1998 cult classic Rounders, which explored the underground of high-stakes poker. A "rounder" is a person who travels from city to city seeking such games.
Norton began on Twitter by noting that he is "no political pundit," but claimed his father's work as a federal prosecutor and his own poker background allows him insight into what he believes Trump is doing.
"I do not think Trump is trying to 'make his base happy' or 'laying the groundwork for his own network' or that 'chaos is what he loves,'" Norton tweeted. "The core of it is that he knows he's in deep, multi-dimensional legal jeopardy and this defines his every action."
That beginning devolved into a string of insults in which a frothing-at-the-mouth Norton called Trump a "mobster" and "bully," ending with calling the President a "whiny, sulky, petulant, Grinchy, vindictive little 10-ply-super-soft b—- who no doubt is just throwing a wicked pout fest & trying to give a tiny-hand middle finger to the whole country for pure spite, without a single thought for the dead & dying."
"I'm no political pundit but I grew up w a dad who was a federal prosecutor & he taught me a lot & I've also sat a fair amount of poker w serious players," Norton wrote. "& l'll say this: I do not think Trump is trying to 'make his base happy' or 'laying the groundwork for his own network'…or that 'chaos is what he loves.' "
Rather, Norton wrote that Trump "knows he's in deep, multi-dimensional legal jeopardy" and that what he's doing now is more strategy
We're seeing 1) a tactical delay of the transition to buy time for coverup & evidence suppression," Norton wrote. "2) above all, a desperate endgame…which is to create enough chaos & anxiety about peaceful transfer of power, & fear of irreparable damage to the system, that he can cut a Nixon-style deal in exchange for finally conceding."
Following Joe Biden's projected victory of the 2020 presidential election, Trump and fellow Republicans filed multiple lawsuits in key battleground states. Judges have dismissed some of the suits but others remain, and more are possible in the coming days, including challenges to the legality of ballots or requests for recounts.
The actor continued to address Trump's actions in poker terms, saying that the president "doesn't have the cards."
"His bluff after 'the flop' has been called in court," Norton wrote. "His 'turn card' bluff will be an escalation & his 'River card' bluff could be really ugly. But they have to be called."
Norton went on to call Trump a "mobster" who is "threatening our democracy." He also wrote that the "whiny, sulky, petulant, Grinchy, vindictive little" president is "trying to give a tiny-hand middle finger to the whole country for pure spite, without a single thought for the dead & dying."
Liberia: How George Weah Lost President Election After Ignoring Primate Ayodele's Prophecies
Liberia: How George Weah Lost President Election After Ignoring Primate Ayodele's Prophecies
After an election run-off which was held on Tuesday 14th of November, 2023, President Weah lost his bid to return to power in Liberia. He lost the election to opposition candidate, Joseph Boakai who had a narrow lead over him.
This loss is no doubt a huge surprise but going by the several warnings sent to former president George Weah before the first round of elections through popular prophet, Primate Elijah Ayodele, one can conclude that the president brought this fall upon himself.
Primate Ayodele has spoken long before the election that the opposition will give the incumbent president a tough time in the election and that the election will lead to a run-off. He acknowledged in his prophecies that the incumbent president had all it takes to win the election but if care isn't taken, he will fail in the election.
In one of his warnings to George Weah, Primate Ayodele revealed the plans of the opposition to stop the incumbent president from getting his second term ambition. He made it known that if Weah can strategize, he will win but failure to do so will lead to his loss.
Start slideshow
''In Liberia, George Weah must not sleep because the opposition will want to do everything to rock him down, creating quite a lot of confusion. They should pray against political tension in the state. If he can strategize, George Weah will win the election. He needs to re-align with some of his political enemies so that his second term can be sure''
In his last prophecy about the election, Primate Ayodele asserted that George Weah has failed to yield to the warnings given to him and that the opposition will give him a shock . He revealed that Weah has offended so many people and he will find it difficult. He then mentioned that the only way George Weah can get victory is if he wins on the first round but if he allows it to get to a run-off or second round, it will not favour him.
These were his words
'' I warned George Weah about his election but he didn't listen. Joseph Boakai can give him a shock. He should be aware that if the election goes for a run-off, he will receive the greatest shock of his life. He has to restrategize because he has offended a lot of people and that's why he is finding it difficult. Opposition is desperately ready to take over from him. He needs to seek the face of God and pray God turns it to his favour so he can win at stretch. Run-off might not favour you except God changes the course. I am warning George Weah of what is going on, he needs to win at this stage, run-off will not favour him.''
The man of God in his prophecies went as far as telling George Weah that he should work against any form of coalition because it will further strengthen his loss in the election.
These were his words
''In Liberia, George Weah should work against a coalition that can truncate his second term. His second term will be marred with blackmail and lies against him. He must strategize urgently''
(https://independent.ng/primate-ayodele-releases-prophecies-on-sudan-senegal-liberia-sierra-leone/)
On account of these prophecies, one can conclude that George Weah was warned about what he would be facing in the election but for reasons best known to him, he chose to ignore them.
As stated above, Primate Ayodele categorically made it known that a runoff will not favour George Weah and this was the prophet trying to let him know that the best time to win the election was the first round. He even told him that any form of coalition will destroy his chances and we could see that a strong coalition was formed by opposition parties against the ruling party before the runoff election. This led to Weah's eventual loss at the election.
 Saudi Arabia Explained Why They Deported 264 Nigerians
 Saudi Arabia Explained Why They Deported 264 Nigerians
This procedure was not limited to Nigerian citizens only, but rather to citizens of other countries."
The Royal Embassy of Saudi Arabia clarified media reports about the deportation of 264 Nigerians upon entry into the Kingdom, stating that it was not targeting Nigerians.
On Monday, The Saudi Arabian government cancelled the visa of all the 264 passengers airlifted by Nigeria's major carrier, Air Peace, on arrival at the country from Kano, insisting that they be returned to Nigeria.
However, in a statement released on Wednesday, the Saudis Embassy said, "The passengers who were denied entry, and subsequently deported to their initial destinations, didn't fulfil the entry conditions and requirements in accordance with the applicable rules and regulations of the Kingdom, as they submitted incorrect information to obtain a category of visa that doesn't apply to them, which was discovered upon their arrival."

"This procedure was not limited to Nigerian citizens only, but rather to citizens of other countries."
Similarly, The Ministry of Foreign Affairs, in a statement made available to Channels Television on Tuesday, said it was "investigating the matter to see if any consular or aviation rules have been flouted."
Special Adviser on Media and Communications Strategy to the Minister of Foreign Affairs, Yusuf Tuggar, said the ministry will ensure such actions that impact the welfare of Nigerian citizens are mitigated in the future in line with what was described as the Four Ds strategy of President Bola Ahmed Tinubu.
The Royal Saudi Embassy also issued cautionary measures for applicants wishing to visit the Arabian Peninsula.
"The Royal Embassy would like to stress the importance of following the procedures and laws enacted by the Kingdom of Saudi Arabia for all visitors," it also read.

"Furthermore, all passengers should review all the documents to determine their conformity with the conditions before departing from their countries to the Kingdom."
Strike: Aviation Workers Opt Out, Ports Grounded
Strike: Aviation Workers Opt Out, Ports Grounded
The nationwide strike initiated by the Nigeria Labour Congress commenced on Tuesday, revealing partial compliance within various sectors of the economy.
The NLC, in collaboration with its affiliate, the Trade Union Congress, declared an indefinite strike starting from November 14, 2023.
The decision to launch the strike was driven by alleged infractions and encroachments on workers' rights, including the assault on NLC President Comrade Joe Ajaero and the government's persistent refusal to implement agreed-upon measures.
Additional grievances encompassed the non-payment of backlog salaries, pensions, discriminatory salary practices, and non-compliance with the national minimum wage.
Despite an ex-parte application filed by the Federal Government and the Attorney General of the Federation and Minister of Justice seeking to restrain the unions from proceeding with the planned strike, approximately 19 unions defied the court order.
This defiance raises questions about potential implications across various sectors and the government's response to the workers' demands..
The extensive array of participating unions, spanning education, healthcare, telecommunications, local government, judiciary, banking, maritime, electricity, parliamentary staff, and railway workers, underscores the far-reaching impact and solidarity characterizing the ongoing nationwide strike.
In September, the Organised Private Sector of Nigeria issued a warning to the NLC and TUC, underscoring the substantial threat that strike actions pose to the country's economy.
Expressing concerns about potential adverse effects on economic stability, the private sector urged a reconsideration of such actions to safeguard the nation's economic interests.
Port activities grind to a halt
Licensed customs agents and other port users at the Apapa, Tincan Island, and other ports in Lagos were denied access due to compliance from the Maritime Workers Union of Nigeria.
Observations on Tuesday revealed a complete shutdown of all commercial activities at the ports.
The Union had announced its intention to participate in the nationwide strike, citing various grievances and infractions against workers' rights.
In a statement on Monday, the Head of Media of MWUN, John Ikemefuna, conveyed that the strike directive came from the National Executive Council meeting of the NLC.
The decision was a response to perceived government infractions, including the abduction and assault on NLC President Comrade Joe Ajaero, non-payment of salaries and pensions, and the government's failure to implement agreements.
Affirming their commitment to the nationwide strike as an affiliate of the NLC, Ikemefuna expressed readiness to join the broader labor action.
Reacting to the development, Sikiru Remilekun, the Youth Leader of the Association of Nigerian Licensed Customs Agents, Tincan Island Chapter, issued a notice instructing members to stay at home until further information is provided.
In a public notice, Remilekun stated, "All terminals are shut down pending the discussion and outcome of the meeting with the federal government. Please, all clearing agents should stay home and listen to news and genuine information if it will still be held or continue tomorrow."
The Ports and Terminal Multipurpose Limited Chapter Chairman of the National Association of Government Approved, Thomas Alor also confirmed the situation, stating, "There is no activity here, no operations everywhere; they are not working. I have even left the place now heading home."
Aviation
The aviation industry opted out of the ongoing nationwide strike, citing a lack of preparations as the decisive factor.
Operations at the Murtala Muhammed International Airport, Lagos and Nnamdi Azikiwe International Airport, Abuja continued without disruption, with no reported flight cancellations
The General Secretary of the Air Transport Services Senior Association of Nigeria, Francis Akinjole, in an interview with The PUNCH clarified the sector's stance, stating, "We will join, but we have not actually sat down to decide on that.
"We have a way of doing our own things. We don't just embark on a strike without adequate preparation."
Akinjole highlighted a logistical challenge facing the aviation unions, pointing out that one of their member unions is holding a delegate conference in Benin City starting from Wednesday.
He emphasized the need for a coordinated approach, stating, "We cannot be in Benin and enforce a strike in Lagos. So, we have to meet and decide on how to go about it."
Acknowledging their alignment with the issues at hand, Akinjole recalled a similar scenario five years ago during the NUATE (National Union of Air Transport Employees) National Delegate Conference in Asaba.
He noted that despite a national strike, aviation unions were engaged in activities in Asaba, highlighting the sector's commitment to strategic and well-organized decision-making.
Akinjole concluded by assuring that all aviation unions would convene to address the current situation, emphasizing the sector's seriousness in dealing with pertinent issues.
NUATE, one of the key unions, has already taken its place at the ongoing delegate conference, raising questions about the aviation industry's unique approach during times of nationwide labor actions
Power sector records partial compliance
Power sector workers participated in the nationwide strike. While the power grid remained operational, reports indicated that only essential electricity workers were permitted to work at power stations.
The acting General Secretary of the National Union of Electricity Employees, Dominic Igwebuike, confirmed that power sector workers withdrew their services at various power stations, except for essential services. However, essential workers would join the strike if it persists.
Igwebuike's statement was supported by the Ibadan Electricity Distribution Company, which announced the temporary closure of its offices due to the strike, noting that essential services would remain uninterrupted.
Addressing claims of a blackout and grid shutdown, the Transmission Company of Nigeria emphasized that reports suggesting a national blackout were false and misleading. The company clarified that the nation's power grid was intact and actively supplying electricity to distribution load centers nationwide.
NUBIFIE in some states join, Lagos opts out
Speaking in an exclusive interview with The PUNCH, the Senior Deputy General Secretary of the National Union of Banks, Insurance and Financial Institution Employees, Mr Aboderin Olusola, said so far there has been compliance of banks, insurance companies and other financial institutions in so many states like Bayelsa, Kano, Osun, Edo, Abuja and others.
He said, "We have about 85 per cent compliance, however, the challenge we as a body is that most of these public sector unions especially Lagos, did not comply."
According to him, for example in Lagos, banks opened their offices earlier in the day and goods were going about their normal business, local government and hospitals opened, most of the public sector unions did not join the strike, and nobody enforced compliance, though our union would move round to ensure that union members in Lagos would comply and just the strike as long as they are members of the unions.
Potential economic loss
The ongoing nationwide strike could result in a daily economic loss of N25.93bn for the Nigerian economy, as per data sourced from the National Bureau of Statistics.
The NBS had previously calculated the economic cost of a nationwide strike in 2012, providing insights into the potential financial impact.
In a document titled, 'Economic Cost of the Nationwide Strike Action of 9th January – 16th January 2012: Initial Assessment,' the NBS offered an initial estimate for an eight-day strike action.
Using projected figures for GDP in the first quarter of 2012 and the first quarters of the last three years (2009-2011) for each covered economic activity, the NBS stated, "The real cost of any socio-economic disturbance is the tragic but avoidable loss of human life, the value of which cannot be accurately computed.
"In this brief, the NBS relies on the Gross Domestic Product (or GDP) to estimate the monetary value of economic activity "lost" during the period of the strike. In this regard, it is estimated that the nation lost N207, 408.28m million during the eight-day strike."
Extrapolating from this data, the potential daily economic loss in the current strike stands at N25.93 billion, underscoring the substantial economic implications of the ongoing labor action.