Engr Dr Waheed Adekojo Funmilayo Unveils Three Artistes As She Launches Funmi Ayinke Record Label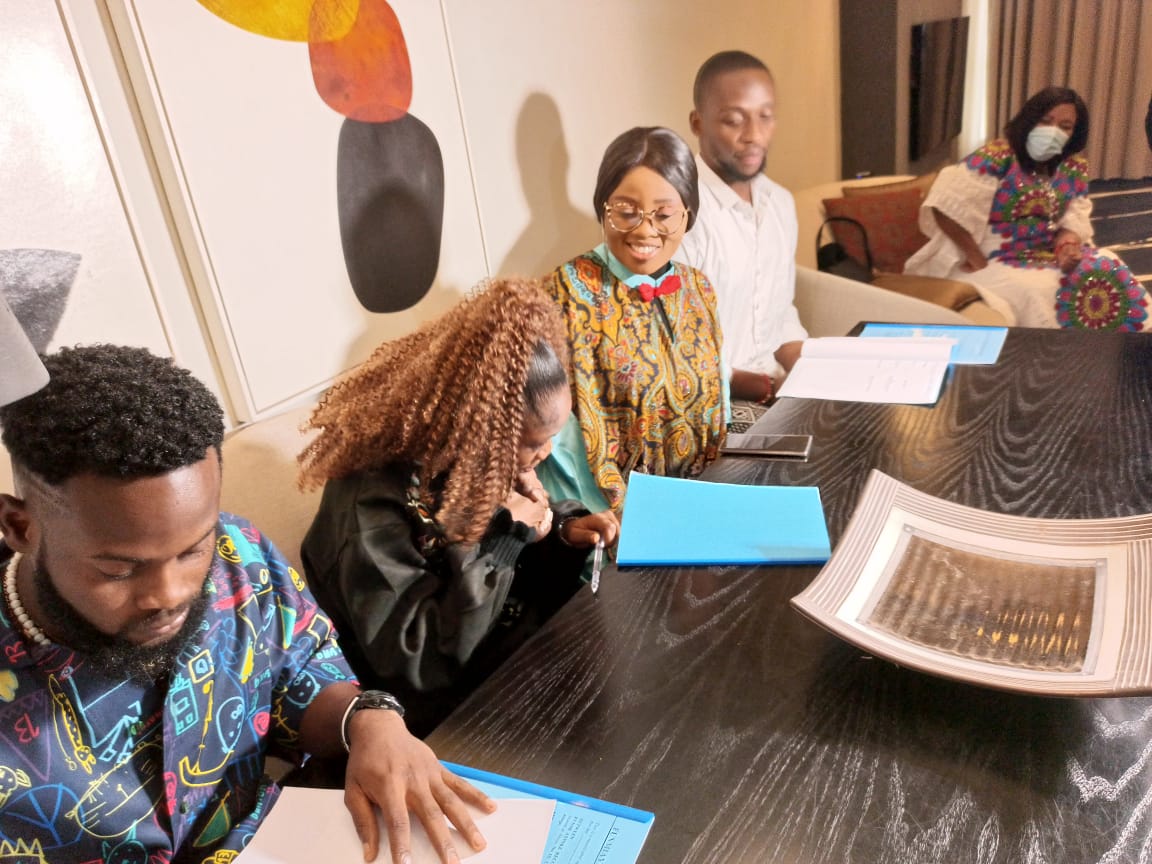 Popular musician and philanthropist, Engr Dr Waheed Adekojo Funmilayo simply known as Funmi Ayinke has launched a record label with the signing of three talented artiste yesterday, 18th of September, 2021 in Lagos.
The artistes; Omohsoke, Timsingz, and Conffyghold who were carefully selected from a handful of talents at the disposal of Engr Dr Waheed Adekojo Funmilayo were overjoyed to have signed a two-year contract with the world class record label.
Engr Dr Waheed Adekojo Funmilayo is one who has her hands in many things, She is first a professional engineer, has a foundation, a motivational speaker, runs a talent show and just barely a year ago, added music to the fleet of engagements she has, not for any reason but to be a source of help to struggling talents in the country.
According to her, apart from having the music talent, she saw the need to go into music when it was discovered that many Nigerian youths don't read but prefer to listen to songs. Hence, every of her motivational speech were put into her songs for the youth to listen. In addition to this, she organizes several competitions on her instagram page to get the youths to sing some of these songs and win money on a regular basis, which is very rare of any musician across the country.
She added that Funmi Ayinke Record Label started three months ago out of the need to create a platform to groom and promote some of the talents she discovered through the competition she organizes on her instagram page as it has always been her thing to engage in humanitarian services in every sector of the society.
''Today is like a dream come true, having my label signing three artiste in Nigeria, this is doing what I love to do best, humanitarian services, bringing hope to the hopeless so they can make it.''
''I started music during the EndSARS period about one year ago. I have about seven song, and my album will be out in November. FRL came about three months ago, it's been a vision. I noticed that most Nigerian youths don't like reading so I thought of putting most of my words in songs. I run a talent show where I get them to do some of my songs and as a reward for the good ones, I give them money and other gifts. There are so many talents I discovered through my instagram page and instead of giving them money and leave them, I thought of keeping the talents in order to groom them and give them a platform to thrive on''
Funmi Ayinke Record Label is not like the conventional record label, it's more like a charity organization for music talents looking at the too-good-to-be-true deal. Engr Dr Waheed Adekojo Funmilayo made it known that while in the label, everything the artistes make is totally for them unlike the normal record label where artistes have to give a certain percentage.
'' At Funmi Ayinke Record Label, everything the artistes make is for them, they are not required to give a certain percentage to the label, It's not a commercial label but a service to humanity from my end''
'' We are giving them a contract of two years, if they are able to make enough money, I will release them but if they are not able to, we sign them again till they are able to make it. We don't give up on lives, we are just giving them a target so they can be serious but if they are unable to meet up with the target, we will keep pushing them''
While speaking with the signed artistes, they described Engr Dr Waheed Adekojo Funmilayo as an angel who came through for them when they needed one.
Conffyghold, a working music powerhouse explained that the moment she met her, she immediately became her mentor because of the qualities she possesses.
''I am Bamiduro Oluwayemisi Odunayo AKA Conffyghold from Ondo state. I met funmi Ayinke through my big aunty after which I did a song for all mothers. I feel great signing the contract. I have always had Simi as my mentor because of her kind of music but when I met Mrs Funmi Ayinke, I immediately found a mentor in her. I can boldly say she is my mentor''
On his part, Timsongs noted that he met Funmi Ayinke on instagram during the lockdown period when she used her platform to help people. The talented young man whose voice dexterity is compared to none revealed that Funmi Ayinke is his inspiration because the first song he has ever written is her birthday song.
''I am Chibike Timothy, AKA Timsingz from Anambra state. I met Funmi Ayinke on instagram during lockdown period when she used the platforms to help people. She used the internet to reach out to so many people. Funmi Ayinke is real. I do soul music, inspiration and a little bit of RnB. Funmi Ayinke is my inspiration because she made me to start writing songs. The first song I have written so far is her birthday song. As an artiste under this label, I will be bringing something different in the music industry with my uniqueness. I look up to Funmi Ayinke, Praiz, Timi Dakolo and Darey Art Alade.''
In the same vein, Omohsoke whose vocal prowess is amazing made it known that he met Funmi Ayinke through a friend when he was going through a lot in school.
He revealed that he was on the verge of dropping out in school when Funmi Ayinke came through for him.
'' I am Victory Patrick Omonayo, AKA Omosohke, I'm nto afro soul and afro pop. i met Funmi Ayinke through a friend when I was going through a lot, since them my life has not been the same.
''I was facing lot of challenges in school, I wanted to drop out but she came in and helped me through. I finished my ND and I'm here. She's more than an angel to me. I want to make a name here and as Funmi Ayinke uses her position to bless other people, I want to follow the same footpath''