From Germany with care: 200 Iguemokhua pupils get free uniform, stationery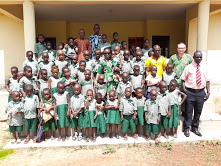 From Omoregie Elvis
For the pupils of Iguemokhua Primary School in Orhionmwon Local
Government Area of Edo State, it was a day that they will ever lived
to remember.
A day when over 200 of them were given free uniform, school sandals,
stockings, and writing materials to assist in the actualization of
their educational goals, courtesy of a German based Edo indigene, Mrs.
Comfort Osunde Emmanuel.
The pupils were full of incitement when they were told by their
teachers that they were going to be given a new uniform by a well
spirited individual. So they comported themselves in a civilized
manner and waited patiently  and eventually, they got it.
For those who benefited, the problem of I do not have uniform or other
school materials will no longer come up from the pupils and this will
be in no small measure foster a very strong education foundation for
them who are the future leaders of that community and by extension,
Nigeria as a whole.
Also impacted on, were the orphanage homes at Uyiosa and Charry Love,
both in the state capital.
The donor, Mrs. Comfort  who came in company of her German christian
brother, Mr. Fuhrman Frank, said she was inspired by God to show
kindness to the less privileged in the society irrespective of tribes
and religion.
She said she derived joy and satisfaction from helping the less
privilege adding that she did not see what she is doing as a challenge
but a calling to help the needy in the society.
"I do not believe that there is much challenges. There is no
challenges because we work under the fear of God and His instructions.
He is our guardian.
"Actually, nothing much but because of the fear of God in me, that
makes giving to the less privilege ones, the orphans, the widows and
the widowers so interesting to me.
"Giving is one of the fastest means to get God blessings. No matter
the little thing you have, it is good to share with others who are in
need.
"I do not have any motive but I just do it to please my father in
heaven and that make me happy because I love to see people smile and
happy and when they are happy, I am also happy.
"By the grace of God, anything that God places in our hearts to do for
Nigerians or Edo State, or Iguemokhua village or other villages, we
will do it but for now, we leave everything in the hands of God", she
said.
The visiting German, Mr. Fuhrman Frank who is visiting Edo State for
the second time, said he was going to take the message back to his
country and fine tune how many of the school pupils in the rural areas
can be assisted.
"I am here to see my brothers and sisters of the same believe in
different country and  to see their conditions and how they are living
and to help a little bit to improve their conditions.
"My sister is doing all these work because she knows her people, she
knows their conditions of the people in the orphanage, of the people
in the villages and so on. I am here to support her so that she can do
all that she is doing.
"I have seen it with my own eyes and I can share the testimonies about
this to my people in Germany and to see if they can also do something
on their own to help", he said.
He commended the people of Iguemokhua for their hospitality and the
joy in which the pupils received the uniform and other stationery
given to them.
"You know, there are different culture, languages and climate. So you
have to cope with all that.
"You also know that if you are coming to the country you have never
been to before, you have to learn a lot, how to communicate with the
people, how to understand them but all these are going on smoothly but
for my sister, she is born in this country, she knows what to do and
how to do them", Mr. Fuhrman said.
Caption: A cross session of pupils of Iguemokhua Primary School in a
group photograph with Mrs. Comfort Osunde and Mr. Fuhrman Frank.
TASCE: Abiodun renames College of Education after Awujale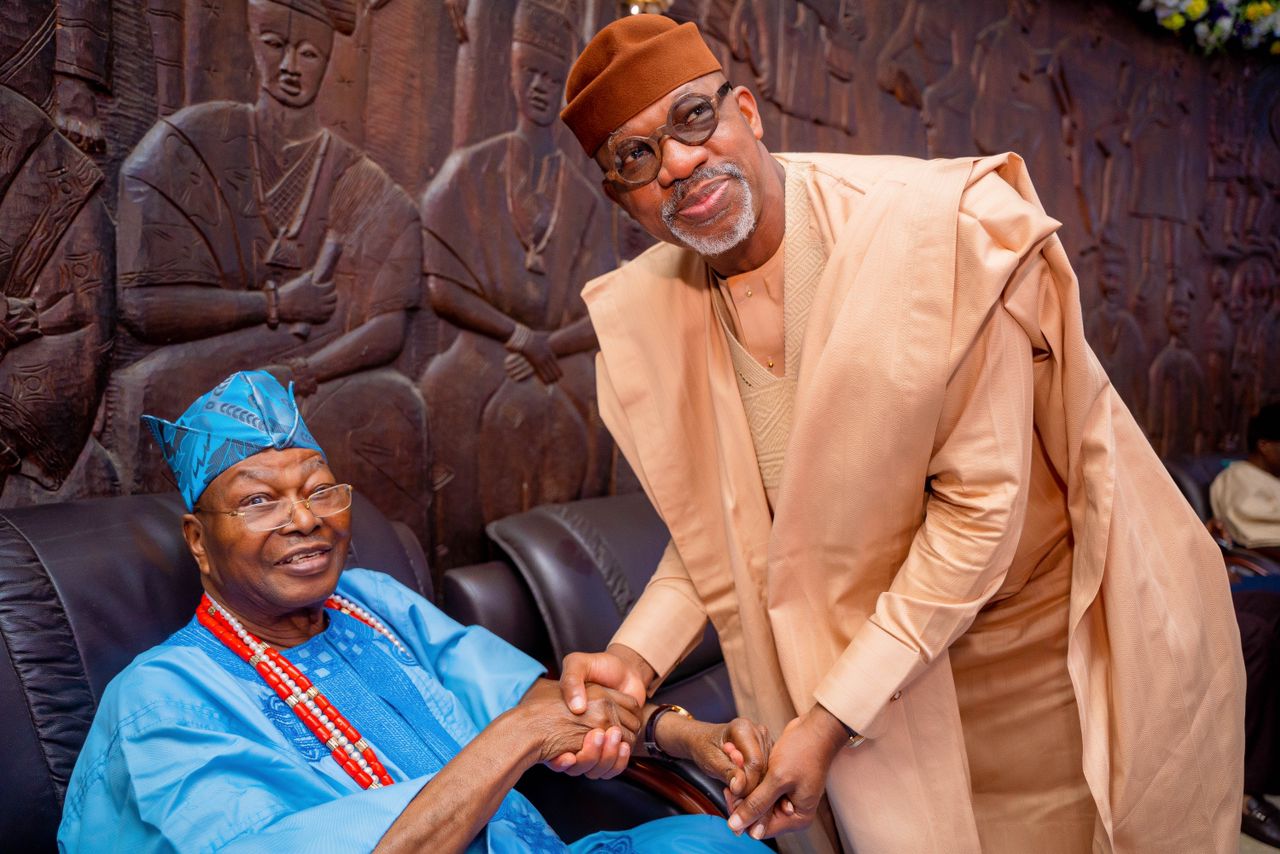 TASCE: Abiodun renames College of Education after Awujale
Governor Dapo Abiodun of Ogun State has formally renamed the Tai-Solarin College of Education (TASCE), Omu-Ajose as the Sikiru Adetona College of Education, Science and Technology (SACOETEC) with a pledge that the institution would remain a College of Education with the mandate to groom middle level teachers for the educational System of the country.
Abiodun who made this known during the formal unveiling of Sikiru Adetona College of Education, Science and Technology, said that his administration would not relent in its quest to make the institution an envy of others in the country.
While noting that despite the change in the name, the governor pointed out that the institution will continue to run its degree programmes, as well as accommodate science and technology courses.
He declared that his administration would be supporting the College in the area of infrastructure, disclosing that the ongoing reconstruction of road from Ala passing through Omu-Ijebu would soon be commissioned.
"We are gathered today to celebrate a milestone to a glorious future for this institution. Today Tai Solarin College of Education will cease to exist and in its place, we now have Sikiru Adetona College of Education Science and Technology, Omu-Ajose.
"The College will remain a College of Education with a mandate to groom middle level teachers for our educational System. The College will continue to run its degree programmes in affiliation with universities.
"We will also be supporting the College in the area of infrastructure; in fact, very soon, we will commission the internal roads of the College and the road from Ala passing through Omu," he said.
Abiodun who said that Ijebuland has prospered under the Awujale, also commended the monarch for single handedly establishing a world-class International Institute of Governance at the Olabisi Onabanjo University, Ago Iwoye.
He further acknowledged the monarch for not only creating room for development in the land, an praised him for also facilitating developmental programmes through his friends and associates into the state.
The state helmsman who also called on the sons and daughters of Ijebuland to see the unveiling of new college as a challenge to make their presence felt in the institution, said: "Just as Ijebuland is blessed with long and progressive reign of Kabiyesi, the time has come for us to join hands in creating a legacy for Kabiyesi by investing heavily in this institution".
The Speaker, Ogun State House of Assembly, Olakunle Oluomo, who noted that there was no dissenting voice when the bill to change the name of the institution was brought to the House, added that the contribution of the monarch to the growth of education in the state is highly commendable.
Earlier in his remarks, the Chairman of the Governing Council of the institution, Adeyemi Adefulu, said that the emergence of the college as Sikiru Adetona College of Education, Science and Technology was part of the massive and fundamental re-organisation of the college.
Adefulu while noting that the Governing-Council has been instrumental in achieving stability in the college, said that the council has zero tolerance for indiscipline and lawlessness.
He, however, commended Governor Abiodun for his immeasurable support for the institution, submitting that, "the saving of TASCE now Sikiru Adetona College of Education, Science and Technology(SACOETEC) from perdition is sufficient proof of the governor's commitment to educational development and adroit management".
The Awujale and Paramount ruler of Ijebuland,Oba Sikiru Adetona while commending the Governor for his leadership style, said that his various performances speak volume of a man who is well accepted by the people.
Oba Adetona who opined that the forthcoming coming election is a done deal for the governor, said that the governor is fully in control of things in the state.
A Philanthropist, Mr. Tunde Olaogun Buys GCE Forms for 50 Students…..
A Philanthropist, Mr. Tunde Olaogun Buys GCE Forms for 50 Students…..
A Philanthropist, Mr Tunde Olaogun, has distributed General Certificate Education (GCE) forms to no fewer than 50 indigent students of his constituency in Ogbomosho, Oyo state.
Olaogun, said this at the official distribution of the WAEC GCE registration PIN to beneficiaries that investment in education was necessary to transform Nigeria.
The philanthropist promised that the number of beneficiaries would increase to 200 by next exams.
Olaogun, a grassroot politician, Philanthropist and owner of Royalty Lounge & Suites, Ikeja said that the gesture was in line with progressive programme on education for youths.
We have done this in the past without any publicity knowing fully well that our youth needs this encouragement to take education seriously.
"But we later discovered that some of them did not have complete O' level results and some students also approached me, and said that they needed GCE forms.
So, I felt that this was a way to let the youth grow. With this, they would be able to help their parents when they eventually graduate.
"The knowledge that we acquired is what is helping us today. So we will continue to do more to impact on the youth.
In response to this kind gesture, the principal of the secondary school where this forms were distributed appreciate the philanthropist in an official letter here attached.
How Primate Ayodele Foretold Fire Outbreak In WAEC Office, Fuel Scarcity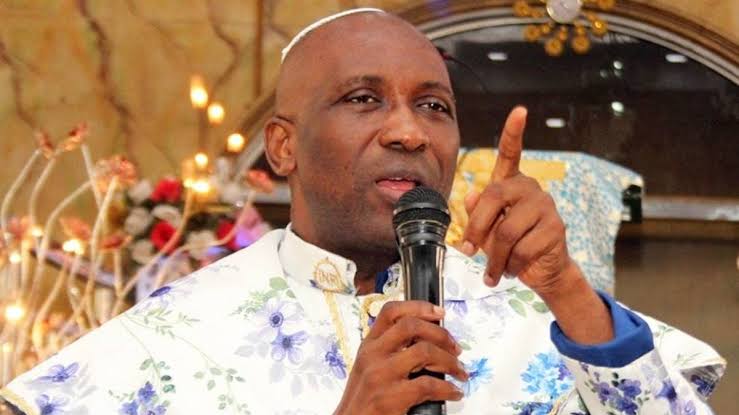 How Primate Ayodele Foretold Fire Outbreak In WAEC Office, Fuel Scarcity
The headquarters of West African Examination Council (WAEC), Yaba was gutted by fire this morning and had several people trapped in the building. It is not yet known if there are casualties but obviously, documents and properties worth millions of naira have been destroyed.
This is no doubt a sad situation that should never happen considering the sensitive documents in the building. However, this has been foretold by a popular Nigerian prophet, Primate Elijah Ayodele in his annual book of prophecy titled Warnings To The Nations which was released in July 2022.
Warnings to the nations is a prophecy booklet that talks about every country in the world and every sector of the country including education, sports, governance, economy, business, to mention a few. While speaking on WAEC in the book, Primate Ayodele warned that the body should pray against fire outbreaks in any of their offices. Unfortunately, this has been fulfilled this morning.
Also, Nigerians are currently groaning in pain due to the sudden scarcity of fuel that hit the nation earlier this week. Petrol is now being sold for N200/ltr and above in stations that have it. Primate Ayodele had also warned Nigerians of this situation severally. The most recent of his warnings concerning the fuel crisis was in August when he said the economy of Nigeria cannot be better again under this present government. He mentioned that essential commodities will be costly and the fuel will sell for N250/Ltr because it will become scarce (https://pmnewsnigeria.com/2022/08/26/more-hardship-awaits-nigerians-army-will-go-on-strike-primate-ayodele/) . This again has just been fulfilled as some petrol stations sell for N250/ltr just as Primate Ayodele warned.