Gov.Dapo ABIODUN'S JUNE 12 ADDRESS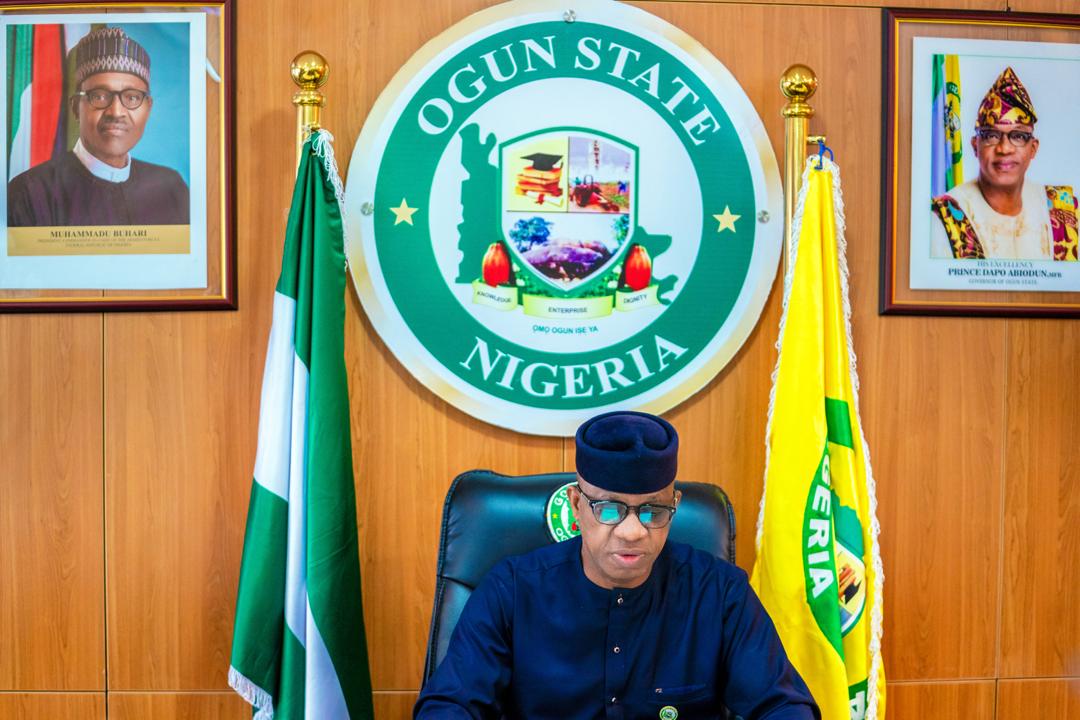 ADDRESS DELIVERED BY THE GOVERNOR OF OGUN STATE, HIS EXCELLENCY, PRINCE DAPO ABIODUN MFR, AT THE YEAR 2020 JUNE 12 COMMEMORATION ANNIVERSARY, HELD ON FRIDAY, 12TH JUNE, 2020
My dear people of Ogun State,​
This day 27 years ago, Nigerians defied all their traditional fault-lines to vote en-mass for Chief Moshood Kasimawo Olawale Abiola as the President of our great nation. That day, there was no North, South, East or West. Nobody cared about tribes and tongues. It did not matter that it was a Muslim-Muslim ticket. Everybody wanted progress and voted for change in a manner unparalleled in the history of Nigeria.
2.​It was a day Nigeria came together and there has never been a day like it again. This is because MKO Abiola won the election, fair and square. Abiola scored 58.36% of the 14 million votes cast. Abiola won in 20 of the then 30 States of the federation. He had a spread across all the geo-political zones. The election was declared Nigeria's freest and fairest Presidential election by national and international observers, with Abiola even winning in his opponent's home-State. June 12 is, thus, a day to remember Chief Moshood Kashimawo Olawale Abiola as well as other democracy martyrs.
3.​I am talking about: (i) Free and fair elections; (ii) Uncoercedexpression of voters' preference in election; (iii) Respect for electorate as unfettered final arbiter on elections; (iv) Decorum and fairness on the part of the electoral umpires; (v) Absolute respect for the rule of law. MKO remains the iconic reference for and symbol of ONE NIGERIA and our closest link to DEMOCRACY. Had we sustained the momentum, perhaps our great Nation, Nigeria, would have moved from its Third World Status to First World like Lee Kwan Yew's Singapore.
4.​Indeed, beside the Day the Union Jack flag was lowered for the Nation's Green-White-Green flag, on October 1, 1960, there is no day with national significance like June 12, 1993. This is because in spite of the uniqueness and peculiarities of Nigeria, the election of MKO Abiola demystified all stereotypes about the so-called centrifugal and centripetal forces. June 12 was complete in answering to all the prerequisites which constitute an irreducible minimum for democracy.
5.​Many Nigerians have always been of the opinion that June 12 should be a national holiday. However, only some Nigerian States were actually celebrating it until Tuesday, 6th June, 2018, when President Muhammadu Buhari, GCFR surprised the whole nation by choosing June 12 to replace the hitherto May 29 as the fair, right and proper day to celebrate our National Rebirth and real day of Democracy.
6.​Let me use this opportunity to once again thank President Muhammadu Buhari GCFR, for conferring the highest National honour of Grand Commander of the Order of the Federal Republic (GCFR) on Late (Chief) Moshood Kashimawo Abiola on Tuesday, 12th June, 2018. That the President understood the need to correct the injustice done to a proud son of Ogun State and redressed it as a pre-requisite for peace and unity is not only commendable, it is worthy of emulation. As President Buhari rightly observed, we should consider this honour of Democracy Day as part of the process of healing and reconciliation as a National apology from our leaders to all of us. And, as today is the first year anniversary since our President recognized the day, we should ordinarily roll out the drums in Ogun State. We would have had a better and bigger celebration of June 12 if not for the global pandemic of COVID-19. Even if he had been around, President MKO Abiola, GCFR, would not have endorsed such indiscretion at this grievous period of the dreaded virus.
7.​But even at that, we recognize that we have to do what we need to do in recognition of the Late MKO Abiola because we are all beneficiaries of his democratic sacrifice, which paved way for the democracy we all enjoy today. We know that democracy has been fully watered by the blood of some Martyrs and Abiola occupies a prime position in this respect. It was then not a surprise when he was given the posthumous highest award in Nigeria, the Grand Commander of the Federal Republic of Nigeria (GCFR).
8.​As the Nation commemorates June 12, 1993, General Election, we celebrate Chief Abiola, the great Ogun State avatar, selfless philanthropist, successful businessman and social democrat. This is not just because the election remains a watershed in the political history of our country but because it is an attestation to the demonstrable show of love and patriotism that reverberate across the country and the rest.
9.​Let me say that another significant element of the success of the June 12 election is based on the vision of the Late (Chief) MKO Abiola as anchored in his programme of creating prosperity for all the people of Nigeria. He believed that the wealth of Nigeria was sufficient enough for all her citizens, regardless of geographical location, sex, age, religion or tribes. It is in record that MKO Abiola was the first Presidential candidate that would campaign far and wide to all States of Nigeria before election. He had therefore felt the pulse and feelings of the people, even at the grassroots level. And, he always confirmed that he knew what poverty means, but he was also lucky to have education.
10.​Thus, he saw education as a veritable vehicle for emancipation of the people. We are not surprised that Abiola aligned himself to education from all sides of the world . This is why he named two different educational facilities after his father, Salawu AbiolaComprehensive High School, Osiele; and, also his mother, ZulikhaAbiola College of Arabic and Islamic Studies, both in the State Capital.Furthermore, the late MKO knew the centrality of people as a focus of good governance and emancipation. That was why he anchored the entire campaign of "Hope 93" towards providing prosperity for the citizens of Nigeria – he wanted to banish poverty from Nigeria.
11.​We are proud to identify with the dreams and vision encapsulated in "HOPE 93". This also provided the compass to fashionour "Building our Future Together" Agenda to rekindle hope in the people of our dear State. I believe that the best way to immortalize thelate MKO Abiola is to ensure that the ideals that he lived and fought for,continue to live even after him. We must continue to propagate the evolution of democratic ideals and principles for further development of the Nigerian as a Nation. Our "Building our Future Together" Agenda is following the narrative of Abiola's HOPE projects in education, agriculture, poverty alleviation, affordable healthcare, provision of infrastructure and good governance. These form the bases for our Administration's unalloyed commitment towards upholding the principles of good governance of inclusiveness, openness, transparency, accountability, fairness, justice, equity, and obedience to the rule of law.We believe this will in turn engender more contributions from the people to the continued development of our dear State.
12.​ Let me once again reassure our people that we will continue to ensure that the dividends of democracy and benefits of good governance get to the generality of the people of Ogun State under our watch. We are committed to giving priority to the people as the focus of our Administration. We will continue to rekindle the hope of the people and reawaken their belief in their government. That is the best memorial we could ever give MKO. As an Administration, we will continue to live up to the ideals of Bashorun Moshood Kashimawo Olawale Abiola GCFR, and keep his dreams alive through continued and faithful implementation of our policies and programmes as reflected in our ISEYA acronym, that is:
I –Infrastructure
S – Social Welfare and Wellbeing
E – Education
Y – Youth Development, and
A – Agriculture and Food Security
13.​Distinguished ladies and gentlemen, as we reflect today on the unquantifiable, selfless sacrifice and contributions of Chief Moshood Kashimawo Olawale Abiola to the development of our fatherland, let us remember in his words that "Only real democracy can move our Nation forward towards progress, and earn her the respect she deserves from the international community". I therefore enjoin us all to rededicate ourselves to the service of the nation and continue to remain united and patriotic. No greater honour can be bestowed on Late Chief Abiola than this. This is when the labour of the highly revered politician, businessman and philanthropist as well as other heroes shall not be in vain.
14.​Ladies and gentlemen, on a concluding note, I enjoin all of you to continue to pray for the repose of the soul of the gallant father of democracy, our own dear uncle, father, great-grandfather and symbol of Nigeria's unity, late Moshood Kasimawo Olawale Abiola GCFR. There was no humiliation that he did not endure; no snare that was not put in his path; no setup that was not designed for him in his endeavour to use the path of peace to enforce the mandate that was bestowed on him. We remember today, as always, that you died that Democracy may survive in Nigeria. We pray that your beloved wife, Alhaja Kudirat, and other patriots whose blood water the field of democracy that we now enjoy find peace with their Creator. May the soul of Chief MKO Abiola continue to rest in perfect peace. Amen!
15.​I thank you all for listening, and God bless.
Igbega Ipinle Ogun, ajose gbogbo wa ni o!
Prince Dapo Abiodun, MFR
Governor of Ogun State, Nigeria
Friday, 12th June, 2020