Gov. Sanwo-Olu commended the professionalism and resilience of the troops WASA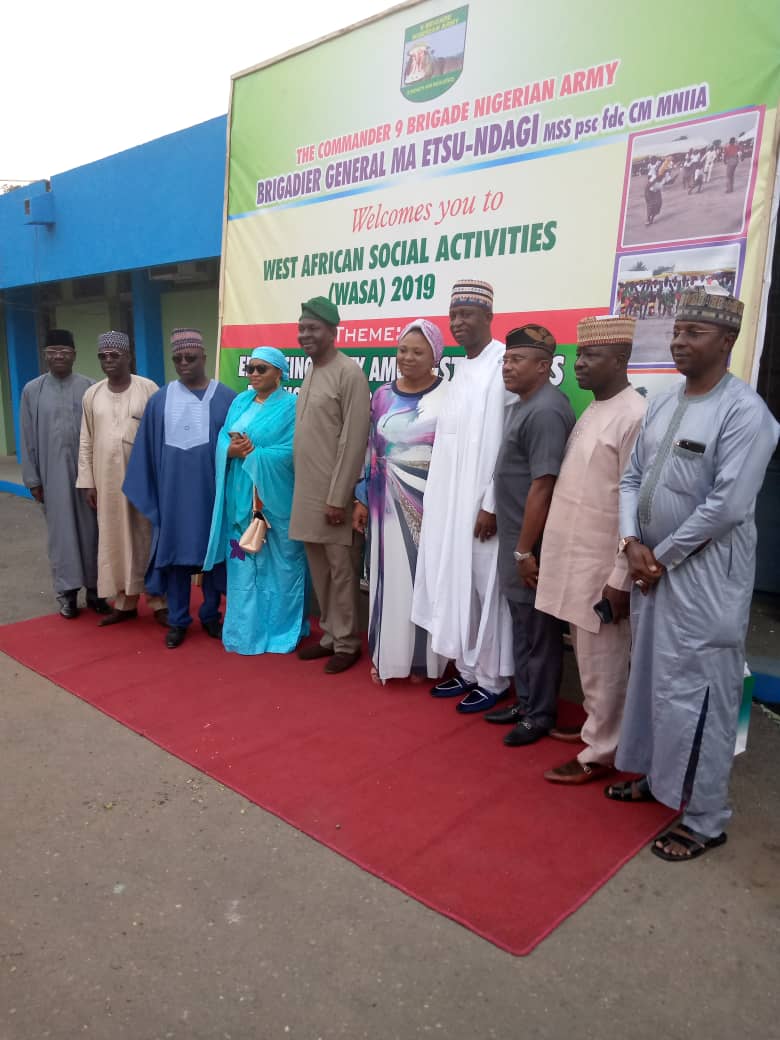 By Ifeoma Ikem
Lagos State Governor ,Mr.Babajide Olusola Sanwo-olu commend 9brigade Nigeria Army as they mark their end of the year west African Social Activities .
The event was held on Saturday at the parade ground of 9brigade Nigeria Army Barracks ,Maryland,Lagos State.
It is an annual occasion designed to reduce tensions and stress which would enable troops forge ahead to face the future with renewed vigor. It further provides enabling environment for the officers and men to wine and dine with their families and immediate communities as well in showcasing the diverse cultural heritage that the Nigerian nation is made after a successful training and operational year.
The Special Guest of Honour, the Executive Governor of Lagos State, Mr Babajide Olusola Sanwo-olu at the occasion commended the professionalism and resilience of the troops in sustaining peace and tranquillity in the state.
A representative of the state governor, Engr.Tayo Bamigbose-Martins, a commissioner for Special Duties, said that the State appreciated the efforts of the troops and encourage them to build on their last year's performance to ensure a successful outing this year 2020.
"The WASA ,program is a exciting, is a program that happened yearly in fact I'm happy to be here. This program is a social program, and you can see the crowd. "It shows that it is entertaining and educating,it indicated the difference between the divers cultures in the Army,"he said.
Welcoming the audience, the Chief Host, the Commander 9 Brigade, Brigadier General Musa Awwal Etsu-Ndagi said WASA is meant to take officers away from their routine regimental life and make them comfortable in a relaxed mood.
Highlights of the event were performances from different cultural troupes including Ijumu Kabba, Yoruba, Nupe, Igbo, and comedy. Tug of war competition between female soldiers and female corp members as well as Male soldiers of 9 Brigade Garrison and Other Service units of the Headquarters were featured.
To boost morale and encourage the for better future performance,15 Soldiers that have distinguished themselves were given awards for their outstanding performance in the year 2019.
While the event was climaxed with beating of retreat and lighting of camp fire.
The occasion was graced by the General Officer Commanding 81 Division, Nigerian Army, ably represented by Chief of Staff, Brig Gen Nsikak Edet, Commander NNS Beecroct, Reps of AOC LC, Comdt NAFRC and the Commissioner of Police, Lagos Command as well as other Heads of Sister agencies and Captain of industries.
Also speaking ,Lagos State Commissioner of Police ,CP Hakeem Olusegun Odumosu,said,"we started this together , but it is an Opportunity to bring down stress in the Job,and its improve our health and equally improve our strength to fight Crime and other.
I really enjoyed myself." He added .