Health is Wealth: VFD MFB, Arrive Alive and others take "Project Stay Alive" to Lagos communities.
Arrive Alive Diagnostic Center partnered with Labakcare Organisation and supported by VFD Microfinance Bank and Eko Electricity Distribution Company to bring" PROJECT STAY ALIVE", a free health checkup outreach, to the residents of Surulere and environs.

Speaking to members of the press during the outreach, Azubike Emodi the Managing Director of VFD Microfinance Bank noted that "Arrive Alive has a lot of state-of-the-artfacilities accompanied by adequate manpower and expertise to effectively carry out a project of this magnitude, that is why VFD Microfinance bank was quick to join this partnership.

"This is one in a series of Corporate Social Responsibility (CSR) packages we have mapped out to positively invest in the health and general well-being of the society."

Dr. Coker, representative from Labakcare Organization, stated that the consequence of the partnership is to have a "Healthy environment for a prosperous community for Lagos State and Nigeria in general".

Dr. Mario Adelaja, Business Development Planning and Strategy for Arrive Alive, said the "Focus on preventive care services is the way to go for Nigerians to be able to reduce the cause of the burden of health".

Mr. Godwin Idemudia, the communications manager of Eko Electricity Distribution Company (EKEDC), who was also at the press conference for PROJECT STAY ALIVE said that the gesture was part of the company's Corporate Social Responsibility (CSR).
In Mr. Godwin's words; "It's not about people paying their bills or services rendered, but also to give back, no matter how small, to the society and areas where we operate as a corporate organisation.
"This has to do with the management's passion for good healthcare and wellbeing of Nigerians and the less privileged citizens."

He also noted that this partnership is intended to be continuous, the Management of EKEDC hope to ensure that the subsequent series of PROJECT STAY ALIVE covers more areas beyond Lagos.

Mr. Femi Oke, Group Head of Corporate Communications, VFD Group Plc noted that fundamental to the needs of the society is good healthcare and access to quality education. "We believe when people know better about their health, they will be more prepared and willing to take proactive actions in safeguarding their healthcare and this surely will reflect positively on the overall GDP of any Nation."

Day 2 of PROJECT STAY ALIVE saw in attendance, Desmond Elliot, Representative of Surulere Constituency, Lagos State House of Assembly, Kafayat Oluwatoyin Shifau, a Nigerian dancer, choreographer, dance instructor, fitness coach and Staff of African Prudential who came to offer their support.

Nigeria Cannot Continue to be Dumping Ground, Says Anyakora As FG, World Bank Train Pharma Manufacturers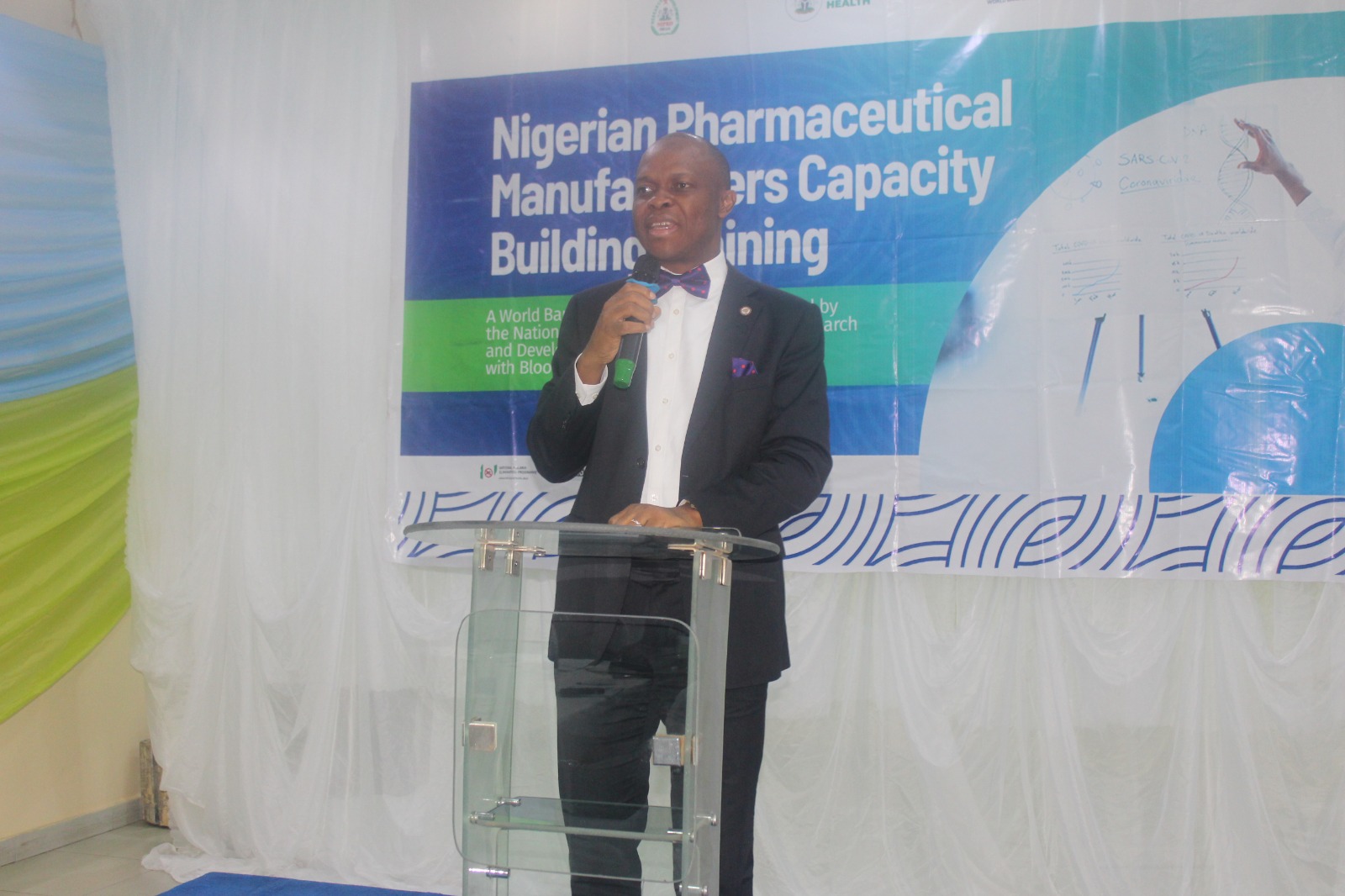 Nigeria Cannot Continue to be Dumping Ground, Says Anyakora As FG, World Bank Train Pharma Manufacturers
By Johnson Fadipe
Nigeria will soon become the hub of pharmaceutical manufacturing in Africa and beyond, if the pharmaceutical manufacturing sector in the country lives up to its full potentials. CEO, Bloom Public Health, Professor Chimezie Anyakora, made this declaration on Tuesday in Lagos at the commencement of the second phase of the capacity-building workshop for local pharma manufacturers organized by the Federal Government and the World Bank.
Anyakora added that the reason for the program is to support drug manufacturers in Nigeria to produce quality medicines so that the nation's pharmaceutical industry will stand strong.
"We can't continue to be a dumping ground as a country and this is the reason this massive effort is being put together and I am happy that the federal government is supporting it. It is a journey to make Nigeria a big leader in drug manufacturing.
"The intention is to make Nigeria the India of Africa in drug manufacturing. This is why we are training the manufacturers so that they will be well-grounded to produce drugs that can compete globally", he said.
Speaking further, Anyakora observed that that excellence in pharmaceutical manufacturing can be attained in Nigeria if the relevant industry players can scale up their games with passion and the right energy. He added that the Nigeria pharma industry is 'falling our hands' because all stakeholders have not done enough to compete at the global level, despite their capabilities.
On his part, the Honourbale Commissioner for Health, Lagos State, Professor Akin Abayomi, stated that the essence of the event is to equip the pharmaceutical manufacturers in Nigeria with what it takes not only to produce drugs that will meet local needs but also export and compete globally.
"The essence of this program is to see how we can increase the production of drugs that will meet local consumption and also produce drugs that meet the World Health Organisation's GMP. It is also important for us to ensure that products that are produced in Nigeria have bioequivalence because it is not good to have a product that carries 500mg and what the patient gets after using the product is just 30%. We are ready to patronise local drug manufacturers as long as their products are standard", he said.
Meanwhile, the Federal Government, through the Director, Chemical and Non-Petrochemical Industrial Development Department, Federal Ministry of Industry, Trade and Investment, Onuorah Francis expressed its commitment towards working with relevant stakeholders in Nigeria to build a vibrant and formidable pharmaceutical industry that will not only meet local consumption but also play at the global level.
Onuorah further said that the Federal Government is ready to develop and make the industries in Nigeria work, adding that the ministry has met with stakeholders in the pharma industry and is ready to work with them to produce Active Pharmaceutical Ingredients (API).
Also speaking at the event, the Director, Foods and Drug, Federal Ministry of Health, Pharm. (Mrs) Bunmi Aribeana stated that Nigeria has about 169 pharma manufacturers, producing different ranges of drugs in different areas, but bio equivalent remains a critical factor that needs to be addressed. She urged all stakeholders to join hands together to build a vibrant and strong pharmaceutical industry that will compete globally.
In his remarks, the Director General and Chief Executive Officer of the Nigeria Natural Medicine Development Agency (NNMDA), Professor Martins Emeje also charged stakeholders in Nigeria to work hard to build the pharmaceutical in Nigeria.
PRESIDENT TINUBU APPROVES INITIATIVE TO PROVIDE FIVE MILLION EYEGLASSES TO NIGERIANS WITH SIGHT IMPEDIMENTS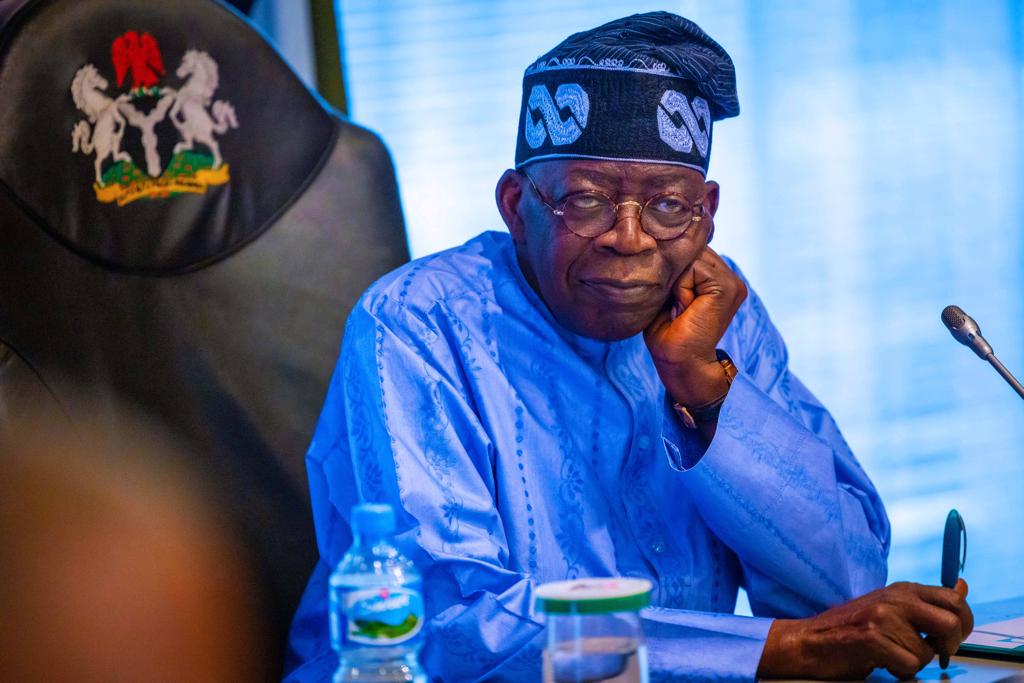 PRESIDENT TINUBU APPROVES INITIATIVE TO PROVIDE FIVE MILLION EYEGLASSES TO NIGERIANS WITH SIGHT IMPEDIMENTS
President Bola Tinubu, on Friday in Abuja, declared his unwavering support for a partnership between the Federal Ministry of Health's National Eye Health Programme and the Peek Vision Foundation to provide more than 5 million pairs of eyeglasses to Nigerians with sight impairments.
The President recounted how close to home his first intervention in eye health was as he made a pledge on behalf of the Federal Government during a courtesy visit by the Founder and CEO of Peek Vision Foundation and Co-Founder of the Vision Catalyst Fund, Prof. Andrew Bastawrous.
"My first experience was with my mother of blessed memory. She was ill and she could not recognise me. When I intervened, she was treated and given a pair of glasses. The next question she asked me was: I have you, and you are able to do this for me. What about those other women and their children who may not have somebody like you to intervene for them?
"So I made a promise to her that I will pursue the mass provision of eye care vigorously and that I would provide free eye screenings and surgeries to people because of that question my mother asked me and because of her passion to see others healed. We eventually impacted the eye health of millions of people in Lagos, and you could see their joy over the immediate sight enhancements when they were given a pair of glasses," the President fondly recalled.
Highlighting the pressing need for improved eye health services in Nigeria, President Tinubu expressed concern about the more than 24 million Nigerians grappling with varying degrees of vision impairments.
"We must act now because sight and vision is critical to economic development and growth," the President said, recalling his visionary "Jigi Bola" programme, which was initiated during his tenure as the Executive Governor of Lagos State in 2001 and provided free eye screenings and surgeries to Lagosians while setting a new precedent for proactive eye care initiatives in West Africa.
"I am in support of this initiative, and I will encourage the mobilisation of further commitment to see this through and to reach vulnerable people all across our country. Some parents may not pay attention to this, but I will, because I am touched," the President concluded.
Expressing his commitment to the cause, Prof. Bastawrous said:
"Good vision unlocks human potential. It improves earning, learning, and wellness for individuals, communities, and countries."
He shared his personal story and the transformative power of vision care:
"When I was 12, I was told by my teachers that I was clumsy and lazy, but the results of an eye exam explained I had very poor vision. And when I put on a pair of glasses, I saw the leaves on a tree for the first time, and my life completely changed and two weeks later, I was using my first pair of free eye glasses and I saw stars clearly for the first time. My grades improved, and the trajectory of my life completely changed, all because of a very cheap intervention that is 700 years old. Had that not happened, I would not be standing in front of you today. I would not be a professor, and I would not be involved in the work I am doing because sight gives opportunity," the Peek Foundation CEO shared.
Professor Bastawrous noted that eye care is still chronically under-resourced in many countries, adding that the estimates in Nigeria show that 0.0002 percent of the health budget is spent on eye health.
"The good news is that President Tinubu has an excellent team in the health sector, and some of them have demonstrated tremendous leadership in the sector. What we would like to offer is to bring our Peek Vision methodology and platform to Nigeria to help unlock resources from multiple sources. In the countries where we have worked, Peek in Botswana unlocked 10 million dollars for the school programme, and in Kenya, 17 million Euros. Through the Vision Catalyst Fund, we have secured a donation of 200 million pairs of glasses, and we would like a significant proportion of that to come to Nigeria," he concluded.
At the end of the event, the Coordinating Minister of Health and Social Welfare, Prof. Mohammed Ali Pate was joined by the Coordinator of the National Eye Health Programme, Dr. Oteri Okolo and the Director of Public Health, Dr. Chukuma Anyaike, as he presented a National Policy Document on Eye Health to the President.
Chief Ajuri Ngelale
Special Adviser to the President
(Media & Publicity)
September 1, 2023
Supply Chain Management Strategies Key to Profitability in Business, Says PMG-MAN By Femi Oyeyinka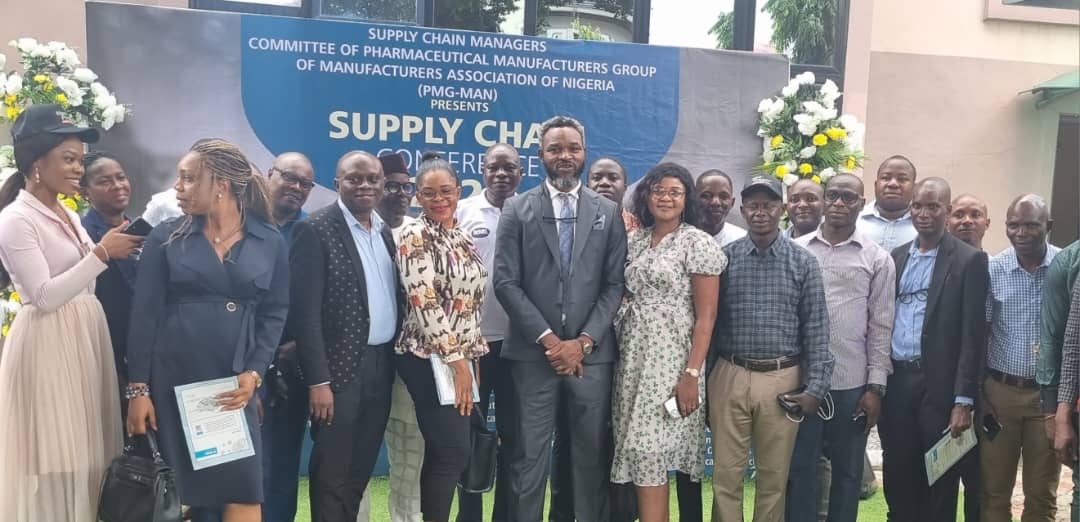 Supply Chain Management Strategies Key to Profitability in Business, Says PMG-MAN By Femi Oyeyinka 
Pharmaceutical Manufacturing Group of the Manufacturers Association of Nigeria (PMG-MAN) has called on Supply Chain Managers in the Pharmaceutical Manufacturing sector to maximize the potentials embedded in field of Supply Change Management to sustain profitability and growth in their companies' businesses.
Executive Secretary of PMG-MAN, Pharm.
Frank Muoneme, made this call during an exclusive interview with pharmanewsonline at the 2023 edition of the Supply Chain Conference organized by the Supply Chain Managers Committee of the group.
While applauding the timeliness of the conference, Muoneme said the application of Supply Chain Management strategies remains key to the bottom line of any company. According to him, the conference was timely, especially because it brought together experts in the field of Supply Chain to brainstorm on survival strategies for companies, especially local pharmaceutical manufacturing companies at a time when they are grappling with issues such as forex crisis and the post-subsidy removal inflationary trends that are strangulating businesses in Nigeria.
"The Managers of Supply Chain, Materials Managers, gather together to learn new ways for the industry. How do we optimize our system to still be in business, amid the harsh economic climate in the country? Right now, we are not even talking about profitability but to be in business first. Consider the myriad of challenges the industry is facing like the energy issue, which takes about seventy percent of the cost of doing business. If one does not apply Supply Chain Management strategies, one will be in for a serious battle", he said.
Speaking further, Muoneme added that Supply Chain is a strong engine room for achieving operational excellence in any industry where competition is high.
During his presentation at the event, one of the invited speakers, Mr Bhadmus Abudu, MD/CEO of Nycil Ltd, said: "You cannot talk about operational excellence without Supply Chain. You cannot talk about profitability without Supply Chain. It is now the turn of Supply Chain professionals to take over the running of organisations."
While calling on Supply Chain Managers to see themselves as people who have been trained to deliver value to companies, Mr Abudu added that most of the companies that have out-performed their competitors did so by applying Supply Chain strategies.
The 2023 Supply Chain Conference, with the theme "Scaling Operations Through Effective Procurement, Logistics and Supply Chain Management" was officially declared open on Wednesday, August 16, 2023 at the PMG-MAN office in, Ajao Estate, Lagos and would run through Thursday, August 17, 2023. In his welcome address, the Chairman of PMG-MAN and MD/CEO of Daily Need Industries Limited, Mr Oluwatosin Jolayemi said: "The aim of the conference is to foster collaboration between the pharmaceutical manufacturers on how to increase effectiveness and efficiency by reducing timelines, increasing raw materials (API) integrity and getting value on investments within the logistic value chain."