HON. ADAMA JOSEPH ADAMA: A GREAT LOVER OF EDUCATIONAL PURSUIT* *By Don Peter Okoro*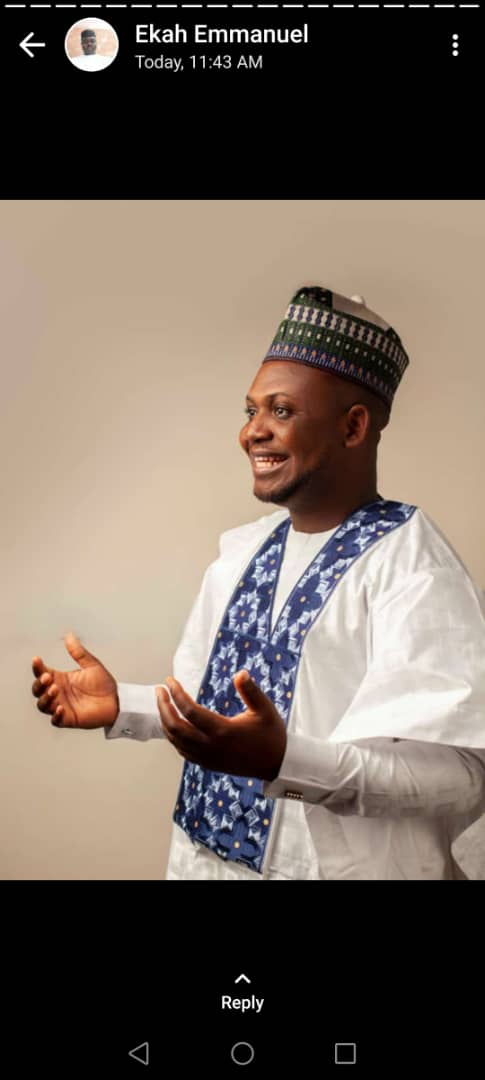 *HON. ADAMA JOSEPH ADAMA: A GREAT LOVER OF EDUCATIONAL PURSUIT*
*By Don Peter Okoro*
Prince Adama Joseph Adama is one Politician and Businessman who really loves education and the prim and proper disposition that goes with it.
Even though he started his educational pursuit from the Local Government Education Authority ( LGEA) Primary School in his hometown of Ugbokpo in Apa LGA of Benue State. He ended up attending some of the best Institutions Of Higher Learning in the World.
Hon. Adama Adama's educational pursuit has taken him to Zenith University College Accra, Ghana, where he bagged a Professional Degree in Human Resource Management.
He later proceeded to the prestigious HEGT University, Cotonou, Benin Republic for his Bachelor's Degree in Human Resource Management.
Not done with his educational advancement, he went for a Masters Degree at the Swiss School of Business Research, Switzerland where he obtained a Masters Degree in Business Administration and University of Chichester in the U.K. for another Masters in Business Administration Degree. He is presently pursuing a Doctorate Degree at the Swiss School of Business Research, Switzerland.
Prince Adama Joseph Adama is a Fellow of the Institute of Management Consultants (FIMC), Nigeria and Fellow, Institute of Management Specialists (FIMS), UK, Dip. IMS U.K. and a Certified Management Consultant (CMC).
Prince Adama founded an Award Winning Digital Agricultural Investment Platform: Farm4Me Agriculture Ltd. He also founded a successful commodity export and commodity trading platform: Viable X Agribusiness Ltd.
An intellectual giant, he is the Founder of Asher University, Curacao, a modern University focused on raising the next generation of Entrepreneurial Leaders across the globe. He has been inducted as a Member of the Royal Court of the Ooni of Ife by His Imperial Majesty, Oba Adeyeye Enitan Ogunwusi, CFR, the Ooni of Ife.
As an IT Expert and Project Management Consultant, he is into Project Planning and Development, Financial Management, Search Engine Optimization, Training and Development, Marketing Strategies, Data Analytics, Digital Marketing, CRM, Project Management, Strategic Planning, Fund Raising and Grant Writing.
He is a Result driven Executive with more over 14 years of progressive experience in Development Finance, Technology, Entrepreneurship and Development Works. An Exceptional Leader, Change Manager and Complex Problem Solver.
He has proven skills in operations oversight, policy development and process improvements.
It is with this mighty ocean of educational and intellectual repertoire that he drives his vast Business empire and blossoming political career.
A man of excellence, solid reputation and untainted public and private image, his love and empathy for the poor and the needy is phenomenal. His greatest desire is to see a situation where everyone irrespective of social or economic class, gender or religious belief live happily in love, unity and peace.
He believes that this condition can be achieved in an atmosphere of justice, equity and fairness. It is for this reason that he constantly bring it to the attention of the people of his Federal Constituency of Apa/Agatu. That it is unfair for only one person to continue to steal the resources meant for the entire Constituency.
He believes that while peace is a sine qua non for an egalitarian society, it should be built on the foundation of justice, equity and fairness. This, he believes is the least requirement for a wholistic society.
AdeDimeji Lateef, Dele omo Woli , Bash , Other A-list Comedians storm ijebu for Mc Baffy's Ijebu Go Laugh '23 Edition*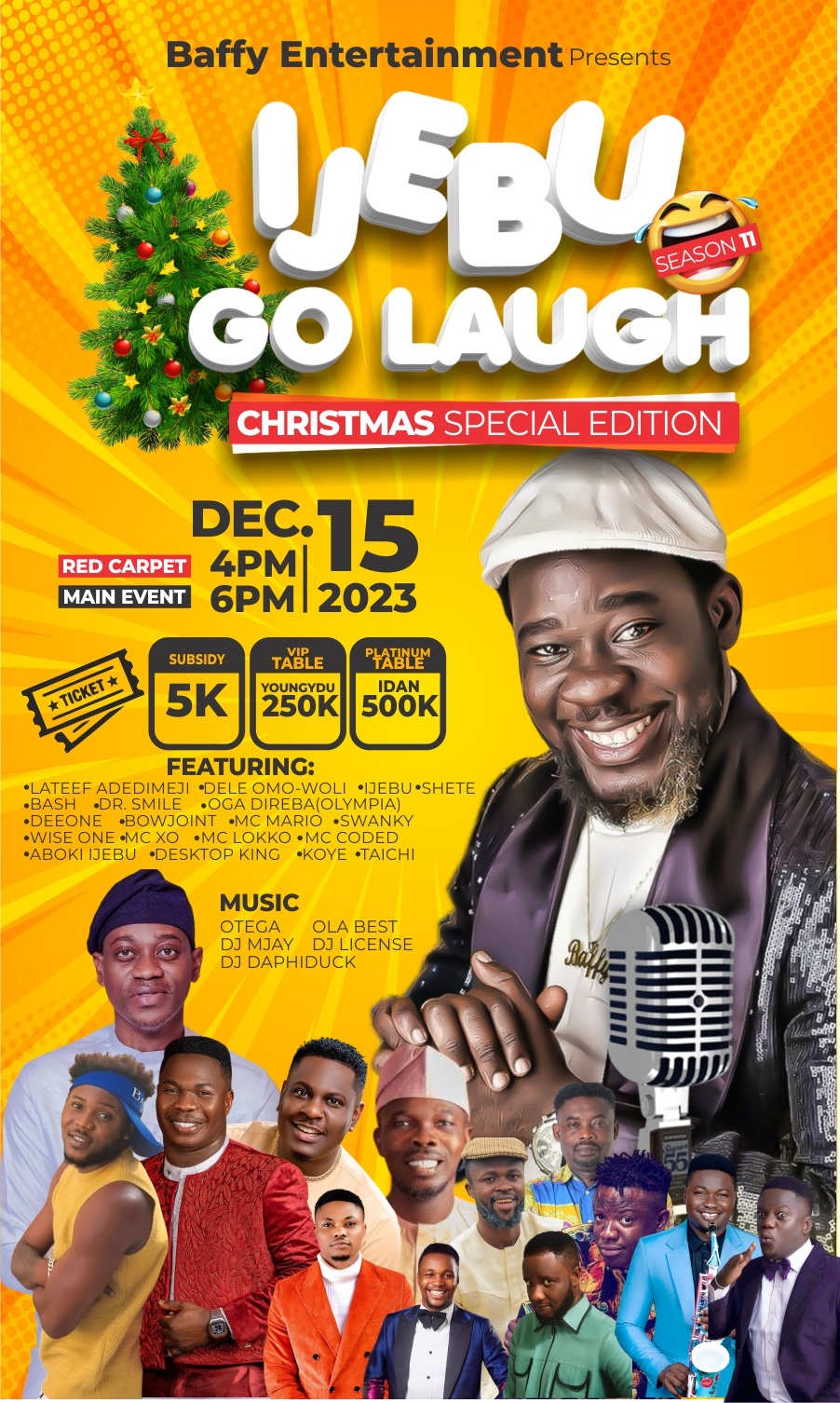 AdeDimeji Lateef, Dele omo Woli , Bash , Other A-list Comedians storm ijebu for Mc Baffy's Ijebu Go Laugh '23 Edition*
Fast-rising comedian and Master compere, Ayodeji Atanda prominently known around town as Baffy De Comedian will in few days time bring the AY Live experience to Ijebuland.
The grand event which promises to be a hit will hold on Friday, December 15, 2023 at the upscale Rolak Hotel and Suites, Imowo road, Ijebu Ode, Ogun state, starting from 4pm.
The annual comedy concert which has gathered momentum in recent years will have A-list comedians and artists like Lateef Adedimeji, Dele Omo-Woli, Ijebu, Dr Smile, Bash and Mc Mario in attendance.
Others music artistes and Nollywood celebrities expected are Olabest, Otega, Hephta, Koye, Shete, Mc Coded, Dj License and many others.
According to the convener of the award-winning programme, Mc Baffy, the comedy concert has been holding successfully in the last 11 years. We are out to thrill the audience with a breathtaking performance. I am bringing an AY LIVE experience to ijebu for ther first time and I am sure my people will be impressed.
DSS Raid: Igboho Denies Turning Into Cat To Escape Arrest
DSS Raid: Igboho Denies Turning Into Cat To Escape Arrest
Sunday Igboho, a Yoruba Nation activist, has finally spoken out about rumours that he transformed into a cat during a midnight raid on his home by the Department of State Services (DSS) in July 2021.
In an interview, Igboho refuted the report, saying that nothing like that occurred during the DSS raid.
He added that the DSS fired sporadically during the raid, killing multiple cats.
According to the activist, the DSS wanted to either kill or arrest him during the raid.
He said, "It is true that some cats were killed during the attack. Because the DSS just kept firing bullets in all directions. I was rearing cats as pets, and I had many of them in my house. So, anything or movement attracted sporadic gunshots.
"Their mission was to either kill me or arrest me and take me to an unknown destination, but the Almighty God is greater than anybody in this world, including the despotic ex-President Muhammadu Buhari."
Igboho added that he does not know whether the DSS brought three herbalists during the raid.
Yoruba Movie Gist Awards To Hold At RM Place Magodo Lagos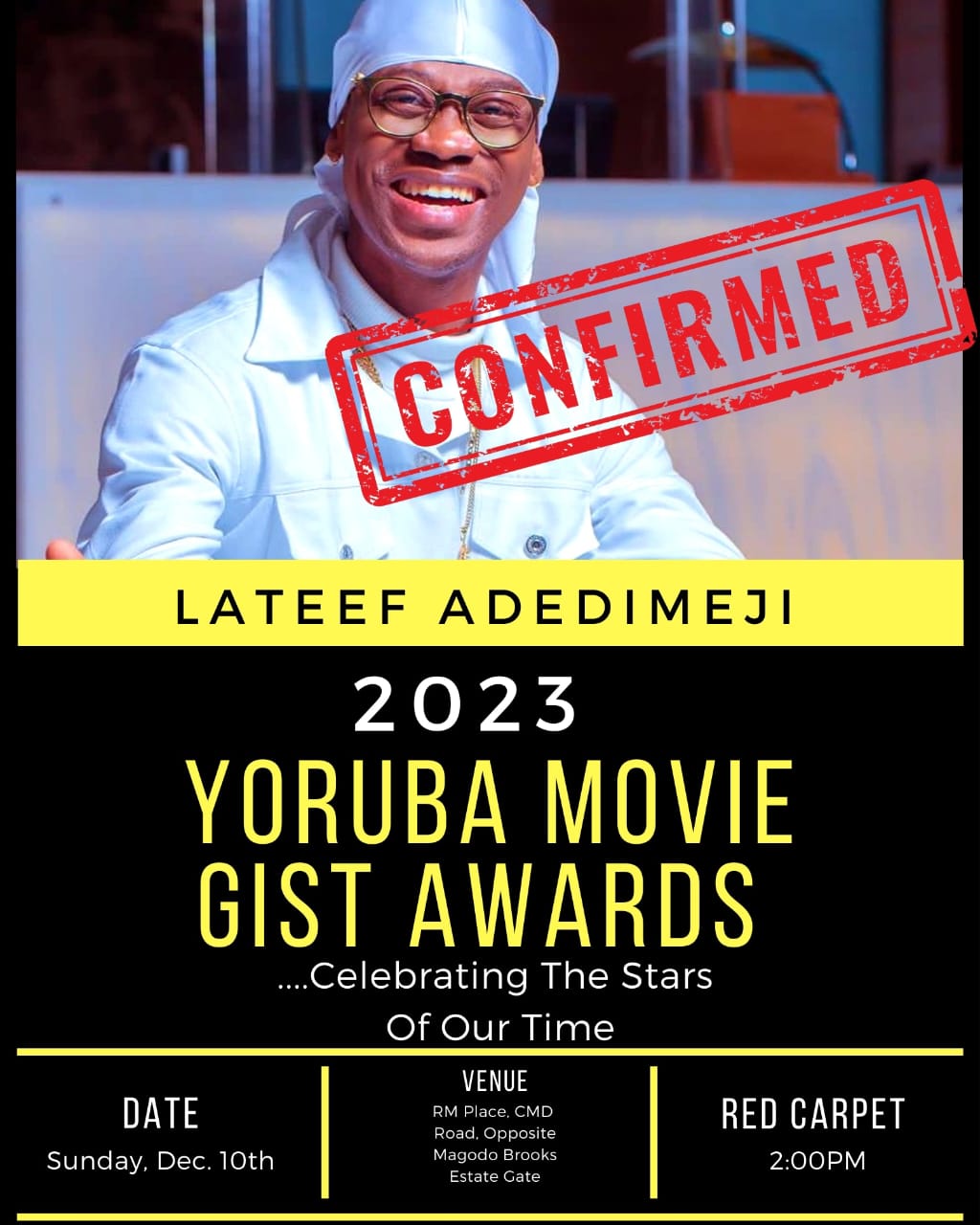 Yoruba Movie Gist Awards To Hold At RM Place Magodo Lagos
Olakiitan Adetutu Communications, spearheaded by Gbolahan Adetayo, the brains behind the esteemed Yoruba Movie Gist Awards, has disclosed RM Place, Opposite Brook Estate, CMD Road, Magodo, Lagos State, as the designated venue for the much-anticipated 2023 edition of the awards.
The prestigious ceremony is set to commence with a glamorous red carpet session at 2 pm, strictly adhering to a punctual schedule, and the main event will follow suit at 4 pm. The organizers emphasize a strict "No African time" policy, ensuring a timely and seamless experience for attendees.
This star-studded occasion promises the presence of top-tier Nollywood personalities, including the likes of Lateef Adedimeji, Ayo Olaiya, Yinka Salawu, Wumi Toriola, Omowunmi Ajiboye, Biodun Okeowo, and an array of other luminaries from the Yoruba movie industry.
Save the date, as the 2023 Yoruba Movie Gist Awards at RM Place, CMD Road, Magodo, Lagos, is destined to be an evening of glamour, recognition, and celebration within the vibrant landscape of Nollywood.