Photos: Obasa Celebrates Birthday With Students, Reveals 3 Secrets Of Success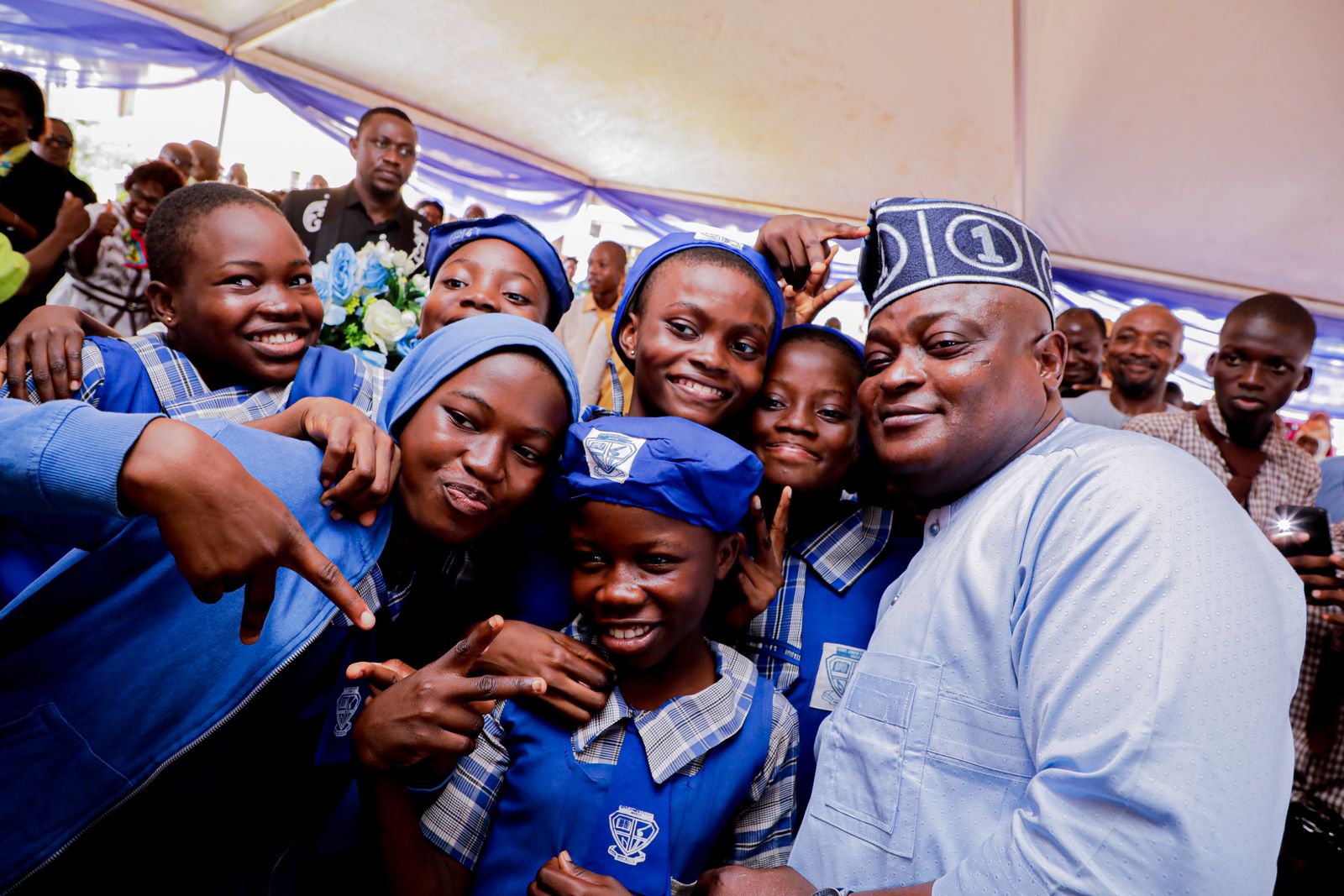 Photos: Obasa Celebrates Birthday With Students, Reveals 3 Secrets Of Success
As part of his 51st birthday celebration, the Speaker of the Lagos State House of Assembly, Dr. Q Obasa, on Friday spent hours with pupils and students of different schools in Agege giving pep talks and advising them to be their best at all times.
This is as the lawmakers of the Lagos State House of Assembly pledged to equip Oyewole Secondary School, Agege with computers.
Dr. Obasa, who announced financial support to some of the pupils and students, told them that they can become successful and better in life if they make commitments to their studies, dedication and passion for education part of their lives.
"Our being here is an investment for the future because you, our children, will always remember this event and it would motivate you to be great," he said.
He told the students that they could achieve their dreams of becoming leaders in their chosen professions as the world is big enough to accommodate them.
"You can fulfil your dreams if you worki hard. You can be governor of Lagos or president of Nigeria.
"Lagos as it is today can be compared to many places across the world; it is the fifth largest economy in Africa even though we are just a component of a nation.
"What do you have to do? Read your books. If you don't cultivate the reading culture now, it will be difficult by tomorrow. You must read ahead of your examinations.
For the female students, be the pride of your parents and the society. Don't allow the pressures of society deceive you.
"My principal back then would always tell us, 'pray less, read harder, because prayers alone cannot make you pass your examination'," he said while noting that Agege, which he represents at the House of Assembly, has produced great men helping to shape society.
Addressing the students, the Vice Chancellor of the Lagos State University, Professor Ibiyemi Olayunji-Bello, said while growing up, she never thought she would become a professor.
Urging the children to be hardworking and practise integrity, she advised them not to be discouraged by their parents' financial conditions as they work towards their future.
"You must strive and do your very best. Any one can be a vice chancellor. All you have to do is be serious. It doesn't matter what course you take, just ensure you do it well," she told the students.
Eromosele Ebhomele
Media Assistant to the Speaker of the Lagos State House of Assembly.
AdeDimeji Lateef, Dele omo Woli , Bash , Other A-list Comedians storm ijebu for Mc Baffy's Ijebu Go Laugh '23 Edition*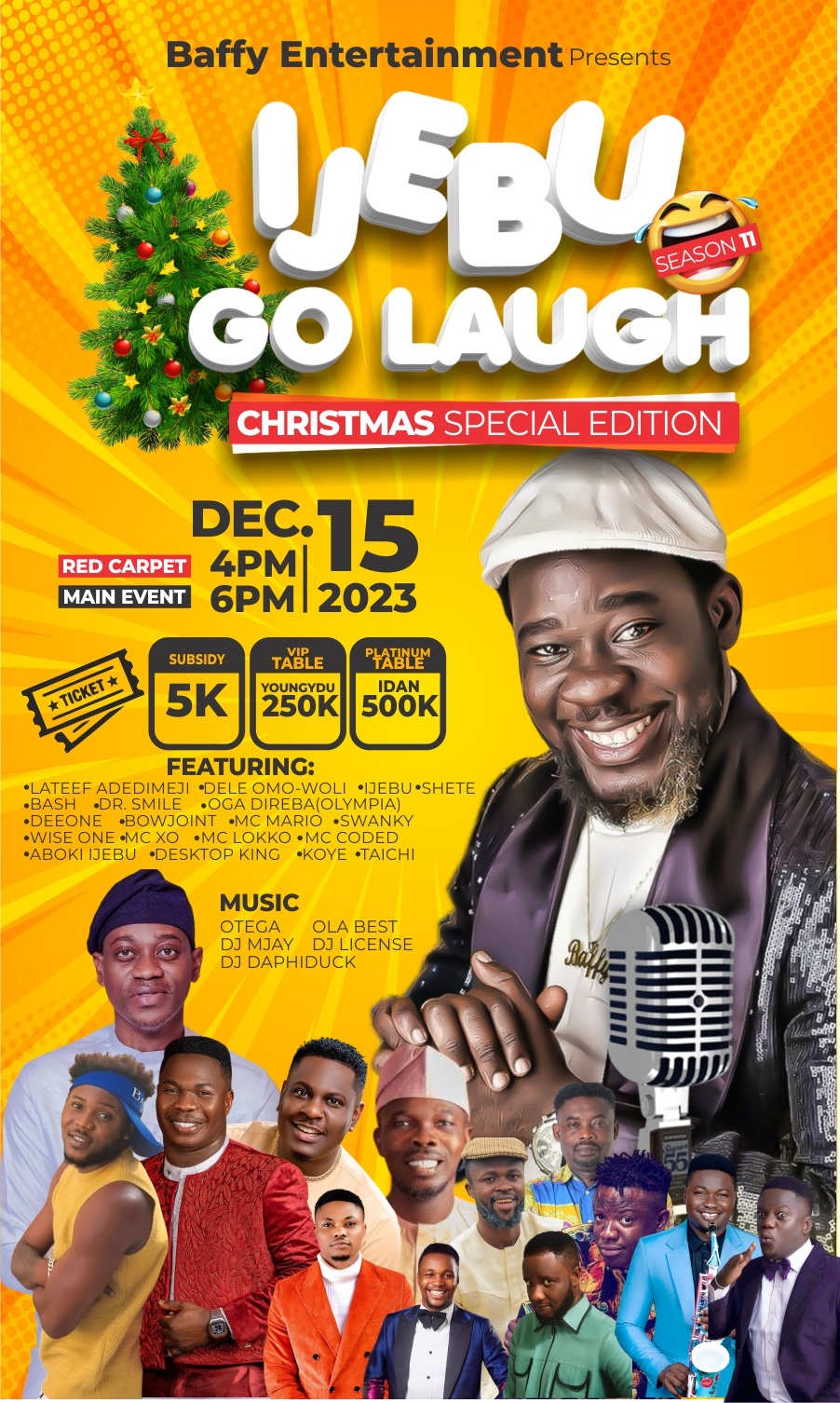 AdeDimeji Lateef, Dele omo Woli , Bash , Other A-list Comedians storm ijebu for Mc Baffy's Ijebu Go Laugh '23 Edition*
Fast-rising comedian and Master compere, Ayodeji Atanda prominently known around town as Baffy De Comedian will in few days time bring the AY Live experience to Ijebuland.
The grand event which promises to be a hit will hold on Friday, December 15, 2023 at the upscale Rolak Hotel and Suites, Imowo road, Ijebu Ode, Ogun state, starting from 4pm.
The annual comedy concert which has gathered momentum in recent years will have A-list comedians and artists like Lateef Adedimeji, Dele Omo-Woli, Ijebu, Dr Smile, Bash and Mc Mario in attendance.
Others music artistes and Nollywood celebrities expected are Olabest, Otega, Hephta, Koye, Shete, Mc Coded, Dj License and many others.
According to the convener of the award-winning programme, Mc Baffy, the comedy concert has been holding successfully in the last 11 years. We are out to thrill the audience with a breathtaking performance. I am bringing an AY LIVE experience to ijebu for ther first time and I am sure my people will be impressed.
DSS Raid: Igboho Denies Turning Into Cat To Escape Arrest
DSS Raid: Igboho Denies Turning Into Cat To Escape Arrest
Sunday Igboho, a Yoruba Nation activist, has finally spoken out about rumours that he transformed into a cat during a midnight raid on his home by the Department of State Services (DSS) in July 2021.
In an interview, Igboho refuted the report, saying that nothing like that occurred during the DSS raid.
He added that the DSS fired sporadically during the raid, killing multiple cats.
According to the activist, the DSS wanted to either kill or arrest him during the raid.
He said, "It is true that some cats were killed during the attack. Because the DSS just kept firing bullets in all directions. I was rearing cats as pets, and I had many of them in my house. So, anything or movement attracted sporadic gunshots.
"Their mission was to either kill me or arrest me and take me to an unknown destination, but the Almighty God is greater than anybody in this world, including the despotic ex-President Muhammadu Buhari."
Igboho added that he does not know whether the DSS brought three herbalists during the raid.
Yoruba Movie Gist Awards To Hold At RM Place Magodo Lagos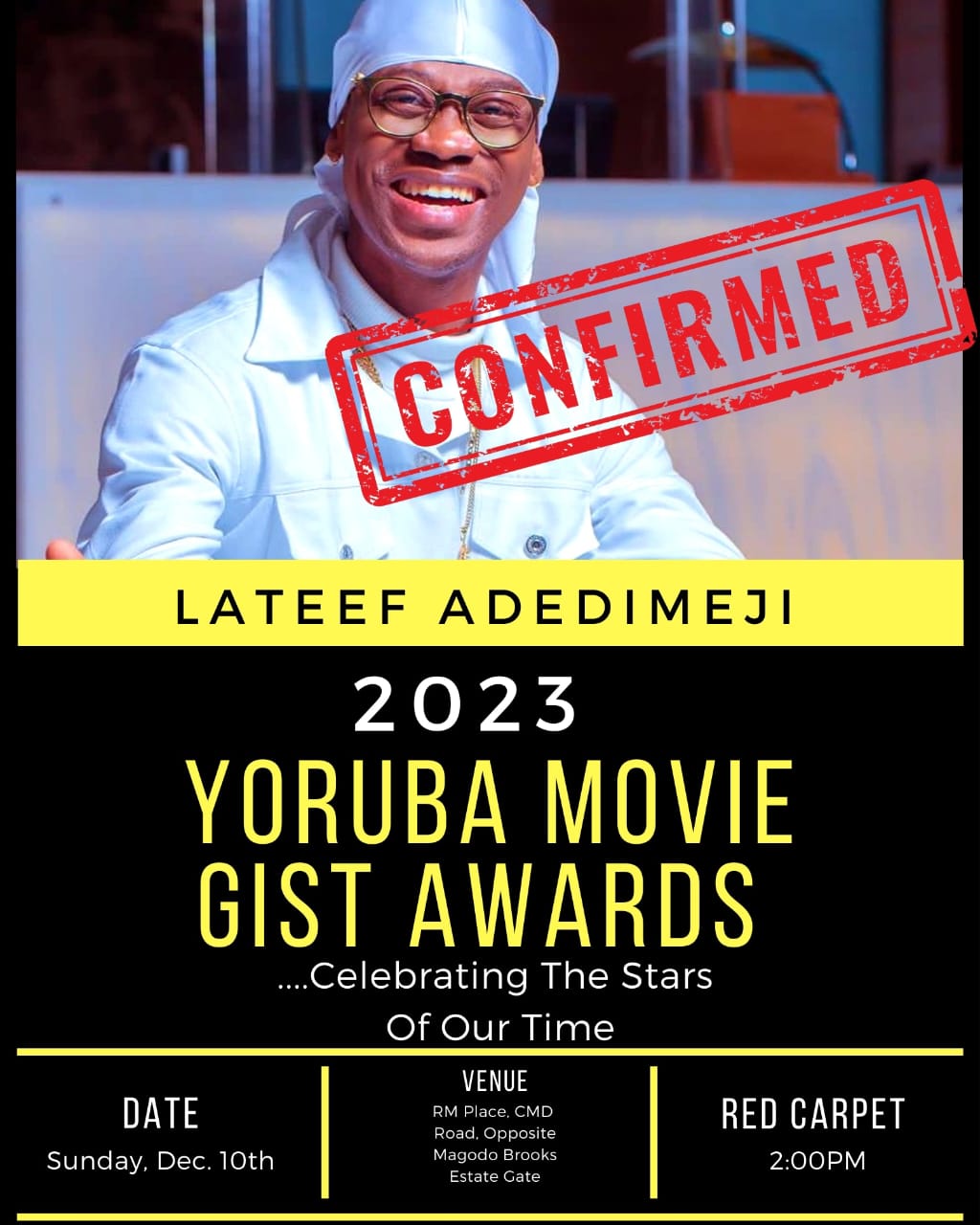 Yoruba Movie Gist Awards To Hold At RM Place Magodo Lagos
Olakiitan Adetutu Communications, spearheaded by Gbolahan Adetayo, the brains behind the esteemed Yoruba Movie Gist Awards, has disclosed RM Place, Opposite Brook Estate, CMD Road, Magodo, Lagos State, as the designated venue for the much-anticipated 2023 edition of the awards.
The prestigious ceremony is set to commence with a glamorous red carpet session at 2 pm, strictly adhering to a punctual schedule, and the main event will follow suit at 4 pm. The organizers emphasize a strict "No African time" policy, ensuring a timely and seamless experience for attendees.
This star-studded occasion promises the presence of top-tier Nollywood personalities, including the likes of Lateef Adedimeji, Ayo Olaiya, Yinka Salawu, Wumi Toriola, Omowunmi Ajiboye, Biodun Okeowo, and an array of other luminaries from the Yoruba movie industry.
Save the date, as the 2023 Yoruba Movie Gist Awards at RM Place, CMD Road, Magodo, Lagos, is destined to be an evening of glamour, recognition, and celebration within the vibrant landscape of Nollywood.