How Lord Chosen Church Pastor impregnates two sisters …alleges conducting spiritual cleansing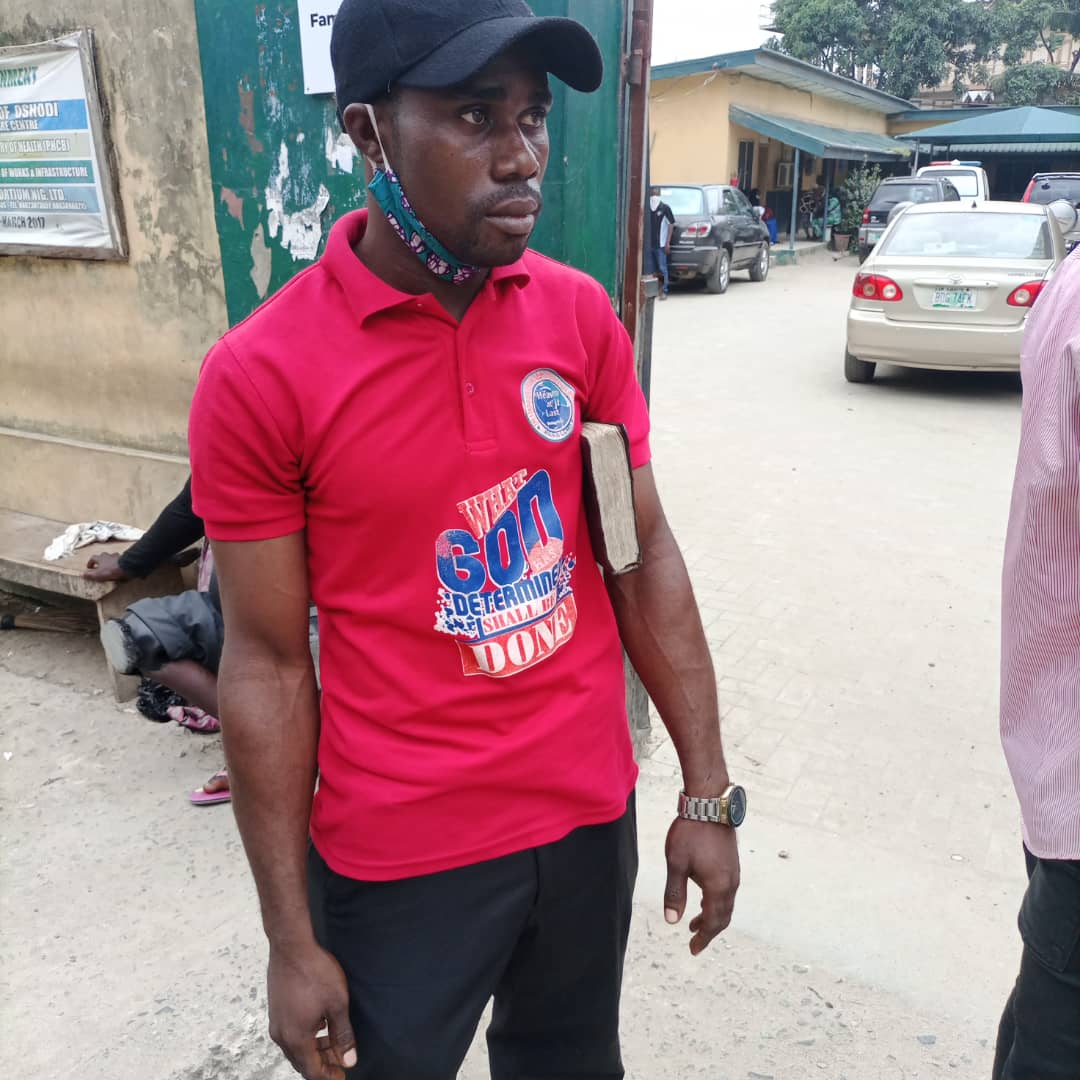 By Ifeoma Ikem
It was melodramatic as all Hell was almost let loose when a mother of two daughters who were impregnated by Lord Chosen Church Pastor prevented the police from Makinde Divisional Police Station from arrest of the culprit.
The 28 years old Pastor, Nduka Anyanwu, who hails from Ahiazu Mbaise in Imo state has been having sexual intercourse with the two sisters aged 17 and 13 years old respectively
He resides at No 5 Arowojobe Street, Oshodi, Lagos, have been impregnated by the pastor.
Pastor Anyanwu alleged that the parents gave their consent him hence anytime the girl complained that the pastor was touching her sensitive parts of the body, they never objected and question the culprit.
The two girls who live with their parents are in Senior and Junior secondary school students ,accused their pastor of raping and impregnating them.
The pastor who was eventually arrested after the intervention of a non-governmental organization, Its Advocates for Children and Vulnerable Persons Network (ACVPN), the Abuse Foundation and other advocates in conjunction with the Lagos Police Command in Makinde Divisional Police Station, Oshodi, said the father of the girl gave his consent to marry the elder sister.
Pastor Anyanwu who is a minister in the Canaan Land Branch, of Lord's Chosen Church, Oshodi admitted to our reporter that he impregnated both sisters.
He explained that he wants to marry the elder one but devil pushed him to start having intercourse with the younger sister too.
He alleged that during the Covid-19 pandemic, he noticed some strange behaviour in the elder sister he wanted to marry, claiming that after fasting and prayer season, Holy Spirit Ministered to him that there were spiritual marks on her body that can only be removed through sexual intercourse.
"During Covid-19 pandemic, I noticed some strange behaviours in my proposed wife. I informed her parents that I don't like her attitude because I don't want any stumbling block when we marry in future.
"I fasted and prayed for God's direction. Then, the Holy Spirit ministered to me that there was spiritual mark on her body that could prevent good things. I got a revelation that the only way to remove the spill was to have carnal knowledge of her.
"When I approached her for sex, she refused vehemently and I reported to her parents who insisted that she must accept it," the pastor reiterated.
He further explained that, "I will marry the elder one, but I am pleading that the younger sister should abort her own pregnancy. It was the devil that pushed me to have carnal knowledge of the younger sister. I have proposed to the elder sister (my wife) who is still in Secondary School 2."
The 17 years old teenager (name withheld), told our correspondent that the Pastor started abusing her when she was in JSS 2.
"I reported to my parents that I don't like the way the Pastor used to play with me by touching my sensitive parts of my body. Instead of calling the pastor to order, my parents never confronted him.
"I want to further my education. I am not interested in marriage at this stage of my life. Pastor Anyanwu is evil. How can a man who claimed to be a man of God be having sexual intercourse with two sisters to the extent of getting us pregnant?
"Worst enough, I did not know he was sleeping with my younger sister as well.
"If anybody told me that my parents was behind this whole shame, I would never have believed because anytime he made advances at me and I informed my parents, they never asked him anything until the day he forced me in the name of spiritual mark cleansing of my body and raped me."