How Primate Ayodele's Prophecies Came To Pass In Imo, Kogi, Bayelsa Governorship Elections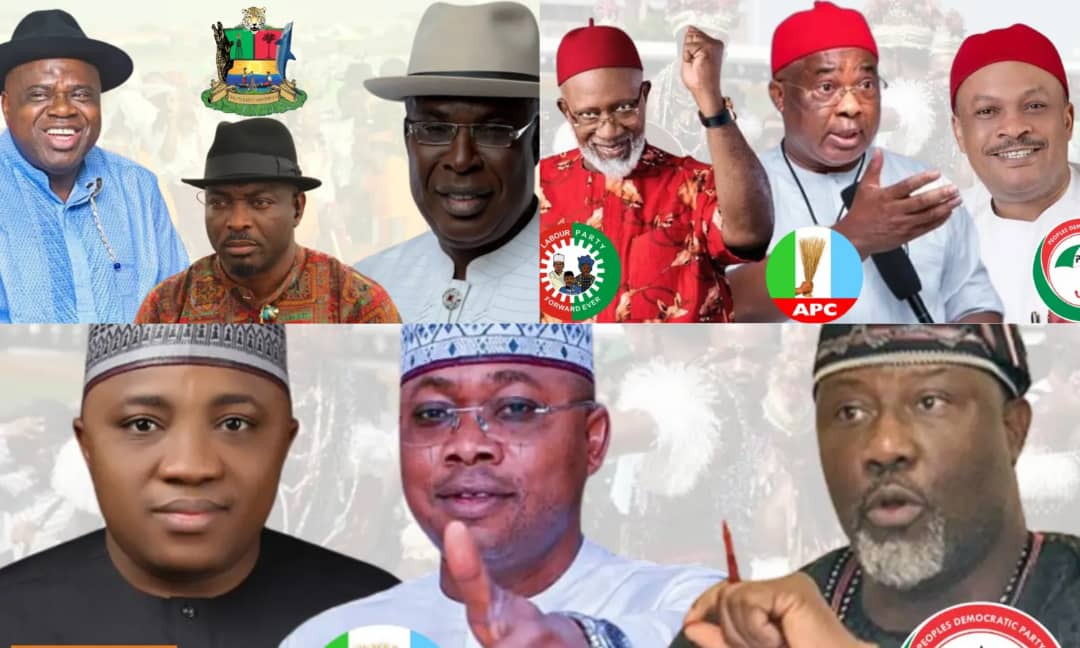 How Primate Ayodele's Prophecies Came To Pass In Imo, Kogi, Bayelsa Governorship Elections
The results of the governorship elections held in Imo, Kogi and Bayelsa states have confirmed the authenticity of Primate Ayodele's prophecies concerning the elections.
Starting with Imo state where Governor Hope Uzodinma retained his seat after winning by a landslide, Primate Ayodele had revealed before the election that opposition parties were not ready to win the state and that APC will retain its position in the state as the ruling party.
The prophet warned severally that Hope Uzodinma isn't the right person to rule Imo state but the opposition parties through their selfishness will allow him to win the election. The prophet advised them to form a coalition if they wanted to wrestle the state from APC but they declined, leading to the uninterrupted victory of Uzodinma.
Primate Ayodele shared four different times between May and November 2023 how Hope Uzodinma will win the election because opposition parties are not showing signs of seriousness.
These were Primate Ayodele's words
'' I want to warn the Labour party in Imo state; you are not ready for Hope Uzodinma. He is ready for you technically, spiritually, financially, materially, legally, illegally to win the election. Those who want to contest with him in Imo state are not ready.'' (June 12, 2023)
'The election coming up in Imo state, PDP will not win because Hope Uzodinma is ready to do anything to win the election.'' (10th Of May, 2023)
''PDP, Labour Party are not ready to unseat Hope Uzodinma. Uzodinma is very ready to take it up again. There is nothing you will do even if you go to court.'' (August 2023)
''I still repeat that I am not seeing the Labour party, PDP or any other party unseating Uzodinma in Imo state. He is ready in all ramifications to get it'' (9TH Of November, 2023)
In fulfillment of these prophecies, INEC declared Hope Uzodinma as winner of the election after defeating PDP and Labour party.
For Kogi state too, Primate Ayodele before the election had revealed that APC will retain the state except oppositions come together to form a coalition. His prophecy on Kogi state was a surprising one as he revealed that the election will be between APC and SDP meanwhile it had always been between APC and PDP. He spoke extensively on this revelation and said APC will win the election but the SDP candidate will be a factor.
These were his words
''In Kogi state, APC must not sleep because the SDP will give the party a very big fight. SDP is ready with every mercenary in Kogi state. SDP must not be underestimated. PDP will have a confusion arrangement. They must not overlook SDP….''
These were his words
''The election in Kogi state is between APC and SDP. Ajaka will fight a serious battle with the incumbent. Oppositions will fail in the state because they didn't form a coalition, they are all selfish if no coalition would unseat the ruling party but they all want to be in power at the same time. I am not seeing what PDP will do in the election but SDP will make it a fight to finish. The election will be serious and if care isn't taken, they won't count results in some areas. The election in Kogi will be for APC no matter how the margin is, it will be a tug of war…''
As Primate Ayodele said, APC won the election though not by a landslide because of the efforts of the SDP candidate. Many didn't believe SDP would make any serious impact in the election but as the man of God foretold, the SPD candidate turned out to be a 'factor' in the election. The PDP on the other hand fell badly in this election with a token of 46,362 votes. SDP got 259,052 while APC got 446,237 votes.
Likewise in Bayelsa, Primate Ayodele shared from onset that the only person that can give APC a good chance at the election is David Lyon. He noted that if Lyon isn't given the ticket, APC should forget about the election.
''If David Lyon doesn't win the APC ticket and they give it to Sylva, APC will lose, PDP will retain the seat. Only Lyon can give Diri a very tough time and if he doesn't get it, Lyon will win at the end of the day.''
In subsequent prophecies, he advised APC not to bother because they won't win. He categorically shared that PDP will win the election. In his final note too, he alerted the incumbent governor of threats to his second term ambition but assured that at the end of the day, he will still emerge.
''In Bayelsa, APC don't bother yourself. I am not seeing APC winning except PDP. The Bayelsa governor must not sleep because they are looking for every means to unseat him. Bayelsa will for PDP…Bayelsa is straightaway for PDP. Let's just pray for peaceful election.''
''In Bayelsa, I still make my final note. APC is ready but Bayelsa isn't for the party. There will be a tough time for the incumbent governor, there will be a threat to his victory, he should reconcile with the interested parties. The governor has all it takes and he must humble himself to look at what should be done. The election will not be so easy but eventually, God by his side, he will be victorious.''
As Primate Ayodele prophesied, Bayelsa election ranks as the most controversial among the off-cycle elections that were held over the weekend. Despite having just eight local governments compared to other states that had more, Bayelsa was the last to be concluded by INEC. There was violence, INEC officials were held hostage, fights erupted in the collation centre but despite all, PDP's Duoye Diri became victorious as foretold by Primate Ayodele.
The off-cycle elections have confirmed again beyond reasonable doubt that Primate Ayodele's prophecies are indeed a product of God's divine signals.
TINUBU RECEIVES PRESIDENT PATRICE TALON OF BENIN REPUBLIC, SAYS COOPERATION IMPERATIVE FOR ECONOMIC PROSPERITY IN WEST AFRICA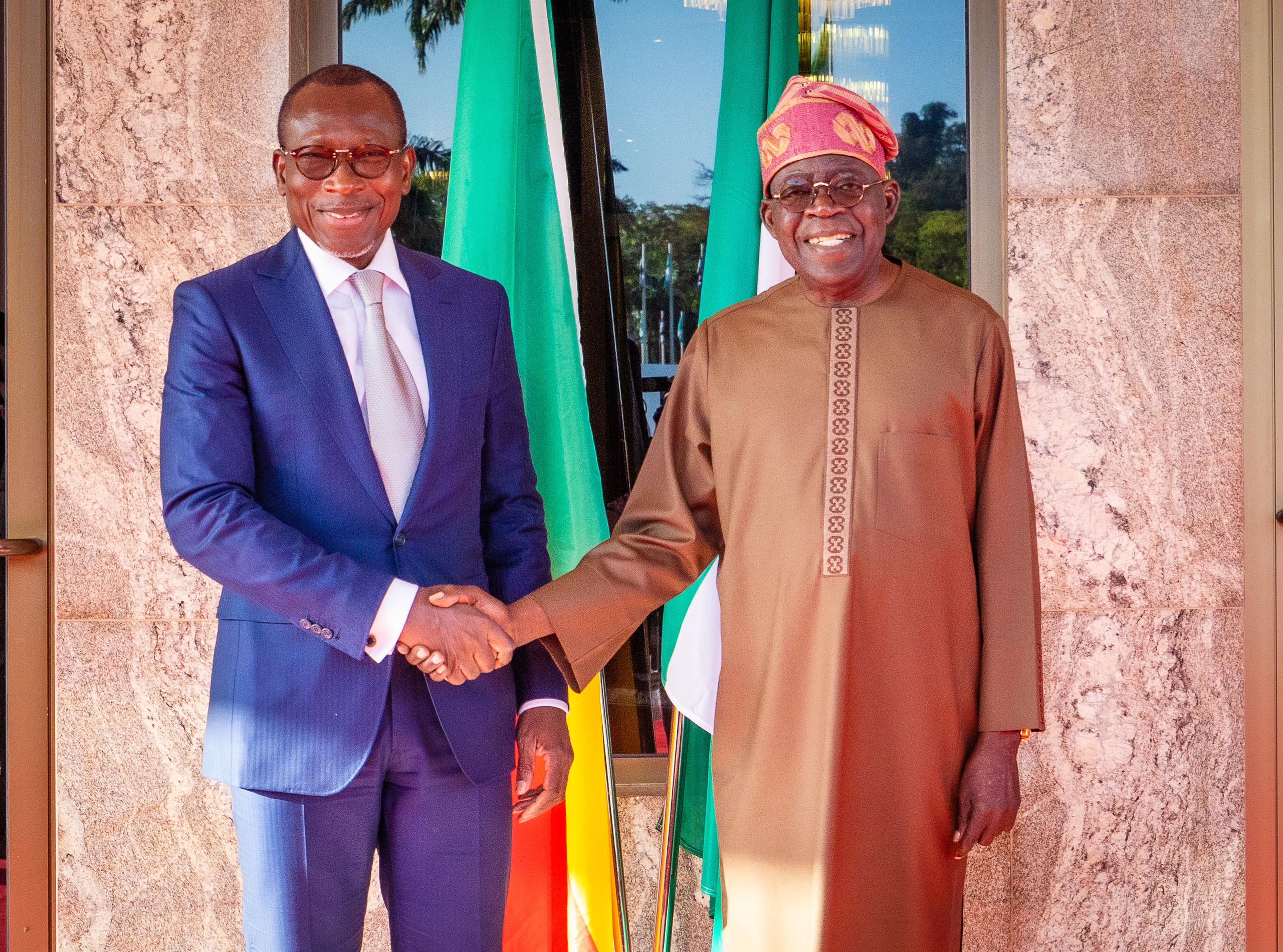 TINUBU RECEIVES PRESIDENT PATRICE TALON OF BENIN REPUBLIC, SAYS COOPERATION IMPERATIVE FOR ECONOMIC PROSPERITY IN WEST AFRICA
President Bola Tinubu says cooperation is imperative for economic prosperity in West Africa, noting that a lack of synergy between Nigeria and Benin Republic has been an encumbrance to mutual development.
Speaking when he received President Patrice Talon of Benin Republic at the State House in Abuja, on Wednesday, President Tinubu said Nigeria and Benin Republic share a lot in common, describing both countries as conjoined twins held together at the hip.
"We are one. No other nation like ours should be worried. What is affecting us is a lack of synergy. We have not developed the necessary economic synergy that will develop our two nations. We must have common economic principles and priorities. The economic programme you are developing through inter-ministerial collaboration is welcomed by me.
"We will support all of our private sector interests to facilitate prosperity in both of our important countries. I appreciate the urgency of your approach, and we welcome this. Leadership is sometimes defined by urgent action. Thank you for your quality leadership. We are together. I am not a backward looking person. I look forward. This is how I avoid missing steps," the President said.
President Talon, who was at the State House to seek the support of President Tinubu on improving trade relations, ahead of the Economic Community of West African States (ECOWAS) Summit, described the relationship between his country and Nigeria as crucial.
He said Benin Republic is seeking stronger trade ties with Nigeria, emphasizing the free movement of people and goods between both countries.
"Benin has started implementing a national development plan which includes enhanced integration between Nigeria and Benin Republic. Our development plan includes taking into account what investments are required in Benin to enhance our integration with Nigeria in trade terms. It is true that many agreements have been signed to push our integration forward, but they have not been implemented.
"At the level of ECOWAS, we embrace free movement and integration, and at the African level, AfCFTA envisages this; so we need to move urgently to make this a reality.
"Our investment programme must be revised to factor in all factors of the Nigerian economy. We seek to set up an inter-ministerial technical committee that will jointly prepare a draft document for our legislatures. I am ready to sign an executive order to appoint members of the council to advance mutually beneficial cooperation across sectors.
"There have been difficulties bilaterally on the issue of smuggling. We will work hard to coordinate and ensure that your interests are protected as we integrate our economies. I want us to make history together," President Talon said.
Chief Ajuri Ngelale
Special Adviser to the President
(Media and Publicity)
December 6, 2023
Edo 2024: Obaseki Reveals Why He Won't Support His Deputy
Edo 2024: Obaseki Reveals Why He Won't Support His Deputy
Governor Godwin Obaseki has vowed not to support what is not fair and just, following the declaration of interest in the gubernatorial election by the Edo State Deputy Governor, Philip Shaibu.
Obaseki spoke in an interview with BBC Pidgin, on him supporting Shaibu to become his successor in 2024.
The governor reiterated his earlier assertion that the people of the state would determine Shaibu's fate.
According to Obaseki; "E declare for himself now, no be me go decide whether my deputy, na Edo people go sit down and decide. Dem go say, this deputy, e get wetin e take to run the state?
"Let's look at his background, antecedents if he has maybe and if he doesn't have and in any case, the Edo people would decide how we would do the governorship whether it would be turn by turn or it will be based on equity, fairness and justice. To say okay, this people have done before.
"As a leader, I will sit down and supervise. What is not fair, just and will help Edo unite, my hands are not there."
Commenting on godfatherism in politics, Obaseki said: "Everybody needs nurturing and mentoring but not to the extent of teleguiding you. He can support and help you to make your decisions but ultimately at the end of the day it is for democracy – the people must decide who will lead them."
Edo 2024: APC Have Being Vindicated – Peter Uwadiae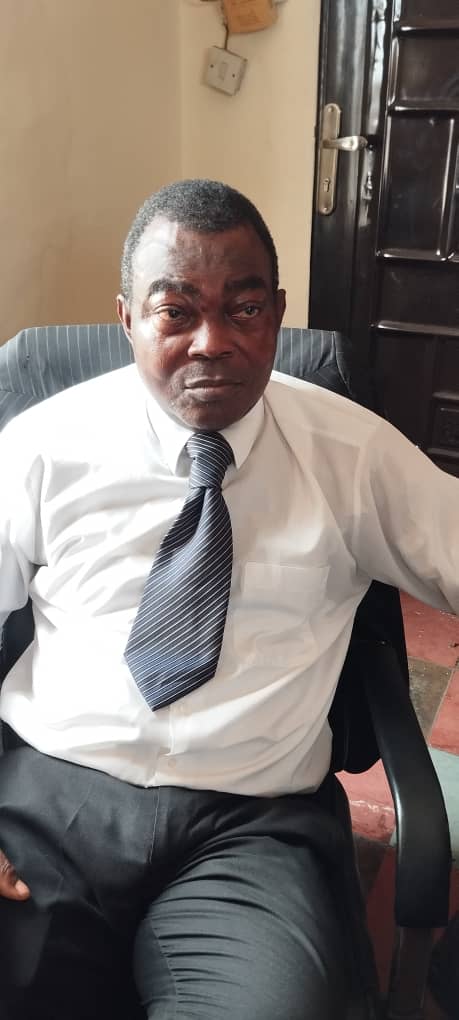 Edo 2024: APC Have Being Vindicated – Peter Uwadiae
By Elvis Omoregie
Ahead of the much talked about Edo 2024 Governorship Election billed to hold September 21th 2024, there have been series of political activities in Edo State including the recent declaration by the deputy governor of the Comrade Philip Shaibu, "against all odds", to contest the forthcoming election.
As the announcement by the deputy governor continue to elicit reactions couple with his recent interview with journalists in Abuja, where he said: "With the 2024 Edo governorship election fast approaching, the State can not afford to experiment again with someone who does not understand the politics of the State or the needs of the people.
"Edo people need practical governance and you cannot experiment again with somebody that do not understand the politics of a good State and the needs of the people.
"You cannot know the need of the people when you don't live with them. So for me, competence and experience should be the watchword as we go into election in 2024.
"Who is competent? Who is more experienced? Who will hit the ground running from day one?
"Are we going to experiment with a new person again? And the person will spend the first four years learning on the job and he will spend another four years trying to embezzle, set up his businesses in the name of consolidating on the gains of the first term?"
In a swift response, the leading opposition Party in Edo state, the All Progressives Congress (APC) through its Media Publicity Secretary, Peter Enosoregbe Uwadiae Igbinigie Esq told journalists last week in Benin that the deputy Governor's comments were only affirmation of the position of the Party about the poor performance of the Obaseki's led Peoples Democratic Party (PDP) administration in Edo in the last 7years.
Here we bring you the full response, and comments on other issues!
We; the APC have been vindicated by the comments of the deputy Governor, Philip Shaibu particularly as it relates to the capacity of the Governor, himself.
From the horses mouth; the deputy Governor has said Edo State cannot afford to experiment again for another eight years.
The import of that statement is that Edo State has been experimenting in the past seven and half years and if someone or any Government is experimenting, it therefore means the best cannot come from an experimentation!
It means that the Governor is still learning or there are lot of things he is learning to do or he ought to do and he did not do.
And governance should not be a learning ground and the APC have consistently maintained that the Governor has fallen short of the capacity which is required to manage a State as complex as Edo.
Looking back, what has the Governor been able to bring to the table? All we have seen in the past seven years; is nothing but obvious distortion of the smooth sail of governance from that glorious era of Senator Adams Oshiomhole, to what Edo people desired but which he couldn't provide.
When Oshiomhole was Governor in Edo, there were whole lot of things he did; in terms of massive infrastructural development, human capital development, social welfare amongst many others.
He gave Edo State a face lift and made us understand the true meaning of dividends of democracy thus laying the foundation of good governance.
Unfortunately after his departure, all these beautiful legacies were pulled down instead of them being improved upon by the Governor.
The Edo library, and Central hospital were demolished, Edo liaison offices in Port Harcourt, Lagos and Abuja were sold out.
Now, private sector driven projects are taking over; all serving as conduit pipe to drain the collective scarce resources of the people.
Can the Governor tell us the State's equity shares in these investments? We don't have!
Now, what has happened to the red roof revolution of the Adams Oshiomhole's era in the education sector?
I watched on television few weeks ago where school children were still lying on the ground to write, no furniture; a true reflection of the state of affairs in our schools against Obaseki's propaganda of Edobest.
The APC is glad that Edo people have begun to hear the true report of the performance of the Obaseki's administration from the man who is number two in ranking.
If the next in command can speak in that manner, it shows that Edo State has lost it!
If my deputy say I am experimenting, it shows that he even knows it more than myself.
Now, how has Governor Obaseki impacted on the market women? When he came on board, he promised to eliminate all forms of ticketing and touts but today the situation is worst.
The funny thing is that suppose the money collected is being used for the development of the State, it would have been a different thing.
But these monies are collected and goes into private pockets.
You drain these people, you double tax them, and the resources is not used to better their lives.
Well, we have gotten to that level wherein Edo people have to take the APC seriously.
It is absurd that a Government will be experimenting with the lives of its people and in the PDP today, the news is rife that the Governor also wants to bring a successor who will continue with the experimentation. That is why we hear the deputy Governor shouting and saying that experimentation should not be allowed again.
In any event, APC has become the beautiful bride in Edo; the Party to beat!
We have demonstrated it and we want to sustain that momentum. At the senatorial level first time in the history of politics in Edo, PDP could not even get a senator to represent them at the national Assembly.
Also, at the House of Representatives, out of the total nine available slots; the APC has six, Labour Party has two and PDP only one.
Be that as it may; it is a reflection of the acceptability of the APC in Edo State and beyond that in the State House of Assembly election, the APC has nine out of the 24 seats.
It is a good showing for a political Party that is in the opposition.
And what is again most worrisome, the PDP State secretary has often times condemned the attitude, and methodology of governance of the Obaseki's administration.
He said the Governor has not done well, and he wants to also impose a candidate on them; an attempt the Party would resist!
Also, Leaders of the PDP are crying that this is the first time since 1999 they have gotten the worst Governor in Obaseki.
Hence they would not want a repeat of this anymore.
The discerning conclusion from that scenario is that if the Governor is allowed to perpetrate his experimentation on Edo people by bringing in someone to take over governance from him, we are going to be in another eight years of doldrum, we are going to be in imprisonment.
So, we have an alternative that will positively change the negative narrative in Edo and that is the APC because experimentation should stop in the State.
Going into 2024, Edo people expect a better approach to governance and Government.
In that respect, the APC will present its best to drive its programs and we can assure that our Party will conduct its primary in the most transparent manner, that will usher in a candidate who will be generally accepted, a man who will represent the common interest of Edo people.