I have committed my marriage To Gods hand" – MERCY AIGBE GENTRY
'I have committed my marriage To Gods hand" – MERCY AIGBE GENTRY
Beautiful And elegant Yoruba actress Mercy Aigbe Gentry started where so many people thought she would not do well but, she has churned out great productions like "Osas Omoge Benin" and many more. In a chat with Sahara Weekly at her 1, Adeyemo Akapo Street, Omole Estate Phase 1 office, about her business, marriage, scandals and the secret of her ageless beauty. Enjoy it…
How will you describe a good actress?
A good actress is someone who can actually interpret the role she is expected to play to the best of her ability. A good actress should internalize that role and always be convincing. A good actress must always be professional; a good actress won't be forming a diva and showed up late to sets.
You would have done well in English movies, why do you choose to act Yoruba movies?
It is not like I choose to be more popular in Yoruba movies, because I do English movies as well. Maybe it is fate. I started with English movies before I crossed over to Yoruba movies. After 'Ara' I started getting
scripts from other Yoruba film makers. Because I just started, I couldn't turn down offers. Before I knew it, I became popular in the Yoruba genre of Nigerian movies and I am ok with this. I am a film maker; very
soon I will produce my own English movie.
You do well in movies. When was your turning point in the industry?
My turning point was when I became known in the movie called 'Ara', it was produced by Wemimo Olu Paul, a producer based in Ibadan. That was a turning point for me, I got recognized as an actress and people actually
took cognizance of me.
Why do you think some actresses find it difficult to sustain their fame?
I feel some people are not consistent. People tend to forget things easily, if fans don't see you for a while, they forget you. So I think it is all about consistency.
People believe actresses don't know how to manage their marriage. How have you been able to manage yours despite stardom?
I have committed my marriage into God's hands. I believe it is only God that make marriages work. Although the spouses play their part but it takes God to make a marriage work. I am playing my part by being prayerful and being well-behaved. It is not about knowing how to do it right, it is just God.
Do you agree that entertainers live fake lives?
Yes, some of us do because the society expects too much from celebrities. When you see a celeb at the bus stop trying to get a bus, people make fun which may cause the celebrity to rather be seen in a borrowed car. Nobody can force me to live a fake life because it is all about me. I don't live according to the
dictates of people. I don't live above my means.
Most celebrities read scandalous stories about themselves and broke down, how do you handle scandals?
I have been lucky when it comes to scandals and at the same time, I try to be very careful because I know I am in the public eye and my actions would be scrutinized. But you can't totally be free of scandals because I have read untrue stories about me. At times I laugh over them and at times I wonder why people would want to tarnish my image. I believe every cooked up story has a source.
Which was the worst scandal you have ever heard about yourself?
I don't t think I have had any terrible scandal and I don't think I will have any, so help me God.
How do you go about your beauty routine?
I try to take care of myself. I exercise when I am free. When I am not busy I do my indoor exercises, take lots of water, eat more of fruits and once in two weeks I take myself to the spa to be pampered. I get a massage, facials and exfoliate my skin.
You are into fashion business with MAG Divas concept. What informed this decision?
It all started from my passion for fashion. I love looking good, I love being trendy, I believe you have to look the part and look the way you want to be addressed. Your outward appearance matters a lot before people
really get to know you. People get a perception of you from seeing your outward appearance.
Where do your order for your goods?
I travel to get my stuffs from Italy, UK, US, Turkey and France.
Who constitutes your target audience?
When I decided go into this business, I had to think of the kind of customers I expect to have. I discovered that Nigerian women are stylish; a lot of them have clothes but don't know how to put them together. A lot
of them have the money but don't know where to get good clothes from. A lot of them know where to get good clothes but end up not being able to afford them. My target audience is the average Nigerian woman. MAG Divas is dedicated to dressing every class of Nigerian women irrespective of the class. Here you can get good and quality clothes for as low as N1,000 and at the same time we have clothes for N8,000. So, it depends on what you can afford; but the bottom line is that what you get here is of top quality.
How do you intends to cope with this?
It was challenging, shopping for this kind of materials because, I wanted very good quality clothing; I wanted people to look good without having to break the bank. It wasn't easy but because I was dedicated I went all out to get good things for my boutique.
How do you intend to juggle your career, marriage and your business?
I just started and I'm sure I will be very good because I have a very supportive husband, he is very understanding and always there for me. I have also put up a very strong team. With my husband and my team, all will go smoothly.

Legendary Act, King Dr. Saheed Osupa Live in Toronto, Canada: A Spectacular Musical Extravaganza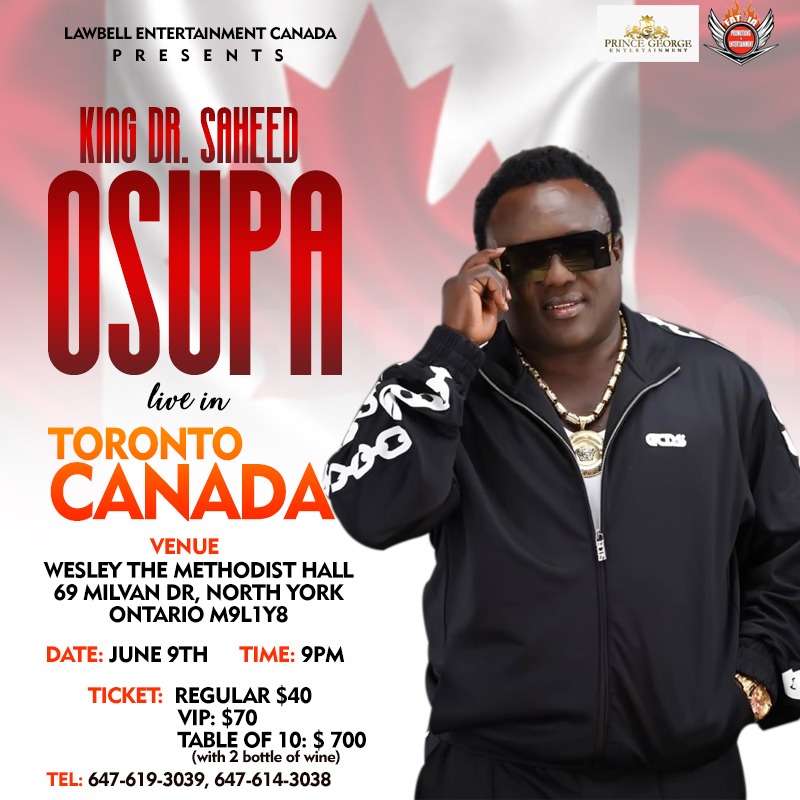 Legendary Act, King Dr. Saheed Osupa Live in Toronto, Canada: A Spectacular Musical Extravaganza
Toronto music lovers, get ready to experience an unforgettable night filled with mesmerizing tunes and rhythmic beats as the legendary King Dr. Saheed Osupa graces the stage at the Wesley the Methodist Hall on June 9, 2022. Presented by Lawbell Entertainment Canada, this highly anticipated concert promises to be a musical extravaganza like no other.
With a career spanning several decades, King Dr. Saheed Osupa has solidified his position as one of Nigeria's most celebrated musicians. His unique blend of Fuji and Juju music has captivated audiences around the world, earning him a massive fan base and numerous accolades. Now, for the first time ever, Toronto fans will have the opportunity to witness his mesmerizing performance up close and personal.
The Wesley the Methodist Hall, located at 69 Milvan Dr, North York, Ontario M9L1Y8, provides the perfect setting for this grand event. Known for its acoustics and comfortable seating, the venue ensures that every attendee will have an exceptional experience. Whether you choose to immerse yourself in the vibrant atmosphere of the regular seating area or opt for the VIP section to enjoy enhanced privileges, the night is guaranteed to be one filled with incredible music and memories.
Lawbell Entertainment Canada, a reputable event management company, takes pride in presenting world-class performances to Canadian audiences. With their expertise in organizing memorable events, they have chosen to bring King Dr. Saheed Osupa to Toronto, recognizing the immense popularity and demand for his music among the Nigerian diaspora and music enthusiasts.
The concert is scheduled to begin at 9pm, allowing attendees to fully indulge in the magic of the evening. King Dr. Saheed Osupa will showcase his exceptional talent, captivating the audience with his soulful vocals, skillful instrumentation, and energetic stage presence.
Tickets for this much-anticipated event are now available for purchase. General admission tickets are priced at $40, offering access to the concert and an opportunity to enjoy the sensational performance. For those seeking a more exclusive experience, VIP tickets are available for $70, providing premium seating, closer proximity to the stage, and a chance to get up close and personal with the artist.
If you're planning to attend the concert with a group of friends or colleagues, Lawbell Entertainment Canada offers a special Table of 10 package for $700. This package includes a reserved table for ten people and two bottles of wine, allowing you to enjoy the show while relishing the company of your loved ones.
To secure your place at this unforgettable event, reservations can be made by calling 647-619-3039 or 647-614-3038. As the concert is expected to draw a large crowd, it is advisable to book your tickets early to avoid disappointment.
The King Dr. Saheed Osupa Live in Toronto, Canada concert promises to be an evening of pure musical bliss. Whether you're a longtime fan of his music or simply appreciate the beauty of live performances, this show is not to be missed. So mark your calendars for June 9, 2022, and get ready to be transported on a melodic journey unlike any other. Experience the magic of King Dr. Saheed Osupa's music, right here in Toronto, Canada.
#InaugurationDay: Actress Doyin Aggrey advises Tinubu on national unity, economic empowerment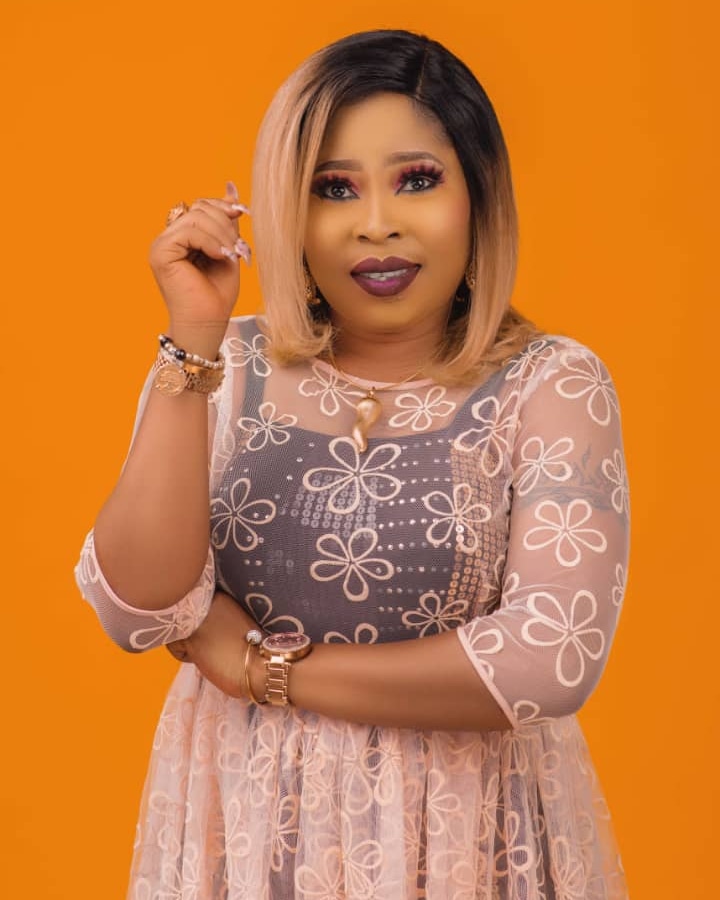 #InaugurationDay: Actress Doyin Aggrey advises Tinubu on national unity, economic empowerment
Veteran Nollywood actress cum producer, Doyin Aggrey has joined millions of people all over the world to congratulate the newly sworn-in president of Nigeria, Senator Bola Ahmed Tinubu.
Aggrey, who has excelled as a movie producer and TV presenter, commended Tinubu on taking up the responsibility of leading a complex nation like Nigeria, and expressed optimism that the new government would bring some soothing relief to the pains of Nigerians.
She hinted that a government of national unity will build a cohesive society where all citizens can thrive, adding that the new President and his team should focus on initiatives that promote economic growth and development, such as job creation, entrepreneurship support, and investment in critical sectors.
Her full statement reads:
Dear Bola Ahmed Tinubu and the APC,
Warm greetings to you on this momentous occasion of your inauguration! As an actress and TV presenter, I have witnessed the power of leadership and the impact it can have on a nation. I would like to extend my heartfelt congratulations to you and your party, the APC, as you embark on this important journey of governing our beloved country, Nigeria.
First and foremost, I commend you for taking on this responsibility. Leading a nation is a complex task that requires wisdom, vision, and a deep understanding of the needs and aspirations of the people. I hope that you will embrace this opportunity to serve with humility, integrity, and a genuine commitment to the welfare of all Nigerians.
To make our country better, I would like to offer a few suggestions that may help guide your actions and decisions:
1. Unity and Inclusivity: Nigeria is a diverse nation with various ethnic, cultural, and religious backgrounds. Promote unity and inclusivity by fostering an environment where every Nigerian feels valued and represented. Seek to bridge gaps, promote dialogue, and build a cohesive society where all citizens can thrive.
2. Economic Empowerment: Focus on initiatives that promote economic growth and development, such as job creation, entrepreneurship support, and investment in critical sectors. Implement policies that attract local and foreign investments, empower small and medium enterprises, and alleviate poverty through sustainable economic strategies.
3. Education and Skills Development: Recognize the pivotal role education plays in nation-building. Prioritize investments in quality education, ensuring that it is accessible to all Nigerians. Promote vocational training and skills development programs that equip our youth for the demands of the modern world.
4. Infrastructure Development: Address the pressing issue of infrastructure in Nigeria. Improve transportation networks, power supply, healthcare facilities, and access to clean water. Sustainable infrastructure development will stimulate economic growth, enhance living standards, and promote overall well-being.
5. Good Governance and Anti-Corruption: Uphold the principles of good governance, transparency, and accountability. Combat corruption at all levels of society and ensure that public resources are utilized for the benefit of the people. Strengthen institutions that promote the rule of law and protect the rights of every Nigerian.
6. Environmental Sustainability: Recognize the importance of environmental conservation and sustainable development. Implement policies that promote renewable energy, protect natural resources, and mitigate the effects of climate change. Aim for a greener and more sustainable Nigeria for future generations.
These suggestions are by no means exhaustive, but I believe they reflect some of the key areas that require attention to foster positive change and progress in our great nation.
Once again, congratulations on your inauguration! I sincerely hope that you and the APC will lead Nigeria towards a brighter future. As an actress and TV presenter, I am committed to using my platform to promote the values of unity, progress, and social change.
Wishing you wisdom, strength, and the courage to make decisions that will uplift the lives of all Nigerians.
Lancelot Imasuen's travelling student film festival berths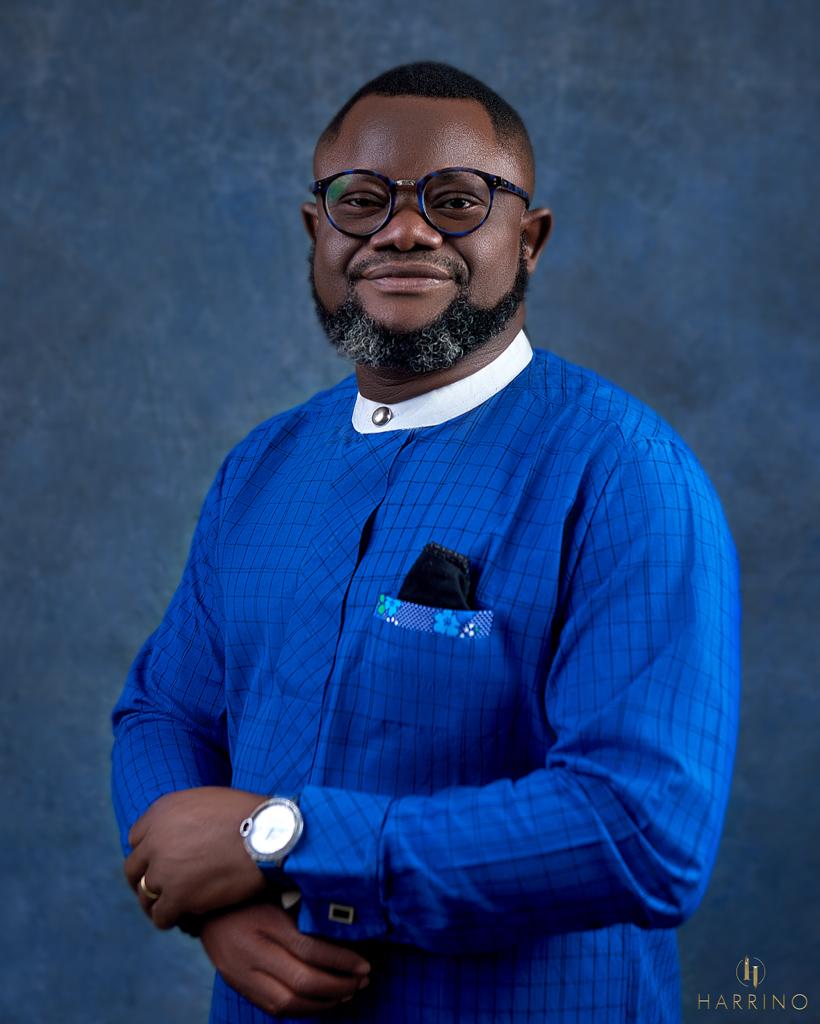 Lancelot Imasuen's travelling student film festival berths
Six years after he established the famous Benin Film Academy in collaboration with Igebinedon University, Okada in 2017, Lancelot Imasuen has recorded yet another milestone as the maiden edition of his newly founded travelling film festival better known as International Student Film Festival holds soon.
According to the founder and CEO,the festival will be hosted yearly on campuses within and outside the shores of Nigeria.
Interested students of film and theatre arts are advised to embrace and anticipate this exclusive festival design to celebrate them , they should submit their entries, whose length limit will not be more than 20 to 40 minutes for short films, and 45 minutes and above for full length for Feature Film respectively.and in all genre of filmmaking,
Lined up activities include film screening ,workshops and seminars by industry greats from within and outside the country as well as awards presentations, certificate of participation and deserving prizes to filmmakers during the film festival event.
Dr Charles Okwuowulu of Alex Ekwueme Federal University Ndufu Alike Ikwo Ebonyi State, has been announced as the jury head . Other members include Dr Folakemi Ogungbe, a lecturer at National Film Institution, Jos, Richard Liloma (film lecturer/ filmmaker), Dr Finest Uwaoma Nwazue (filmlecturer/filmmaker), Sarah Nana Baawah Kuntoh of the University of Media Arts and communication, Nafti campus, Ghana, and Joseph Aketema,who's also of University.
The likes of Prof Jude Akudonobi of University of California, Professor Emmanuel Emasealu, Professor Barclays F. Ayakoroma, Professor Osakue Stevenson-Omoera also have been appointed as members of the advisory board of the festival.
Explaining the idea behind the festival, the popular and multiple awards globally travelled film director said setting up ISFF is in line with his avowed passion for grooming and empowering the youths of this country.
For the 'Gvnor' as he's fondly called by his colleagues and fans, setting up of ISFF will not only help to strengthen the capacity of the country's film industry, but also, it will give emerging filmmakers a sense of belonging.
"The International student film festival is aimed to continue to impart the younger generation of interested filmmakers, It's also in line with my avowed passion for youth empowerment and giving back to the society that made me who I am today," the respected film director stated.
Dr Seyi Ogungbesan, Head of department Theatre and film studies department Igbinedon university Okada. will be the Chief host of the festival, the Vice Chancellor, of the institution, Prof Lawrence Ikechukwu Ezemonye, PhD, FAS is the festival Grand patron.