I SEE SERIOUS BLOOD SHED DURING AND AFTER THE GENERAL ELECTION -DR Chris okafor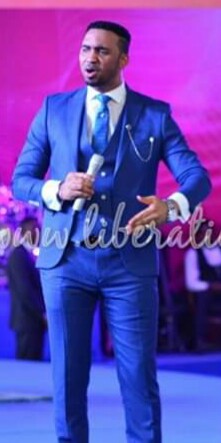 -Blasts Rev. Father Ejike Mbaka for fake prophecy
– PDP and APC cannot rescue the nation
-Kingsley moghalu of (young progressive party), can deliver but in wrong political party
The Senior Pastor of Greater Liberation City worldwide, the Generational Prophet of God, Dr Chris okafor has warned Nigerians
particularly politicians to be careful on their various plans to win
election by force saying that anybody planning to use
Violence/thuggery to win the forth coming general election whereby
blood will be shed, he said such person will not live to witness the election day.
Speaking at the Sunday glorious service in his church on Sunday 10th February 2019, the Oracle of God Dr Chris Okafor declared that God
revealed to him, where he saw many bloodshed during the general
election remarked that some agents of the devils who want to win
election by all means has planned on how to steal vote through ballots
snatching and it will results to heavy fight where lots of life will
be lost and blood will flow heavily, the man of God who pray alongside
his congregations prayed that anybody who the devil has planted evil
spirit in their mind to foment trouble on the election day such
person will not leave to see the day the church prayed.
On who will win the presidential election and will bring dividend of
democracy to the country again, the apostle of Altars remarked that,
he is not into partisan politic and neither he is a PDP OR APC card
member said neither PDP or APC candidates did not have the quality to
take the nation to next level, he said Young Progressive Presidential
Candidate kingsley Moghalu can take the Nigeria economy to next level
With his quality of experience as an economist/financial expert but
he is in a wrong party that can delivered his aspiration.
On Rev fathers ejike mbaka fake prophecy, that he is the one praying
for president buhari to achieve his ambition in 2015, the Generational
Prophet of God Dr Chris okafor lambast this Igbo Rev father mbaka
saying he is only giving out ''man must chop stomach prophesy'' that
God cannot be speaking through a man of God who is speaking through
two side of his mouth, looking for what to eat. He said father ejike
mbaka was arranged by some ''cabal'' to speak to Jonathan that he is
not Gods choice for 2015 election, he wanted to get attention from
Jonathan but they turn him down, now that he has gotten presidential
attention, he was invited recently to go and carry bags of money at
Aso Rock in Abuja, immediately he changed his comment on Buhari, his
Rev, Ejike mbaka a true religion leader? No. He convinced eastern
people particular the Anambra state indigene not to support peter obi
on his ambition to be vice president of Nigeria, a state he was
governor for two term but because father mbaka has receive parcel from
the present government, he said peter obi is not good.
Even the incumbent governor of Anambra state, Willy obiano who cannot
win ordinary councillorships election too is biting the hand that
feeds him, he has forgotten is the same peter obi that nurture him to
where he is today.
On Biafra agitation, the Generational Prophet of God said, those who
are agitating for the creation of Biafra nation are just trying a
fruitless effort because it cannot work, the reason is simple. He said
an Igbo man is the major problems of another Igbo man so Biafra cannot
come to stay the oracle of God remarked
In his sermon with theme ''Redeeming the first born'' using the book
of exodus 13; 1-end to buttress/ explained the topic, the Apostle of
Altars said God has prepared a place for all the first born to leave,
so God directed me to put all the first born in their rightful
position on earth, he said for the first born to be useful, they must
stand as pioneer, pace setters and leaders to their siblings. They
must also understands the importance and ethics of sacrifice, because
with sacrifice they will get their rightful place in the presence of
Jehovah God
The realms of the prophetic took a centre stage at the service with
accurate prophecy, the oracle of God Dr Chris okafor visited so many
case file providing solutions to different spiritual cases, among
which are miracles babies everywhere, spirit of insanity disappears,
growth disappear among many other miracles. Meanwhile next Sunday 17th
February 2019. There will be anointing service for all first born,
this is a great opportunities for families to secure all their first
born to their rightful place.
Apostle Suleman at Holy Ghost Conference: Christianity is Warfare, Not Funfair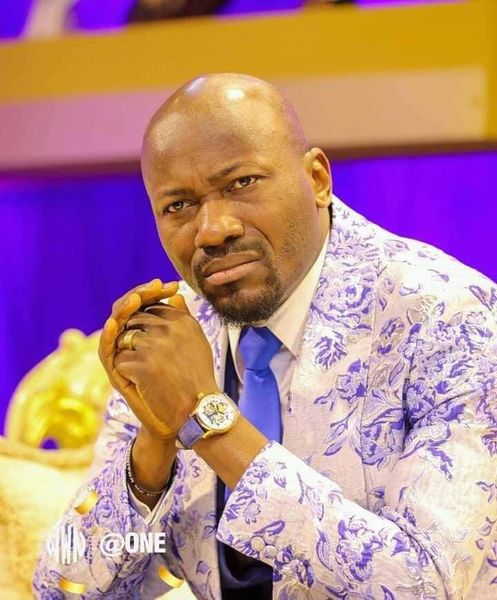 Apostle Suleman at Holy Ghost Conference: Christianity is Warfare, Not Funfair
By Olorunfemi Adejuyibe
Christ-centered preaching is biblical, and practical. Preaching, according to Apostle Johnson Suleman, the general overseer of the Omega Fire Ministries (OFM) worldwide, should draw people to Christ by showing the world that Christ is better than the things man often places his hope in. At the OFM's 'Holy Ghost Conference, which was held a few days ago, the man fondly called 'The Restoration Apostle' suggested in his teaching that lives indeed are changed by true transformation which comes when Jesus Christ is preached intensely into people's hearts.
A common philosophy shared by many African cultures simply states that 'life is warfare.' Apostle Suleman says because Christ is life, then Christianity is warfare, not funfair. This old maxim, Suleman asserts, is well attested to by the Scriptures, that man's existence is warfare. But how does man confront warfare? He said that, though the warfare needs some sort of weapons to be executed, the weapon needed by true Christians to combat the forces militating against their well being, is spiritual weapon.
"Christians are not into physical combat. We are involved in spiritual battles. So, our weapons are spiritual. They are divine," he declared, adding that "it is only normal that one executes a spiritual warfare with spiritual weapons, as you are expected to confront the power of darkness with physical weapons."
His words;
"When you become a child of God, you have been translated from one kingdom to another kingdom. And the kingdom where you're translated from is not going to fold their hands, it will come after you. Christianity is not funfair, it is warfare. No good Christian is weak. The devil will come for you whether you're ready or not. Yet, having weapons is good but knowing how to deploy them effectively is better( Psalm 78:9)."
While cautioning Christians to be in position to really confront the power of darkness by putting on the whole armour, Apostle Suleman said "our God is a God of war. It is warfare that unveils welfare. Your welfare is in your warfare️. You cannot walk into the kingdom of hell without holding dangerous weapons. That is the armour. What makes you a terror to hell is when you have the understanding of how the weapons of God operate. Satan knows when you know. Satan thrives when man is ignorant and spiritually blind," he declared, adding that, "Christians' weapons of warfare are not only spiritual, but are also very potent. They are very strong. They are very efficient. The potency of these weapons is seen in the fact that they can pull down strongholds; cast down arguments and everything that exalts itself against the knowledge of God; it brings every evil thought into captivity. That is why Jesus Christ said to the disciples, "I am sending you out as sheep among the wolves."
Grace Nation: Famous Gospel Act Joe Praise, Gabriel Peter Thrills Faithful As Dr Chris Okafor Declared Mid-Year Cross Over Conference Open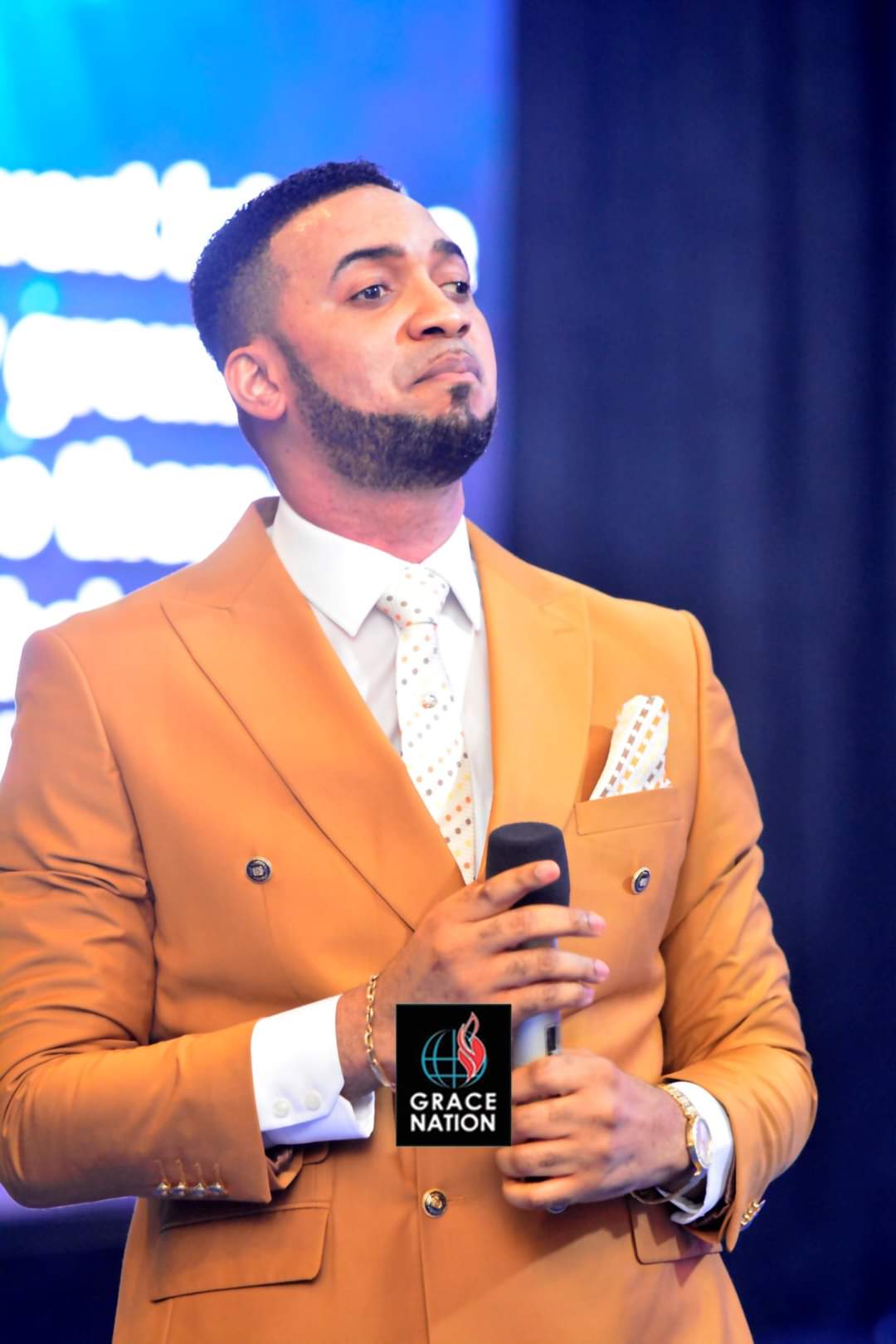 Grace Nation: Famous Gospel Act Joe Praise, Gabriel Peter Thrills Faithful As Dr Chris Okafor Declared Mid-Year Cross Over Conference Open
– Supernatural Oil for Next Level Released to all faithful at Day 1
By Olorunfemi Adejuyigbe
The much talked about Mid-year Cross over put Together by God through his servant Dr Chris Okafor of Grace Nation International has began at the International Headquarters of Grace Nation aka Liberation city, 09-13 Liberation close Oshofisan Street, off Edozie street by Ereke Bus stop ojodu Berger Lagos Nigeria
While welcoming Participant to Day 1 of the Conference, the Generational Prophet of God Dr Chris Okafor, welcome all and sundry to the conference , he said God that set there feet to the program will see them throughout the remaining six month of the year, he charged Participate to be focus and use the opportunity of the Conference to pray fervently and seek for the face of God in whatever they want as a result of there Presence at the conference
In his sermon at the official opening of the 3 day prophetic Mid year Cross Over, the Generational Prophet of God, Dr Chris Okafor who speaks on the Topic "Let Us Cross To The Other Side" said your service to God through Kingdom commitment determine what will happen to you after you might have cross to the other-side, the Man of God explained further that what you do now to the kingdom determine what will happen at the other side, when you are committed to jesus christ at this side, he will be committed to you too at the Other side, it is only your commitment and service to the kingdom that will quaranttee your success at the other-side The Man of God remarked
Famous Gospel Artistes Joe Praise and Gabriel Peters thrills faithful with Praises and worship to make the official Opening of the conference a remarkable one, Eben and Other first class Gospel artiste are expected to Perform as the Conference continue on 23 and 24 june 2022 at same Venue
Supernatural oil to make wealth and move you to your next level was released by God through his servant Dr Chris Okafor at the conference, ..
The Generational Prophet of God Dr Chris Okafor also use the occasion to pray for People across the world, Particularly Nigerians as they cross to the second half of the year, calling on all to allow God rules over their lifes, the man of God said the world is in a perilous time, A time we need to acknowledge God to lead us through, in our day to day activities re affirmed that those faithful presence at the conference are very lucky because Almighty God will meet them one on one and direct them on what to do to be successful throughout the second half of the Year he concluded
The Conference continue on 23th june by 7am and also 24 june 2022 by 8pm (Vigil) till you all break through
Primate Ayodele Releases Fresh Prophecies On Telecommunication, Sports, Others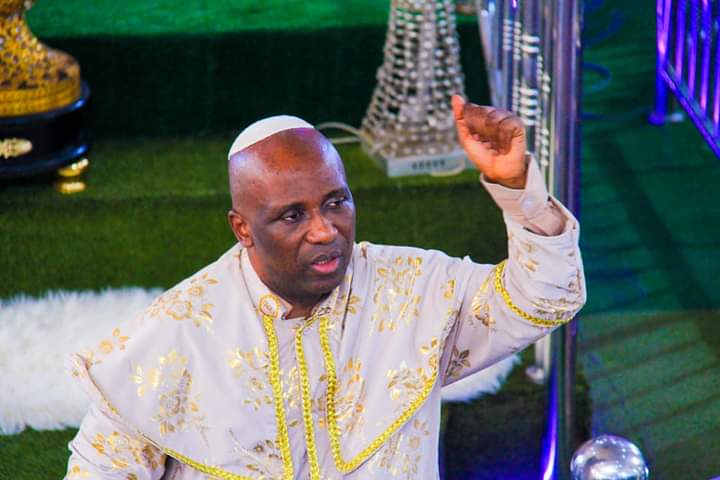 Primate Ayodele Releases Fresh Prophecies On Telecommunication, Sports, Others
By Olorunfemi Adejuyigbe
The Leader Of INRI Evangelical Spiritual Church, Primate Elijah Ayodele has released fresh prophecies on the telecommunication, sports and railway sectors in Nigeria and the African continent.
In a statement signed by his media aide, Osho Oluwatosin, Primate Ayodele warned the Nigerian communication commission (NCC) against taking steps that will run the telecommunication sector into serious crisis.
He revealed that he foresees another indigenous telecommunication company coming up from the northern region of the country but stated that Glo will always stay afloat among others.
Speaking on Glo, Primate Ayodele made it known that the company has God's backing and that no amount of scandals will be able to bring it down. He however advised them to stay focused and courageous as he foresees the company taking over several states in the country and the African continent.
''The Nigerian communication commission must not take a step that will run telecommunication into crisis or troubles, they should be mindful against increment of VAT on telecommunication, It will not be suitable.''
''I am seeing another indigenous telecommunication company from a northerner but among all, Glo will still be a leading telecommunication company in Nigeria and Africa. It will have an unusually perfect network service despite the fact that there will be scandals against the company. They should stay focused and firm because God is behind them. Glo will employ more workers. Through Glo, the economy of Nigeria will be transformed. Glo will take over so many states in the country, I see the talking drum symbol everywhere. God has promised the chairman of Glo his protection, no matter the attacks of the enemies, I see Glo soaring.''
On other telecommunication companies, Primate Ayodele warned MTN against taking wrong steps, Airtel against getting new device that won't be favourable and 9mobile against indictment.
''MTN must be watchful against steps that will back fire against the company. I see mass retention and inferno, the company should pray.''
''9mobile will have problems in September and October, and they must pray not to be bereaved. Some of their staffers will be indicted''
''Airtel is working on a new device, i don't see it becoming favourable for them.''
On Sports, Primate Ayodele warned the current NFF president, Amaju Pinnick not to be tempted to contest for a third term in office because it will kill the Nigerian football. He went ahead to mention that God has ordained Alh Ibrahim Gusau to become the next NFF president and that during his tenure, Nigeria will lift the African cup of nations.
Continuing, He asked Nigerians to pray against the death of a Nigerian footballer and death in the glass house.
''Amaju Pinnick should not go for a third term, if he goes, Nigerian football will die. The only person God has ordained to lead the NFF is Alh Ibrahim Gusau, he is the best man for the job that can take Nigerian football to glory. If we have Gusau as the NFF president, Nigeria will lift the Nations cup in 2023. ''
''Let's pray not to lose a Nigerian footballer in the field of playing. Let us pray so there won't be death in Glass house, a former player will die.''
Furthermore, the man of God warned the Nigeria railway corporation that he foresees a railway derailment and protest, asking them to be watchful and prayerful.
''I see another railway derailment and there will be protest by railway workers in Nigeria, NRC should be watchful and prayerful.''