I SEE SERIOUS BLOOD SHED DURING AND AFTER THE GENERAL ELECTION -DR Chris okafor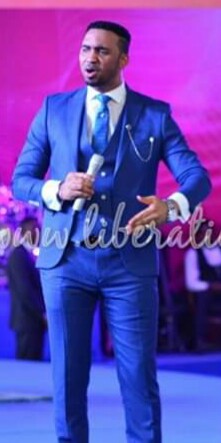 -Blasts Rev. Father Ejike Mbaka for fake prophecy
– PDP and APC cannot rescue the nation
-Kingsley moghalu of (young progressive party), can deliver but in wrong political party
The Senior Pastor of Greater Liberation City worldwide, the Generational Prophet of God, Dr Chris okafor has warned Nigerians
particularly politicians to be careful on their various plans to win
election by force saying that anybody planning to use
Violence/thuggery to win the forth coming general election whereby
blood will be shed, he said such person will not live to witness the election day.
Speaking at the Sunday glorious service in his church on Sunday 10th February 2019, the Oracle of God Dr Chris Okafor declared that God
revealed to him, where he saw many bloodshed during the general
election remarked that some agents of the devils who want to win
election by all means has planned on how to steal vote through ballots
snatching and it will results to heavy fight where lots of life will
be lost and blood will flow heavily, the man of God who pray alongside
his congregations prayed that anybody who the devil has planted evil
spirit in their mind to foment trouble on the election day such
person will not leave to see the day the church prayed.
On who will win the presidential election and will bring dividend of
democracy to the country again, the apostle of Altars remarked that,
he is not into partisan politic and neither he is a PDP OR APC card
member said neither PDP or APC candidates did not have the quality to
take the nation to next level, he said Young Progressive Presidential
Candidate kingsley Moghalu can take the Nigeria economy to next level
With his quality of experience as an economist/financial expert but
he is in a wrong party that can delivered his aspiration.
On Rev fathers ejike mbaka fake prophecy, that he is the one praying
for president buhari to achieve his ambition in 2015, the Generational
Prophet of God Dr Chris okafor lambast this Igbo Rev father mbaka
saying he is only giving out ''man must chop stomach prophesy'' that
God cannot be speaking through a man of God who is speaking through
two side of his mouth, looking for what to eat. He said father ejike
mbaka was arranged by some ''cabal'' to speak to Jonathan that he is
not Gods choice for 2015 election, he wanted to get attention from
Jonathan but they turn him down, now that he has gotten presidential
attention, he was invited recently to go and carry bags of money at
Aso Rock in Abuja, immediately he changed his comment on Buhari, his
Rev, Ejike mbaka a true religion leader? No. He convinced eastern
people particular the Anambra state indigene not to support peter obi
on his ambition to be vice president of Nigeria, a state he was
governor for two term but because father mbaka has receive parcel from
the present government, he said peter obi is not good.
Even the incumbent governor of Anambra state, Willy obiano who cannot
win ordinary councillorships election too is biting the hand that
feeds him, he has forgotten is the same peter obi that nurture him to
where he is today.
On Biafra agitation, the Generational Prophet of God said, those who
are agitating for the creation of Biafra nation are just trying a
fruitless effort because it cannot work, the reason is simple. He said
an Igbo man is the major problems of another Igbo man so Biafra cannot
come to stay the oracle of God remarked
In his sermon with theme ''Redeeming the first born'' using the book
of exodus 13; 1-end to buttress/ explained the topic, the Apostle of
Altars said God has prepared a place for all the first born to leave,
so God directed me to put all the first born in their rightful
position on earth, he said for the first born to be useful, they must
stand as pioneer, pace setters and leaders to their siblings. They
must also understands the importance and ethics of sacrifice, because
with sacrifice they will get their rightful place in the presence of
Jehovah God
The realms of the prophetic took a centre stage at the service with
accurate prophecy, the oracle of God Dr Chris okafor visited so many
case file providing solutions to different spiritual cases, among
which are miracles babies everywhere, spirit of insanity disappears,
growth disappear among many other miracles. Meanwhile next Sunday 17th
February 2019. There will be anointing service for all first born,
this is a great opportunities for families to secure all their first
born to their rightful place.