It's the turn of Yewa/Awori to govern Ogun State' , Adelani Asade seeks for support of the people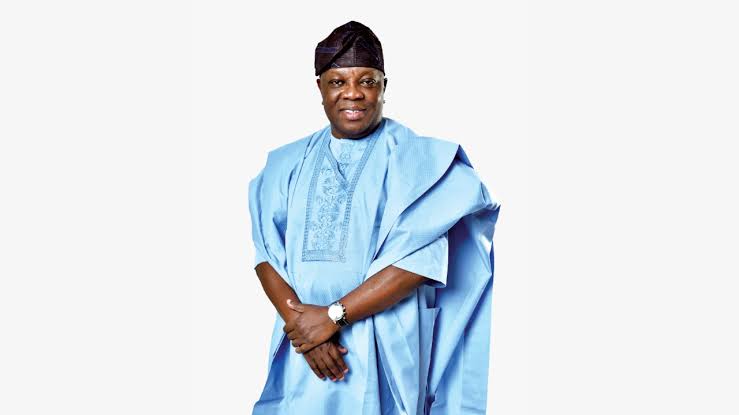 'It's the turn of Yewa/Awori to govern Ogun State' , Adelani Asade seeks for support of the people
Ogun state, since inception, forty-three (43) years ago(February 3,1976), to date, has been ruled by five (5) democratically elected governors. Others have been military administrators and governors. Out of these five executive governors, two governors have emerged from Ogun Central Senatorial District. They are:
(1) Chief Olusegun Osoba.: 1992-1993, 1999-2003 (5 years).
(2) Senator Ibikunle Amosun: 2011 -2019 (8 years)
The other three (3) governors that have emerged from Ogun East Senatorial District include:
(1) Chief Victor Olabisi Onabanjo: 1979-1983 (4 years)
(2) Otunba Justus Oluwagbemiga Daniel: 2003- 2011 (8 years)
(3) Prince Adedapo Oluseun Abiodun: 2019-2023 (4 years)
Out of the twenty-eight or twenty-nine (28/29) years of democratic rule in the gateway state, the governorship seat has been occupied in rotation between the Ogun East and Ogun Central Senatorial Districts. Ogun West Senatorial District has up to date not produced any governor.
The highest position ever enjoyed under democracy by the Ogun West Senatorial District is the office of the deputy governor; an office with no executive/administrative nor political powers to decide on any matter except otherwise directed. Little wonder, the eight years of Alhaja Salimot Badru, a Deputy Governor of Ogun State between 2003 and 2011 did not attract any meaningful democratic dividend to Yewa/Awori sector of the state.
Similarly, the four years tenure of Engineer Naimot Salako is ending in the next two months with no concrete evidences of delivery of any of the campaign promises to Ogun West Senatorial District. Our mothers and distinguished personalities need no blame as the 1999 Constitution has 'crippled' their privileged position.
Forty-three (43) years down the line, what Ogun West Senatorial District could boast of apart from the position of deputy governor are the office of the secretary to the state governor, speaker of the state legislature, a few state commissioners and board members. All these positions put together cannot equate the exalted position of a state governor. The chief executive officer, (by the Nigeria style of democracy) that has the powers to dictate where to locate any facility or infrastructure. He determines what to do in any geographical location of the state. Little wonder, in spite of its huge population, human capacity and voting strength, Ogun West Senatorial District is still far behind the other two Senatorial Districts
Ogun West Senatorial District enviable position as the industrial hub of the state since inception (Industries and factories located in Ota, Igbesa and Agbara) where huge and numerous resources which the state use to develop other senatorial districts is not in contention. That notwithstanding, Ogun West Senatorial District is still crawling and begging for infrastructural development in all ramifications. Majority of its roads are in bad shape; they are not motorable. All infrastructure are decaying and in dilapidating condition. Ogun State Polytechnic, Ipokia has been abandoned. All blocks of classrooms and other infrastructure are gradually going down with the premises filled with overgrown weeds.
The Gateway international Stadium, Ilaro is no longer a pride of the state. The International Market located at owode is a shadow of itself. Whereas all Government infrastructure which include schools, roads, stadiums in other two Senatorial Districts are witnessing renewal, refurbishment and rebranding. This is quite unfortunate in a state of collective commonwealth where only two Senatorial Districts are witnessing tremendous development at the expense of Ogun West Senatorial District. While Ogun West Senatorial District cannot boast of any University, Polytechnic or College of Education within its domain, the other two Senatorial Districts and especially Ogun East are enjoying the boom with one Local Government accommodating a State University and a College of Education.
Reasons for this disparity in not farfetched. While the other two Senatorial Districts have been on top of the game, Ogun West Senatorial District is yet to find its bearing. It is being rumoured that Ogun Central Senatorial District is warming up to take over the mantle of leadership from Prince Dapo Abiodun after his tenure expires in 2027 if he is re-elected in 2023.
If this trend continues, what then is the fate of Ogun Westerners? When will the expected divided of democracy in truth and spirit reach Ogun West Senatorial District? When will Yewa/Awori people have a sense of belonging or do we remain silent in abject poverty, perpetual degradation and insatiable want in the midst of plenty?
This is the time our leaders, elders, traditional rulers, opinion leaders and political giants of Yewa/Awori sector rise to the occasion. The likes of Distinguished Senator Iyabo Anisulowo, Mrs. Iyabo Apampa Senator Ayodeji Otegbola, Senator Kola Bajomo and Senator Tolu Odebiyi including Hon. Representative Kolawole Mobolorunduro and the newly elected distinguished Senator Solomon Olamilekan (YAYI), Hon. Isiaka Abiodun Akinlade and Hon. Gboyega Nasir Isiaka (GNI) are hereby called upon to bail out Ogun West Senatorial District from this embarrassment
Our revered paramount ruler of Yewaland and Yewa Traditional Council including the Olota of Ota and all Monarchs in Awori land should equally rise up to the occasion. The time is now to rally round the only governorship candidate from Ogun West and ensure his victory at the March 11th, 2023 governorship polls in Ogun State, Political Party notwithstanding, Barrister Biyi Otegbeye of the African Democratic Congress(ADC) is a lawyer by profession and a Group Managing Director of Regency Alliance Insurance Plc. He is a game changer, a philanthropist, transformational and transparent leader. A devoted Christian, Biyi Otegbeye is prepared to lift Yewa Awori and Ogun State at large higher if elected.
To this end, I hereby urge Yewa Awori Elders and political gladiators to unanimously adopt Barrister Biyi Otegbeye as the sole candidate of Ogun West Senatorial District and collectively present him to the other two Senatorial Districts as the next governor of Ogun State.
Ogun West Senatorial District cannot do it alone. The would-be governor must have in addition to scoring the highest number of total votes cast at the governorship election, score one-quatre (¼) of the total votes cast in two-thirds (2/3) of the number of Local Governments in Ogun State in order to satisfy the constitutional requirements for the election. At this juncture, it becomes imperative for the Ogun West Senatorial District leaders to appeal and lobby the other two senatorial district leaders and political giants to consider and concede the state number one seat to Yewa Awori people now, even if it is for a single tenure of office.
The Northern Nigeria conceded the presidency to Southern Nigeria for inclusiveness and sense of belonging; hence, we passionately appeal to the other two Senatorial Districts in Ogun State to concede the governorship position to Ogun West Senatorial District in the spirit of live and let others live. This is the time to extend the hand of brotherhood, love and unity to Ogun West Senatorial District.
God bless Ogun State.
God bless Nigeria.
Adelani Asade.
A journalist, writes from Ipokia, Ogun state
Photos As Speaker Obasa, Lawmakers Get Certificate Of Return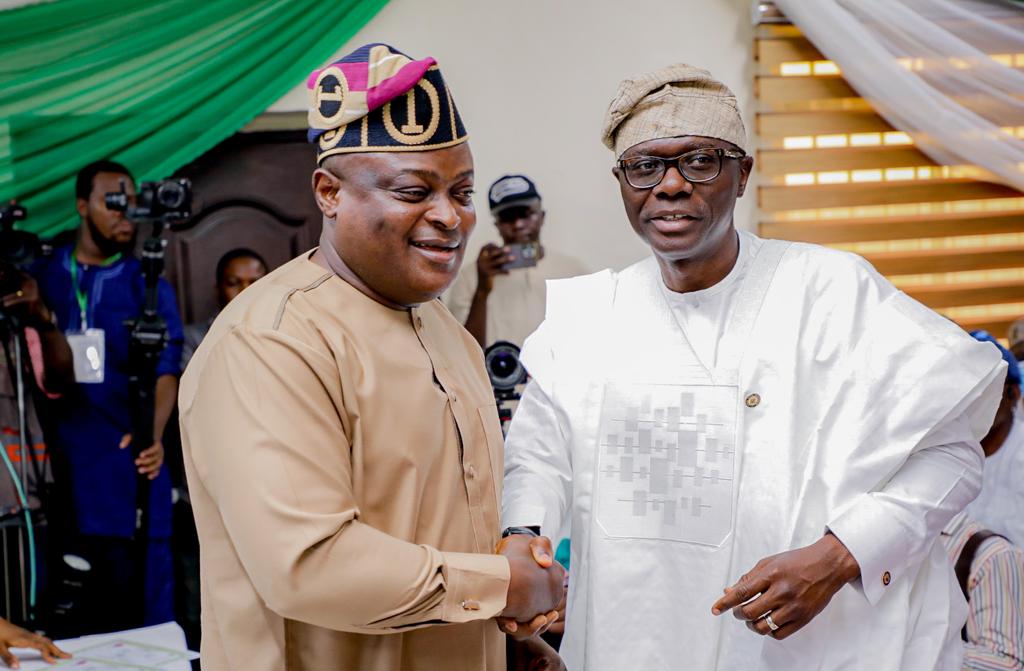 Photos As Speaker Obasa, Lawmakers Get Certificate Of Return
– Legislators thank Lagosians for mandate
The Speaker of the Lagos Assembly, Rt. Hon. Mudashiru Obasa, and other lawmakers-elect received their Certificate of Return from the Independent National Electoral Commission (INEC) on Thursday promising to ensure a greater Lagos at the 10th Assembly.
"On behalf of my colleagues, we will continue to build on the success of the current Assembly when we resume for the 10th Assembly. We want to assure Lagosians that we will continue to make laws, pass motions and resolutions that will bring progress to Lagos and protect the interests of residents.
"That's the assurance that I have from the 39 other members-elect," Dr. Obasa told journalists at the event which had Governor Babajide Sanwo-Olu and Deputy Governor Obafemi Hamzat in attendance.
A total of 38 lawmakers-elect from the All Progressives Congress (APC) and two from the opposition received their Certificate of Return.
The Speaker thanked his constituents in Agege and Lagosians for their support for the APC.
"I thank my people in Agege for their consistency, loyalty and support at all times. And to Lagosians, we say thank you. At least APC has 38 lawmakers-elect out of the 40 for the House of Assembly. We have the three senatorial seats and a whole lot in the House of Representatives. We are very happy about this and have reasons to thank Lagosians.
"We are going to support the Governor in his assignments to bring growth and progress to Lagos State as well as protect the lives and property of our people. However, supporting the executive arm does not mean we are going to compromise or abandon our constitutionally guaranteed responsibilities," Obasa said.
He expressed optimism that Lagos will benefit from the centre in the next administration because "we have a President-elect that we all have absolute confidence in and who had done very well in Lagos State with good track record.
"We are sure that with him, many of our national challenges would be resolved because he has the capacity and knowledge to deliver. I have no doubt in my mind about it."
Eromosele Ebhomele
Chief Press Secretary to the Lagos State House of Assembly.
Taraba Governor-Elect, Agbu Kefas Picks Up Certificate Of Return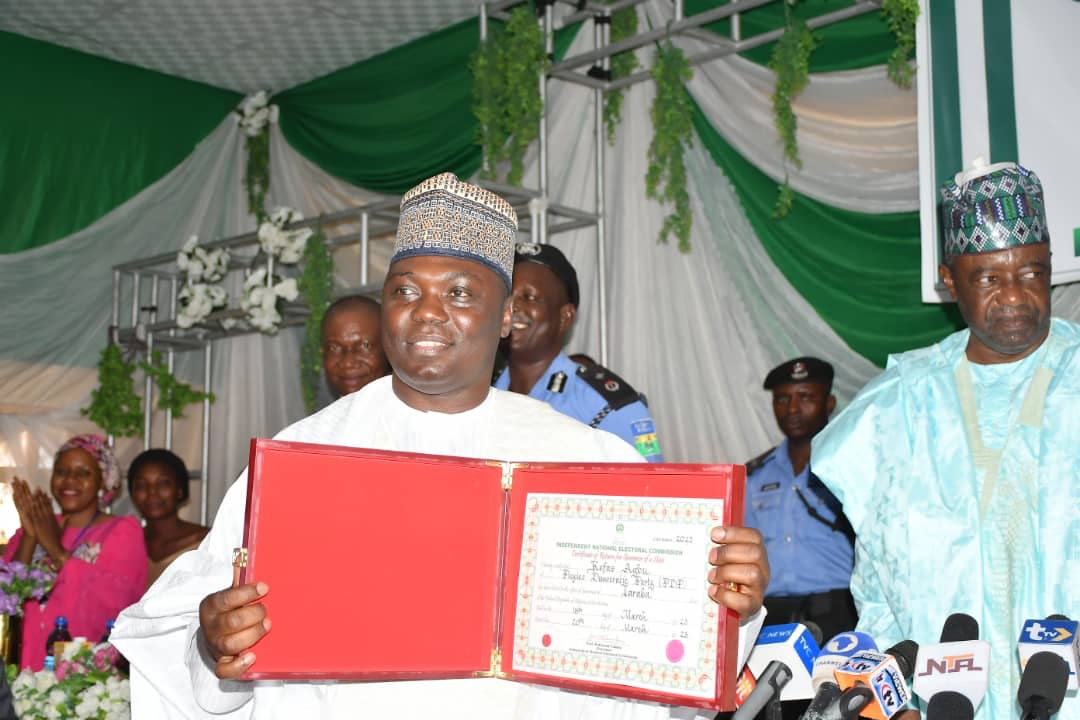 Taraba Governor-Elect, Agbu Kefas Picks Up Certificate Of Return
The governor-elect of Taraba state, Agbu Kefas has received his certificate of return from the Independent national electoral commission (INEC) today Wednesday, 29th Of March, 2023.
The governor-elect after the presentation appreciated the people of Taraba for believing in him and electing him as the governor of the state.
He made it known that the mandate is for everyone in the state including young, old, male, females, Muslims and Christians and all lovers of Taraba state.
Ogun: Gov Abiodun organizes send forth for retired Head of Service, six Permanent Secretaries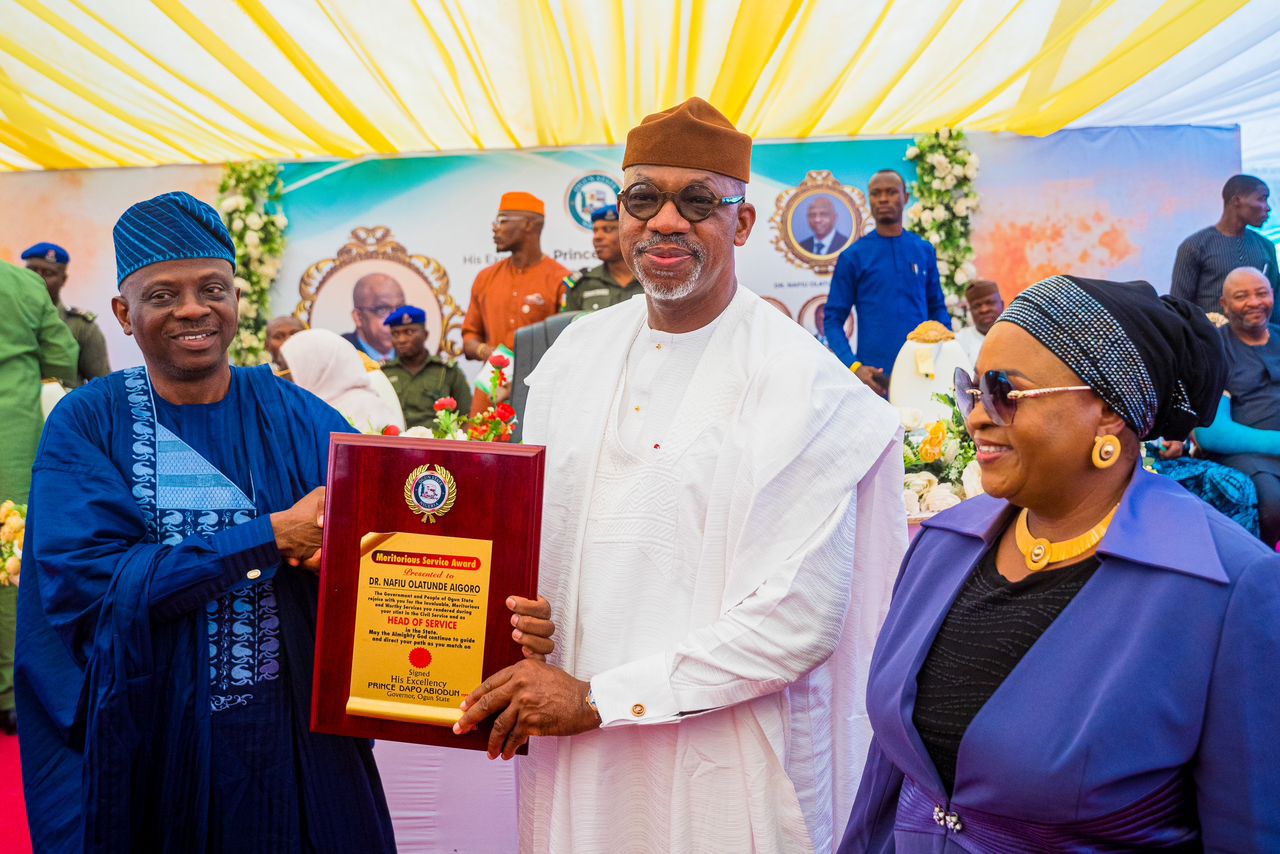 Ogun: Gov Abiodun organizes send forth for retired Head of Service, six Permanent Secretaries
The Ogun State governor, Dapo Abiodun has described the former Head of Service, Dr Nofiu Aigoro as a very calm, deliberate, committed, selfless and dependable administrator.
Abiodun who made this known on Tuesday during the official send-forth reception held in honour of the first Medical Doctor and Orthopedic Surgeon to become the Head of Service in the state and six retired Permanent Secretaries, described out gone Permanent Secretaries as resourceful and hardworking partner in the 'ISEYA Agenda' of his administration.
Abiodun, while noting that his administration would continue to count on their wealth of experience not only for the continued development of the public service but the state in general, charged public and civil servants in the state to take a cue from the meritorious service of the retired Head of Service.
He further charged them to continue to demonstrate more professionalism and dedication to their duties and responsibilities.
"Our administration will make sure our civil servants are always celebrated in their career as important builders and the engine room of Ogun State. I therefore congratulate our retired Head of Service, Dr Nofiu Aigoro and all our retired Permanent Secretaries as they join the class of elder statesmen.
"We are here not only to celebrate your retirement as Head of Service and Permanent Secretaries from the Ogun State Public Service, but also your induction as worthy ambassadors of Ogun State," he said.
He recognized the contributions of the entire public service towards the successful implementation of the 'Building our Future Together Agenda' of his administration, adding that his administration would continue to make the welfare of workers in the state a priority.
"Let me reiterate that this administration would continue to make the welfare of workers a priority so as to guarantee industrial harmony. We have cleared the backlog of promotions inherited from the last administration, coupled with the prompt payment of salaries and allowances," the governor pointed out.
Abiodun who reiterated that his administration was committed to resolving all outstanding issues, said that "I am sure some of our civil servants have started receiving alongside their monthly salaries, leave bonuses for the months of January and February, 2023 in fulfillment of our promise and also the payment of deductions'.
The governor, however, charged the state public servants to be more committed and dedicated to their duties, thanking them for their support for his re-election.
According to Abiodun, the support he received from the civil servants will be forgotten in a hurry, saying "I will show my appreciation through the implementation of our various understandings".
The governor informed the gathering that his administration had appointed Mr. Peter Fagbohun as the 19th Head of Service and disclosed that the inauguration of the new Head of Service would be done alongside three new Permanent Secretaries.
In his remarks, Dr. Aigoro, while appreciating Governor Abiodun for finding him worthy of being the first Medical Doctor to be appointed as the Head of Service in the state, implored members of the public service to continue to do their best and also support the incumbent administration in the state.
Responding on behalf of the retirees, Olukunle Sodehinde, thanked the governor for giving them the opportunity to serve and also contribute their own quota under the ISEYA Agenda of his administration.
He also congratulated him on his victory at the just concluded governorship election in the state.