LAGOS CONSIDERS SWITCHING TO COMMUNITY MANAGEMENT OF COVID-19 CASES, AS SANWO-OLU MULLS ANOTHER LOCKDOWN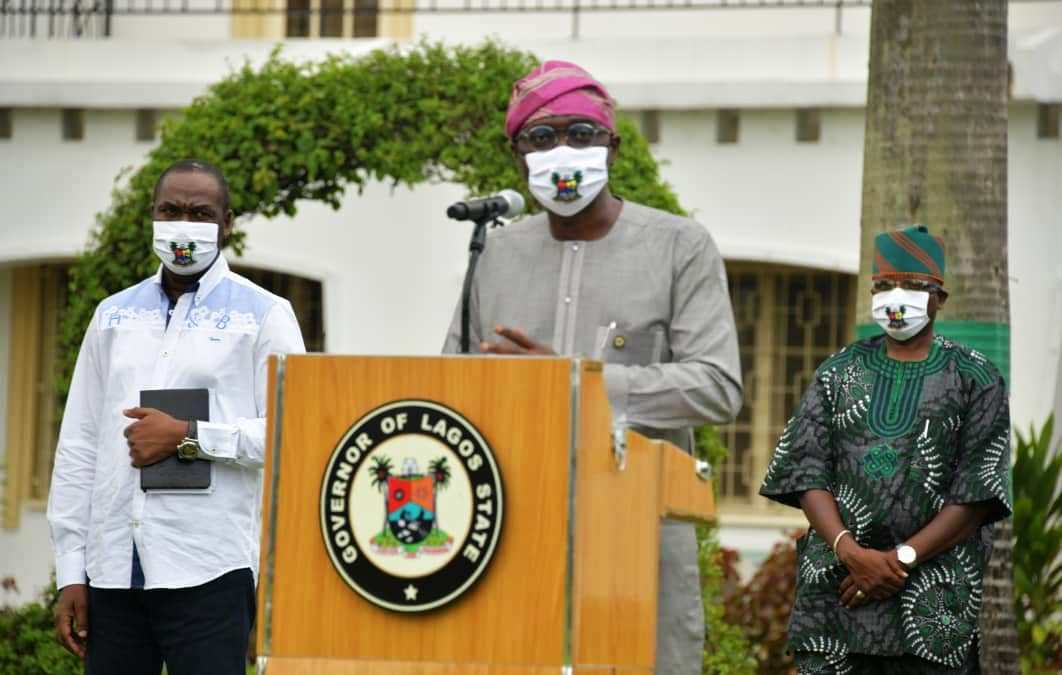 …Governor To Police: 'Confiscate Any Okada Operating, Stop Pedestrian Trekking Into Lagos'
…Commercial Buses Not Complying With Guidelines – Sanwo-Olu
Lagos State may be in for another round of interminable lockdown of movement and business activities should the residents fail to adhere to the public health guidelines issued by the State Government in response to the fight against the ravaging Coronavirus (COVID-19) pandemic.
Governor Babajide Sanwo-Olu said the State Government would be forced to review terms of easing the lockdown if there was no improvement in the adherence to the guidelines initiated to break the cycle of transmission of the dreaded virus.
The Governor spoke on Saturday during a maiden briefing after the ease of a five-week lockdown imposed by the Federal Government.
Besides, Sanwo-Olu said there will be a change in the State's isolation strategy in the coming weeks, pointing out that Lagos was transiting towards decentralisation of management of COVID-19 cases, which would lead to the accreditation and incorporation of primary healthcare facilities and private hospitals for the treatment of mild-to-moderate cases of COVID-19 patients.
The Government, he said, was taken aback, watching residents going about their businesses in the last five days after the ease of lockdown without complying with the public health guidelines despite massive advocacy.
Sanwo-Olu said the crowd observed at various banks and markets across the State flouted the public gathering directive, noting that the Government would not watch while people violate the State's guidelines towards combating the pandemic.
He said: "As a Government elected to uphold security of its citizens, which include health security, we will not hesitate to review the terms of the easing of lockdown if we do not see an improvement in adherence to our public health guidelines in the next couple of days.
"We will be forced to take a painful decision of bringing the entire system under lockdown if we continue to see evidence that Lagosians are determined to flout the rules.
"As we eased restrictions on movement, we have increased our testing capacity and we are also actively increasing our isolation capacity. Members of the public will also see a change in our isolation strategy in the weeks ahead, as we transition towards decentralisation.
"What this means is that, we will be introducing community management of cases, by accrediting and incorporating primary healthcare facilities and private healthcare facilities for the management of mild-to-moderate cases of COVID-19 patients. However, we will guide this initiative carefully to ensure that it is not done at the expense of the capacity required to handle other medical cases."
Sanwo-Olu said the State Government's order restricting the operation of commercial motorcycles, popularly known as Okada, had been defied, directing the police to confiscate any commercial motorcycle seen flouting his directive.
The Governor also instructed security personnel to strictly enforce the ban on inter-state movement, directing the police to turn back all pedestrians trekking to Lagos from boundary highways.
The Governor said the task of ridding the State of the ravaging virus must be a collective responsibility and not a task for the Government alone. He advised residents to adhere strictly to the health measures initiated by the Government, stressing that the use of face mask was made compulsory to protect unaffected population from the virus.
Sanwo-Olu said: "We are at a critical point in the management of the COVID-19 pandemic where every citizen of the State needs to take responsibility for their health and wellbeing.
"As citizens, we have a great burden upon us, to behave responsibly. These times demand a lot from us, in terms of actions and behaviours that may not be comfortable. To stay alive and well, we have to abandon old habits and customs, and adopt new ones."
Sanwo-Olu said the controlled and gradual easing of the five-week lockdown was to strike a balance between the protection of lives and the sustenance of livelihoods.
He praised manufacturing and construction companies for complying with terms of Government's framework, noting that their activities, in the last five days, had made beneficial impacts on the State economy.
The Governor, however, frowned at a "very low" compliance with guidelines by operators of commercial buses, observing that yellow buses failed to comply with the capacity restrictions outlined in our framework.
He said the Government's monitoring teams at State and Local Government levels had been working hard to raise compliance levels to 100 per cent.
Sanwo-Olu reiterated his commitment towards strengthening the State's capacity in combating the pandemic, thanking frontline medical and emergency workers for their sacrifice to the citizens.
The Governor also hailed waste disposal teams for not relenting in their effort to keep the State health despite being vulnerable to being infected with COVID-19.
SIGNED
GBOYEGA AKOSILE
CHIEF PRESS SECRETARY
MAY 9, 2020
Governor Adeleke Frowns at Delay in Payment of November Salary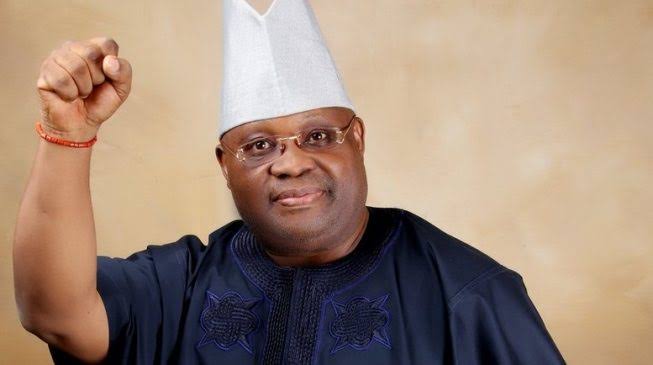 Governor Adeleke Frowns at Delay in Payment of November
Salary
●Orders Submission of Salary Schedule within 24 Hours
Governor Ademola Adeleke has frowned at the delay in the payment of November salary, ordering the submission of salary schedule to relevant office within 24 hours.
Issuing the directive after taking briefing from the Federal Ministry of Finance, Governor Adeleke instructed the desk officer to ensure complete submission by outstanding agencies.
Top officials of the ministry had attributed the delay in salary payment to the failure of some agencies to submit their salary schedule on time.
Governor Adeleke consequently directed immediate conclusion of the processes, affirming that his administration is averse to inconveniences the delay has forced on the state workforce.
Signed:
Mallam Olawale Rasheed,
Spokesperson to the Executive Governor
FHC Verdict: Adekoya hails judiciary, says 'no victor, no vanquished'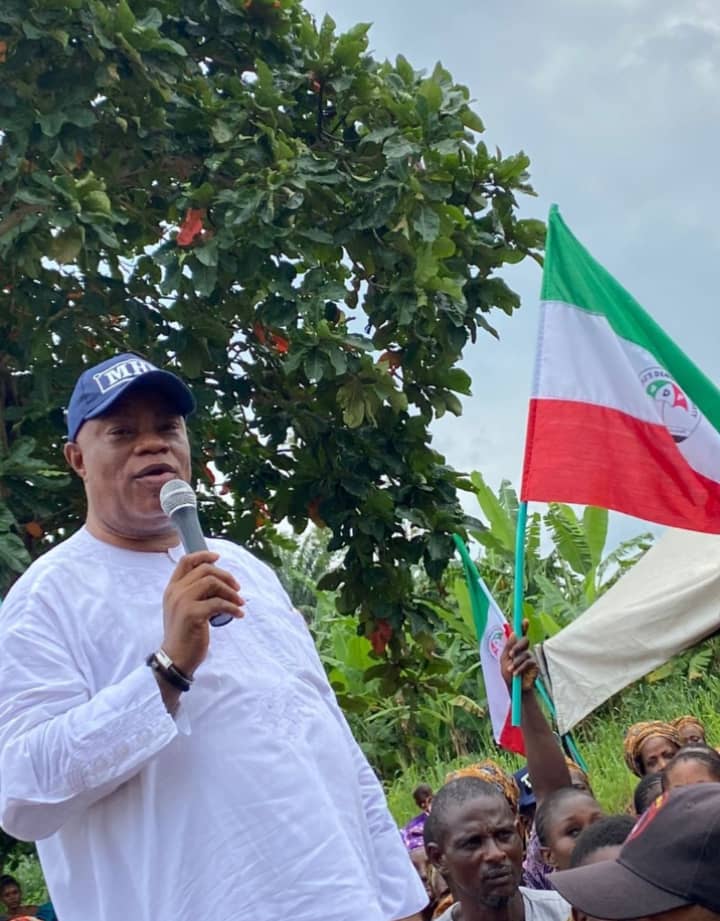 FHC Verdict: Adekoya hails judiciary, says 'no victor, no vanquished'
The Federal High Court sitting in Abeokuta, the Ogun state capital, on Wednesday, 30th November, 2022, struck out two suits challenging the May 22nd, 2022 primary election which produced Rt. Hon. Abdel-Majid Adesegun Adekoya (ATTACKER) as the House of Representatives candidate of the People's Democratic Party (PDP) for Ijebu-North/Ijebu-East/ Ogun Waterside Federal Constituency in the February 2023 election.
Reacting to the judgement, the Deputy Minority Whip of the House of Representatives, Rt. Hon. Abdel-Majid Adesegun Adekoya (ATTACKER) commended the judiciary for taking into consideration what is right and serving justice, appropriately.
"I was truly overwhelmed by the judgement. This is what our law institutions should do -always standing by what is right at all times to avoid the miscarriage of justice. The judiciary has once again justified the confidence we reposed in them", Adekoya said.
Speaking further, Adekoya appealed to the duo of Hon. Tele Ogunjobi, Mr. Kenny Bello and other aggrieved members of the party to sheath their swords, noting that it is a "no victor, no vanquished" situation. He maintained that as members of the same party, there is bound to be disagreement but it does not make them enemies.
"I shall be visiting my brothers – Hon. Tele Ogunjobi and Mr. Kenny Bello very soon to iron things out and map out strategies to ensure our party emerges victorious in 2023. There is no champion for ever. Someday, I'll vacate this seat and I see them both as perfect successors. As it is usually said that success without a successor is a successful failure. By that time, I shall be willing to offer my utmost support to whoever gets the mandate between them" ATTACKER concluded.
Adeleke Reverses Self On Sack Of Civil Servants, Monarchs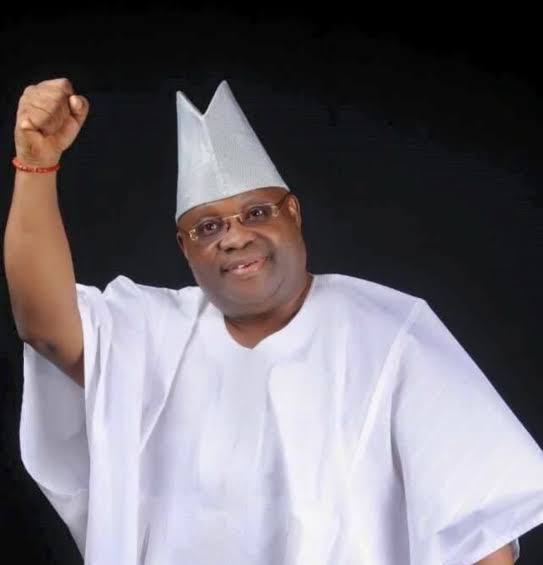 Adeleke Reverses Self On Sack Of Civil Servants, Monarchs
Osun state Governor, Adeleke said yesterday his administration has not sacked any worker and dethroned three monarchs.
Adeleke spoke against the earlier announced Executive Order 3, 4 and 5, which stated nullification of employment, appointment made by former Governor Adegboyega Oyetola from July 17, 2022 till his inauguration and vacation of the throne of three monarchs appointed by past administration.
The order states: "All employments in the service of Osun State Government made in any capacity into any capacity in all the ministries, departments, agencies, commissions, boards and parastatals after July 17, 2022 are hereby nullified.
"All appointments in the service of Osun State Government made in any capacity into any capacity in the ministries, departments, agencies, commissions, boards and parastatals after July 17, 2022 are hereby reversed.
"All appointments of traditional rulers made by Osun State Government after July 17, 2022 are hereby ordered to be reviewed to ensure there was strict compliance with due process of chieftaincy declarations and native law, custom and tradition relating to such chieftaincies. In the case of Ikirun, Iree and Igbajo, to avoid further breakdown of law and order, the appointments of Akinrun of Ikinrun, Aree of Ire and Owa of Igbajo are hereby put on hold pending review. Subsequently, the palaces of Akinrun of Ikirun, Aree of Iree and Owa of Igbajo should remain unoccupied, while security agencies are hereby ordered to take charge."
However, the governor through his spokesperson, Olawale Rasheed, speaking yesterday on a private radio station, Rave FM, in Osogbo, during a talk show programme, 'Frank Talk', said Adeleke had not sacked any worker.
,
He said the appointment and employment made by the Oyetola administration would be reviewed to ensure legality and due process, stressing that nobody had been sacked, the executive order was misquoted.
All Progressives Congress (APC) in Osun State has described the setting up of review panels by Governor Adeleke as an afterthought designed to arrive at predetermined outcomes.
The party urged the governor to settle down to study the handover notes, so as to prevent the blunders he was committing.
In a statement signed by its Director of Operations, Sunday Akere, APC said: "We told you from day one that these people have nothing to offer. We can all see from their first action that they are even confused.
"They had told us long time ago that they were coming to sack. They came and announced it. Why set up a panel after taking a decision? What they are doing can be likened to doing ablution after observing prayers. Who does that?"
Governor Adeleke has ordered the dissolution of non-statutory boards.
Spokesperson Malam Olawale Rasheed said in a statement that the directive was conveyed to heads of ministries, departments and agencies by Mr. Teslim Igbalaye, the Secretary to the State Government