Lagos Police officers torture artisan for allegedly being a Yahoo boy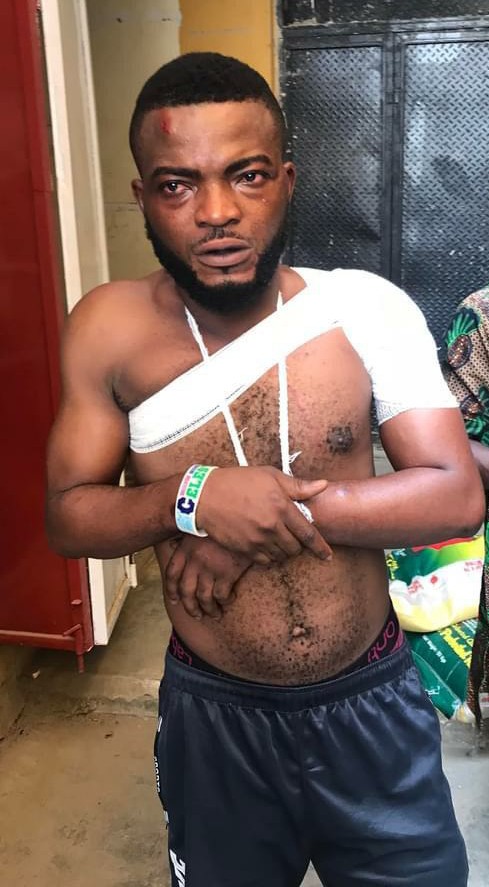 Lagos Police officers torture artisan for allegedly being a Yahoo Boy By Ifeoma Ikem
An artisan, Arowolo Oluwafemi 35 years man,has accused Sagamu Divisional Police Station Ikorodu of unlawfully arresting and torture.
Oluwafemi said he was arrested around 14.10 pm on Thursday, January 6th, 2022, by the Greenerline Transport Company ,Ikorodu , Lagos State.
Sahara Weekly learnt that the artisan was coming out from his family house which was opposite the station , and incidentally, his business was around there too. While coming out he sighted two police officers sitting down where a woman sells alcohol. While both officers were drinking and smoking, he greeted and passed before one of them Mr Ayo accosted him to come but which he ignored.
The artisan said before he knew what was happening, the officer walked to him, held his back on his shirt,while his colleague Alhaji held his short as if he was a suspected criminal on wanted list.
" Even people around the busy area tried to stop them and requested to know what happened from the officers,four other officers rushed out from the station pounced on me using the butts of their guns and sticks to beat me, injuring me in the process"
Olwuafemi said he was not told what his offence was,he dragged me into one of their room in the station with handcuffs,.
"They accused me of being a yahoo boy and took my mobile phone ask for the pin; but in the process of checking my phone, they checked my profile and got to know that I was into bitcoin".
He added that the officers after accusing him of Yahoo ,placed a cigarette on his hand recorded a video clip threatening to shoot if he did not comply, before his family came and he was released.
"They did not find any incriminating item on my phone,after I had been beaten black and blue.
"I was held up for about two hours 30mins before they set me free."
The victim, who said he was still nursing the injuries he sustained from the encounter, added that he was traumatised and had been deprived his fundamental right as a Nigerian citizen.
He also called on the Lagos state Commissioner of Police and Inspector General of Police to fish out these corrupt officers that are denting the image of the force.