Lekki Adult Literacy And Vocational Centre Graduates 25 Learners, Matriculates Over 60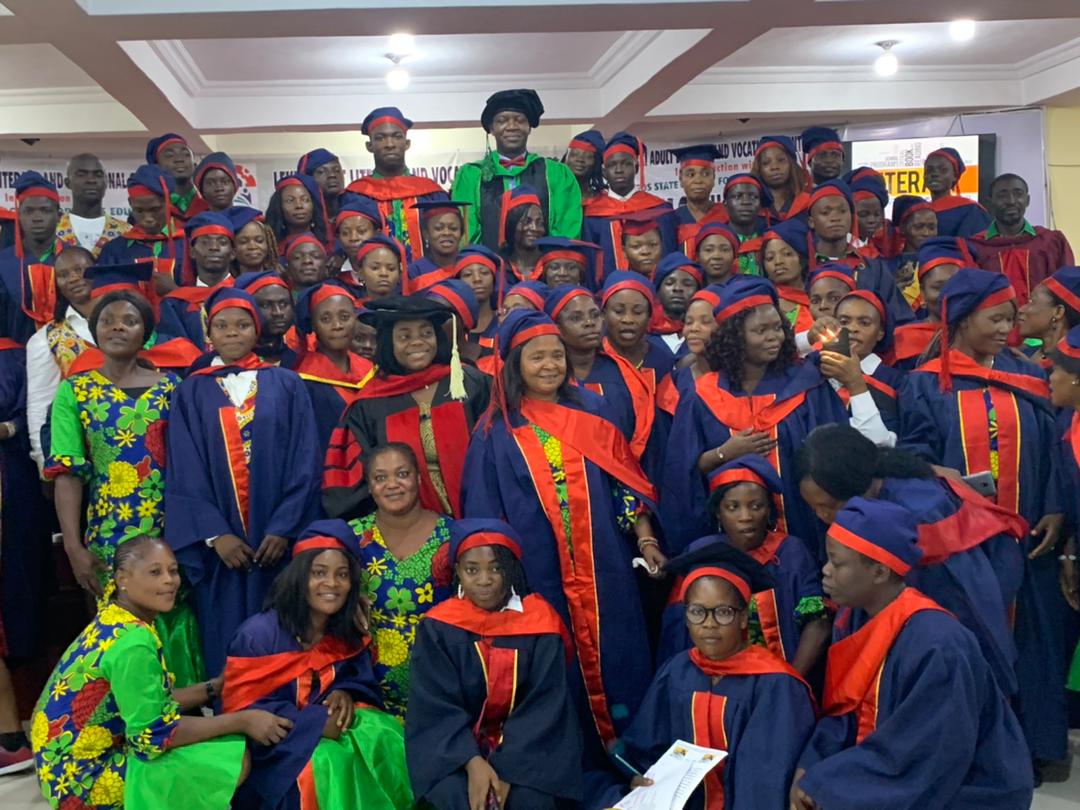 The Lekki Adult Literacy And Vocational Centre has held its inaugural graduation ceremony and matriculated about 60 learners.
This was done in an event held on Saturday, 11th of June, 2022 to celebrate the learners and to also kick off the 'Kick Illiteracy Out Of Lagos' campaign, an initiative of the conveners of LALVC focused on repairing the faulty foundation of the hopeless by giving them education.
The event had the representative of the Lagos state government, Honourable Tokunbo Wahab, the special adviser to the LASG on education well represented by Mrs Seriki Olayemi, the chairman of Ibeju-Lekki local government, Hon Abdullahi Sesan, a former minister of trade and investment, among a host of many others.
According to coordinator, Deacon Joe Mbulu, the program has a multiplier effect because it will help kick illiteracy out of Lagos. He noted that the program is a 9-month program certified by the Lagos state Educational board while explaining that in the year 2021/2022, over 60 learners had their matriculation and only 25 people were able to pass the examination set by the Lagos state government, he also made it known that over 60 are getting matriculating for the 2021/2022 session.
Mrs Seriki Olayemi, the representative of the Lagos state government lauded the initiative while stating that LALVC is collaborating with the government in pushing illiteracy out of Lagos state. She revealed that the Lagos state government launched the 'Kick Illiteracy Out Of Lagos' campaign in 2016 and RCCG through CSR has been able to support the government in that aspect.
''This is a very good programme and in most cases, it gives opportunity to those who didn't have opportunities to go to school when they were young. Lagos state on its own part is really trying, all we need is collaborating so by establishing this kind of Centre, they are collaborating with the Lagos state government and in turn, we give learning materials and pay two facilitators.''
''We launched kick illiteracy out of Lagos in 2016, we visited all the local governments and we have 723 centres in Lagos state and we are doing a lot of things to ensure we keep illiteracy out of Lagos state. We also encourage them more so learners can participate in some of our programmes like quiz competition.''
Also, the chairman of Ibeju-Lekki local government, Hon Abdullahi Sesan applauded the initiative, stating that he was excited seeing that hope has been restored for some who didn't have the opportunity to have a formal education while growing up.
He advised the graduating students to continue pushing and not look back while calling on organizations to also embrace the need to kick illiteracy out of their communities.
''We must congratulate those that have benefited from this initiative and I want to commend the people behind this, they have taken a major step to kick illiteracy out of the community and of course, those that benefited will see a better future. We can see the excitement in their faces, I was happy myself because being in government makes us see the damage illiteracy has done to our community.''
''I advise those graduating not to look back because the foundation has been laid, they have been empowered with knowledge. I call on Lagosians, organizations, and religious organisations to support the government in fighting illiteracy in the state.''
One of the matriculating students, Gerrard Abiodun made it known that when he joined the programme, many criticized him because he was a bit educated but kept at it because he wants to be a better person that he is presently.
''To me, this programme is very good, when I first joined, they told me how they were, they were not able to read but at this moment, they can write and spell on their own, RCCG needs reward for this.If there is anything I want to tell the organizers is that God will continue to bless them, this is the kind of thing we need in the state.''
''This programme isn't something you should be ashamed of, I'm a teacher and I have been educated but I have never been a graduate. I have seen people criticizing me for coming here but when they see the end result, I know they will celebrate with me.''
Another matriculating student, Williams revealed that the initiative is a privilege for him in order to repair his faulty condition. He explained that if illiteracy is kicked out of Nigeria, insecurity will not be an issue meaning RCCG CTL province 20 has taken a bold step to end insecurity in Nigeria.
''It's a privilege for us to have this Centre to repair our faulty condition, some of us didn't have the opportunity earlier but with this programme, we have gotten an enabling environment where we can improve ourselves. I expect to become a better person, have a better education and the same way I have received it, I should replicate and give back to the society.''
''Nigeria is suffering a lot because of illiteracy and many issues we are having is lack of education like banditry, insecurities but by educating myself, I have the opportunity to return what I have received to the society and make Nigeria a better place to be.''
''I want to say a big thank you to RCCG LP 20, it's a big project but God on our sides, we are able to overcome and move forward.''
The Lekki Adult Literacy Centre And Vocational Centre launched its kick illiteracy out of Lagos state campaign in a way to empower and restore hope to Lagosians who are interested in learning in order to be valuable to their societies.
The movement, which is one of the Corporate Social Responsibilities (CSR) of the Redeemed Christian Church Of God (RCCG) LP 20 started in 2020 out of the need to bridge the gap between the elites and ordinary populace who are disadvantaged for lack of education.
WASSCE: Stakeholders kick against WAEC over increase in fees, penalties
WASSCE: Stakeholders kick against WAEC over increase in fees, penalties
Stakeholders have continued to oppose what they describe as arbitrary increment in the fees for this year's West African Senior Secondary Certificate Examinations (WASSCE) by candidates being organized by the West African Examinations Council (WAEC).
It was gathered from some private school owners and parents that WAEC's decision to increase the examination fees was not communicated to schools and parents in good time.
And while many schools and parents were still struggling to pay the new fees, the examination body announced the closure of registration and subsequently imposed N5, 000 as penalty for late registration.
Against school proprietor's claim that WAEC had set March 28 deadline for the 2022 WASCCE, a letter signed by Dr Adunola Osoba, the Deputy Registrar/Zonal Coordinator, WAEC, dated March 23, school proprietors were told that the registration, which closed midnight March 20, would be reopened on March 21 and closed April 3, with N5000 as penalty for late registration for each candidate.
"However, late registration with a penalty of five thousand naira (N5000) only per candidate commenced on Monday, 21st March, 2022, and will run till midnight of Sunday, 3rd April, 2022″, the letter read.
"Those who have purchased pins but failed to upload will also be required to pay the penalty fee", the letter added.
It was gathered the Lagos State Chapter of the National Association of Proprietors of Private Schools (NAPPS), had formally appeal to WAEC to drop the penalty charges, stating that the registrations exercise was slowed down because most parents and schools were not prepared for the increment in fees.
Many of the parents said that their children and wards may end up not writing the examinations this year because they found it difficult raising the examination fees and the N5,000 penalty slammed on each student whose school for late registration.
LASUSTECH: Getting it right from the start
LASUSTECH: Getting it right from the start By Steven Anu' Adesemoye
The world over, academic excellence is typically an offshoot of endogenous and enduring culture that has immunity against compromise, but mutation to classic global best practices. This has always been the benchmark that many universities are struggling to catch up with, while many others have considered this rare feat as a sprint and not a marathon.
The outcome of personal research has shown that, designing an evolving and adaptable academic culture requires critical thinking that is capable of espousing need-oriented courses and robust curricula, 360-degree touchpoint digital automation, technology-driven teaching and learning, versatile and creative administration, qualitative manpower, dynamic policy formulation, collaboration and networking, strict internal and external regulations, adequate and purposive funding, branding and Public Relations for Marketing (PRM) and ultimately the mindset of excellence by all stakeholders.
Now that the transmutation of the Lagos State Polytechnic (LASPOTECH) to Lagos State University of Science and Technology (LASUSTECH) has been consummated, the next phase of the process should be to take the advantage of starting afresh into laying the foundation of a specialized university that would become the pride of Lagos and Africa at large. It is possible and in our time too.
Considering the peculiarity of the university, starting with the existing programmes of the former polytechnic to keep people's jobs won't be a bad idea. Looking at the bigger picture, this university will need to do a Skill Gap Assessment – what are the industry's first line needs? Skillsets versus current and emerging 'need sets'. The Knowledge Gap Deficiencies (KGD) must give way to a systemic approach in the Productive Science and Technology (PS&T) model that is not only unique but 100% result-oriented.
There must also be an environmental scanning of the immediate community to determine the relevant courses and programmes that are community needed. These two needs assessments would help the university to define and develop its core competencies from the beginning. The fourth industrial revolution (industry 4.0) as the current and developing environment for disruptive technologies and trends such as the Internet of Things (IoT), robotics, virtual reality (VR), and artificial intelligence (AI), among others, must be considered. For the community and Lagos as a whole, the university should consider programmes like Ferry Fabrication and Services Technology (Marine Technology); AgriTech and Post-Harvest Processing Technology; Digital Transformation Technology; Integrated Waste Management and Recycling Technology; Alternative/ Renewable Energy Production Technology; Oil and Gas Supports Technology. This is the era of nanotechnology, we can do it.
Automating the whole system, including the management of the new university is key. From admission to graduation, the process must be seamless. One digital solution should connect payments, registration, result processing, administration, information dissemination, library services, etc. No loopholes must be allowed. In this new university, there should not be missing scripts or results. Result, certificate, and transcripts should be ready in less than 72 hours upon request, yes, it is possible. 24/7 internet facilities and handshake with big tech firms would go a long way to position the institution.
Teaching and learning must have a technology interface. This is not a conventional university of marker and board, 70 percent of the learning process must be demonstrated if we must do anything differently. Up to the Ph.D. level (it is the new direction), attention must be given to hands-on practical demonstrations. Only modern and digital laboratories, studios, workshops, and classrooms can deliver the desired results as seen in a well-educated cultured society.
The drivers of LASUSTECH must be able to think like there is no box anywhere. Creativity and ingenuity should guide the administration of the new university. There must be an enduring line of ideation and curation. The principal officers must be fired for excellent development in all forms. In the same vein, if the government is really genuine in setting a standard for this university, the members of the Governing Council must be a mix of blue-chip captains, boardroom technocrats, industry experts, technophiles, philanthropists, and education enthusiasts. This very council should not be made a retirement plan for tired hands. And the university must not be made a dumping ground for the unqualified job-seeking family, friends, and associates. Relying on school fees to undergo a substantial development is no more in vogue, therefore, the business arm of the university must wake up to its responsibility to drive development, while maintenance culture must be entrenched in the core value of the institution.
Skilling, reskilling, upskilling, research, and development are very essential in defining qualitative manpower for the university. Emotional Intelligence (EI) and the excellent mindset of a goal-getter are equally of great importance. Knowledge of what to teach and the skill to teach right would be more appreciated if the lecturers put students at the centre of teaching. Other staff must have a total reorientation to understand that students are customers and kings in their right. To achieve excellence, there must be a systemic adoption of excellent culture across the board.
In making policy, the drivers of the new university may have to borrow some quality templates from the best universities. Policies like the Graduate on Time (GOT) system that guides against lecturer frustrating a student with extra year(s) or unserious student overstaying the period of graduation would be a welcome development. Students accessing lecturers performance and completing progress reports per semester before they (students) can access results is going to improve standards. Digitally monitored compulsory 75 percent attendance and regular use of customized mail/digital wallet would encourage seriousness and dedication. Policies should be made flexible and people-oriented. The Directorate of Students' Affairs (DSA) should have a policy document that takes care of the students' welfare, sporting activities, complaints, and graduation.
This is the era of collaboration, co-creation, and networking. LASUSTECH needs to stretch the hands of fellowship to partner universities (home & abroad) for students and staff exchange programmes. The university must also be ready to have a strong tie with the industry, foreign embassies, politicians, government at all levels to attract research grants, chairs, endowments, bursary, and donations.
Aside the statutory National University Commission (NUC) accreditation exercise, the internal and external assessment should be carried out regularly and diligently. The Annual Performance Evaluation (APER) must be holistic and watertight. As part of the culture that must be established from now, only journal articles on Scopus Journal Metrics or indexed journals should be allowed. Inventions, Innovations, creations, and ideations should also be considered for promotion. The OSAE visit should go beyond inspection; it should include government accreditation with well-crafted Key Performance Indicators (KPIs).
There should be the immediate design of a brand strategy that must take care of the rebranding, repositioning, and internal /external communication architecture- brand manual. The ergonomics design of the campus must be fascinating. We are in the woke era, issues should not be allowed to snowball into a crisis. Response time to students' distress must be swift and effective. Internal communication is as important as external communication, therefore, there must be a structured conflict resolution mechanism, community and government relations.
Lastly, the government must be ready to fund every aspect of the university or give it complete autonomy. It will be easier to partner with firms like Google, Microsoft, among others, to enhance the smooth operation of the university. Apart from the overhead cost, recurrent expenditure, and cost of accreditation, Lagos State Education Trust Fund should aggressively look into infrastructural development, capacity building, research and development, software acquisitions for all Lagos state-owned universities, such as Turnitin, Nvivo, IBM SPSS, ATLAS.ti, RStudio, Orange, Base SAS, OriginPro, TIMI Suite, etc.
As the summary of my piece, I wish to leave stakeholders of the new university with the Times Higher Education for university rankings which, calibrated 13 performance indicators into five areas: Teaching (the learning environment); Research (volume, income, and reputation); Citations (research influence); International outlook (staff, students and research); and Industry income (knowledge transfer).
Steven Anu' Adesemoye is a researcher in the Department Of Media and Communications, University of Malaysia.
OGUN TO LAUNCH EDUCATION TRUST FUND AS OOU GETS 1600 BED HOSTEL FACILITY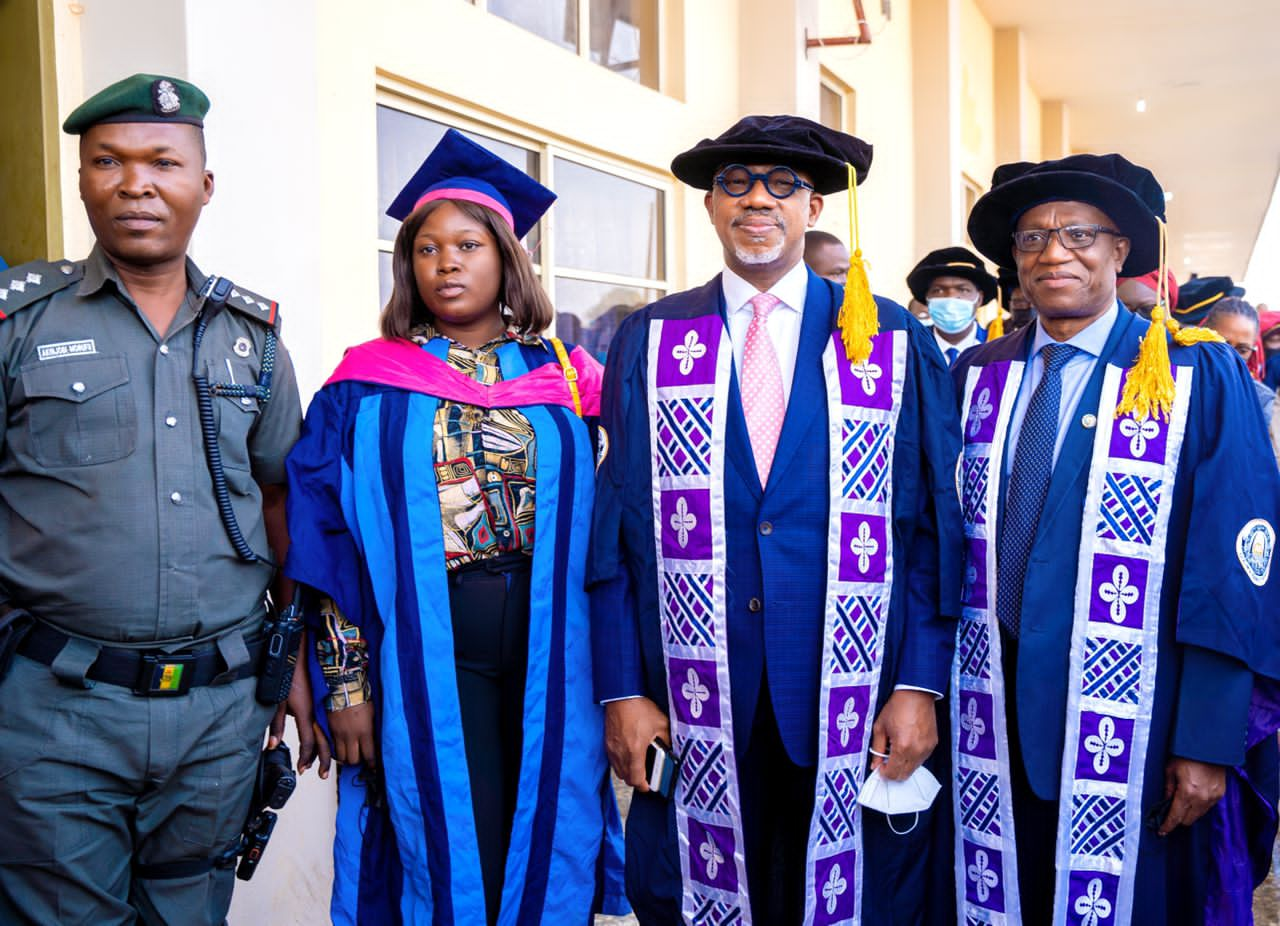 OGUN TO LAUNCH EDUCATION TRUST FUND AS OOU GETS 1600 BED HOSTEL FACILITY
Ogun State Governor Prince Dapo Abiodun has disclosed that an Education Trust Fund that would help in providing sustainable fund for Infrastructural development for all levels of education would soon be launched in the State.
The Governor also approved the construction of 1600 bed hostel facility to address the accomodation challenge at the Olabisi Onabanjo University, Ago-Iwoye.
Speaking at the 30th and 31st Convocation Ceremonies of the Olabisi Onabanjo University, Ago-Iwoye, the Governor noted that the Fund would enable the State meet the funding deficit that has existed over the years.
According to him: "very soon, we will launch the Ogun State Education Trust Fund to provide us with sustainable fund for Infrastructural development for all levels of education in the State.
"In addition, as your visitor, my commitment to providing the right ambience for research, teaching and learning is total, in this regard, I have just facilitated the provision of one thousand, six hundred bed hostel for Olabisi Onabanjo University, this is yet another initiative of your government to provide an wholesome experience for our students.
"I congratulate the best graduating student for the year 2019/2020 academic session, Adebisi Awolumate of the department of Cooperatives and Rural Development, she graduated with a GPA of 4.28, in the same vain, I want to congratulate the best graduating student for the year 2020/2021 academic session, Pharm. Iloka Peter of the department of Pharmacy with a G.P.A of 4.92".
The Governor who lauded the university for being one of the few schools without crisis since he assumed office about three years ago, also applauded the management for for sustaining development, adding that it has grown to becoming one of the foremost higher institutions in the country.
He acknowledged the the giant strides the school has made over the years, saying that school remained the fourth best state university and 17th in over 200 universities in the country, urging the institution to work towards occupying the first position in the near future.
While charging the school to lead the way in producing quality manpower, as well as inspired practical solutions to human challenges, the governor urged them to look for partners that would assist the school in its sustainable drive, saying his administration would promote education as it is central to the ISEYA mantra.
The Governor said the Ilisan-Ago-Iwoye road has been rewarded to expedite the construction for ease movement of the people, appreciated those who have contributed to the development of the school and called for more partnership.
"For Olabisi Onabanjo University and it's immediate environment, the re-award of the contract for the construction and completion of the Ilishan-Ago-Iwoye is another demonstration of our commitment to improve on physical infrastructure in this area.
"When I was coming this morning, I had to go through the Ishara-Ago-Iwoye road and even the state of that road shocked me and convinced me about the reason why we need to expedite the reconstruction of the Ilishan-Ago-Iwoye road and that has started, it is our believe that this road will ease the movement of the people in this area.
The Governor thereafter gave automatic employment and the sum of N1m to the overall best graduating student for 2019-2020, Miss Adebisi Awolumate of Department of Cooperative and Community Development, who graduated with 4.28 and 2020-2021 best graduating student, Mr. Ebuka Iloka, 2020-2021 from Department of Pharmacy with 4.92 GPA
In his speech, the Vice Chancellor of the University, Pro. Ganiyu Olatunde, said the institution has witnessed significant growth and development in its operational and administrative sectors has it as transited from non-residential to residential with over 3,000 students resident in the campus, while discussions are on with private developers to build additional 75 housing units for staff.
The University according to the Vice Chancellor, has established a Sexual Harassment Policy Committee to handle issues of sexual harassment and other acts of gender-based violence, while dress codes has been enforced and a Disciplinary Committee saddled with responsibility of reforming students of questionable character was also set up.
He said 446 indigent students are currently on the institution's scholarship, 25 students are on 'work-study programme, while acres of land were given free of charge to students who are interested in farming while still studying in the university.
While informing that the eTranscript Request System has been set up for easy access to student transcript anywhere in the world, Prof. Olatunde noted that the school currently has 75 approved academic programmes for undergraduate and 181 postgraduate programmes, enjoining the graduands to be good ambassadors of the institution by putting what they had learned into practice.
Delivering the Convocation Lecture titled "Your Future Is In Your Hands", the Registrar, Joint Admissions and Matriculation Board, Prof. Ishaq Oloyede, liken the students stay in the institution as a journey that started with many, but only few completed it.
Prof. Oloyede who charged the graduands to always remain positive with the right attitude, reminded them that the world is a jungle where only the fittest survive, admonishing them to work on their minds and have self-control at all times.
The Convocation Lecturer observed that indiscipline was the order of the day, especially among the youth, urged the graduands to accept their mistakes, but should not accept defeat, make positive use of their time as the difference between failure and success is on how best time was utilised.