Lekki Adult Literacy And Vocational Centre Holds 2023 Matriculation, Graduation Ceremony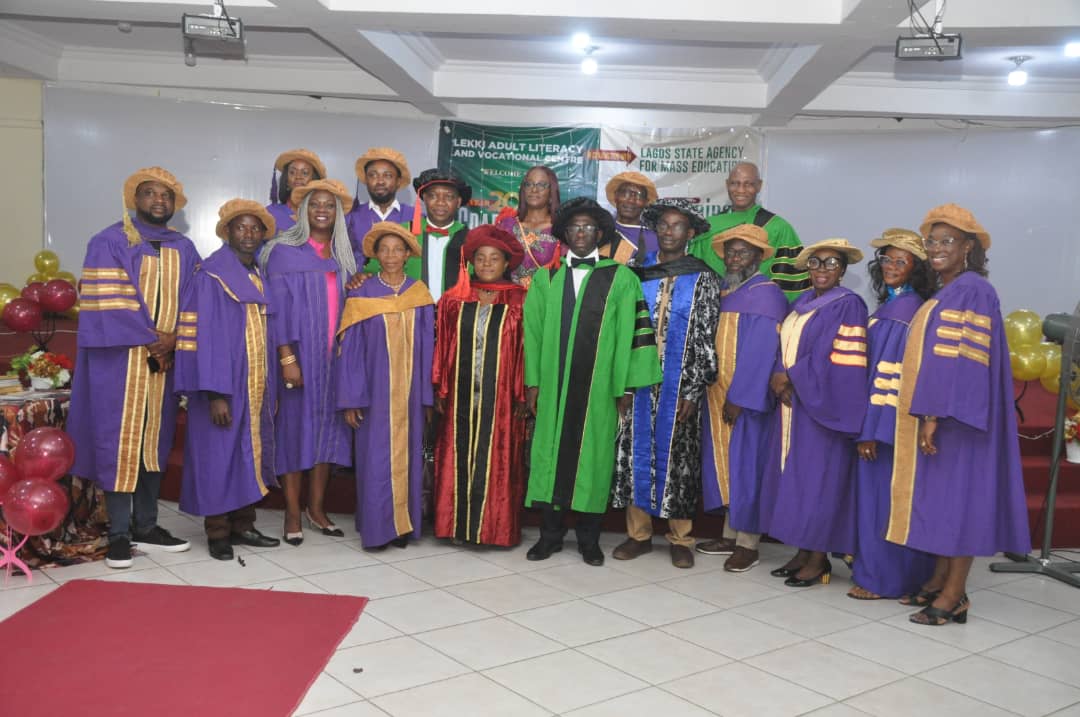 Lekki Adult Literacy and Vocational Centre  held its 2023 matriculation and graduation ceremony yesterday Saturday, 4th Of November, 2023.
The event which was in conjunction with Lagos State Agency For Mass Education had representatives of the Lagos state government, the executive chairman of Iru Victoria island LCDA, Princess (Hon) Rasheedat Abiodun, trustees of the advocacy programme, guests from different walks of life in attendance.
The advocacy programme, according to the coordinator, Mr. Joe Mbulu, started in 2020 during Covid-19 era out of compassion for people who were not literates. He explained that they saw illiteracy as darkness and there was a need to give people an opportunity to experience light by being literate.
He mentioned that since the programme started, 2023 has been the most successful year and that some of the grandaunts of the advocacy programme have gone further to write WAEC, go to nursing schools, and have been doing better than they were before they joined.
''We saw illiteracy as blindness or darkness, We have been here three years but this has been our most successful year by the impact we made in the lives of people. Some that passed out here have gone to write WAEC and gone to nursing school; that is the impact we want to make.''
''We had exams and we saw that for 2023, and about  66percent scored over 50% in literacy.Many couldn't spell when they joined but today they can read and write.. Our vision is to restore faulty foundations. We want to address foundational issues because if we don't, we won't get anywhere.''
Speaking further, he mentioned that the theme for this year's programme is 'Learning For Earning' and it is borne out of the desire to increasingly tailor learning activities towards enhancement of the earning capacity of learners. He also highlighted the plans for the programme and some of the needs to achieve the set out goals.
''We are trying to train them to be more productive. We are looking at how to teach, what to teach and basic tactics. We want them to understand how to do basic business.''
''We want to strengthen the structure of our programme and we want to expand to other areas apart from Lekki so we need help with facilitators. We need to look into campuses in these areas and get people who are dedicated to run the same programmes. We need to establish strong partnerships with structured provisional centers.  We need a strong funding base for sponsorship, those who need startup for business.''
The Lagos state agency for mass education represented by Mr Adelani Akinpelu expressed joy at the initiative and stressed the need to learn and earn. In his speech, he urged the grandaunts not to relent in their endeavours.
''Learning and earning refers to the initiative that helps to learn skills, acquire knowledge. The more you learn, the more you earn. Life changes when you continue to learn, You have experience in growth, we are able to retain our job if we learn. We spend our time doing something fruitful and there are other opportunities available if we continue learning.''
''To the graduating learners, do not relent. Propagate the gospel of literacy, share your success stories, and let them people know the importance of learning''
While speaking, the executive chairman of Iru Victoria island LCDA, Princess (Hon) Rasheedat Abiodun applauded the organizers of the advocacy programme, stating that she hasn't witnessed anything of such in a couple of years.
She explained that her clarion call when she got into office was for individuals and organizations to support the government in making lives better for the populace which organizers of Lekki Adult Literacy And Vocational Centre have done perfectly.
In her message to the graduating learners, she urged them to continue learning because it is a continuous process.
''I have not seen this happen in a couple of years and today I am here to witness the graduation and matriculation. Apart from my message to the facilitators, these are thing we have been looking forward to in our local government especially in Lagos state.''
'' When I assumed office, this was my clarion call to individuals and corporate bodies within the locality that the government alone cannot do these things. If you want the best for the populace, you need to think outside the box and so far, within this local government, we have experienced a lot of individuals, corporate bodies, churches, coming together to do this for the indigents. None of them is below the age of 15 and if they can at this age starting to learn, we should applaud the organizers for reaching out to the community within their locality.''
''For the grandaunts, it is not the end, this is a stepping stone to a greater height. Education is a process and even as a chairman, I am still learning. I believe in education because no one can take away what you learn from you.''
Furthermore, One of the graduating learners expressed gratitude to the organizers and volunteers of LALVC for helping her to be courageous and giving her the opportunity to be able to read well and relate with people.
''I want to thank God for this opportunity. Before I came here, I used to be shy; I couldn't read well and talk to people but now, I can smile and play with people. Adult literacy has given me courage, power, and more things.''
In the same vein, another graduating learner passionately expressed appreciation regarding the quality of education they get at the centre. He mentioned how he felt loved to be taught by kind teachers who were patient, loving, understanding and compassionate towards them.
''I want to thank everyone here today, it's a dream for some of us today and God has fulfilled it. I felt love and compassion when I first came here. To teach someone who is of age isn't an easy thing, I feel really loved. I got here three months ago and I felt I belonged here. I thank our great mummy Chika because of her approach, I see a mother in her. Some of us couldn't express ourselves but today, we can stand in front of multitude and address them.''
Also, some of the best students in different categories were awarded and given cash prizes.
Lagos House Demolition: 9 Things to Know Before Buying or Building in Lagos by Dennis Isong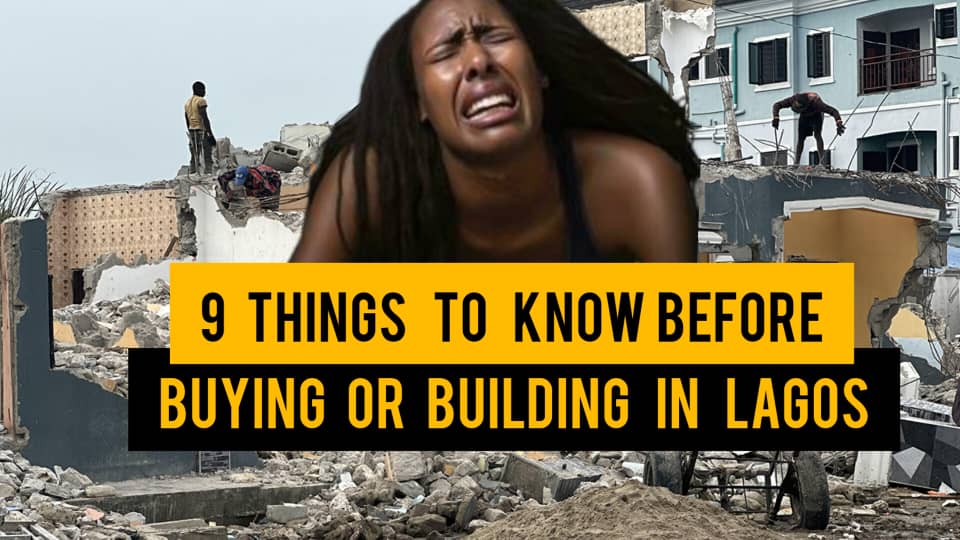 Lagos House Demolition: 9 Things to Know Before Buying or Building in Lagos by Dennis Isong
Sahara Weekly Reports That When embarking on the journey of purchasing land in Lagos, Nigeria, it is crucial to navigate the process with diligence and awareness. Acquiring the necessary certificates is a pivotal step to ensure a secure and lawful transaction. Here are some important certificates you should possess during the land-buying process in Lagos:
1. Certificate of Occupancy (C of O):
The Certificate of Occupancy is a primary document issued by the Lagos State Government that confirms the legal ownership and right to use a particular land. It outlines the terms and conditions under which the land is held and can be obtained through the state's land registry.
2. Survey Plan:
-A Survey Plan is essential for defining and delineating the boundaries of the land. It provides an accurate representation of the property's dimensions, shape, and geographical features. A licensed surveyor must prepare this document, and it should be approved by the Office of the Surveyor General.
3. Deed of Assignment:
This legal document serves as evidence of the transfer of ownership rights from the seller to the buyer. The Deed of Assignment should be drafted by a legal professional and registered at the Land Registry to make it legally binding.
4. Governor's Consent:
If the land has a Certificate of Occupancy, obtaining the Governor's Consent is necessary for the transfer of ownership. It involves an application to the state governor, and upon approval, the consent is endorsed on the Deed of Assignment.
5. Excision:
An Excision signifies the release of a portion of land from government acquisition. It is especially crucial for lands situated in areas that were previously marked as government-owned. A valid Excision grants legitimacy to the land title and should be confirmed with the relevant authorities.
6. Approved Building Plan:
Before any construction activities commence, it is mandatory to have an approved building plan from the appropriate government agency. This ensures that the proposed structure complies with urban planning regulations and standards.
7. Tax Clearance Certificate:
A Tax Clearance Certificate from the seller is necessary to verify that all property taxes have been paid. It is a requirement for the processing of some land-related documents and helps ensure a clean and legal transaction.
8. Environmental Impact Assessment (EIA):
In some cases, an Environmental Impact Assessment may be required, particularly for large-scale developments. This assessment ensures that the proposed project complies with environmental regulations and mitigates potential negative impacts.
9. Receipts of Payment:
Retain all receipts of payments made during the transaction. This includes payments for the land, survey, legal fees, and any other associated costs. These receipts serve as proof of transaction and can be crucial in case of any disputes.
Dennis Isong is a TOP REALTOR IN LAGOS.He Helps Nigerians in Diaspora to Own Property In Lagos Nigeria STRESS-FREE. For Questions WhatsApp/Call 2348164741041
Dollar Tumbles Against Naira At Parallel Market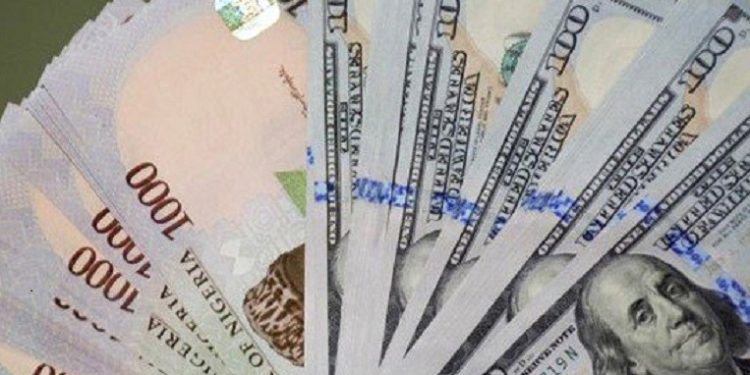 Dollar Tumbles Against Naira At Parallel Market
Sahara Weekly Reports That The naira sustained its appreciation against the United States dollar at the parallel market as it appreciated on Friday, from N1,160 to N1,155.
This represents 0.43 percent (N5) gain than N1,160 exchanged on Thursday at the parallel market.
It could be recalled that the naira had steadied in the parallel market on Wednesday and Thursday as it sells for N1,160 respectively.
However, the forex turnover, on Thursday, hit $105.50million according to data from NAFEM, the Nigerian Autonomous Foreign Exchange Market, the market trading segment for Investors, Exporters and End-users.
The turnover represents the amount of dollars traded at a particular trading day.
Although the rate is still unpalatable to the business community and Nigerians at large but a management consultant, Babatunde Adeniji, said the naira crisis is being largely driven by speculation following the country's liquidity challenge.
"In terms of price, for the short time it is speculation that drives things. If you are a trader and you want to take a bet, with the level of distrust of the government, with no clear visible assurance of where the dollar is coming from to stabilise the naira, which position would you take? You are bound to take the position skewed towards the dollar," he stated.
He said the country would begin to heave a sigh of relief when the authorities can pay up all the backlog of foreign exchange forwards with sufficient liquidity to meet pending obligations.
"Nigeria as a country does not have enough dollars to meet its promise. If we don't do things that are substantial and visible, all that grammar would not help.
X3M Ideas, Noah's Ark, Insight Publicis win big at the 2023 LAIF Awards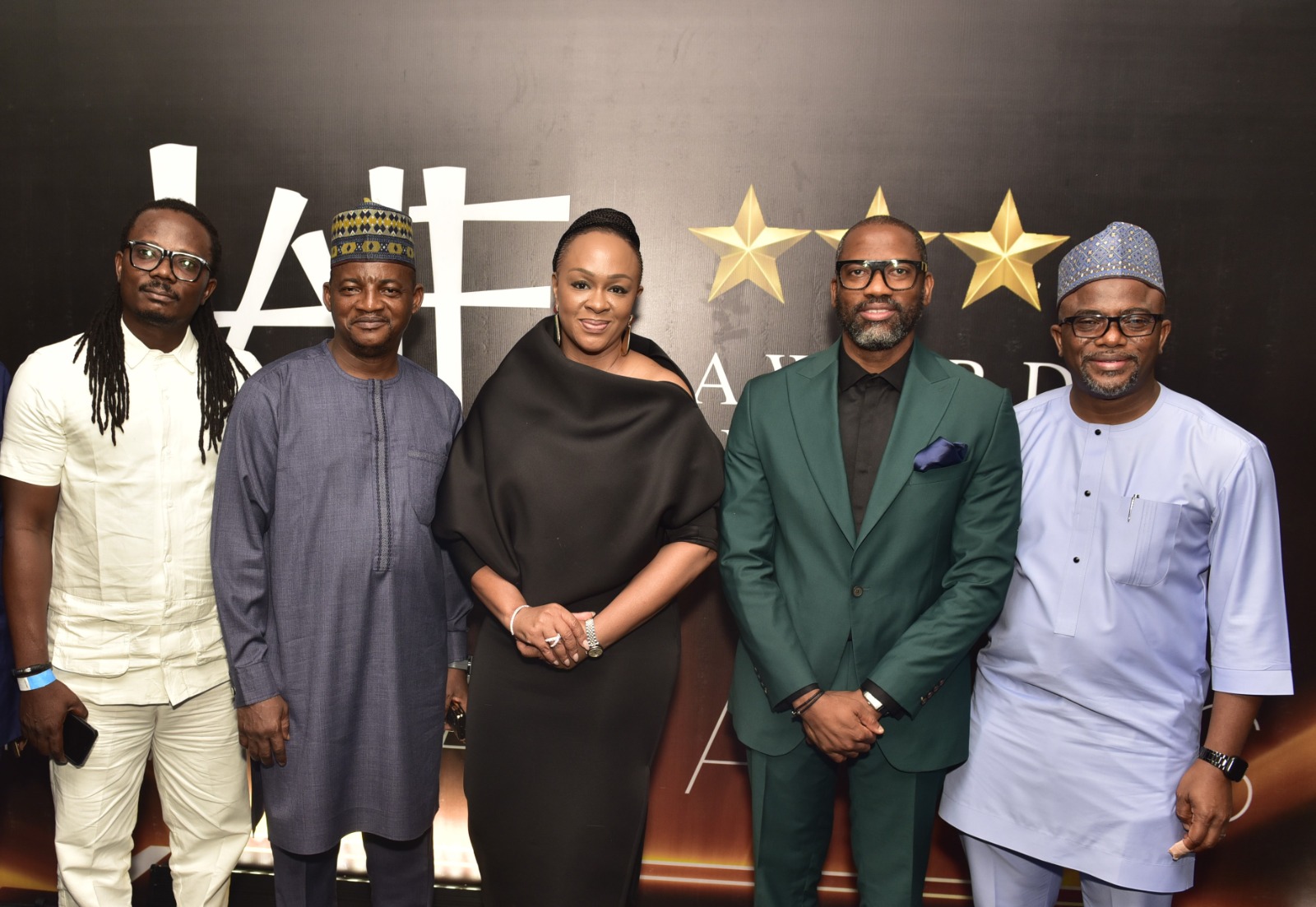 X3M Ideas, Noah's Ark, Insight Publicis win big at the 2023 LAIF Awards
…as Leo Burnett wins Grand Pix
Sahara Weekly Unveils That It was a night of recognition, glamour, and celebration of creative excellence at the 2023 edition of the Lagos Advertising and Ideas Festival (LAIF) Awards as X3M Marketing Ideas Limited, Noah's Ark Communications Limited, Insight Publicis, and Leo Burnett won big at the event.
The award ceremony, which was held on Saturday, November 18, 2023, at The Hall, Victoria Island, Lagos, saw the Steve Babaeko-led X3M Marketing Ideas Limited lead the medal haul with 15 Gold, 20 Silver, and 7 Bronze, which eventually resulted in the agency being named the 2023 Agency of the Year.
Noah's Ark Communications Limited came second on the medals table, carting home 12 Gold, 16 Silver, and 7 Bronze, while Insight Publicis and Leo Burnett emerged third and fourth, respectively. Insight Publicis won 9 Gold,  16 Silver, and 15 Bronze, while Leo Burnett won  1 Grand Pix, 9 Gold, 4 Silver, and 4 Bronze.
In his welcome remarks, the President of the Association of Advertising Agencies of Nigeria(AAAN), Mr. Steve Babaeko, noted that the LAIF Awards remain the beacon of innovation and creativity in the advertising landscape in West Africa.
Babaeko noted that he was confident that the commitment of the new LAIF management board would engender a transformative journey for the award.
While applauding all the agencies that submitted entries for the awards, saying that every participant is a winner, he urged participants not to see the LAIF Awards as a competition but as a community that thrives on the pulse of creativity.
He explained that the diversity of talent showcased through the entries reflects the richness of the advertising industry, noting that it is a testament to the boundless creativity that emanates from every corner of Nigeria.
" Together, we shape the advertising narrative, pushing boundaries and redefining excellence. As we embark on the exciting journey of recognition and celebration, let us cherish the camaraderie that unites us. I wish each and every one of you a wonderful evening filled with inspiration and fun and joy of shared success," he said.
Also speaking at the occasion, the Chairman, LAIF Awards Management Board, Mr. Jay Chukwuemeka, explained that the 2023 edition of the awards, which is the 18th edition of the festival, received over 500 entries from a total of 18 agencies. He disclosed that the entries submitted were creative works of the agencies on brands while about 47 jurors worked on the entries to determine the best works for the honours.
Chukwuemeka congratulated all the nominees as well as those who submitted entries for putting up creative works that were selected for honours.
He expressed gratitude to the next generation of ideologists who participated in the Young LAIF competition, noting that their ideas and energy remain invaluable. He equally commended the jury members for rising to the occasion in confronting the challenging task of objectivity and finding common grounds amidst different opinions in their decision-making.
A major key highlight of the event was the induction of two distinguished personalities in the advertising industry, Director General, Advertising Regulatory Council of Nigeria, Dr.Lekan Fadolapo and Mrs. Nkoli Ogbolu, into the Lagos Advertising and Ideas Festival (LAIF) Awards Hall of Fame.