Lufthansa resumes its flights to Nigeria connecting Lagos and Abuja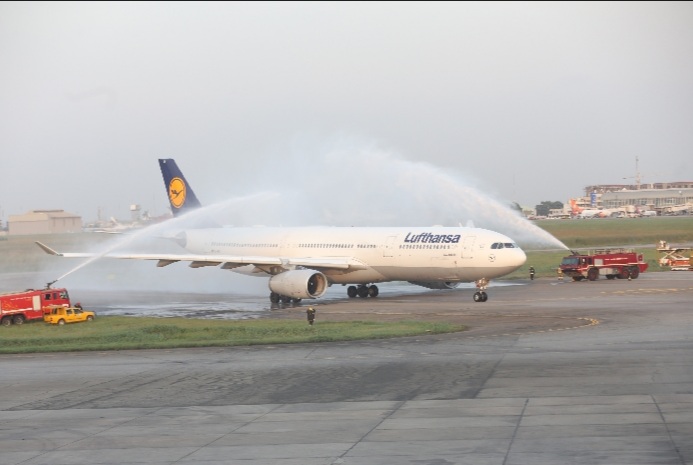 Lufthansa resumes its flights to Nigeria connecting Lagos and Abuja- The first Lufthansa flight after an eight months suspension arrived in Lagos on Thursday, 03 December 2020 
Lufthansa offers in December up to eight weekly departures scheduled from Lagos and Abuja Airports to Frankfurt
Safety and hygiene on board remain a top priority
On 03 December 2020, Lufthansa again welcomed its passengers at Lagos airport on board of its resumed nonstop flight from Frankfurt/Germany. After having suspended its flight operations to Nigeria eight months ago following the travel restrictions due to the Covid-19 pandemic, Lufthansa is back to Nigeria as the travel restrictions to Nigeria have just being lifted. The leading German carrier will offer up to five weekly departures from Lagos to Frankfurt and starting on 08 December also connect the capital Abuja with three weekly departures. All long-haul flights depart from Nigeria in the evening as overnight flights, arriving in Lufthansa's main hub Frankfurt in the early morning. This allows all passengers from Nigeria to get the full choice of connecting flights to European, American and Asian destinations, leaving all from the same terminal 1.
''Lufthansa always was and will stay dedicated to Nigeria, one of our key markets in Africa. As we have received the final permission to reopen our flight operations, we are happy to be the first airline to reconnect Nigeria directly to the centre of Europe and onwards to all other continents. We offer a considerable number of flights to the US and Canada, allowing our Nigerian guests to have family members and friends again at reach throughout the world. Health and safety continues to be our top priority and we are committed to maintain a strict adherence to hygiene regulations for all our flights," says Adenike Macaulay, General Manager Nigeria & Equatorial Guinea Lufthansa Group Airlines.
Lufthansa flight LH568, Frankfurt to Lagos, serviced by an Airbus 330-300, offers passengers seats in all three classes, including Business Class and Premium Economy Class. After its arrival in Lagos this service will continue to Malabo /Equatorial Guinea. The nonstop flight will commence with three weekly departures on Mondays, Wednesdays and Fridays to be increased to five weekly frequencies every day except Tuesdays and Sundays. The return flight will be scheduled on the same days of operations reaching Frankfurt only after six hours flight.
LH594 will be the flight number for the resumed connection between Frankfurt and Abuja with three weekly departures. An Airbus 330-300 connects the Nigerian capital to the financial centre of Germany, Frankfurt, also with seats in three classes. Finally, it is planned that this flight will also resume service to Port Harcourt; however, this onward flight is not yet confirmed until the airport is reopened.
As of now, all flights can be booked immediately through the usual distribution channels and the airlines' website www.lufthansa.com.
The Lufthansa Group has taken special hygiene measures to protect passengers and employees. These apply not only on board, but also before and after the journey. Details of these measures can be found at www.lufthansa.com/de/en/protection-measures. Passengers are required to check travel and destination entry requirements before departure.
An important note for passengers: according to the current regulations, all intending travellers to Nigeria must have tested negative for Covid-19 as PCR test in the country of departure pre-boarding. The PCR test must be done within 120 hours before departure and preferably within 72 hours pre-boarding. International travellers will require a second test to be done in Nigeria, seven days after arrival. Registration for travellers to Nigeria is mandatory on https://nitp.ncdc.gov.ng/. For those travelling to Germany, no mandatory PCR test is required, however passengers are required to register on https://einreiseanmeldung.de and stay in quarantine for 10 days after entry. Transit passengers are expected to abide by health and safety measures in their destination Country.
Note to the Editor: Pictures can be downloaded in high resolution here under this link
Media Relations
Lufthansa Group
Boris Ogursky
Phone +49 69 696 96006/ or -2999
boris.ogursky@dlh.de
http://newsroom.lufthansagroup.com/
Follow us on Twitter: @lufthansaNews
Queen Lovelyn Is A Year Older
PoshGlow Skincare Boss, Folasade Agbeluyi Goes Into Food Business, Launches FOLASH FOODS & FOLASH TASTE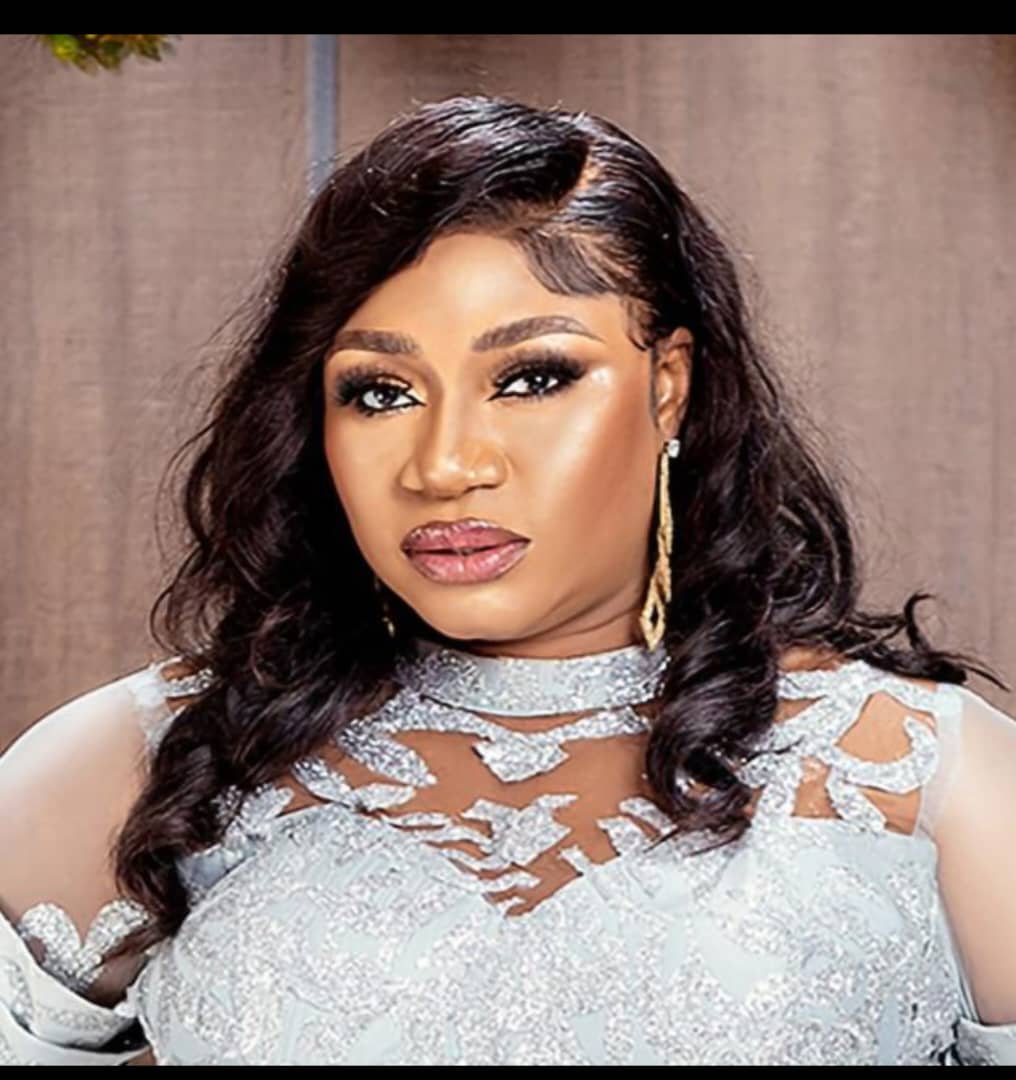 PoshGlow Skincare Boss, Folasade Agbeluyi Goes Into Food Business, Launches FOLASH FOODS & FOLASH TASTE
In a remarkable expansion of her entrepreneurial portfolio, renowned beautician, Folasade Agbeluyi, CEO of PoshGlow Skincare, has successfully launched a new business empire – FOLASH FOODS. This venture specializes in exporting a diverse range of Nigerian raw foods in large quantities to the UK, US, and Canada.
The dynamic entrepreneur has not stopped at FOLASH FOODS but has also introduced FOLASH TASTE, an innovative online restaurant where delightful and mouthwatering dishes are delivered to customers anytime, anywhere. This dual-launch marks a significant milestone for Folasade Agbeluyi, creating a synergy between global food export and convenient online dining experiences.
FOLASH TASTE, as an online restaurant, promises a culinary journey filled with delectable choices for customers. From traditional Nigerian cuisine to modern twists, the menu caters to diverse tastes and preferences, ensuring a delightful experience with every order.
Currently, the company is actively promoting its affordable hampers, extending a heartfelt invitation to politicians, families, friends, and churches to partake in this initiative. The aim is not only to showcase the richness of Nigerian cuisine but also to encourage the spirit of giving and love.
Folasade Agbeluyi's foray into the food industry demonstrates her commitment to diversification and innovation. The seamless integration of FOLASH FOODS and FOLASH TASTE reflects a strategic approach to meet the growing demands of the global market while ensuring accessibility and convenience for customers.
With this 2-in-1 business launch, Folasade Agbeluyi is set to leave an indelible mark on the food industry, offering a taste of Nigeria to the world and redefining the online restaurant experience. As FOLASH FOODS and FOLASH TASTE gain momentum, they are poised to become significant players in the culinary landscape, presenting a flavorful blend of tradition and modernity.
For those eager to explore the rich tapestry of Nigerian flavors or indulge in a delightful culinary experience, FOLASH FOODS and FOLASH TASTE stand as the go-to destinations, promising a feast for the senses and a celebration of Nigerian culinary excellence.
Ghana Takes Center Stage In Russia At Nana Tamakloe Is Set To Speak At BRICS+ Fashion Summit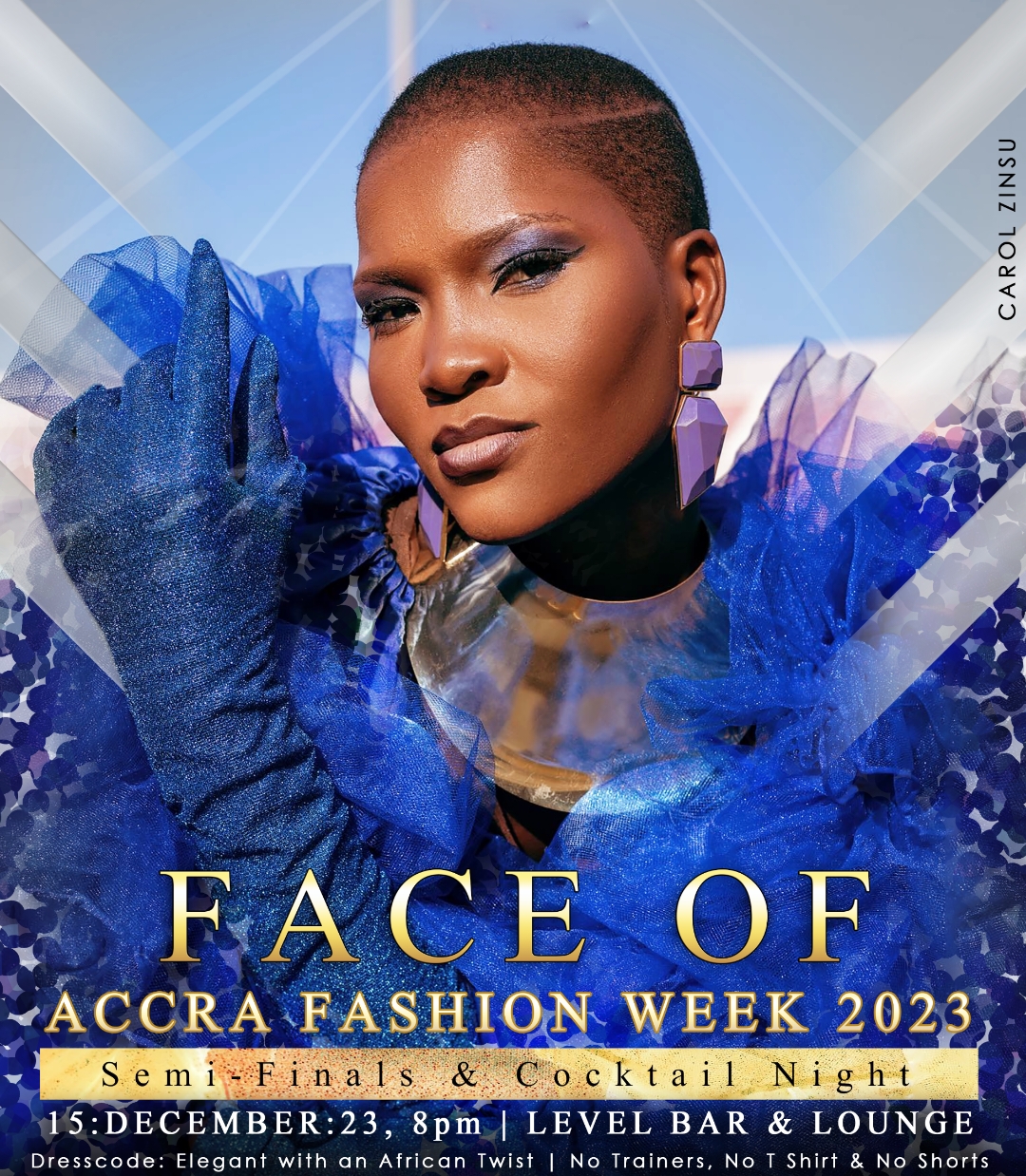 Ghana Takes Center Stage In Russia At Nana Tamakloe Is Set To Speak At BRICS+ Fashion Summit
Nana Tamakloe, the face behind Accra Fashion Week and Africa's leading fashion blog, FashionGHANA.com, has been invited as a notable presence at the ongoing BRICS Fashion Summit in Moscow. The summit, hosted by Moscow Fashion Week, kicked off its proceedings on November 28 and is set to wrap up on December 2.
Tamakloe, known for his influence in reshaping African fashion, has been turning heads with his creative international approach. His journey from launching the continent's premier fashion blog in 2012 to curating the celebrated Accra Fashion Week has been marked by trendsetting moments.
Last year, Tamakloe found himself on the international stage and being invited to and honored in USA at the Memphis In May Festival in the USA, sharing the limelight with figures like King Otumfou, Stonebwoy, and Okyeame Kwame. This global recognition speaks volumes about his impact on Ghanaian culture, and now, he's bringing that influence to Russia to the BRICS Fashion Summit.
Organized under the umbrella of Moscow Fashion Week, the BRICS Fashion Summit has become a gathering of fashion elites. Editors, event organizers, representatives from major publications, clothing specialists, bloggers, instructors, and emerging designers from various corners of the globe have converged to create an atmosphere of creativity and collaboration.
Originally synchronized with Moscow Fashion Week, the BRICS Fashion Summit is more than just a stylish rendezvous; it's a strategic endeavor to cultivate the ethos of the BRICS Fashion community. Stemming from the BRICS—an intergovernmental organization uniting Brazil, Russia, India, China, and South Africa—the fashion community aims to redefine the industry's dynamics.
The summit goes beyond national boundaries, boasting participation from over 30 countries, from the streets of China to the landscapes of Nigeria. The BRICS Fashion Summit is positioning itself as a global hub for sartorial excellence.
Tamakloe's role at the summit is more than just attendee status; he's on a mission to ensure Ghana doesn't just participate but actively shapes the narrative of the BRICS Fashion Summit. His goal is to play a decisive role in steering the creation of the BRICS Fashion community, putting Ghana at the forefront of global fashion discussions. Other guest from Ghana also include researcher Makeba L. Boateng and Nana Brenu.
As the spotlight intensifies on Moscow, Nana Tamakloe's active presence becomes a symbol of Ghana's growing prominence in the international fashion scene. The BRICS Fashion Summit isn't just about trends; it's a platform where cultures meet, and Tamakloe is steering Ghana's fashion story into the global limelight.
This year, Accra Fashion Week is poised to welcome representatives from 17 nations to the vibrant city of Accra. This spectacular event is slated to unfold against the iconic backdrop of the Kwame Nkrumah Mausoleum, from December 13th to the 17th, 2023. The anticipation is further heightened as delegates from the BRICS Fashion Summit are set to grace the occasion, amplifying the international flair.
Adding an extra layer of significance, the African Fashion Summit, scheduled for December 15th, 2023, promises to be a pivotal moment. This special day will feature an exclusive update on the happenings at the BRICS Fashion Summit, creating a nexus where global fashion conversations seamlessly converge. Accra Fashion Week is poised not only to showcase diverse styles but also to serve as a dynamic platform fostering international collaboration and discourse. Save the dates for a week of sartorial splendor and cross-cultural connections.