Made-In-Nigeria festival: GTBank's CEO, Segun Agbaje for entrepreneurs' roundtable

One of Nigeria's foremost banking entrepreneurs and Chief Executive Officer, Guaranty Trust Bank (GTB) PLC, Segun Agbaje, is billed to lead a roundtable for entrepreneurs at the forthcoming Made-In-Nigeria (MaIN) Festival – holding between September 23rd – October 1st, at Eko Atlantic City, Victoria Island, Lagos.
With 14 engaging business and trade related events lined up, MaIN Festival promises to be invigorating. They include: The MaIN Expo, MaIN Idea, MaIN Agenda, MaIN Summit and The Supremacy.
Open to all Nigerian brands and businesses providing products and services for the Nigerian market, Made-in-Nigeria (MaIN) Expo, is designed to create opportunities and foster networking. Over 600 exhibitors comprising global brands and Nigeria's biggest brands and businesses make up the exposition.
MaIN Expo covers over 22 sectors including key thematic areas. They include: food and beverage, auto, healthcare, fashion and beauty, telecommunications, furniture, banking and finance.
The Made-In-Nigeria (MaIN) idea –is a private sector-driven initiative that seeks to create a platform for the maximum expression of the true Nigerian spirit of creativity, enterprise and resilience among others.
An interactive session designed to engage entrepreneurs, the session will highlight the role of small businesses in transforming the Nigerian economy. The session would also address pertinent issues including funding for SME's, innovation and emerging opportunities for entrepreneurs in Nigeria.
Agbaje is also expected to underscore the impact of Made-In-Nigeria innovation as the panacea to reducing unemployment and creating wealth for Nigerians.
With over three decades of experience in the banking and finance sector, Agbaje joined GTBank – one of Africa's foremost banks – based in Lagos, Nigeria, as a pioneer staff in 1991. He served in different capacities – across different groups in the bank.
On account of his exemplary style and work ethic, Agbaje rose through the ranks. In 2000, he was appointed as an Executive Director and later appointed as Deputy Managing Director in 2002. By 2011, he was appointed as the bank's Chief Executive Officer.
With the theme: "Innovate. Connect. Power The Future" MaIN Festival seeks to enhance innovation and productivity while improving domestic and foreign investments.  Entrepreneurs, especially small scale businesses would be empowered to reach new markets and potential investors during the festival, while international Trade Missions would also explore opportunities that are available in Africa's largest economy.
MaIN Festival – which runs from September 23-October 1st, 2016, comprises a 3-day Summit, an exhibition, a technology exposition and a daily showcase of Nigeria's finest foods and flavours, movies, fashion, music and art. Over 5,000 Nigerians have already signed up to be part of this year's festival.
The grand finale of the festival is a special celebration of Nigeria's independence comprising a phenomenal showcase of music artistry that would also take place at Eko Atlantic City.
MaIN Festival is being organized by the MaIN Group in partnership with Business Day Newspapers as well as other private sector organisations. Board of Advisors of the initiative include: Prince Adesegun Oniru, Mr. Aliko Dangote, Dr. (Mrs.) Stella Okoli, Mr. Ronald Chagoury, Mr. Jim Ovia and Senator Oluremi Tinubu.
Why You Should Patronize Oye's Food Place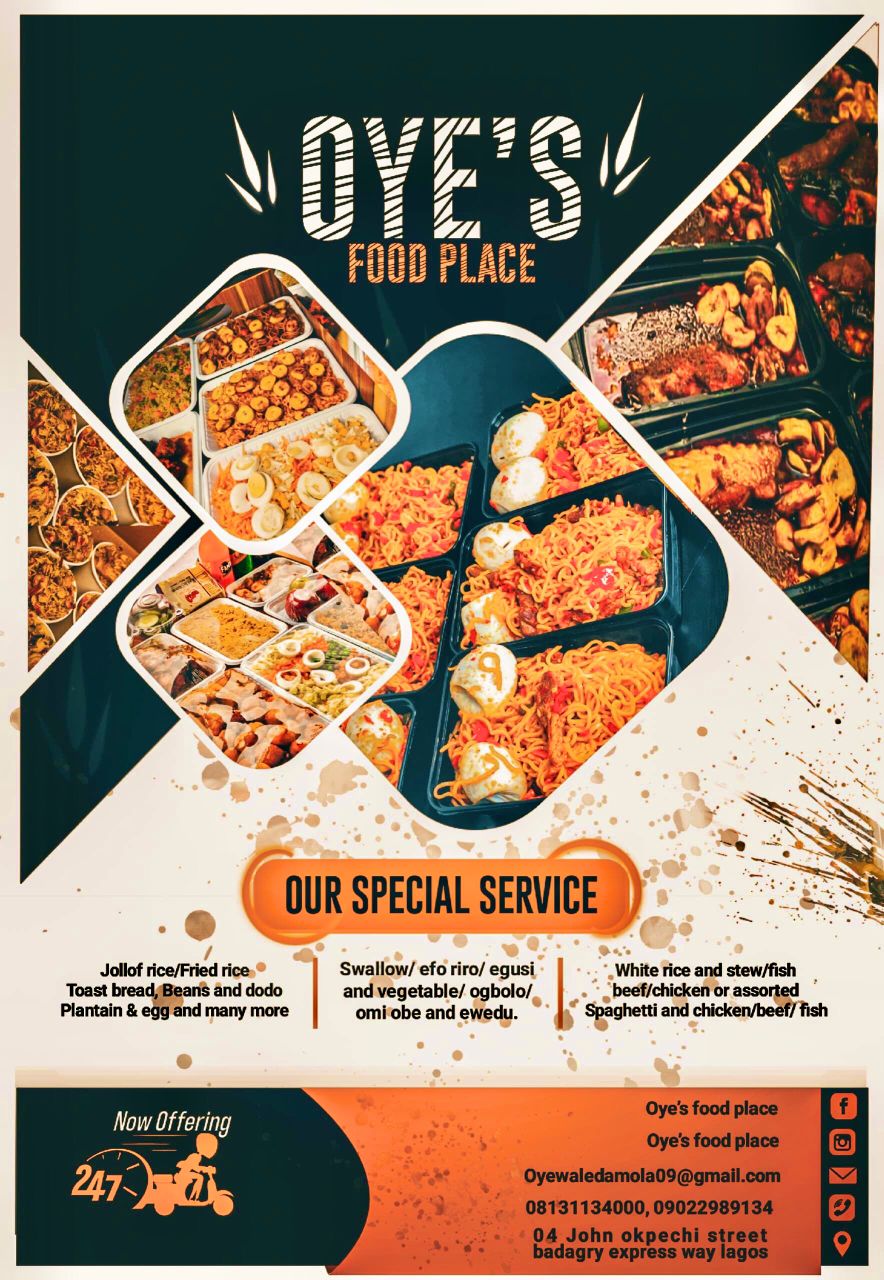 Why You Should Patronize Oye's Food Place 
Everyone deserves a good meal, especially after a hectic day at work. Oye's Food is the one-stop place to get delicious and nutritious food.
Run by Damola Oyewale, a gifted chef, Oye's Food prides itself in all kinds of food and soups both local and continental at the doorstep of your house. They take the stress off you and their delivery package is top-notch. That's why dignitaries prefer Oye's Food to take care of their food. A trial will convince you…
The Alternative Bank Delights Customers with Exclusive Seasonal Product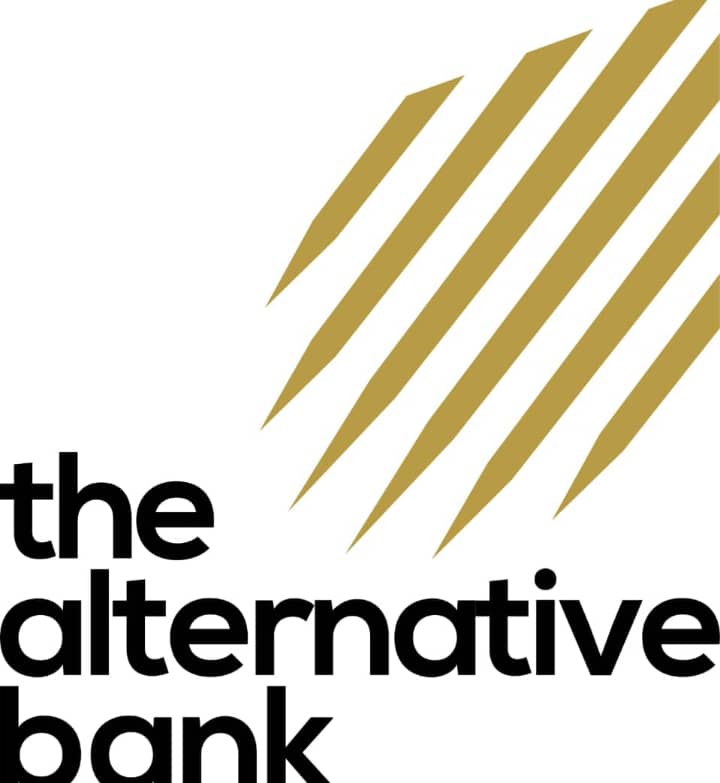 The Alternative Bank Delights Customers with Exclusive Seasonal Product
Ahead of the festive period, The Alternative Bank is offering customers an innovative financial product designed to enhance the holiday experience.
This pioneering solution – AltMall, allows individuals to instantly acquire desired items and pay in manageable instalments, freeing up funds for other essential needs.
AltMall provides customers unparalleled flexibility through deferred payment options, promising a seamless and stress-free shopping experience.
In an official statement, Mohammed Yunusa, Head of NIB Digital and Consumer Business at The Alternative Bank, acknowledged the challenging economic conditions and emphasized the bank's commitment to ensuring that customers can still enjoy the best of the season.
Yunusa stated, "The Alternative Bank recognises the economic challenges that may hinder many people from fully enjoying the festive season. In anticipation of this reality, we are proud to offer our valued customers a unique financial product as a solution."
"At The Alternative Bank, we understand the significance of family ties, reunions, and other festivities during this time of the year. With AltMall, we aim to provide a respite for our customers, enabling them to continue cherished traditions, regardless of the economic situation," he added.
AltMall is tailored for the modern consumer, providing access to the platform from the comfort of home or while on the go. Customers can conveniently choose deferred payment options aligned with their financial preferences, allowing them to savour their purchases while effectively managing their finances.
Yunusa highlighted AltMall's commitment to prioritizing customer convenience, stating, "AltMall gives our customers control over their purchases and payment schedules. Our platform ensures a seamless and user-friendly shopping experience, whether at home or on the move."
The Alternative Bank, known for its dedication to innovative financial solutions, reaffirms its commitment through AltMall. The product represents a significant step in redefining the intersection of finance and e-commerce, offering a unique shopping experience that combines convenience, variety, and financial flexibility.
As the festive season approaches, The Alternative Bank invites customers to make the most of AltMall, embracing a new way to shop online that aligns with their evolving needs.
ENDS
Why You Should Patronize dElite Couture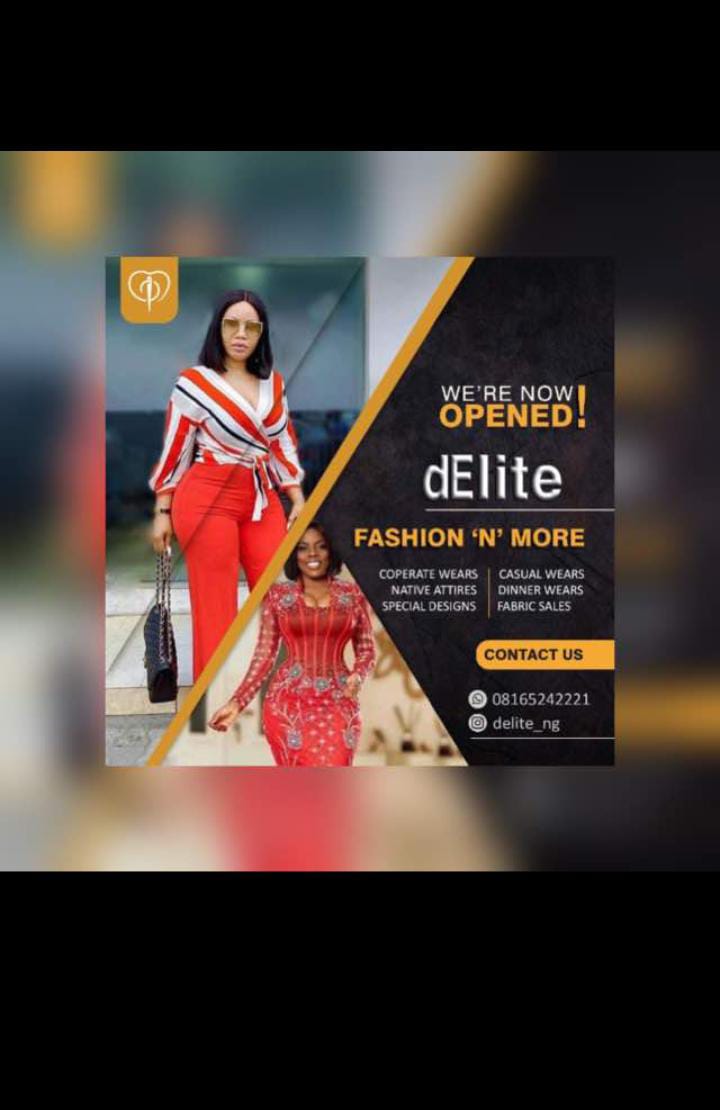 Why You Should Patronize dElite Couture
Arguably, one of the leading Couture in Nigeria is dElite Couture. Owned by delectable Oluwatosin Afeniforo, its a haven of fashion and more.
Known for trendy styles and quality services, celebrities and dignitaries are finding dElite as the place to be for top-notch fashion styles.
A trial is enough to convince anybody that dElite couture is the place to be where fashion is concerned.