Man arrested for sleeping with daughter, says he thought he was having sex with his wife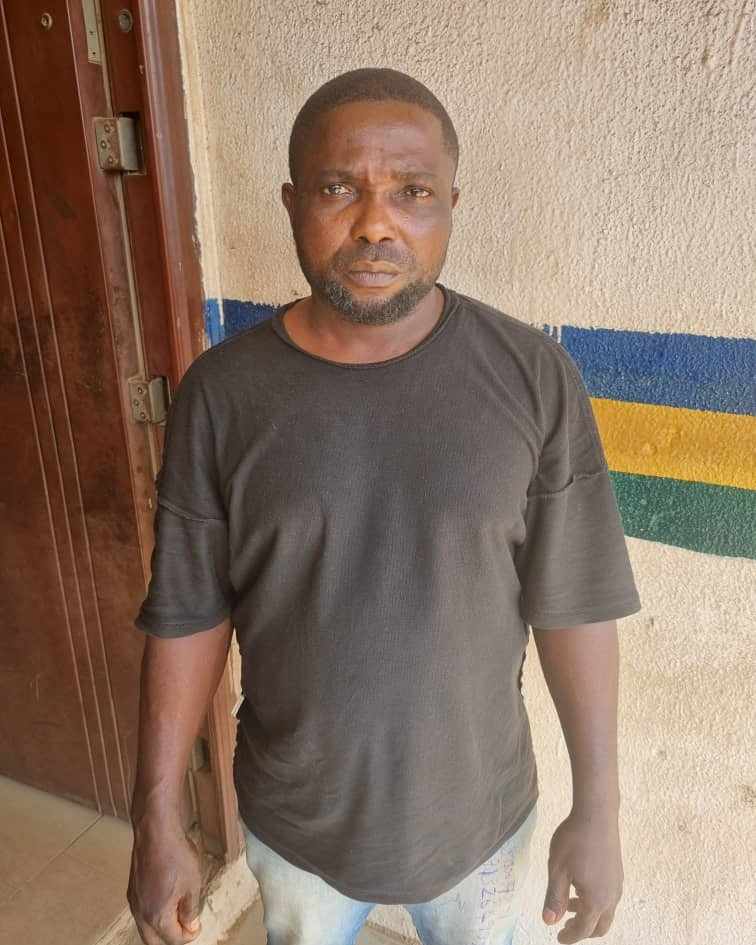 Man arrested for sleeping with daughter, says he thought he was having sex with his wife
A 39 year old man Mfon Jeremiah a resident of FIRRO Estate off Adesan, Mowe has been arrested by men of Ogun state Police Command for impregnating his 13 year old biological daughter(name withheld).
The suspect was arrested following a report lodged at Mowe divisional headquarters by the mother of the victim who said that she discovered that her daughter was pregnant, and when she inquired from the daughter, she was informed that it was her father who impregnated her.
The victim was taken to the hospital where it was confirmed that she is four months pregnant.
Upon the report, the DPO Mowe division, SP Folake Afeniforo, quickly detailed detectives to the suspect's house where he was promptly arrested.
On interrogation, the suspect confessed to being responsible for his daughter's pregnancy, but claimed to be under spell when he did it. He informed the police that he was dreaming of having sex with his wife who has separated from him for some time now, only to discover that it was her daughter that he had sex with.
Confirming the uncident, the spokesperson of the state police command, SP Abimbola Oyeyemi, said the Commissioner of Police, CP Lanre Bankole, has directed that the suspect be transferred to anti human trafficking and child labour unit of the state Criminal Investigation Departments for further investigation and possible prosecution.
Ekiti Court Sentenced 3 To Death For Stealing Chargers,Power bank…
Ekiti Court Sentenced 3 To Death For Stealing Chargers, Power bank…
An Ekiti State High Court in Ado Ekiti, on Monday, May 15, sentenced three persons to death by hanging for conspiracy and armed robbery.
The defendants: Omotayo Deji, 23, Chidiebere Ifeanyi, 25, and Bolaji Usman, 28, were arraigned before Justice Bamidele Omotoso on January 21, 2020, on a four-count charge bordering on conspiracy and armed robbery.
The charge reads that the defendants on "May 6, 2019, at Aba Erinfun, Federal Polytechnic Road, Ado Ekiti in Ado Ekiti Judicial Division did conspire to commit a felony, to wit; armed robbery and robbed Ademiloye Stephen, Olokuntoye Temitope and Ajayi Kolade of their belongings, such as phones, laptop computer, sandals, phone chargers and power banks valued at N186,000, as at the time of the robbery. They were armed with cutlass and wooden plank,"
According to the charges, the alleged offences contradicted Sections 6 (b), 1 (2) (a) of the Robbery and Firearms (Special Provisions) Act, Cap. RII, Vol. 14, Laws of the Federation of Nigeria, 2004.
One of the victims in his statement to the police, said: "We were sleeping in our room at about 2:30 a.m., suddenly, I heard a loud sound on the door, immediately, we woke up, I saw the defendants armed with cutlass and wooden plank, immediately, they broke the electric bulb with the plank in their hand. They commanded us to lay face down and bring out all our money. We told them that we are students and we don't have money, but they started beating us on our backs with sticks and cutlasses.
"Thereafter, they started collecting our phones, laptops, chargers, sandals, power banks and others I could not remember and ran away. We were later shouting for help but nobody came out."
To prove his case, the police prosecutor, Kunle-Shina Adeyemo, called one witness and tendered statements of the victims and defendants, as well as phones among others as exhibits.
The defendants testified through their counsels, without calling witnesses.
In his judgement, Justice Bamidele Omotoso said, "I am of the strong opinion that the prosecution has proved beyond reasonable doubt the offence of armed robbery against the defendants.
"They are hereby found guilty as charged and convicted for the offence of armed robbery.
"The sentence of the court upon you, Omotayo Deji, Chidiebere Ifeanyi, and Bolaji Usman is that you be hanged by the neck until you are dead, and may the Lord have mercy on your souls."
Man Hacks Mother To Death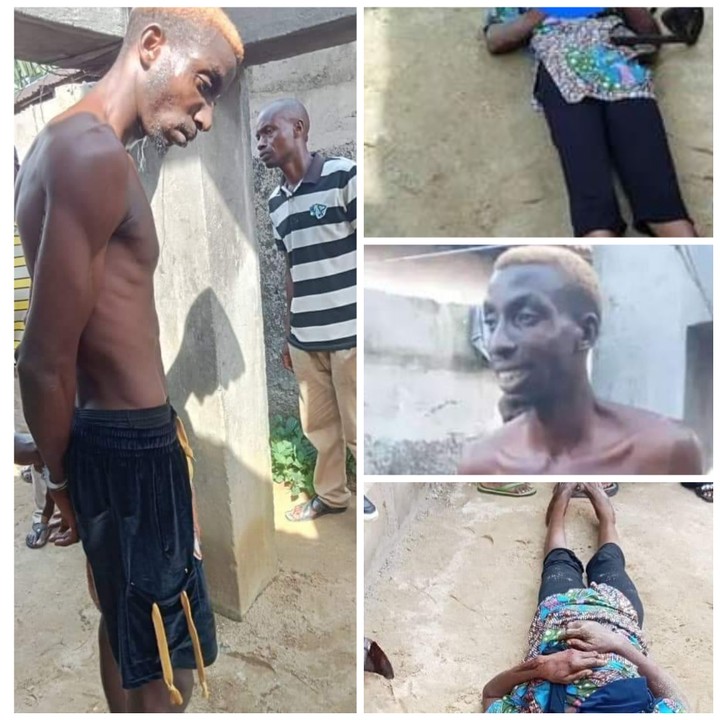 Man Hacks Mother To Death
A Young Man Identified as Owate Bode has killed his mother for refusing to give him N20,000 in Rivers State.
The Incident happened in Aleto community, Eleme Local Government Area of the state on Saturday, May 13, 2023.
The man said he approached his mother requesting for N20,000 to enable him attend a funeral in the community but could not get the desired response from the woman.
He claimed his mother after withdrawing N20,000 from "his account," only gave him N10,000, which he insisted was not enough.
Things however went out of control when The boy now picked up a hoe and hit his mother on the head. The woman's head was ripped open and she fell in a pool of blood. She died instantly.
The suspect was thereafter, apprehended by the community youths and handed over to the police, while the corpse has been deposited at a morgue in the area.
During interrogation, Bode who didn't seem remorseful for k!lling his mother, claimed to be mentally unstable. He said he choose to "finish" his mum for refusing to give him his money and insulting him. He further stated that he is tired of living and wants to die.
Spokesperson of the state Police Command, SP Grace Iringe-Koko, who confirmed the incident said that the younger man is in police custody.
Man Confesses How He Killed His Father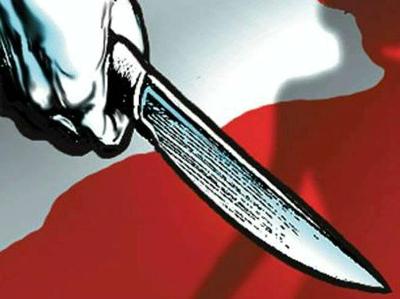 Man Confesses How He Killed His Father
Akwa Ibom State High court sitting in Etinan Local Government Area of the State on Monday, March 13, sentenced a 37-year-old man, Moses Abdon Edo, to death by hanging for killing his father, Abdon Peter Edo,
In a one hour judgement, the Court presided over by Justice Ezekiel Enang held that the convict, an okada rider, who is an indigene of Ikot Ukobo in Nsit Ubium LGA had confessed in his statement that he killed his father on 29th July, 2015, in his house and buried him beside his son's grave.
Justice Enang also said that the convict, who is the first son of the deceased, also confessed that he pursued his father to the backyard of his old building and hit his head on the wall where he died on the spot over landed property.
The Court held that once a confessional statement is positive, direct and unequivocal of fact, it is sufficient to secure conviction of the accused even without the evidence being collaborated.
Justice Enang said in a charge of murder, what the prosecution must prove beyond reasonable doubt, are the ingredients of the offence that the deceased died and that the death was caused by the act of the accused with an intention to kill or cause him grievous bodily harm.
The Court held that by smashing the head of his father on the wall, the convict had intended to kill him.
Justice Ezekiel Enang found Moses Edo guilty of murder and ordered that he should be hanged or lethal substance injected inside him until he is dead.
Following the judgement, the case, which was prosecuted by the State Ministry of Justice and defended by the Legal Aid Council of Nigeria, has laid to rest, the eight years of prosecution of the matter at the trial Court.