Meet Prophet S.K Abiara's Substantial Treasure, Elijah Taiwo Abiara who is an Oracle of GOD Shaking the City of Ibadan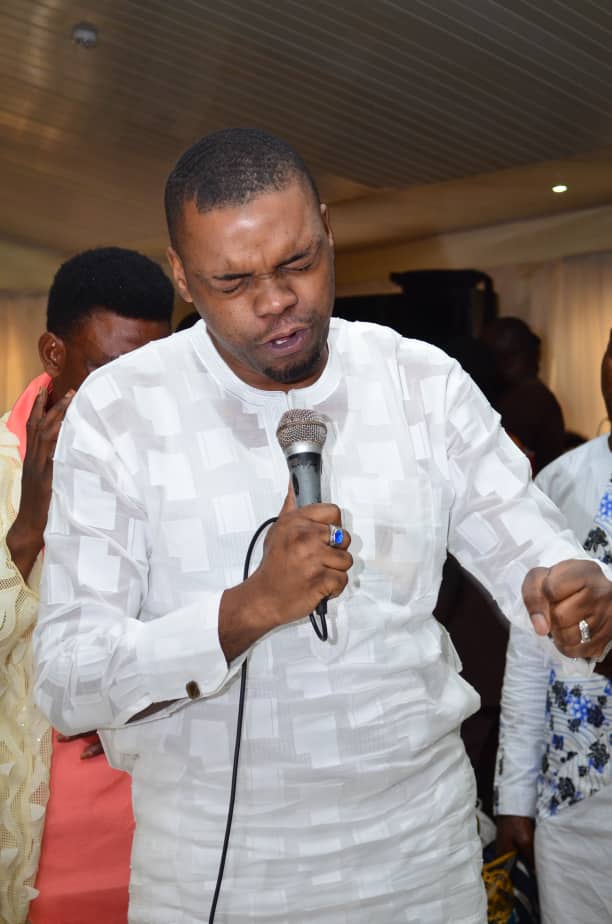 The joy of every parent is to see their children excel in life and not just to be a success, but to be a success in a very virtuous path. Parents see this as a thing of joy when their children follow the route which they are in especially when it is the path of God.
One of the few people who are lucky to have their children follow their path is Popular Prophet, SK Abiara, the founder of CAC, Agbala Itura. Hardly does anyone not know about this great man of God judging by how mightily God has worked through him in form of wonders, miracles, to mention a few.
However, it has been revealed that he has an influential treasure from his home which has been discovered. He is no other than Prophet Elijah Taiwo Abiara who is the General Overseer of Vineyard Of Comfort Assembly, a church that has been in existence for four years and situated in Oluyole Estate, Ibadan.
It is worthy of being noted that his church is different from that of his father and might cause people to start wondering the reasons behind it. The General Overseer divulges this in an interview with Conquest International's Editor, BAMIDELE ADEYEMI.
'Vineyard of Comfort Assembly is basically 'Agbala Itura', and we all know CAC Agbala Itura is originated by my father so, we came up with Vineyard of Comfort Assembly because there is no one that starts a church without getting directions from the Lord. The Lord asked us to start a ministry and we thought and prayed about it, we are from CAC but we don't want to put limitations to our ministry; we want people to be able to worship with us from every denomination without adding any doctrine to it. So, we decided to have Vineyard of Comfort assembly without attaching any denomination to it; it's still a subsidiary of Agbala Itura but we just want to be able reach out to the whole world without limit'.
In Nigeria today, we have thousands of churches and still counting. Most of the churches came into existence without a serious purpose but the case is different here, especially for the fact that Pastor Elijah Taiwo Abiara was living in the United States of America before God asked him to come to Nigeria to start a ministry.
He also revealed the purpose of the ministry:
''The main focus of the church is to reach out to people through the love of God. There are many ministries and churches all over but we basically focus on the love itself. Our believe is that we don't condemn or judge; we accept people from any background, if you come to worship with us; rich or poor, it doesn't matter, all we want to do is to show the love of God to everyone, having said that, in our ministry; we impact lives, we don't care about the riches and numbers in the church, we care about the numbers of lives our ministry has impacted so we are impacting lives every day. There was a member that when he came to us, his parents had rejected him and when we realize this; we stepped in and by God's grace today, we helped him with a school, graduated and now he has a good job. So many situations like that, even in marriage, we have another branch of the church called Love and Family, it's an N.G.O and the purpose is to impact marriages. We have come to realize that community is built from home, if the home is settled, our children will go out to show love to people; we are impacting life from every means.
Of course, being the son of a renowned Man of God, the way he will be treated or seen is different from the way other children are seen. As a son of Man of God, they expect him to be perfect and behave exactly like his father. He talked about how life has been being the son of the prominent Prophet.
'Being the son of a minister, you have a lot of pressure on you, the pressure to be like your father, you can't do like every other child is doing because you are being judged as the son of your father. For instance, if I am driving or being drove and someone did something bad on the road, I will just keep quiet, I can't talk because we are being judged especially knowing I'm Abiara's son. People easily judge me even when I'm on my right. I wasn't interested when I wanted to start the work of the ministry; I was in the US for over twenty years, it got to a point where God was looking for me. If I go to worship at the white people's church, they will be prophesying to me that God has a use for me and I will tell them I wasn't interested because I had it in my heart I wanted to be a millionaire by age 35 and God is good to us; we were doing great. I told my wife we must have close to 100 homes before I'm 35 and when I started the business, I had up to ten houses within a year. I have started doing my business before God called me; I rejected but God used my wife to start the assignment of the ministry so, looking back at life now, I thank God having my father as a man of integrity, it proves to us as his children; 'we have to work on that integrity and that is path VOCA is on for the past three years now'.
Nothing good comes easy especially in the ministry, lots of challenges facing ministers and Prophet Elijah also has a story to share in that light.
'We had challenges, we had pressure of knowing who my father is, and the pressure whereby people expect you to spend money like your father and because of this, we are very circumspect when it comes to people approaching us, advising us on what to do. Basically, they are not judging the church by how old we are but according to whom we are. Some people are expecting us to be flying by now but we thank God for his grace'
Shockingly in Nigeria, despite the large numbers of church we have, the rate of sin keeps increasing and this shouldn't be so. While answering the question on that, he reveals the problem is that most churches don't preach, they only pray.
'I lived in the United States for 20years and the lord asked me to come back home, it was a very tough decision for me and my family because it took 3-6 months crying every day and even up till now, I still tells my wife, there are many pastors here and why does God want us in this land but, one thing I have realized is most of the churches, I'm not criticizing anybody, we lack the word of God, we all grew up in this country ,all we think of is prayers over enemies and that's all we are being taught in church but looking at our surroundings, the application of God's word is lacking. The word of God has been compromised for money purposes in churches today'
In Christendom, one of the issues that has drawn so many controversies from different angles is the issue of tithing, some school of thought believe tithing is a thing of the old testament, some believe it's not biblical, However, Pastor Elijah Taiwo Abiara reveals that it is biblical.
'When it comes to tithing, it is not controversial, in the bible, Abraham brought tithe after he was blessed by the priest of the most high, if you are getting blessed in any church; you should activate Abraham's deeds, because we do claim the promise of Abraham but we don't practice what Abraham did; Abraham didn't hear any preaching, he was directed by the spirit of God to pay the tithe unto that priest. Anywhere you are being blessed, I am a pastor and sincerely there are some pastors who live lavishly, church tithe are not enough for most ministries, it is the blessings of God from different expanses that help ministries. I was born and grew up in the church and I can tell you things about growing up seeing my father, it wasn't tithe that blesses him but God's blessings. We can't judge a pastor living extravagantly, judgment is for God, if you know the living God, nobody will force you to pay tithe. Muslim use to say giving is the foundation of their religion and they give a lot, and also get blessed so much but the case is different when it comes to us'
When he was asked about Nigeria in the era of election and we have seen pastors taking sides in politics. The proactive Man of God advised ministers not to choose between the candidates rather they should allow their members to vote for their choice of candidates themselves.
He never wanted to become a pastor but a pilot; he went to school of Pilot in Florida but later changed his major because his mother was scared of him flying a plane
'I wanted to become a pilot when I was young. I actually attended a pilot school in Florida before my mother got frightened, she kept saying she doesn't want me to fly a plane because of plane crash, so I ended up changing my concentration; I went into something else and graduated. I'm on my masters already and almost done with it'
Finally, he advised youths ambitious to work for God
'Be sure you have God's calling, people's road map in the ministry will be different from yours; you must follow God's directives in the ministry. You must love God with all your heart and extend the love to his people. Every young and old minister must follow God'.