mighty projects and humanitarians of Emmanuel Njoku applauded and eulogized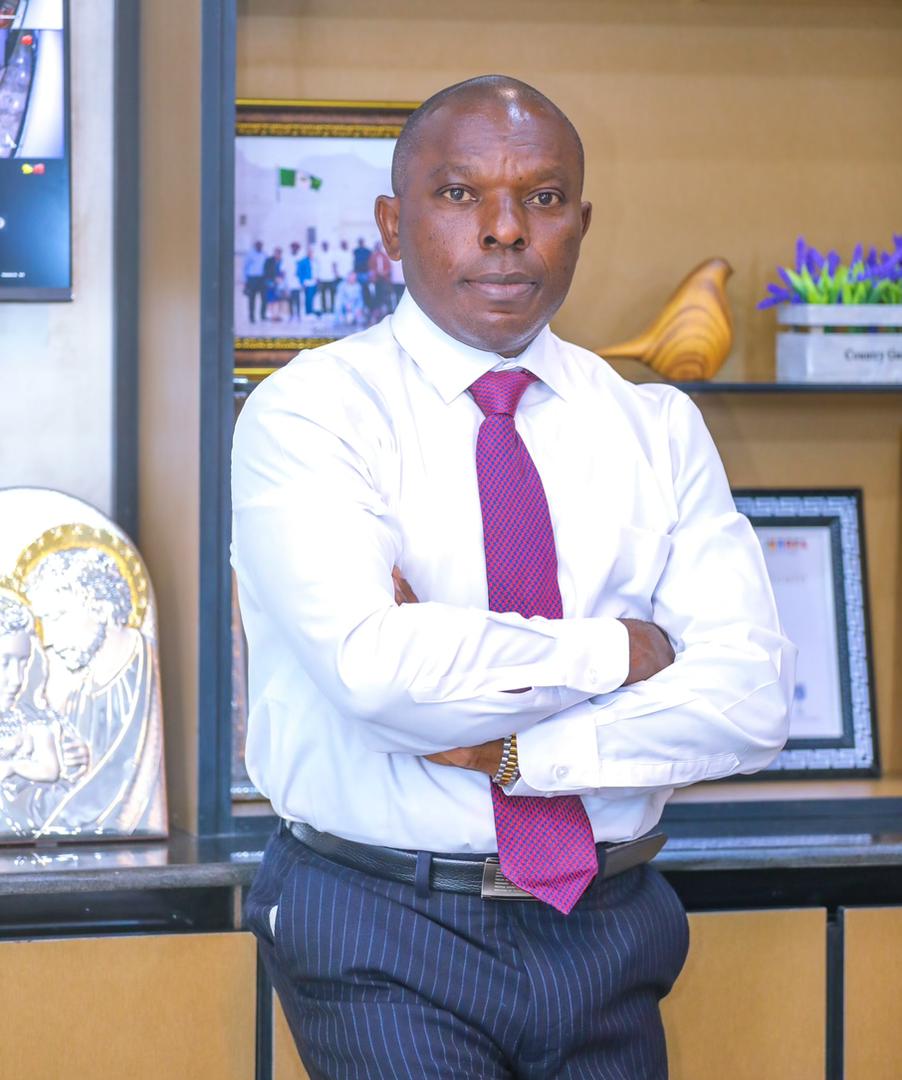 mighty projects and humanitarians of Emmanuel Njoku applauded and eulogized
Mr. Njoku is a consummate and dedicated executive with an exceptional entrepreneurial mindset. The Eziala Nguru, in Aboh Mbaise Local Government Area of Imo State, Nigeria, born humanitarian however, still believes he has not done anything yet
" I don t think I have done anything yet, I still believe I still have more to do for my people and i don t think there is anything big that i have done for them" stated Njoku a pathfinder; innovator and a motivator with sterling academic records and professional background, who has continues to bestride the business world like a colossus; with businesses spanning across various continents.
so versatile is this young man that He renders general and bespoke services in Health, Renewable energy, Human Resources Management, law and several other fields of human endeavor.
But yet like Oliver Twist he is still demanding more of himself to be able to believed he has done a bit of his own.
The visionary leader with proven track record of engineering organizational turnaround He is a man conscientiously devoted to charitable causes, currently sits as the chairman of Emma Njoku Foundation- a Non-Governmental Organization with focus on health and education, which has left indelible imprints on the minds and hearts of many individuals and organizations.
" I still believed there is still more to be done hence i am sounding like Oliver Twist. There are many things that will want to put our investment on which could make our people to feel our impact"
Recalled that the Emman Njoku Foundations has supported projects like ;
2021 School Intervention which was held on December 22,2021.
it was tagged "Eziala Nguru Back to School Program " and it mark the commencement of the Emma Njoku Foundation Free Medical Outreach.at the Eziala Nguru Maternal and Child Care Care.
He did not stop there he went further and hosted the Easter Intervention 2022
Easter Intervention 2022. which was tagged an April to remember as he ensured that uncountable number of lives were touched in very unique ways.
Two hundred and forty eight (248) persons benefited from the Free eye Check, screening and correctional lenses.
200 persons got our Easter Hamper consisting of Rice, Groundnut oil, seasoning, tomato paste, pepper and onion mix, curry, thyme and salt thus ensuring that on Easter Day, all they need is Kerosene to cook and meat.
Over 300 sanitary pads were also distributed in their own way of promoting menstrual hygiene.
10 carefully selected Artisans got the sum of #40,000 each in support of their business.
9 carefully selected Persons got the sum of #20,000 each as part of our hospital Decongestion programme mentioned for the payment of hospital bills.
30 carefully selected persons got #20,000 each as part of our market women support Grant in support of rural business.
This and more are our modest way of touching lives positively.
He did not stop there he also made the road to feel his impact, with his
Major Road Intervention., when on May 22, 2022.
he put and return smiles to the faces of Ndị Mbaise as Barr. Emma Njoku of Eziala Nguru in Umunneato Autonomous Community of Aboh Mbaise single-handedly undertakes the fixing of major bad
His donation of wheel -Chair on September 21, 2022 still talk of town.
7th of September, 2022, Miss Ugochi Duru will remain evergreen as the management of Emma Njoku Foundation responded to her passionate appeal for an automated Wheelchair after surviving a cervical spinal
what of donations of 50 pews on October, 18, 2022 COMMUNITY SCHOOL EZIALA NGURU.
With all these Njoku still believes he is still far cry from what he wanted to do for people
" I always tell my workers and my people that i am still far cry from my targets, I just want my people my community and society at large to be happy ,hence the little things we are doing to make people happy "
Talk of man humility, whose achievements speaks for him
ROWLAND OKORIE MOURNS WITH ONYEJIJI'S FAMILY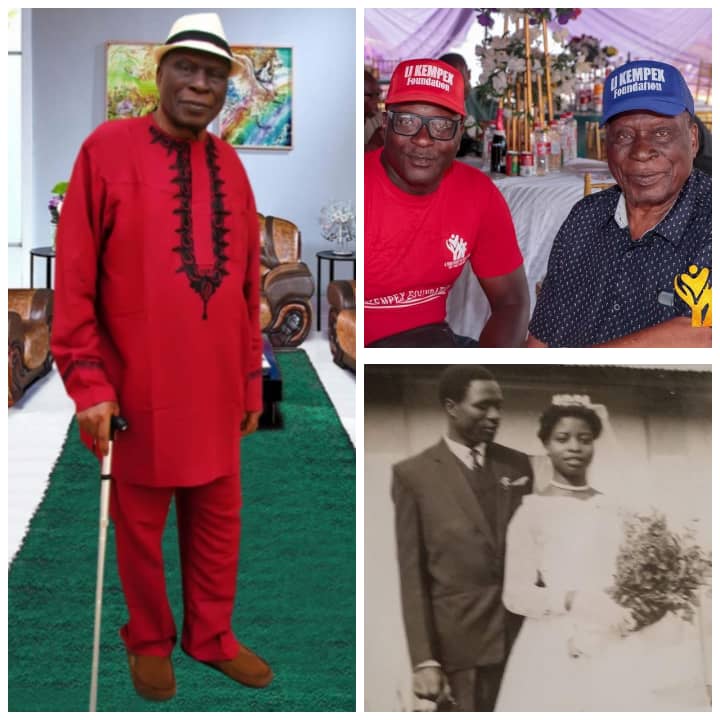 ROWLAND OKORIE MOURNS WITH ONYEJIJI'S FAMILY
An Iroko, Sir Mark Onyejiji, Has Gone To Be With The Lord A great son of Itu Agunaeze, Ahiara Ahiazu Mbaise, Sir Mark Chukwunyere Onyejiji has gone to glory. He was a respected retired Police Officer who trained his two brothers and made sure they became successful. Sir Mark Chukwunyere Onyejiji was born in 1931, he died on July 31, 2023 spending 92 successful years on earth.
He served with the British Police's Peacekeeping Force in Congo. He was the Chairman of a key Igbo societal structure, Ndi Apara ( a group strictly for the first sons of every family. He was the Chairman of CMO in Itu Agunaeze and Commander General of Knight of St. John . He also served as Chairman of the Parish Council for 12 years.
In giving back to the society, he fixed many of his people in the Nigerian Police Force . This great man was one of the first people to erect a glass house. His younger brother His Royal Highness, Eze Engineer Cosmas Onyejiji did not mince words while eulogizing him. "My elder brother was not a greedy person.
He was someone who wanted light to come into his family and community. He used the money he earned from his service in the Police Force to train me and my other brother. He served his family and people very well. His time has come and he has gone to rest with the Lord. We pray God accepts his soul and gives his immediate family and the entire Onyejiji family the heart to bear this loss .We will miss him a lot ". His sister-in-law ( ) also prayed that God accept his gentle soul. She praised his caring and unifying personality.
According to her, Sir Mark as he is fondly called, was a unifier and a father figure. Speaking about his father, Kenneth Chimaoge Onyejiji, said his father loved his wife,Mrs. Thereza Chukwunyere Onyejiji who died 4 years ago, his family members, and everybody he came across, dearly. He said his father lived a fulfilled life, travelled round the world and taught them that the keys to success are education and patience.
He added that Sir Mark also taught them the power of love, unity, forgiveness, and the fear of God. Chief Okechukwu Onyejiji, his second son, appealed to his loved ones not to weep because his father was a man who expressed true love and received love from his people. Sir Mark Onyejiji is survived by his 11 children- two boys and 9 girls . They are : Scholastica Obiagaeli Emenayo nee Onyejiji, Lilian Nkechinyere Nwabuisi nee Onyejiji, Maureen Uche nee Onyejiji, Emerobi Ekeanyawu nee Onyejiji, Kenneth Chimaroge Onyejiji, Akunna Ofurom nee Onyejiji, Chief Okechukwu Onyejiji, late Ifeyinwa Onyejiji, Okwuchi Orji nee Onyejiji, Ijeoma Onyengwere nee Onyeji, Obianuju Onyejiji. Also the CEO of Equity Concepts, Rowland Okorie, has expressed sadness over the death of Chief-Okechukwu's beloved father, Sir Mark Onyejiji, who passed onto glory on July 31, 2023 at Abuja Hospital.
"This family was part of the success story I have in America today, When God brought me to this land he made a way for me through, " Rowland Okorie said in an interview with naira land. In the interview, the US-based Project Nwafor Igbo pioneer shared how he felt about the news of the death of the 92 years old patriot Mark Chukwunyere onyejiji who served his country in sincerity of heart and purpose a true Nigerian. "Chief-Okechukwu onyijiji, a man with the heart of Gold, is one of the most powerful men I have heard his name from childhood growing up in the village.
Right after Dr Ifesinatchi Okechekwu handed me over to Sir Bob Agbonye, an Mbaise Icon, My story continued, he drove downtown LA and he said we are going to make sure you are taken care of and I have only one place in mind. I ended up with a household name in my community-
I have never experienced the level of hospitality I enjoyed which became home away from home for me. It was as though God already prepared someone to watch over me as I got handed by the First elected female National President of Enugu USA." He added that "I would have faced greater struggles and challenges in America if the Almighty God did not send people like these people across to me. May his great soul rest in peace ..
Rowland Okorie:
www.equityconceptsng.com
www.knowurmovies.com
63rd Independence: TY Buratai Humanity Care Foundation Calls for Support, Prayers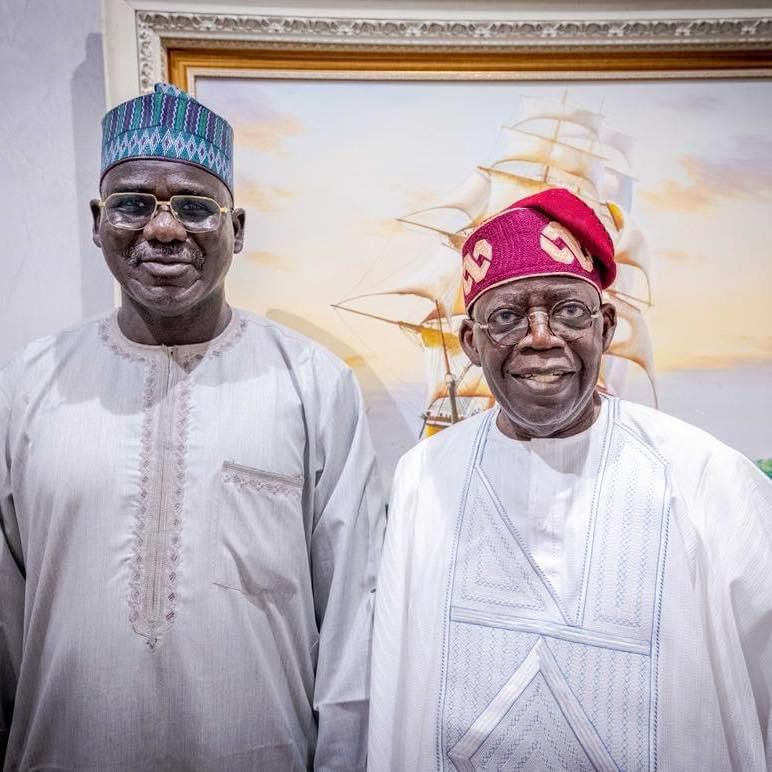 63rd Independence: TY Buratai Humanity Care Foundation Calls for Support, Prayers 
The TY Buratai Humanity Care Foundation has congratulated Nigerians on the occasion of the country's 63rd Independence Anniversary. the foundation called for support and prayers for the success of the current administration.
The foundation highlighted the significant contributions of its Grand Patron Amb. Lt Gen (Dr) Tukur Yusufu Buratai CFR (Rtd) Betaran Biu, Garkuwan Keffi's father, Yusuf Buratai, who served as a non-commissioned officer in the Royal West African Frontier Force and a World War II veteran.
The foundation also commended the grand patron, for his rise to the rank of Lieutenant General and served as the Chief of Army Staff of Nigeria. The TY Buratai Humanity Care Foundation believes that supporting the current administration and offering prayers will contribute to the nation's progress and development, emphasizing the importance of unity and collective efforts in building a prosperous nation.
NGIJ Congratulates Tinubu, NASS, Nigerians on 63rd Independence Anniversary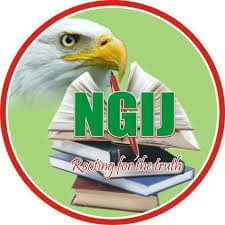 *NGIJ Congratulates Tinubu, NASS, Nigerians on 63rd Independence Anniversary*
* *Urges Govt. to See Journalists as Partners in Progress in Nigeria's Project
The Nigerian Guild of Investigative Journalists (NGIJ) has joined well meaning Nigerians globally to extends its warmest felicitations to President of the Federal Republic of Nigeria, Senator Bola Ahmed Tinubu, the President of the Senate, Senator Godswill Akpabio, the Speaker, House of Representatives, Rt. Hon. Tajudeen Abass and all Nigerians on the occasion of our great nation's 63rd independence anniversary.
This is contained in a statement issued on Sunday, jointly signed by the President and National Secretary of The Guild, Mr Ayoyemi Mojoyin and Malam Abdulrahman Aliagan respectively and made available to Journalists.
According to the statement, "As we mark this significant milestone, NGIJ applauds the resilience, determination, and patriotism exhibited by Nigerians in various sectors of the nation's economy. We salute the indomitable spirit of our citizens who continue to strive for excellence despite the numerous challenges confronting our beloved country.
"While acknowledging the progress made since independence, NGIJ urges all Nigerians to remain patient and foster a strong belief and hope in our nation. Our collective dedication and unwavering commitment will propel us towards the Nigeria of our dreams."
Furthermore, NGIJ calls on the government to embark on comprehensive programs that will cushion the effect of subsidy removal on the Nigerian populace. It is crucial that measures are put in place to ensure that the removal of subsidies does not significantly burden the masses.
The Guild also advise the government to rise up to the occasion in curtailing the prevailing insecurity in the country. The protection of lives and properties remains paramount, and concerted efforts must be made to address this challenge and restore peace and stability to all corners of our nation. The statement said.
"As we commemorate this independence anniversary, NGIJ implores the government not to lose sight of the vision and sacrifices of our nation's heroes past. We must remain committed to the ideals of unity, justice, and progress that they fought for.
"NGIJ emphasizes the importance of upholding the principles of Freedom of Information and urges the government to see journalists as partners in the pursuit of making Nigeria great. We encourage transparency and accountability, ensuring that access to information is not restricted but facilitated. The media plays a vital role in nation-building, and fostering a symbiotic relationship between government and journalists will facilitate progress and development."
Meanwhile, NGIJ wishes all Nigerians a joyous and memorable independence anniversary celebration. Let us stand together, united in purpose, as we strive towards a better and prosperous Nigeria.
Congratulations, Nigeria! Happy Independence Day!