Musician are so much united those days,… Ebenezer Obey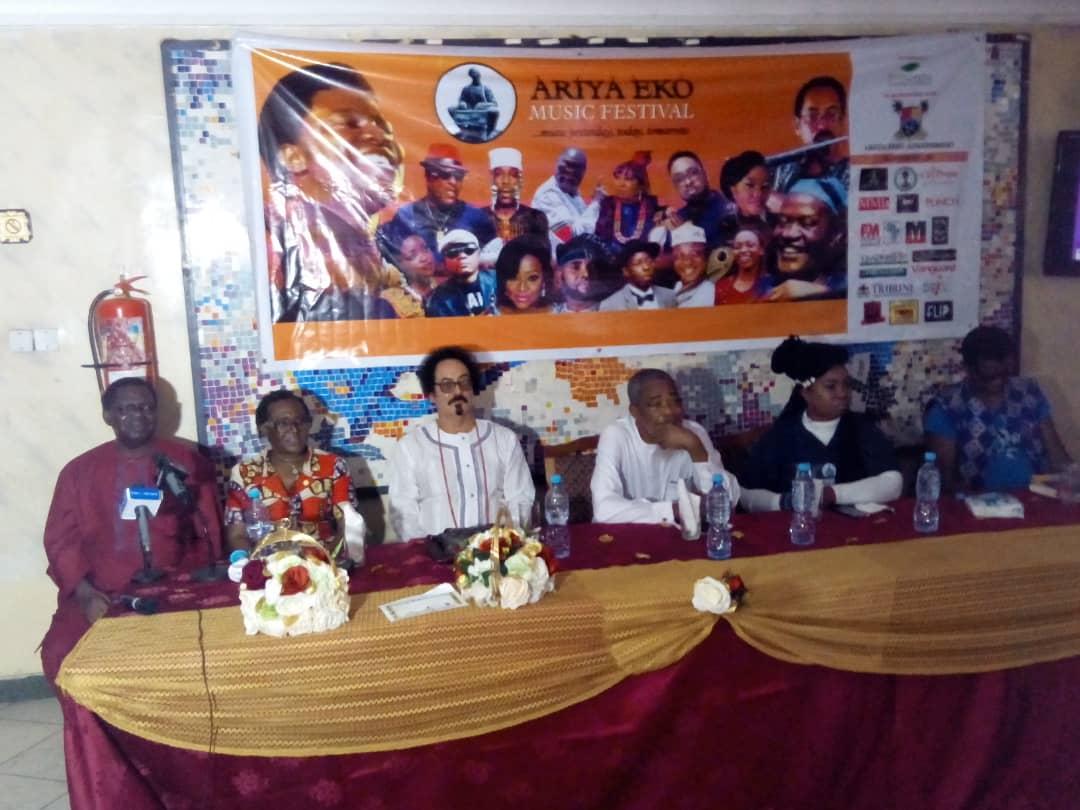 By Ifeoma Ikem
My mother did not want me to be a musician because they were regarded wayward, sharing his experience, he said his mum wanted him to be a medical doctor she did every possible thing to stop him.
The veteran musician, Ebenezer Obey, called on Nigerian musicians to relate with one another and not to see their colleagues as competitors but as contributors to musical growth of the country because in those days we were so much united.
Ebenezer made the call during a press briefing at National Stadium, Surulere, Lagos on Tuesday in preparation of Ariya Eko musical festival.
The musical festival will hold Dec.15 at Lagos City Hall, Lagos Island,which will feature renowned and upcoming musicians.
He commended the organisers of Ariya Eko for planning for such event.
According to him, "Lagos is a home of hospitality, it has produced over thousands of musicians in the music industry. We need to see ourselves as one not as a rival. I have my son and grandson doing music, they perform Juju music, play like me but not exactly like me, so every musician is gifted with different talent and also a contributor not competitor.
Speaking further, "my experience with my counterpart in music, King Sunny Ade, the competition which was projected by fans and media almost turned music into politics, but we always make sure we neutralized all that.
Ariya Eko started long time ago and it stands to develop indigenous music like Juju, Fuji, Afro-beat, Apala and all, "I really appreciate Governor Sanwo-Olu of Lagos state for believing in artists and upholding the annual festival, " he said.
Former President of the Performing Musicians Association of Nigeria, PMAN and ace flutist, Tee Mac Omatsola Iseli, advised musicians on how to improved on the quality of their music and guide against imitating others as there is no shortcut to being perfect but through more knowledge .
According to him, musicians in the past rehearsed days before mounting the stage to perform but many upcoming artistes now go to the studio with a piece of paper without professional skills that are essential. "We do rehearsal on daily basis till the night of performaning.
"Now the artistes go to the studio with a piece of paper and somebody will put some beats down and some cords, and maybe the song will turn out well, No."
"My advice to the younger musician is, there is no shortcut, you will rehearse thousands of hours before you become good. The young talents one, have potentials, but looking at the 70s and 80s, we had many bands that were excellent in Nigeria. If the younger generation wants to actually make an impact, and leave a legacy of music that can be listened to in 20 to 30 years' time, the qualities of their songs must be improved not copying one another. Now we are in digital age playing with laptops did not make you are a superstar."
"What make you a superstar is because a girl loves you? Music is a skill as you trained to be a medical doctor, or an architect, the same we musicians work hard to become professionals. To reach that level of Chief Commander Obey, to reach my level of the flute, I spent hundred thousand hours. Let the younger generation take that knowledge from us, they should listen to us when we correct them, it is not envy, but for you to work harder and improved," he said.
Mrs Bimbo Esho, Managing Director, Evergreen Musical Company and organiser of Ariya Eko musical festival said that the 2019 edition would feature upcoming and renowned indigenous musicians. Also our aim in organising Ariya Eko is to come together to celebrate our indigenous music and icon.