My Joy Is Indescribable Being the Winner Of the Çlassiç Queen Miss Africa"- Oyeniran Oluwadamilola Deborah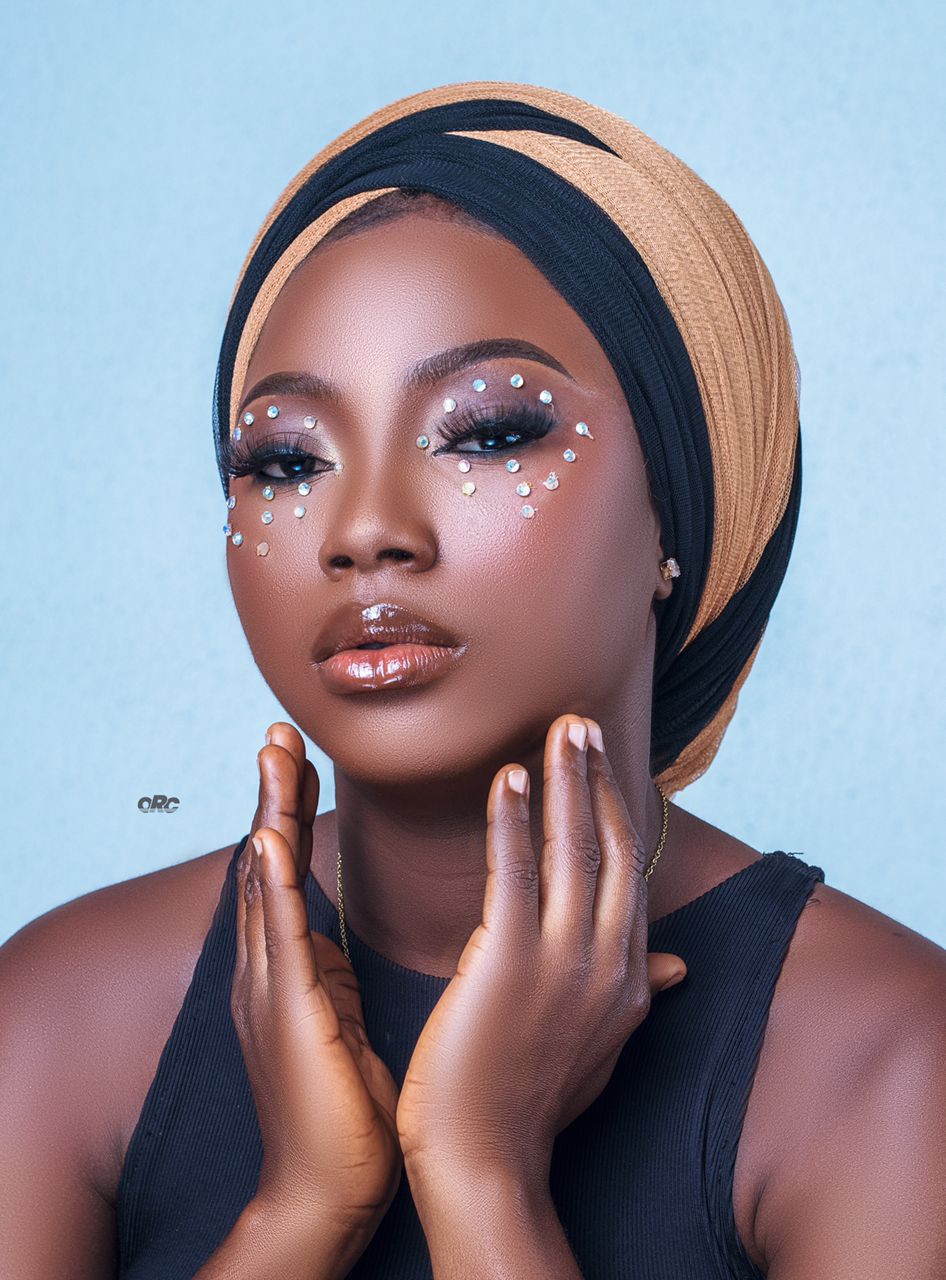 "My Joy Is Indescribable Being the Winner Of the Çlassiç Queen Miss Africa"- Oyeniran Oluwadamilola Deborah
To every glory is a story to tell. Emerging Classic Queen Miss Africa wasn't an easy journey. In this chat with us, Queen Oyeniran Oluwadamilola Deborah who can be described as African Beauty with a brain shared her success story with us. Excerpt…
Can You tell us More About Yourself?
My name is Oyeniran Oluwadamilola Deborah. I Am into modeling and my stage name is _*blacq_qwin*_. I Graduated from Adeyemi college of education Ondo in 2022 BSc in Biology. I am a baker in training. I love business too. I come from a family of 3. I have my parents, and myself That makes me the only child of my parents. I'm a very calm person who doesn't like taken for granted. I'm also a very friendly person. I love God, I love food I love music, and kids
CAN YOU TELL US HOW YOUR JOURNEY INTO PAGEANTRY STARTED??*
I started pageantry in the year 2018 when I contested to be the Queen of my school
Adeyemi College of Education and I emerged as the winner.
That made me realize I had a hidden talent and I used that as a stepping stone for me to bring out the hidden talent in me.
Afterward, I went ahead to contest for other pageants in which God has always been taking control till where have gotten to today.
HOW DID YOU FEEL EMERGING ÇLASSIÇ QUEEN MISS AFRICA
Naturally, it feels good to be a queen not to talk of being the Çlassiç Queen Miss Africa
I feel extremely happy because it's an Avenue to achieve my aim of reaching out to the less privileged and giving back to the society
WHAT STANDS YOU OUT AMONG OTHERS
My courage, confidence, and belief that I can, I will and I did.
I had the mindset never to give up even until the last hour
I made sure I gave it my all.
WHAT ARE YOUR CHALLENGES AND HOW DID YOU OVERCOME THEM?
The only challenge I had was how to relate with other female housemates for 15 days under the same roof.
As we all know we were all raised by different parents and we also have individual differences.
It was a little bit tough for me tho because I was raised alone being the only child of my parents with no siblings.
But all thanks to God I was able to overcome that with lots of patience, Tolerance, and the ability to relate with one another without arguments.
WHAT ARE YOUR SOURCE OF INSPIRATION
1) GOD
God was my first source of inspiration
He told me to go that he was there before me and that gave me full assurance God never fails
Whatever he tells me to do I believe he can never fail me
2)My parents
At the point where I never saw myself winning my parents were my source of inspiration
Their prayers and words of encouragement kept me going
3) My Fans
A big shoutout to all my friends, supporters, and well-wishers out there
Their votes and support kept me going.
They believed in me and I never want to let them down.
WHAT IS THE PET PROJECT YOU PLAN TO WORK ON AS ÇLASSIÇ QUEEN MISS AFRICA
As stated earlier I would like to give back to society by reaching out to the charity home, and the less privileged, and also give seminars about female health and personal hygiene to junior secondary school students
And I know being a queen gives me a better platform to do them.
WHAT IS THE SECRET OF MY SUCCESS
God is my only secret. I can't say hard work or diligence. There are alot of people out there doing more than I'm doing, although I'm putting in my best and I'm not relenting,
But then, GOD has always been the secret of my success
WHO IS YOUR MENTOR OR ROLE MODEL IN PAGEANTRY
I would not say I've got a particular role model. I just want to have a lifestyle that people can emulate. I'm a model who believes in the good of others and takes what's needed to build up myself.
Lawrence Grace Foundation Holds Annual Christmas Party For Widows on Dec 10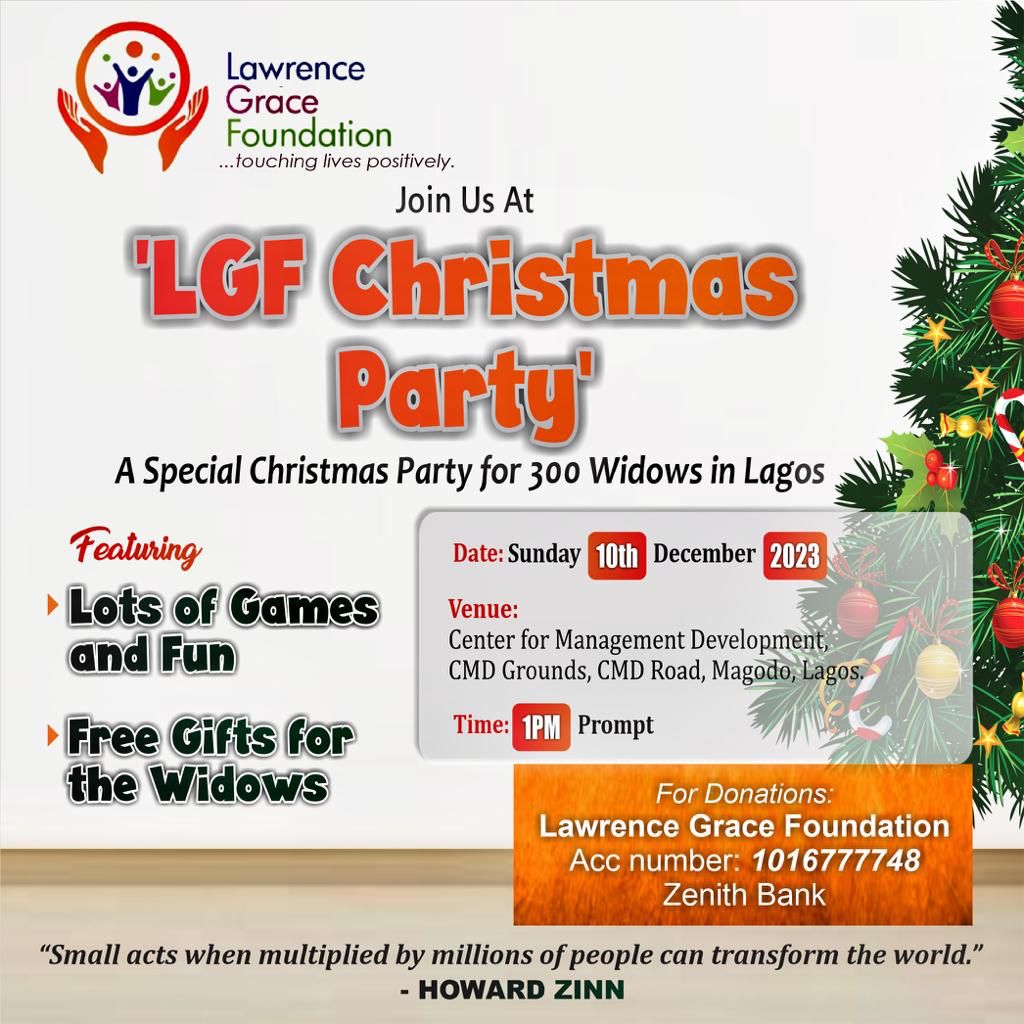 Lawrence Grace Foundation Holds Annual Christmas Party For Widows on Dec 10
A multi-award winning humanitarian group, Lawrence Grace Foundation will on Sunday, December 10 holds its annual Christmas party and multi-empowerment scheme for over 300 widows in Lagos state.
According to the Convener of the foundation, Mrs Oluyinka Adewoye the special Christmas party featuring several activities which include games and fun as well as free gifts to the widows has been scheduled for Centre for Management Development, CMD in Magodo area of the state.
"For Christmas, we are having our 'LGF Christmas Party' which is for 300 widows from various LCDAs in Lagos State. It holds on December 10th, 2023.This is to give them gift items for their families for Christmas and also celebrate the season with them and give them the sense of joy", Mrs Adewoye added.
How Primate Ayodele Foretold Attacks On Military Barracks In Sierra Leone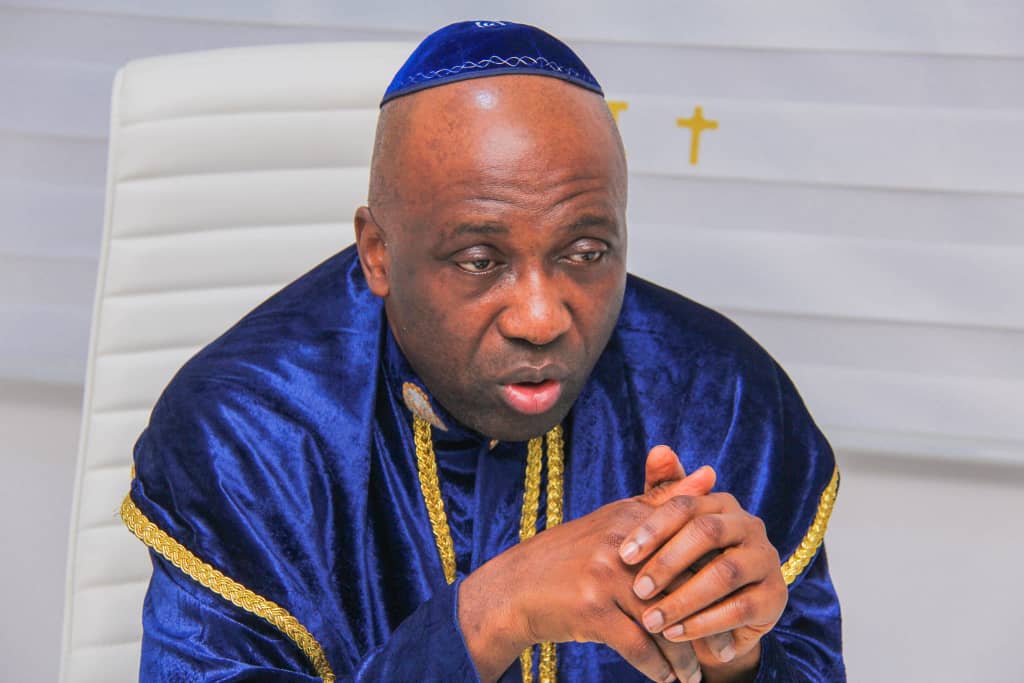 How Primate Ayodele Foretold Attacks On Military Barracks In Sierra Leone
The Leader Of INRI Evangelical Spiritual Church, Primate Elijah Ayodele has continued to remain a prophetic voice recognized globally. There is unarguably no country in the world where Primate's prophecy has not impacted in one way or the other.
His style of prophecy is majorly warnings to presidents of nations and there are countless references and proofs to confirm the authenticity of these prophetic warnings; if those involved listen and take heed to instructions, they avert troubles but if otherwise, they eventually happen. Unfortunately, most of these warnings have come to pass because the recipients don't follow divine instructions.
Among the most recent prophetic warnings that came to pass is the sudden attack on the main and largest military barracks and prison in Sierra Leone on Sunday, raising fears of a breakdown of order amid a surge of coups in the region.
The detention centers, including the Pademba Road Prisons — holding more than 2,000 inmates — were attacked just as security forces fought to restore calm during sustained shootouts at the Wilberforce military barracks, according to Information Minister Chernor Bah.
Due to this, Sierra Leone's President Julius Maada Bio announced a curfew.
"As the combined team of our Security Forces continue to root out the remnant of the fleeing renegades, a nationwide curfew has been declared and citizens are encouraged to stay indoors," he wrote.
Meanwhile, Primate Ayodele had foretold this exact situation in his annual prophecy book titled Warnings To The Nations (2023/2024) edition which was released in July 2023. He categorically mentioned that there will be an attack on the military in Sierra Leone.
These were his words
''The president will build connecting bridges that will lay the activities of his government. He must pray against attacks on their military''.
Just as Primate Ayodele noted in his prophecy book, an unprecedented attack was made on the largest military barracks in the country on Sunday by unknown gunmen. This has fulfilled the prophecy of Primate Elijah Ayodele.
Celebration TV Threatens Alkan Air With $2m Suit Over Repair Scam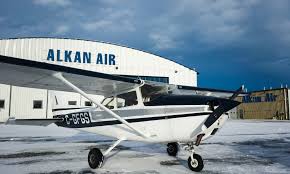 *Celebration TV Threatens Alkan Air With $2m Suit Over Repair Scam*
A Cairo based aircraft maintenance facility, Alkan Air, is in the eye of the storm. The facility is currently being threatened with a two million dollars suit by Celebration TV, owners of a Hawker aircraft who accused it of attempting to fraudulently take over the private aircraft three years after it was taken for repair.
According to investigation, the Hawker jet in 2020 was taken to Alkan Air for repair with a signed agreement that the plane would be fixed in six months. But, shockingly, we gathered, nearly three years after, Alkan Air has refused and neglected to execute its own part of the bargain despite that Celebration TV had paid the charges demanded for the maintenance running into several thousands of dollars.
While investigating further, this news medium stumbled on a mail sent to Celebration TV by Alkan officials suggesting that some interested buyers were willing to purchase the Hawker aircraft for a fee from which Celebration TV would be entitled to a commission, thereby capitalizing on the fact that if the Hawker is not repaired, it cannot be flown back to Nigeria as a result of restrictive international aviation regulations.
There was also a mail mandating Celebration TV to pay parking costs from January 2023. Yet, the jet has not been fixed let alone a certificate of release produced to the owner.
However, the Celebration TV promoter was said to have snubbed the idea, insisting that the jet be fixed and all overdue items be added at the company's cost and released to the owner or Alkan Air should be ready to meet them in court of law.
Sources revealed that the promoter of Celebration TV, a prominent Nigerian renowned for his no-nonsense disposition and commitment to fight for justice at all cost, has vowed to do legal battle with Alkan and he has reportedly begun plans to institute a two million dollars case against Alkan Air, while he also vowed to even drag the matter before the International Court of Arbitration in London, if necessary.
And given what was gathered from people close to the Celebration TV promoter, Alkan Air had better be ready for a long fight because he is renowned for doing legal battles with governments and institutions in Nigeria.