Nigeria @ 62 ; Do not be deceived with campaign or party manifesto – Youth Coordinator warns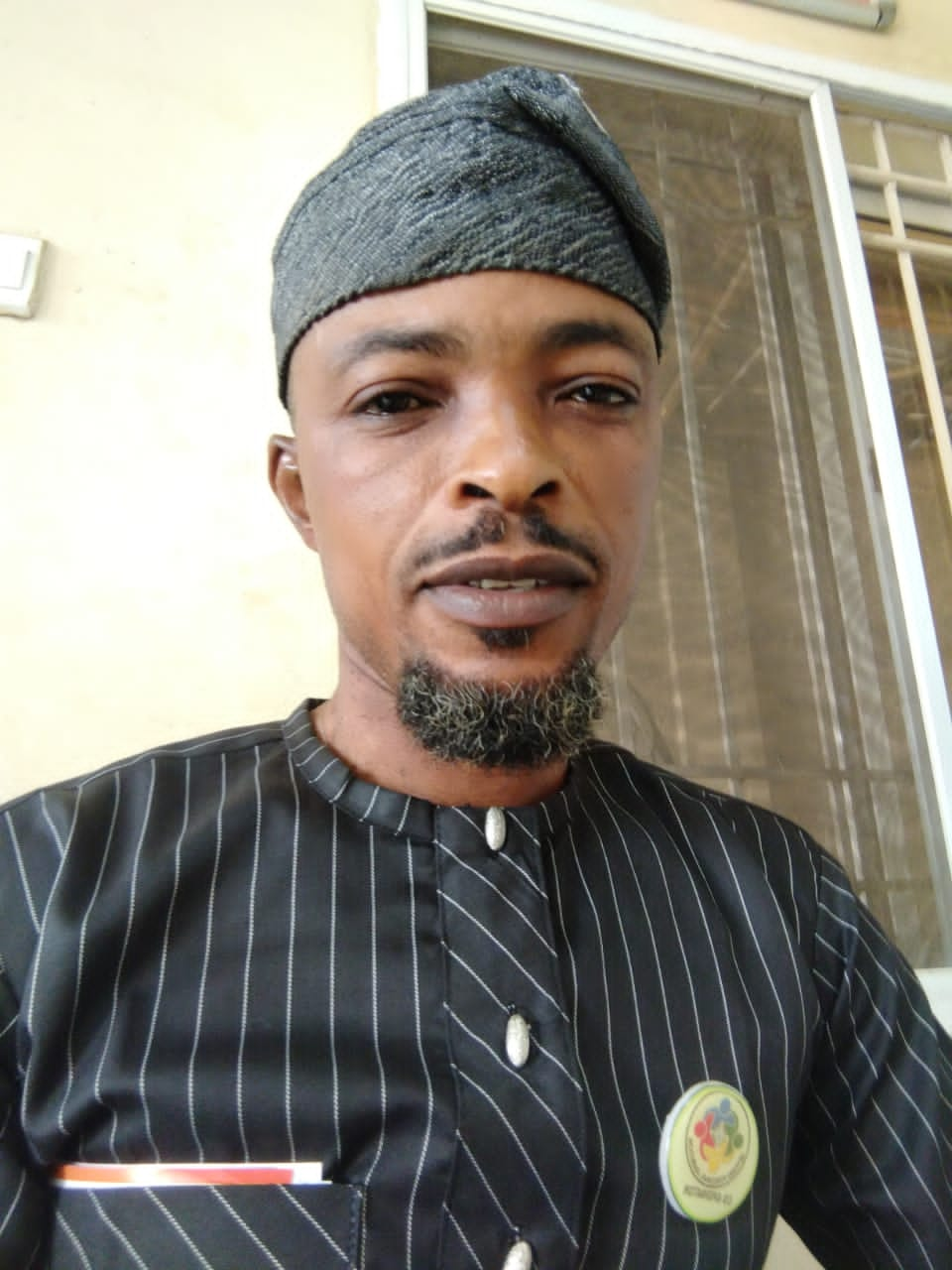 Nigeria @ 62 ; Do not be deceived with campaign or party manifesto – Youth Coordinator warns
By Ifeoma Ikem
Prince MUSEDIQ KAMORU, the Ijede Youth Coordinator in Lagos has warned electorates not be deceived with campaigns or manifestos of political parties saying it can only get better if Nigerians re-trace their steps from where they got it wrong.
KAMORU gave the warning in a statement released through e-sign on Nigeria @ 62 message titled the largest and most populous country in Africa called Nigeria @ 62 : the tragedy.
He described 1st October 1960 as the day the giant of Africa got her Independence from the great Britain, the day our heroes and heroines efforts were crowned, the day we felt we were free from bondage, the day we thought were matured to paddle our canon.
"I can recollect during my elementary school days when we celebrated the Independence, when large number of students will converge in an open venue with our uniform well and neatly ironed, happily lined up for procession, flying our national flag.
"It was an existing moment for us all because so much hope for a better Nigeria were given to us," he said.
According to him, 'Does any parent care again ? since the hope has crumbled before us. Remember, those excited students are now the sad parents.
"The same music our parents heard is what we are still dancing now. What a country? He queried.
He pointed out that EndSARS saga is still fresh in the memories of Nigerians where many young promising Nigerians were killed in a peaceful protest .
"The report of the monster that gave the shoot at sight order is still yet to be unveiled since the investigation was launched.
"And the culprits are walking freely around the world. Our hearts are still heavy, we are still bleeding and mourning our fallen heroes that lost their lives for us to live.
He frowned that students are still at home roaming the street hopelessly at the eight month of unending strike.
"The whole session is being jettison because of some selfish individuals that lack understanding of taking education as a priority thereby making our youths lose interest in education and exposing them to ungodly act while their children study abroad".
He wondered whether the independence is worth celebrating?
"A country where education is being taken with levity, making our graduates not employable and promoting immoralities.
"A country where health sector is in a sorry state and worrisome, even the leaders can't trust the ability and capability of our doctors.
"Where our security can not be guaranteed and our existence is threatened. Only who can afford bullet proof cars and gadget can be averagely secured.
"Where terrorists and bandits were having the most sophisticated weapons worth millions of dollars and our security agents are with weak and outdated weapons and gadget. Even the indigenous securities were given locally made weapons to chase terrorists".
He said that banditry and kidnapping are being stylishly legalised and have become the source of livelihood for some people.
"Our country is where the rich natural resources only work for the few thereby making them rich, influential, mighty and untouchable while the poor masses are exposed to suffering, pains and agony.
"Where bills are promptly passed when it favour the few mighty ones, reasonable part of the budget takes care of the legislatures and executives, our Naira falling everyday against foreign currency thereby making living so unbearable for the poor masses.
KAMORU also added that even the judicial system is corrupt and can not be trusted noting that the law is actively strong against the poor but very weak and slow against the rich and influential.
" Our county is where the copy and paste of memorandum is applicable all the time, the same campaign, same names , same people, same manifestos and same propaganda.
"They sound so humble and accessible during campaign, promising to be a good leaders and listeners but become rude and narcissist when they get our votes. So pathetic.
"Another elections are around the corner, it is good to put on our thinking cap and do the needful. We cannot change anything if we don't come out to exercise our franchise. The power to salvage our country lies on us
"Lets all pray to God to chose for us, don't be deceived by their campaigns or party manifesto.
It shall be well with us, Nigeria will become great and land of peace", he concluded.
Breaking: Court Affirms Toyin Amuzu As The Authentic PDP Reps Candidate Of Abeokuta South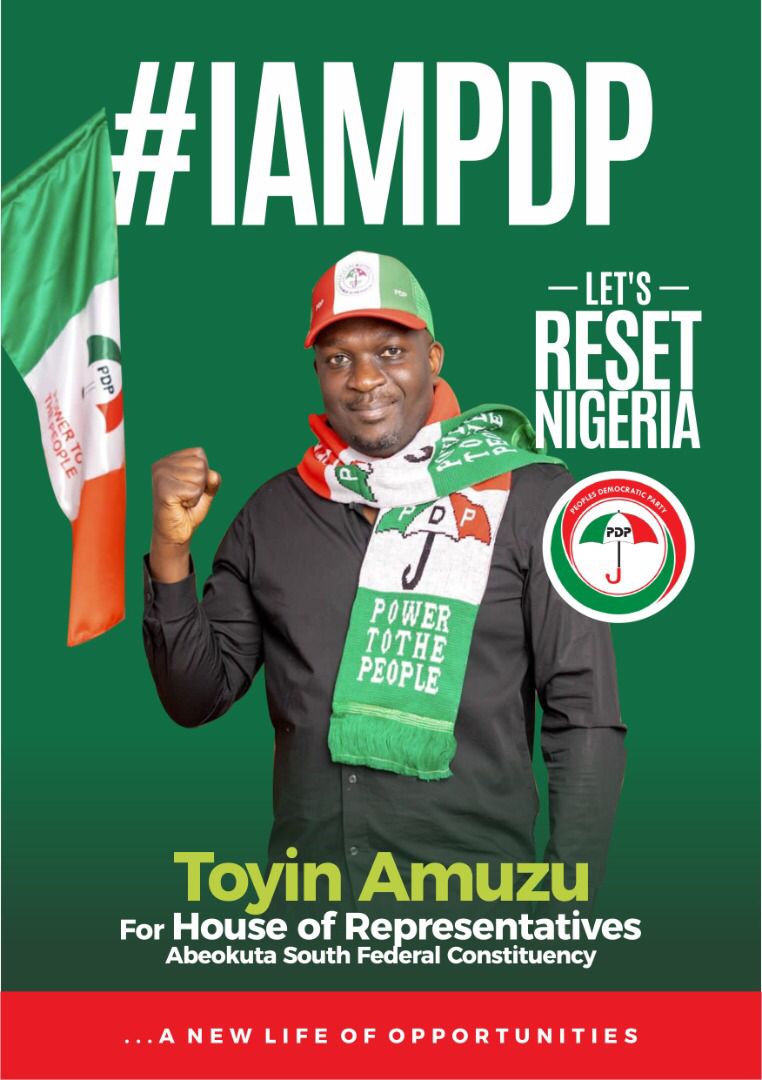 Breaking: Court Affirms Toyin Amuzu As The Authentic PDP Reps Candidate Of Abeokuta South
The court of appeal sitting in Ibadan today affirmed Chief Toyin Amuzu as the authentic People's Democratic Party, PDP candidate to contest for the house of representatives seat, in Abeokuta South Federal Constituency.
The case brought by Hon. Akeem Amosun was dismissed and thrown out for lack of merit.
More details soon …
Congratulations to the PDP, and the good people of Abeokuta South .
Abiodun: I never paid $50,000 to Rufai for bringing investors to Ogun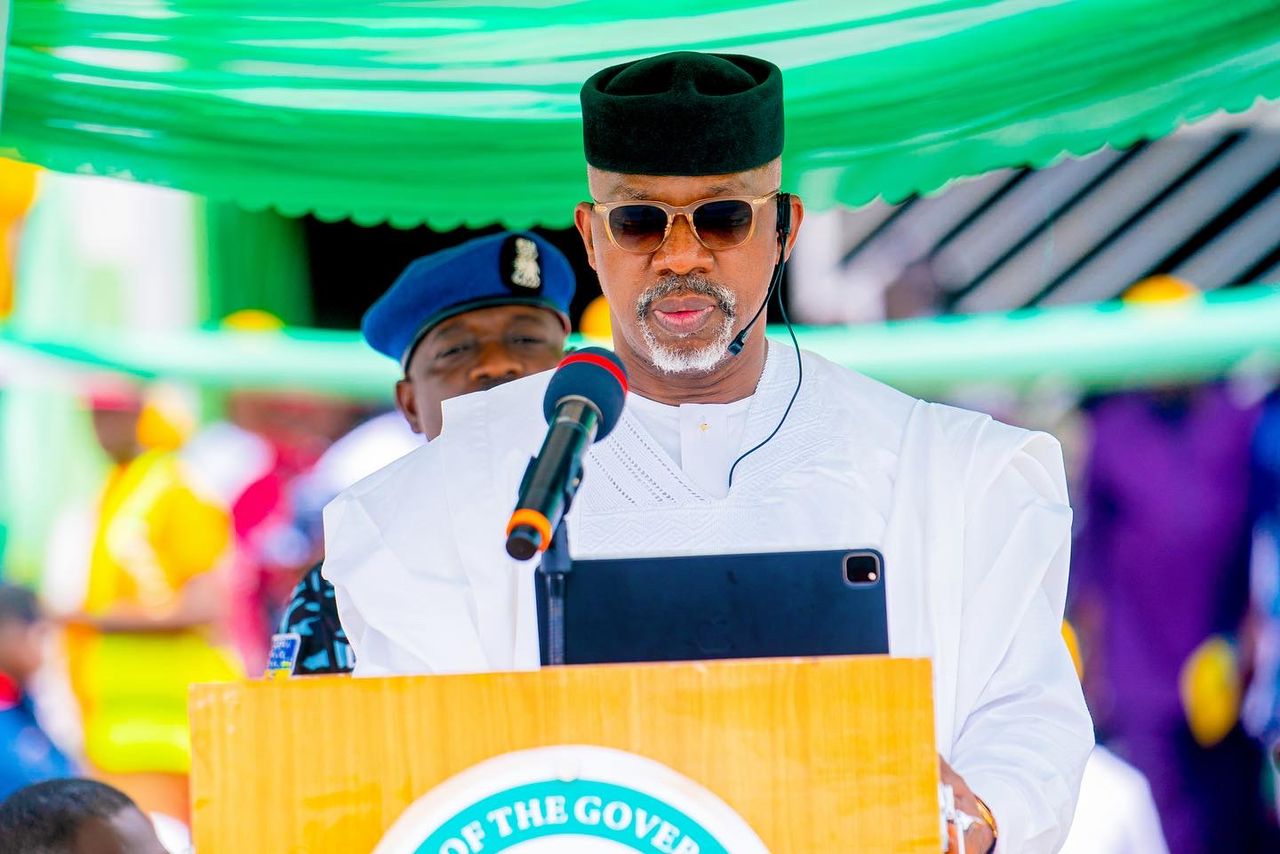 Abiodun: I never paid $50,000 to Rufai for bringing investors to Ogun
…says no single investor came through former aide
The Ogun State government has refuted the report published by an online news medium, People's Gazette, that the state governor, Dapo Abiodun, was paying $50,000 to his former aide, Bidemi Rufai, each time he introduced people to him.
In a statement signed by the Chief Press Secretary to Governor Abiodun, Kunle Somorin, on Sunday, Rufai, who was appointed by the governor as his Senior Special Assistant on Housing, never had any close relationship with the governor, prior to his appointment.
According to Somorin, Rufai, like other aides of the governor, was recommended from his ward for the appointment, and not because of any special favour he offered to the governor during his gubernatorial campaigns in 2019.
The statement further faulted and denied the claims in the report that Rufai was being paid $2,000 as his salary, which according to it is not only "outrageous but baseless. Salaries and wages are fixed and no member of the government is permitted to any other allowances not known to law.
Somorin added that records in the state never showed that Rufai, while serving in the state, brought a single investor or facilitated any investment from the United States of America, wondering how the former political aide would then be paid $50,000 for a deal that never took place.
'Bidemi Rufai was appointed as.a Senior Special Assistant to the Governor on Housing, and was nominated for appointment barely three months before he was arrested.
"He had not resumed formerly and had no official office to transact business. He wasn't part of the Ogun State Economic Management Team and have got no input into the state government activities. His appointment was based on his activities in his ward. He didn't sit in the State Executive Council Meetings and couldn't have had inputs in policies of the state government.
"The governor had no deal with Rufai on any transaction . He brought not a single one. They can check with the US embassy", Somorin stated in the statement.
The CPS noted further that Governor Abiodun being a law abiding person and respecter of the rule of law, immediately suspended Rufai after his arrest for fraud in the USA and later terminated his appointment, even before his conviction for the crime by the US court.
He stated Nigeria is currently in the political season, which is an auspicious time for unscrupulous politicians to attack or sponsor attacks against the incumbent, hence, timing of the concocted and untrue news.
He said that the political enemies of the governor, who are perhaps not happy with his rising profile, particularly in terms of huge foreign investment drive and infrastructural development of Ogun, might want to play up the issue of Rufai to tarnish the governor's image.
Somorin, while calling on the people of the state to disregard the report as a mere "attention seeking" gambit, said that Governor Abiodun would not rather be perturbed by the report, but remain focussed on his mission to position Ogun as number one investors' preferred destination in the country.
He added that the governor would not be distracted by the antics of political traducers within and without Ogun, submitting that Governor Abiodun will continue to be just, fair, accountable and equitable governor he promised to be.
Governor Adeleke Frowns at Delay in Payment of November Salary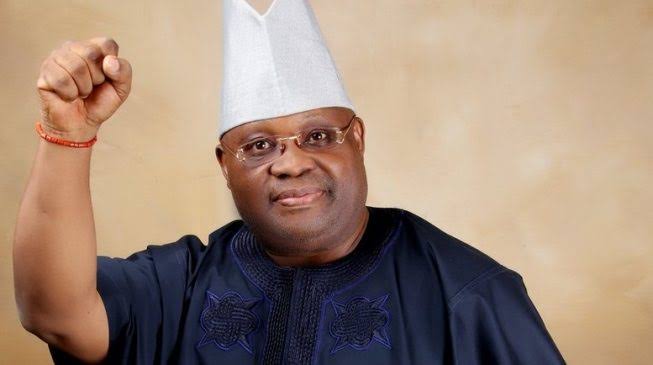 Governor Adeleke Frowns at Delay in Payment of November
Salary
●Orders Submission of Salary Schedule within 24 Hours
Governor Ademola Adeleke has frowned at the delay in the payment of November salary, ordering the submission of salary schedule to relevant office within 24 hours.
Issuing the directive after taking briefing from the Federal Ministry of Finance, Governor Adeleke instructed the desk officer to ensure complete submission by outstanding agencies.
Top officials of the ministry had attributed the delay in salary payment to the failure of some agencies to submit their salary schedule on time.
Governor Adeleke consequently directed immediate conclusion of the processes, affirming that his administration is averse to inconveniences the delay has forced on the state workforce.
Signed:
Mallam Olawale Rasheed,
Spokesperson to the Executive Governor