Nigerians celebrate the heroics of August Agboola Brown against Adolf Hilter's Invasion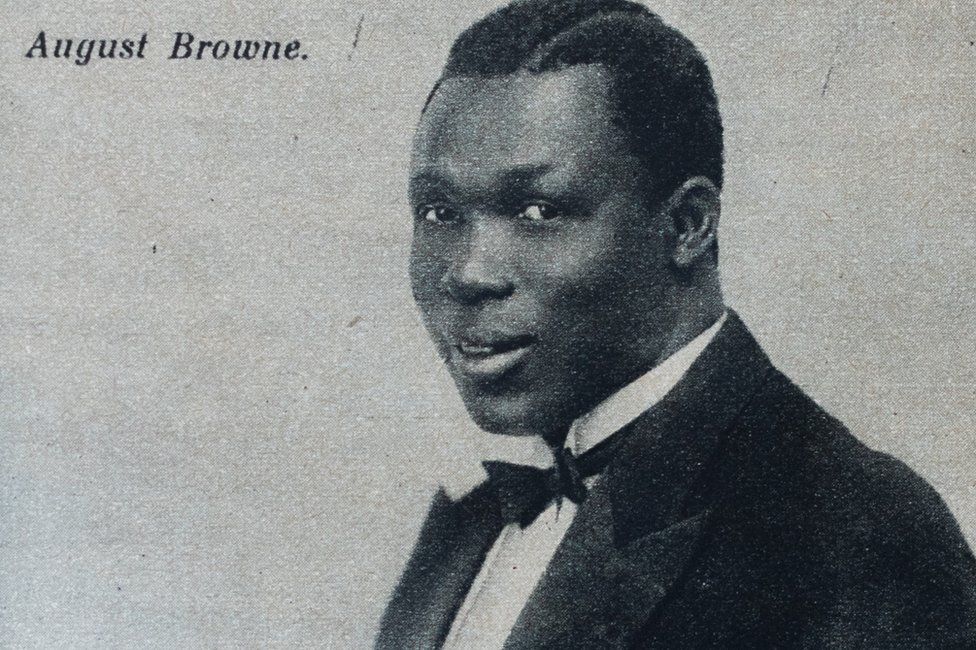 Nigerians celebrate the heroics of August Agboola Brown against Adolf Hilter's Invasion
Nigerians living in Poland, on Monday, gathered to celebrate the heroic exploit of August Agboola Brown during the invasion of Warsaw by the Adolf Hitler controlled Nazi German soldiers between 1939-1944.
August Agboola Brown, according to history, was the only African descent and a Nigerian who fought on the side of the Resistance Army of Poland with the codename "Ali" during the World War II to put the German soldiers in check. About 200,000 Polish were said to have perished in this brutal uprising.
The event said to have been sponsored by Afro Euro Investment and International Afryka Shop Warszawa, Poland among others had in attendance Nigeria Ambassador to Poland, His Excellency, Christian Ugwu, Dr Tade Omotosho, NIDO Poland President, Prince Adekunle Adebayo Ayoola, Mrs Patience Okiyi and Dr Emmanuel Kalejaiye from Nigeria Embassy in Poland.
Others are Mr. Krzysztof Kopytko of Ministry of Foreign Affairs, Sub-Saharan African Division, Mrs. Iwona Woicka-Zuławska (Director of Economic Relations, Ministry of Foreign Affairs.
Dr. Lucyna Żbikowska as well as Izabela Janiszewska among other Nigerians resident in Poland.
Leading Nigerians to join Poland to mark the 78 years anniversary of the World War II in Warsaw on Monday, Dr. Lateef Erinfolami from the Nigerian Professionals in Diaspora Organization, Poland (NPIDOP) and the Chairman, Local Organising Committee of the programme said that the event was an opportunity to salute the sacrifice and bravery of Mr. Agboola Augustus Brown while also paying tribute to all the heroes and victims of the Warsaw uprising.
Thanking the Polish government for allowing the construction of cenotaph for the late war veteran as well as commemoration of his heroic feats every first day of August when Warsaw Uprising anniversary is marked, Dr Erinfolami said the government of Poland should further immortalise Agboola by naming streets around Poland in his name and establishing a Science and Art Foundation
for young Africans in his remembrance.
Dr Erinfolami said "we the Nigerian diasporan in Poland appreciate all the people and Historians who brought to us the life and history of Agboola Brown and his heroic contribution to the Warsaw uprising.
"We thank the "Freedom and Peace Foundation" and the City of Warsaw under the presidency of Mr. Rafal
Trzaskowski for the recognition of Mr. Agboola which has made our commemoration possible today.
"In the name of all African association and African residents in Warsaw and Poland in general we say your fight is our fight, your Hero is our Hero just as we enjoy the comfort and welcoming friendship of the polish people.
"Today, as we commemorate the sacrifice and bravery of Mr. Agboola Augustus Brown, we pay tribute, by bending our heads, to all the heroes of Warsaw Uprising, both the anonymous ones and those remembered in historical documents, we pay tribute to the memories of the heroes and victims of World War II and the victims of Nazi genocide.
"Additionally, we recognize the multitude of African men and women who are making their mark daily to promote the good image of their mother nation and the adopted Land of Poland. We recognize you for your sacrifices and dedication".
Mr. Agboola was said to have been born in Lagos, today Nigeria on 22nd July 1895 to Father Mr. Wallie and Mother Jozefina daughter of John who is believed to be of Polish origin.
However, much is said not to be known of Agboola's Polish lineage as it still couldn't be proved and this is even said to be contrary to how he was referred to in the press after his marriage as an authentic black man marrying an authentic white woman. It is generally safe to say Agboola was an authentic African man from today Nigeria.
Agboola after his secondary education was said to have joined his grandparents on the farm but later opted for adventure to the new world on a merchant ship as a Sailor.
In England, he was said to have joined a touring Jazz group, playing around Europe from where he later landed in Poland in 1922.
From several publications and archival records; Mr. Brown lived at Złota Street in Warsaw. He was a professional Jazzman and worked in clubs. His first album was recorded in 1928 which was historic as he was possibly the first African musician to have achieve this in Europe at that time.
Agboola reportedly got married in Krakow to a Polish woman in person of Ms Zofia Pykówna, they had two sons – Ryszard (Richard) in 1928 and Aleksandra (Alexandra) in 1929. His friends and neighbors were said to have remembered him as a very intelligent, courteous person, and a polyglot (he spoke six languages).
Unfortunately, in 1939 Poland became the first victim of Nazi declaration of War on Europe. Warsaw was occupied, Agboola was said to have volunteered to use his knowledge and insight within the city as an asset in the ranks of the resistance Polish Home Army, the biggest partisan force in World War II.
Since every resistance soldier is referred by his/her Alias, Agboola Brown chose the nickname "ALI" and he daringly toiled, defending the city of Warsaw alongside the brave men and women of the Polish Home Army (Armia Krajowa) notwithstanding the ruthless Nazi German occupation force until its final hour.
As confirmed in several archival documents, where one can read:
"Home Army -1st District "Radwan " – Sub-District "Sławbor" – Battalion "Iwo". His immediate commander was Corporal Aleksander Marcińczyk code-name "Łabędź" [- Swan]. (the end of ąuote)
Among the memories, one can also find the testimony of Jan Radecki code-name
"Czarny", who confirms that he saw "Ali" "at the command post at 74 Marszałkowska Street,
and fought together with him, shoulder to shoulder, in August 1944 ". (the end of quote)
The end of struggle came, when Hitler ordered the annihilation of Warsaw, killing over 200 000 people with total destruction of Warsaw infrastructures and buildings. Fortunately, Agboola survived the war.
Although, there is said to be little reliable information on his life after the war. It was reported that he worked in the Department of Culture and Art of the City of Warsaw around 1949.
It was also learnt that he played an episodic role in 1953 Polish propaganda movie "Żołnierz Wolności"
("Soldier of Victory") about the life of communist general Karol "Walter" Świerczewski.
Agboola later emigrated to United Kingdom in 1958. There he lived anonymously for almost two decades and passed away 8th September 1976.
FG Deploys 10,000 Booklets To New P/Harcourt Passport Production Centre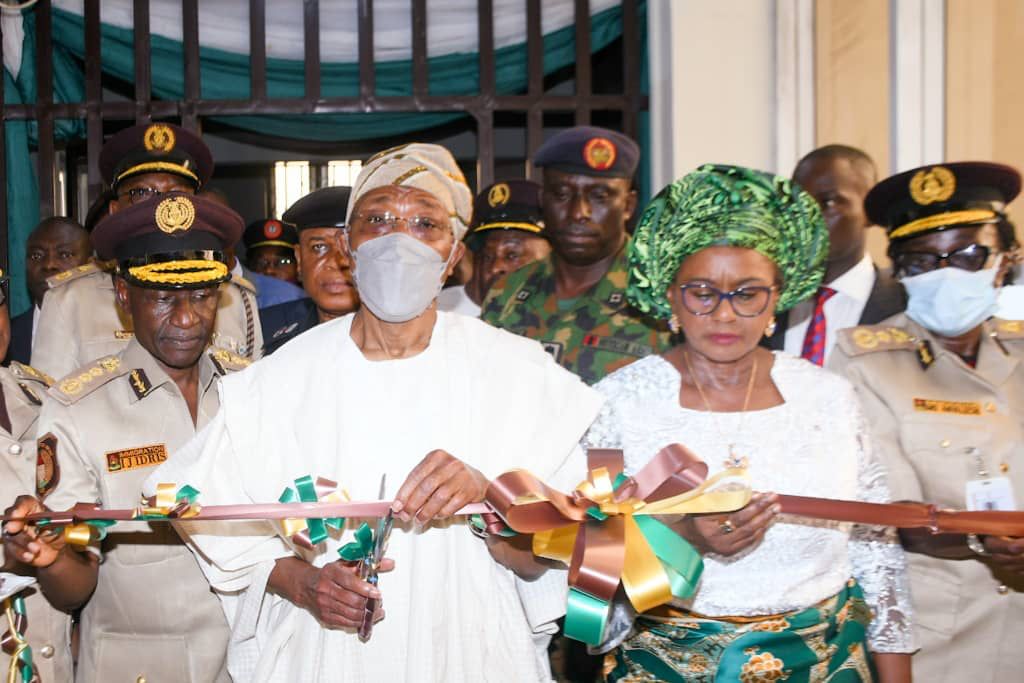 FG Deploys 10,000 Booklets To New P/Harcourt Passport Production Centre
There is no shortage of booklets again for the production of passport in Nigeria, the Federal Government has revealed.
This was made known by the Minister of Interior, Ogbeni Rauf Aregbesola, at the commissioning of the Enhanced Passport Production Centre in Port Harcourt, the Rivers State Capital on Tuesday, 9 August, 2022. The newly commissioned passport centre will now be responsible for the production of passport demands from Rivers, Cross Rivers, Akwa Ibom and Bayelsa States.
"We have left no stone unturned in our quest to make passports available to Nigerians. Last year alone, we provided 1.3 million passports to Nigerians. As of today, there is no booklets shortage in Nigeria.
"As at the second quarter of this year (in June), the NIS have provided 645,000 passports out of the 750,000 applications received. To address the challenge of the backlog, we have sent 11,000 booklets to Ikoyi, 11,000 to Alausa and 8,000 to FESTAC centres in Lagos.
"We have also sent sufficient booklets to all the centres nationwide to address this challenge. There is therefore no excuse again for delay and non-issuance within a reasonable period," Minister told the cheering public.
The Minister also urged the listening public to make sure they apply by themselves online to avoid being shortchanged by unscrupulous elements.
"I will urge applicants for the Nigerian passport to apply early enough before their travel date to avoid cutting corners and falling into the hands of scammers and other opportunists. It is important also that they apply by themselves at the Nigeria Immigration Service portal and not through touts and unscrupulous officials, which often bring heartaches.
"We have provided a window of six weeks and three weeks for fresh application and renewal respectively, after biometric data capture, by which time, other things being equal, the passport will be ready for collection. This timeline is to enable NIS investigate and validate the claims of applicants and confer integrity on the passport issued. It is a reasonable provision in passport administration by global standard. There is no wait-and-get passport service anywhere in the world. The only wait-and-get passport is passport-sized photograph from Polaroid camera," the Minister stated.
The Minister further stated that the Passport Production Centre launched today will serve applicants from Rivers, Cross Rivers, Akwa Ibom and Bayelsa States, but was quick to add that it doesn't confer any advantage or disadvantage on any of the centres, noting that a deployment of 10,000 booklets has been deployed to serve the fours states with immediate effect. He also stated that there are currently no backlogs in any of the four states.
"The production centre we are launching today will serve Rivers, Cross Rivers, Akwa Ibom and Bayelsa States for production purpose only. It doesn't confer any advantage or disadvantage on the applicants in any of the four states. It's simply a production centre.
"We have also delivered 10,000 passports to this centre. This is in addition to the fact that there are no backlogs to be cleared. In some advanced countries we often like to cite, it takes months to procure their passports. But in addition to the standardized timeline, we have also introduced tracking mechanism in the application process, to enable applicants monitor the progress of their application.
"We are also introducing data capture centres all over the country before the end of this year, to eliminate physical contacts with NIS officials. We shall continue to introduce necessary and available innovations to passport administration in order to best serve applicants in our quest for establishing citizenship integrity," the Minister stated.
While speaking, Governor Nyesom Wike, who was represented by his Deputy, Dr. Ipalibo Gogo Banigo, promised to continue to support the Nigeria Immigration Service in the state, as it was the policy of his administration.
"We would continue to support the Nigeria Immigration Service, just as we provided the building now housing the production centre.
"Just as we provide support to all security agencies in the state and in particular, the agencies under the ministry of Interior, we would continue to prioritize the welfare of the citizens of the state," Gov. Wike stated.
During his opening address, Acting Comptroller General of the Nigerian Immigration Service, Idris Isah Jere, revealed that the service will no longer condone any act of indiscipline by officer, noting that they must be professional in carrying out their assigned duties.
Also at the event were: the General Officer Commanding, 6 Division, Nigerian Army, represented by Brig. General EC Echebuwe; Commander, 115 Special Operations Group, Group Captain AA Opaleye; Commissioner of Police, Rivers State Command, Mr. Friday, Eboka; Controller of Customs, Rivers State Command, Dappa Williams; Rivers State Director, Department of State Services, Mr. Mohammed Shittu; Sector Commander, Federal Road Safety Corps, Umar Salisu Galadunchi; Rivers State Commander, National Drug Law Enforcement Agency, Mark Balm; amongst other dignitaries.
Gov. Akeredolu Confirms The Arrest of Owo Church Attackers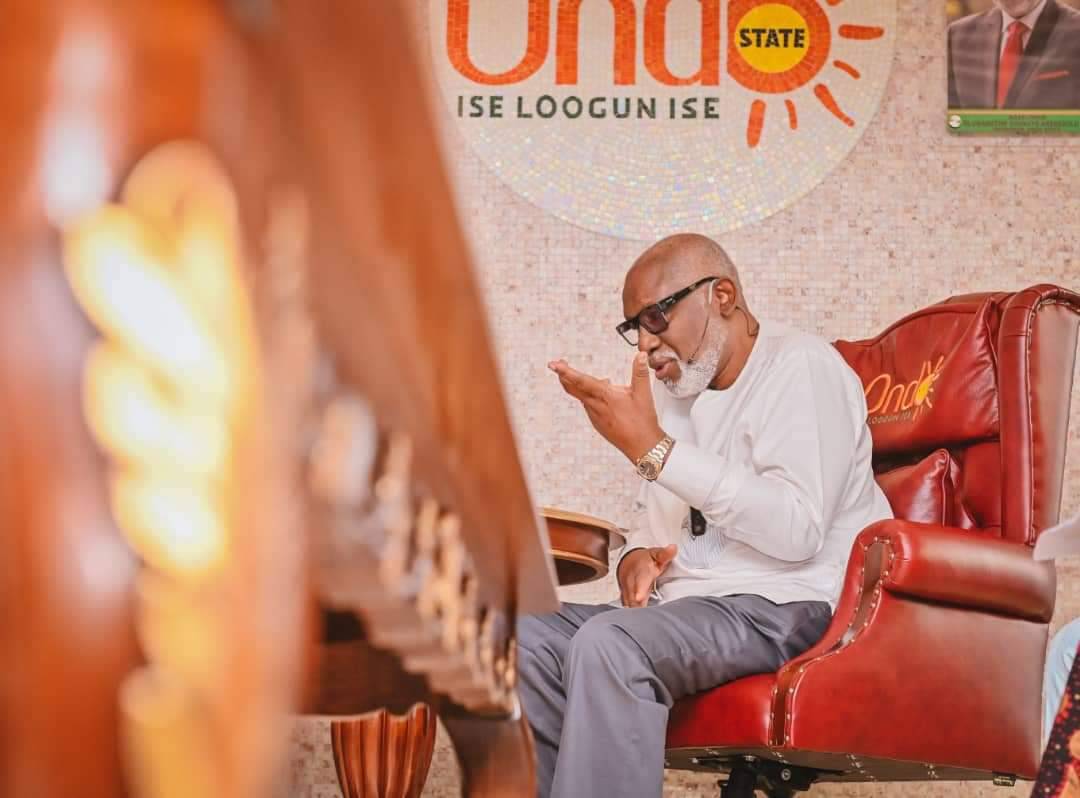 Gov. Akeredolu Confirms The Arrest of Owo Church Attackers
Ondo state governor, Governor Akeredolu has confirm that the terrorists responsible for the owo attack has been arrested. He took to his twitter page to affirm what the defense minister said in the early hours of Tuesday about the arrest.
On his twitter page he said: "I am happy to announce that we have confirmed the arrest of the attackers of St Francis Catholic Church, Owo. The Chief of Defence Staff, Gen. Lucky Irabor has also announced it. We have known for a while but we needed not to come out with it because more works are still ongoing.
Five of the attackers have been arrested, including the owner of the house in Owo where the attackers stayed before the June 5 attack, while the security operatives are still on the trail of some of them.
We did not spare a moment in trailing the terrorists since the horrendous attacks on innocent worshippers. We will continue to give the necessary supports to our security agencies towards protecting the lives and property in the State."
Recall that on June 5, some group of terrorists attacked a church in owo leading to loss of lives.
Air Peace announce suspension of flight To South Africa Over cost of Aviation Fuel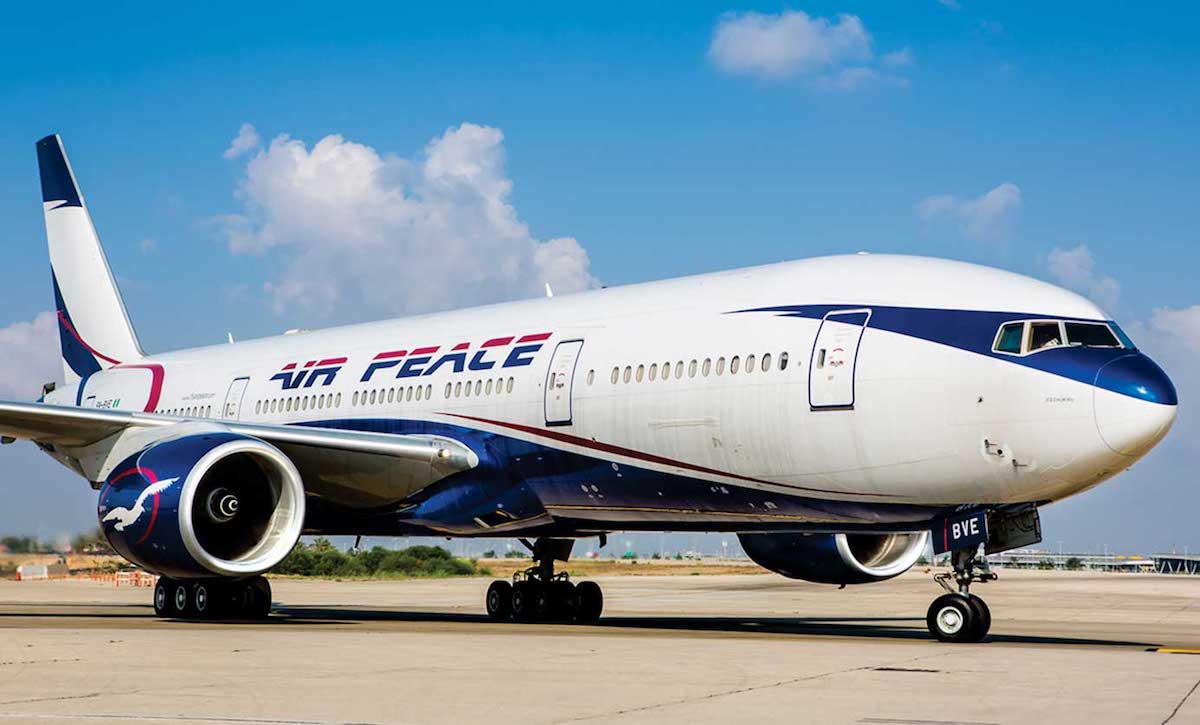 Air Peace announce suspension of flight To South Africa Over cost of Aviation Fuel
Air Peace has announced the suspension of flight services to Johannesburg, South Africa, effective from 22nd August 2022.
The Airline, in a statement, cited the increasing cost of aviation fuel, worsening forex scarcity and the delay in the issuance of visas to intending passengers.
It also urged passengers whose flights are affected to reschedule before 22nd August, 9th October or request a refund.
Air Peace also expressed optimism that the issues which had caused the suspension would be addressed before October.
The statement read: "We hereby inform the flying public that effective from August 22, 2022, our Johannesburg flight operations will be suspended till October 8, 2022.
"This development is regretted but has become inevitable due to the delayed issuance of South African visas to travellers, worsening forex crunch and the increasing cost of aviation fuel as well as its scarcity.
"However, having informed the South African High Commission in Lagos of the effects of the difficulty in getting SA visas by Nigerians, which consequence is the abysmally low passenger loads on our flights to and from Johannesburg, we believe that the situation will have improved within the next 60 days. Hence, our willingness to resume operations on the October 8, 2022.
"Passengers whose flights are affected have the option of rescheduling to fly before August 22, 2022 or from October 9, 2022. Passengers can also request a refund.
"We apologise for the inconveniences caused and will keep the public updated while we hope the situation improves."