Mid-season: NPFL Top Scorer, Ishaq Kayode Applauds Eunisell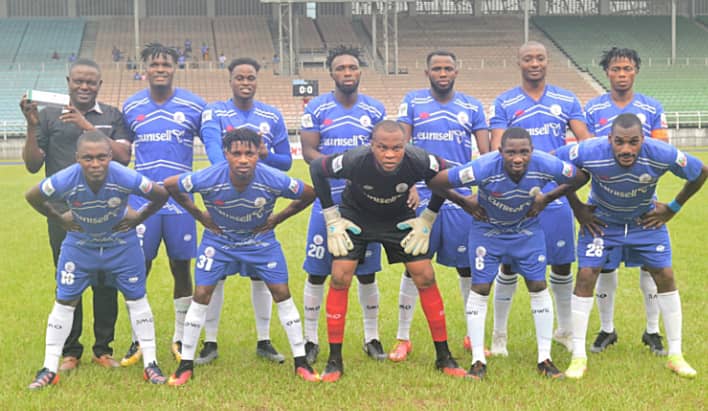 Mid-season: NPFL Top Scorer, Ishaq Kayode Applauds Eunisell
Leading scorer of the 2021/22 season of the Nigeria Professional Football League, Ishaq Kayode has lauded Rivers United FC sponsor, Eunisell Limited, for its role in the club's impressive performance in the first half of the season.
Rivers have been the best team midway into the season, with the Port Harcourt-based club currently topping the NPFL log with 42 points from 19 games, and also having the league's two top goal scorers in their ranks.
Speaking on Tuesday, Ishaq attributed the club's impressive season to hard work and support from Eunisell.
Eunisell is West Africa's largest specialty chemicals and oil and gas productions solutions company and has consistently sponsored Rivers for over five seasons.
"With our performances up till the mid-season, I will say kudos to our sponsor, " the striker said.
"They have greatly fueled our energy and the sponsorship has been very helpful to our club. A lot has changed in the last three seasons. There are more sponsorships and supports in the league, and that is helping to promote our league. With Sponsors like Eunisell and the good coordinators we have, we are happy to keep going stronger. The league has improved and that is quite encouraging."
Ishaq who joined the top club in 2019 believed that similar sponsorship deals, more supports from corporate organsations for the NPFL and "bringing back the NPFL TV for robust match coverage will go a long way to grow local football league in Nigeria."
According to the prolific player, what has kept the team going was " the winning mentality both home and away, and it helped us a lot. We saw all our matches like the final that we must win, and we worked as a team."
He pledged that the team will fight hard for the league cup and go all the way to the continental championships to make fans and stakeholders proud.
He noted that officiating has improved remarkably and that has encouraged players to go all out for results.
"Refereeing has been better and helped to improve the league a lot, because they let us know that we can win both away and home games now" he remarked.
Rivers United has won twelve games, drew six and lost only once by a lone goal from Plateau United's Akila Jidima, out of the first nineteen games of the season.
Speaking in the same vein, the team's captain, Austin Festus, said Eunisell sponsorship has boosted the game and players psyche.
"The sponsorship of Rivers United by Eunisell has been a great boost. Kudos to the company. Seeing Eunisell in front of our jersey is quite encouraging and we need more of this to improve the league," he stated.
"As captain, I'm also very impressed with the Eunisell Boot Award which gives N200,000 premium per goal to the league's highest goal scorer at the end of the season. This makes us look forward to the reward every season and engineers a good sense of competition among players," the skipper added.
Festus who has played for sixteen years professionally in the NPFL noted that the league has improved significantly in the last few seasons in terms of officiating, quality of game and players, international invitations as well as players welfare.
In his reaction, Eunisell's Managing Director, Chika Ikenga, expressed excitement over the club's mid-season performance and urged them to go all the way to make fans proud at the end of the season.
"As a partner, we are glad about the club's doggedness and impressive mid-season results. We encourage them to keep the rich vein of form running as long as they can.
"Eunisell believes that we can fashion out a partnership with Rivers United and become a winning team and that is why we have stayed with them for the long haul," Ikenga noted.
Augustine Hat-Trick Puts TY Buratai Academy in Governor's Buni Swearing In Semi-Final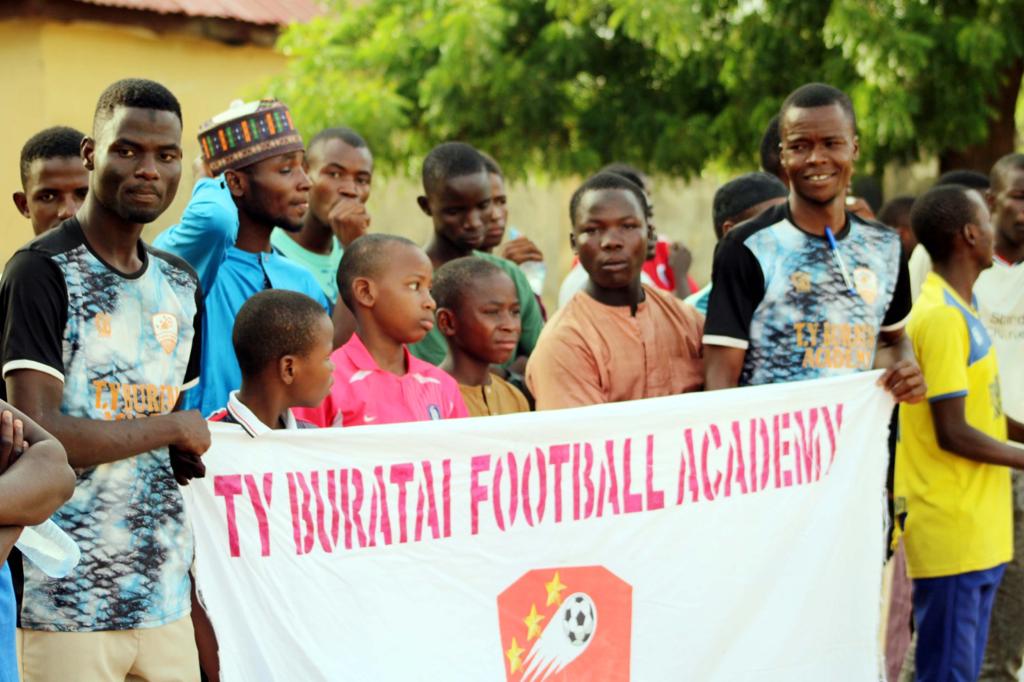 Augustine Hat-Trick Puts TY Buratai Academy in Governor's Buni Swearing In Semi-Final
Augustine scored a hat-trick to send TY Buratai Academy to Governor's Buni Swearing In semi-final with a 4-1 win over Bade Academy in the quarter-final at the Police Area Command Football Field Damaturu on Thursday.
TY Buratai Academy win came in the first half of the game.
In the 28th minute, Ukasha tied the game to give Buratai Academy a 1-0 lead, and later Augustine add the Second Goal in 46th Minutes in 73th minutes Augustine scored a brace to Extend the lead to 3-0 .
Bade United scored their first and only goal in the 80th minute of the game to make it 3-1 by Pires.
Augustine's decisive goal came in 82nd minutes it looks like it was from the offside position, and his third caused debate.
Bade continue the game with 10 men at 85th minutes after the officials sent off their defender for two yellow cards.
TY Buratai Awaits winner between Potuskum Academy and Nguru Academy which will be played tomorrow Friday.
The Two Nigerians On Forbes List Of World's Highest Paid Athletes 2023
The Two Nigerians On Forbes List Of World's Highest Paid Athletes 2023
FORBES– The cutoff for the top 50 this year is $45.2 million, up an astonishing 20% from the previous record of $37.6 million, set just last year. In all, the 50 athletes hauled in an estimated $3.44 billion over the last 12 months before taxes and agents' fees, up 16% from last year's record of $2.97 billion.
Of that new total, $2.36 billion came on the field in the form of salaries, bonuses and prize money—an all-time high, of course, smashing 2022's $1.91 billion thanks in part to the Middle Eastern money pouring into sports. The off-field figure of $1.08 billion—from athletes' endorsements, appearances, licensing and memorabilia income, and other business endeavors—is also a new high, edging 2022's $1.06 billion.
#11 Giannis Antetokounmpo $87.6M
Athlete, NBA
– In December 2020, Antetokounmpo signed a five-year, $228 million supermax extension with the Bucks, with an opt-out after the fourth year.
– Antetokounmpo was named the NBA's MVP for 2018-19 and 2019-20 and was also defensive player of the year for the latter season.
– The first MVP nod triggered huge bonuses from sponsors like Nike, which extended its deal with the Greek Freak in 2017.
– Nike released the Zoom Freak 1 in 2019; it was the largest initial signature shoe launch in Nike basketball history.
– Disney secured a deal in 2020 to develop a movie around Antetokounmpo's life, along the lines of "The Blind Side." The film, titled "Rise," was released on Disney+ in June 2022.
Sponsors
Amazon, Breitling, Come Ready Foods LLC, Epic Games, Google, JBL, Meta, Nike, Unilever
#28 Anthony Joshua
$53M
Athlete, Boxing
– Joshua won his first 22 pro fights and was a world heavyweight champion from 2016 to 2019, until a stunning loss to Andy Ruiz Jr.
– The Brit avenged the loss later in 2019 with a unanimous decision. He lost twice to Oleksandr Usyk in 2021 and 2022 but got back on track with a win over Jermaine Franklin in April 2023.
– He has a massive social media following, with 26 million followers across Instagram, Facebook and Twitter.
Players With Zero Red Card in Their Careers
Players With Zero Red Cards in Their Careers
Sahara Weekly Reports For different breaches of the flow of ball play on the pitch, referees have different punishments for players who are found flouting rules and these are usually in the form of card bookings.
However, concerning the fact that some players have never been given a red card in their careers despite the longevity of their careers, there are 12 players in mind:
The 2022 Ballon D'or Winner has never received a red card in his career despite his long days of playing at Real Madrid.
This is not surprising considering the kind of personality Iniesta is known for.
The Bayern Munich legendary player did not receive any red cards throughout his active playing career.
The Real Madrid legend didn't receive any red card booking in the entirety of his career.
Lineker is one of the few players who wasn't booked a red card in their careers.
The former Chelsea forward player wasn't booked red in his career.
The Italian Ballon D'or Winner's name can't be left out.
Sir Stanley Matthews
Stanley was one of the players in history not to have a red card booking.
Ryan Giggs
The English international I'd also not booked in his entire career as far as the red card is concerned.
Pepe
This is appearing as a surprise to many people looking at how aggressive the Portuguese defender is concerning tackling and other roles on the pitch.
Joao Moutinho
This is another surprising one looking at the position the midfielder is playing.
Damien Duff
The former Chelsea player was not booked red ever in his career
.