OBASA'S CONTROVERSIAL SPEECH: ARE NON-INDIGENES AT RISK OF LOSING THEIR PROPERTIES IN LAGOS? BY DENNIS ISONG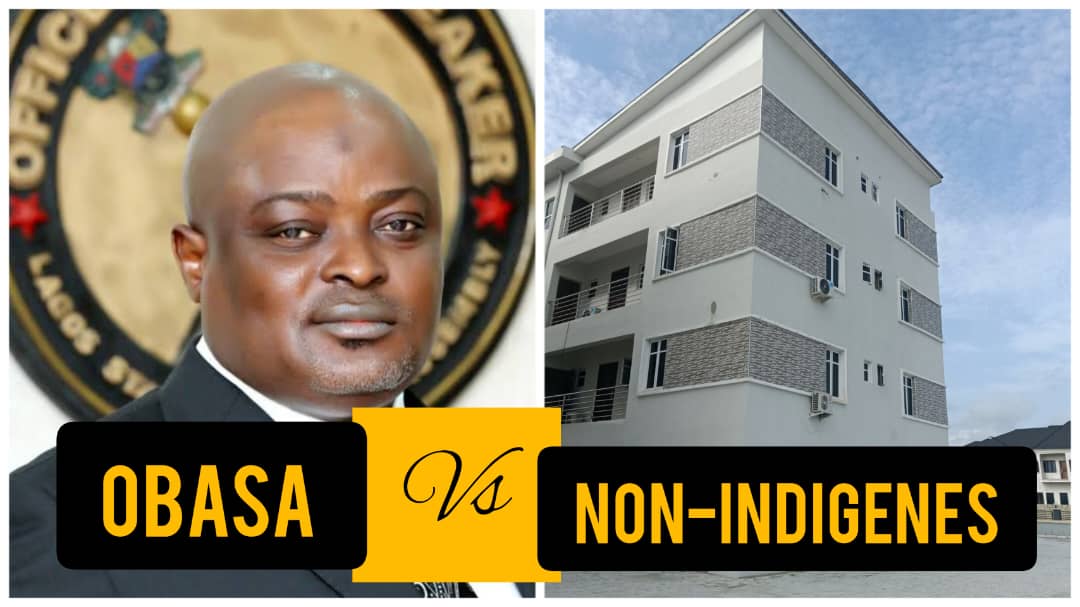 OBASA'S CONTROVERSIAL SPEECH: ARE NON-INDIGENES AT RISK OF LOSING THEIR PROPERTIES IN LAGOS? BY DENNIS ISONG
Sahara Weekly Reports That In his acceptance speech, Hon Mudashiru Obasa, the Speaker of the House of Assembly in the state, emphasized that Lagos is Yoruba Land.
He also expressed the commitment of the lawmakers to introduce legislation that safeguards the rights of the indigenes, even if it entails reversing existing laws.
Lagos, being the vibrant economic hub of Nigeria, attracts individuals from all corners of the country who are in pursuit of opportunities, growth, and an improved quality of life.
As someone who is not originally from Lagos, you may have concerns about the security of your property rights in this bustling metropolis.
However, it is vital to dispel any misconceptions and understand that being a non-indigene does not automatically imply that your property is at risk.
In this article, we will delve into the reasons why you need not worry about losing your property solely based on your non-indigene status in Lagos.
1) CONSTITUTIONALLY GUARANTEED PROPERTY RIGHTS:
The Nigerian Constitution, under Section 43, guarantees the right to own and acquire property for every citizen, regardless of their place of birth or indigenous status.
The law recognizes and protects the property rights of all Nigerians, including non-indigenes residing in Lagos.
This constitutional provision acts as a shield, ensuring that your property is secure and cannot be arbitrarily confiscated or taken away from you.
2) NON-DISCRIMINATORY LEGAL FRAMEWORK:
Lagos State, like the rest of Nigeria, operates under a legal framework that upholds the principle of non-discrimination.
The laws governing property ownership and transactions do not differentiate between indigenes and non-indigenes.
The Lagos State Land Use Act applies uniformly to all residents, ensuring equal treatment and protection of property rights.
This legal framework provides a level playing field, allowing you to enjoy the same property rights and protections as Lagos indigenes.
3) LAND TITLE REGISTRATION:
A crucial step in securing your property rights in Lagos is to ensure proper land title registration.
The Lagos State government has implemented various measures to simplify the process and encourage property owners, irrespective of their indigene status, to register their land titles.
Through the Lagos State Land Bureau, you can obtain a Certificate of Occupancy or Governor's Consent, which serves as legal proof of ownership and provides additional protection against disputes or unlawful claims.
4) JUDICIAL SYSTEM AND DISPUTE RESOLUTION:
Lagos boasts a robust judicial system that is committed to upholding the rule of law and ensuring fair resolution of disputes.
If you ever find yourself involved in a property-related conflict, you can seek redress through the courts.
The judicial system operates independently and impartially, ensuring that justice is served based on the merits of each case.
Non-indigenes have the same rights and access to the legal system as Lagos indigenes, providing a reliable avenue for resolving property disputes.
5) GOVERNMENT COMMITMENT TO INVESTOR PROTECTION:
Recognizing the importance of creating a conducive environment for investment, the Lagos State government is committed to protecting the rights of property owners, both indigenes and non-indigenes alike. The state government understands that sustained economic growth and development rely on the confidence and security of investors. To this end, various initiatives have been introduced to streamline property acquisition processes, promote transparency, and safeguard the interests of all residents.
6) EQUAL ACCESS TO PROPERTY OPPORTUNITIES:
Being a non-indigene in Lagos does not restrict your access to property opportunities. The real estate market in Lagos is open to everyone, regardless of their indigene status.
You have the same opportunities as Lagos indigenes to purchase, lease, or invest in properties across the city.
The market operates based on demand, supply, and fair competition, ensuring that your non-indigene status does not hinder your ability to acquire or benefit from property ownership.
7) ECONOMIC CONTRIBUTION AND DEVELOPMENT:
Non-indigenes play a significant role in the economic development of Lagos. Many individuals from different parts of Nigeria contribute their skills, expertise, and investments to the city, stimulating growth and prosperity.
The Lagos State government recognizes the importance of attracting and retaining non-indigene residents, as their contributions fuel the economy and enhance the overall development of the state.
Therefore, the government is motivated to provide a conducive environment for non-indigenes to thrive and protect their property rights.
8) COMMUNITY INTEGRATION AND DIVERSITY:
Lagos is renowned for its cultural diversity and harmonious coexistence among residents from various ethnic backgrounds.
Non-indigenes form an integral part of the social fabric of the city. Lagosians celebrate diversity and value the contributions of individuals from different regions.
The sense of community and inclusivity in Lagos ensures that non-indigenes are not marginalized but are embraced as part of the collective identity of the city.
This inclusivity extends to the protection of property rights, fostering a sense of belonging and security for all residents.
9)COLLABORATIVE GOVERNANCE AND POLICY FRAMEWORKS:
Lagos State adopts a collaborative governance approach that involves engaging with various stakeholders, including non-indigene residents, in the decision-making processes.
The state government recognizes the importance of incorporating diverse perspectives to develop comprehensive policies and frameworks that protect the rights and interests of all residents.
Through active participation and engagement, non-indigenes have the opportunity to contribute to shaping policies that safeguard property rights and promote inclusive growth in Lagos.
10) SOCIAL AND LEGAL SUPPORT SYSTEMS:
Lagos is equipped with social and legal support systems that assist residents, irrespective of their indigene status, in safeguarding their property rights.
Organizations, such as legal aid clinics and human rights advocacy groups, are available to provide guidance and assistance if you encounter any challenges regarding your property ownership.
These support systems work towards ensuring fairness, justice, and the protection of rights for all residents, reinforcing the notion that being a non-indigene does not put your property at risk but rather entitles you to legal support and protection.
Dennis Isong is a TOP REALTOR IN LAGOS.He Helps Nigerians in Diaspora to Own Property In Lagos Nigeria STRESS-FREE. For Questions WhatsApp/Call 2348164741041
Funmi Ayinke To Shut Down Abuja With Annual Thanksgiving On December 10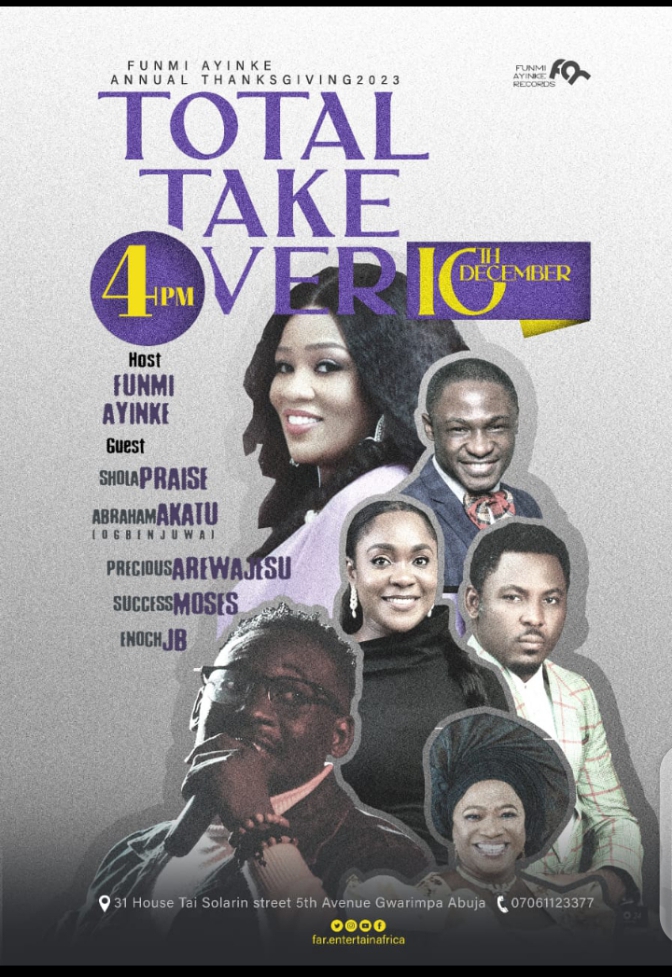 Popular engineer cum musician, Funmi Ayinke is set to shut down the whole of Abuja with her annual thanksgiving on Sunday, 10th Of December, 2023.
The event which has been tagged 'Total Takeover' is basically to appreciate God for 2023 and put the coming year in his hands through worship.
According to Funmi Ayinke, It is not an entertainment programme but a spirit-filled event where people will worship God in truth and in spirit.
''It is not an entertainment event but a spirit-filled worship moment where God Almighty will empower us for a total takeover in 2024.''
''When we pray, God sends Angels, but when we worship, God comes down to dwell in our midst.''
''The Bible says where the spirit of the Lord is, there is Liberty. Please do not joke with your Destiny.
You can't continue to live this life of yours in 2024. ''
''There must be a change—enough of people mocking you. Find yourself there, and you will never remain the same.''
To bring down heaven, some powerful guests have been billed to minister and they include Sola Praise, Abraham Akatu, Precious Ariwajesu, Success Moses, Enoch JB, to mention a few.
In previous years, miracles were recorded at the Annual Thanksgiving and many more are expected on December 10, 2023.
Lagos House Demolition: 9 Things to Know Before Buying or Building in Lagos by Dennis Isong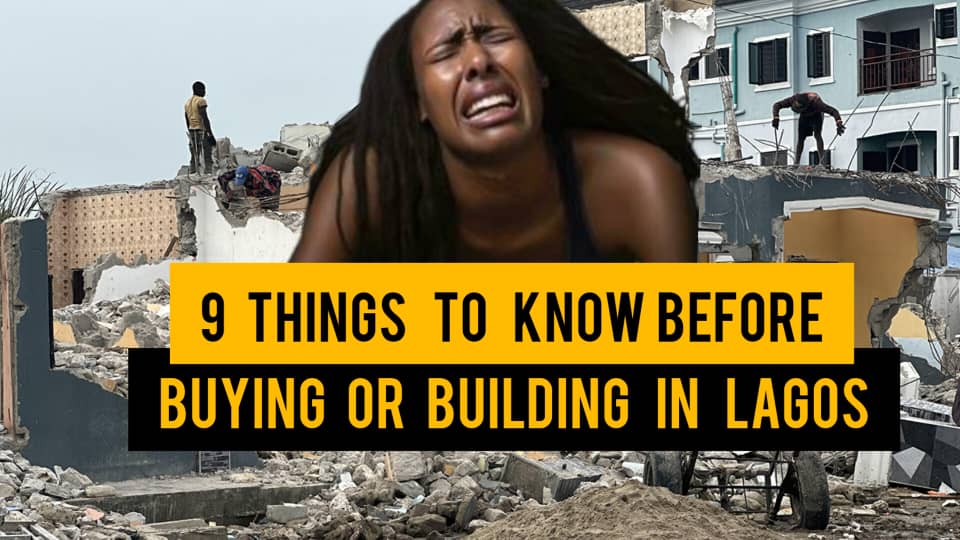 Lagos House Demolition: 9 Things to Know Before Buying or Building in Lagos by Dennis Isong
Sahara Weekly Reports That When embarking on the journey of purchasing land in Lagos, Nigeria, it is crucial to navigate the process with diligence and awareness. Acquiring the necessary certificates is a pivotal step to ensure a secure and lawful transaction. Here are some important certificates you should possess during the land-buying process in Lagos:
1. Certificate of Occupancy (C of O):
The Certificate of Occupancy is a primary document issued by the Lagos State Government that confirms the legal ownership and right to use a particular land. It outlines the terms and conditions under which the land is held and can be obtained through the state's land registry.
2. Survey Plan:
-A Survey Plan is essential for defining and delineating the boundaries of the land. It provides an accurate representation of the property's dimensions, shape, and geographical features. A licensed surveyor must prepare this document, and it should be approved by the Office of the Surveyor General.
3. Deed of Assignment:
This legal document serves as evidence of the transfer of ownership rights from the seller to the buyer. The Deed of Assignment should be drafted by a legal professional and registered at the Land Registry to make it legally binding.
4. Governor's Consent:
If the land has a Certificate of Occupancy, obtaining the Governor's Consent is necessary for the transfer of ownership. It involves an application to the state governor, and upon approval, the consent is endorsed on the Deed of Assignment.
5. Excision:
An Excision signifies the release of a portion of land from government acquisition. It is especially crucial for lands situated in areas that were previously marked as government-owned. A valid Excision grants legitimacy to the land title and should be confirmed with the relevant authorities.
6. Approved Building Plan:
Before any construction activities commence, it is mandatory to have an approved building plan from the appropriate government agency. This ensures that the proposed structure complies with urban planning regulations and standards.
7. Tax Clearance Certificate:
A Tax Clearance Certificate from the seller is necessary to verify that all property taxes have been paid. It is a requirement for the processing of some land-related documents and helps ensure a clean and legal transaction.
8. Environmental Impact Assessment (EIA):
In some cases, an Environmental Impact Assessment may be required, particularly for large-scale developments. This assessment ensures that the proposed project complies with environmental regulations and mitigates potential negative impacts.
9. Receipts of Payment:
Retain all receipts of payments made during the transaction. This includes payments for the land, survey, legal fees, and any other associated costs. These receipts serve as proof of transaction and can be crucial in case of any disputes.
Dennis Isong is a TOP REALTOR IN LAGOS.He Helps Nigerians in Diaspora to Own Property In Lagos Nigeria STRESS-FREE. For Questions WhatsApp/Call 2348164741041
Dollar Tumbles Against Naira At Parallel Market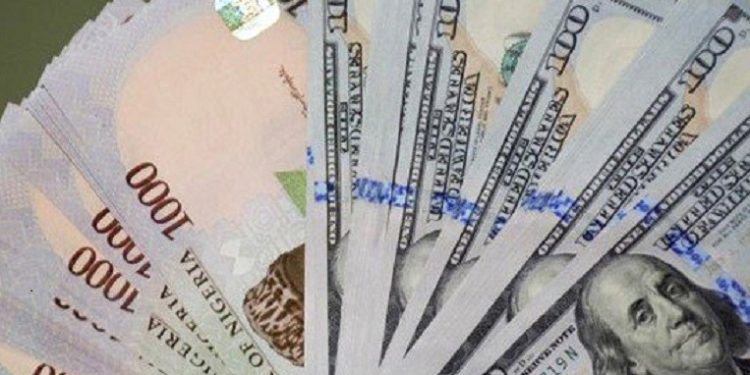 Dollar Tumbles Against Naira At Parallel Market
Sahara Weekly Reports That The naira sustained its appreciation against the United States dollar at the parallel market as it appreciated on Friday, from N1,160 to N1,155.
This represents 0.43 percent (N5) gain than N1,160 exchanged on Thursday at the parallel market.
It could be recalled that the naira had steadied in the parallel market on Wednesday and Thursday as it sells for N1,160 respectively.
However, the forex turnover, on Thursday, hit $105.50million according to data from NAFEM, the Nigerian Autonomous Foreign Exchange Market, the market trading segment for Investors, Exporters and End-users.
The turnover represents the amount of dollars traded at a particular trading day.
Although the rate is still unpalatable to the business community and Nigerians at large but a management consultant, Babatunde Adeniji, said the naira crisis is being largely driven by speculation following the country's liquidity challenge.
"In terms of price, for the short time it is speculation that drives things. If you are a trader and you want to take a bet, with the level of distrust of the government, with no clear visible assurance of where the dollar is coming from to stabilise the naira, which position would you take? You are bound to take the position skewed towards the dollar," he stated.
He said the country would begin to heave a sigh of relief when the authorities can pay up all the backlog of foreign exchange forwards with sufficient liquidity to meet pending obligations.
"Nigeria as a country does not have enough dollars to meet its promise. If we don't do things that are substantial and visible, all that grammar would not help.