October 31: Philanthropist, Funmi Ayinke Resigns After Twenty Years Of Active Service To Humanity (VIDEO)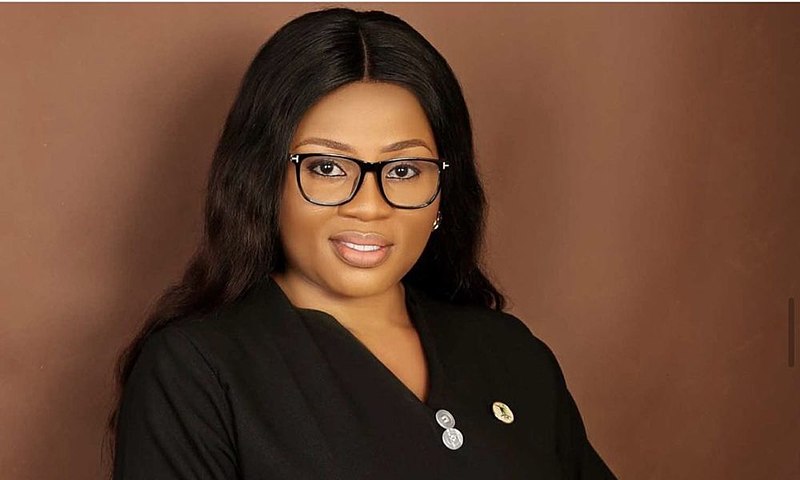 Popular Nigerian inspirational musician and philanthropist, Funmi Ayinke has resigned from all forms of service to humanity after twenty years of active service today Monday, 31st of October, 2022. This is coming after she made a revelation last week that there will be a huge announcement today.
In a 22-minute video posted on her YouTube page few hours ago, Funmi Ayinke made it known that started humanitarian services twenty years ago due to the covenant she made with God while she was seeking admission into the prestigious Ladoke Akintola University Of Technology (LAUTECH) in 2001.
She narrated that all her efforts to gain admission proved abortive till she pleaded with God on October 31, 2001 to see her through with a condition that she will serve humanity for twenty years if God is able to help her with admission, secure a good job for her and provide a good family.
According to her, God granted her requests and she started engaging in serious humanitarian activities in a way to fulfil her vows to God.
''I want to thank God for this day, October 31st 2022 which is a unique and special day of my life. I recall vividly how the journey started on October 31, 2001t. I told God when I was on LAUTECH campus seeking admission for pre-degree. I tried in 2000 but didn't get it but in 2001, I was privileged to meet one or two people that God used for me to give me the admission.''
''I remember this day October 31, I went to that campus sad because I was denied admission again, I slept overnight in the school bus, I refused to go home because I wanted to return to tell my mum that I had gotten admission but I didn't get it. I remember that night around 12:30am in the bus, I woke up and asked God to help me because I planned to approach the pre-degree school again even though I knew nobody. I told God that if he can send someone to help me when I approach the school, I will use twenty years of my life to serve humanity. When I made that appeal, I felt a kind of movement in the bus, I told God again that if he will help me to graduate and give me a job without stress, I will use my life to serve humanity. For the second time again, I felt this kind of breeze into the bus, it was so much but the atmosphere was so cool to stay, it felt like I had company in the bus.''
''On the 1st of November which was the next day, I went to the school as I told God and I met this amazing mummy of mine, she inquired of what I was looking for and I told her that I came to get my admission letter, she asked if I had been given admission yet and I said 'Not yet, but you are about to give me'. She looked at me and asked that I followed her and within three hours, I got my admission letter and returned home to my mother with the good news.''
''I started the journey, it became as if God wasn't there, I started and couldn't continue medical school, I went to engineering and told God again when I was to cross that if he can see me through, I will definitely not forget my vows. I told Him that I want to go to engineering and graduate with 2:1, get a good job, be an employer of labour, have money, have a husband, have my kids and that if he can help me, I will use twenty years of my life to do humanitarian services. The only thing I heard in my heart that day was 'You have it already, just keep fulfilling your own part of the journey'.''
''From 2001-2008 on that LAUTECH campus, I didn't live like a student, I lived for humanity, everyone in my street then cried when I was leaving for NYSC because I became mother to the motherless, as a student I gave all, the little I had on me I gave all because I was conscious of my vows to God. During my NYSC, I became a mother to the corps members. I didn't sell myself out to humanity because of fame or so people can love me, I don't even happen to love anyone because I grew up independently but because I love God passionately and because of my vow to God on that fateful night.''
While narrating her experience over the years, Funmi Ayinke noted that she was exposed to the bullying of ingrates that don't understand her journey, she recalled how people called her bad names because they never understood that all she was doing was fulfilling the vows she made with God.
''In the course of fulfilling my part of the vow to God, I exposed myself to the bully of ingrates that don't understand the journey, they said I was using their glory, they said I am a bad woman, some came with the mind to quickly grab and go, some came with sense of entitlement. No Nigerian has the right to have anything on my table, it's a privilege because of the covenant I have with God. Some listening to me have been beneficiaries of my vows to God, I told God I will be doing a humanitarian program for widows because they reminded me of my mother, they took the test of time and decided not to remarry, I told God some youths that remind me of me will have blessings on my table. Today, across the globe, nations, Africa, I have done everything possible with my hard earned money, I gave it all. ''
''I told God I will start saving money after twenty years of my covenant with him, I told him I will make the sacrifice and I did. Sometimes when I engage in my humanitarian activities, I get tempted not to do it because of ingrates but I remember that night in the bus and come back to do it massively, just to tell God that I am grateful for all he did for me and today, I am celebrating the grace to fulfil God's purpose, the covenant, the grace to forge ahead and I am saying officially today that my twenty years of covenant is today, I am officially resigning. ''
''God has been good, his faithfulness endures forever, he didn't give me any regret even if Nigerians give me 1 million regrets, I stayed focus on the covenant when I had reasons to leave, some that are grateful owe me nothing, the only thing I will never do is keep bad people around me.''
''Officially, Funmi Ayinke nigeria limited is free officially from humanitarian activities, sacrifices, giving the resources I am meant to use for myself, my kids are free from seeing their mother being bullied, being molested by ungrateful Nigerians, my life is free from those that feel they must kill me if I don't give them jobs government can't offer them, if I sack them, they will deal with me, I am free from all forms of malicious activities.''
''God has also blessed me with testimonies that will take me forty years to achieve because I served him for twenty years, it's good to do business with God. Today, my announcement to the world is that I am resigning from any form of humanitarian activities, it was not easy fulfilling this promise because of bad people. Humanitarian services attracted me to bad ones that have no value for life. I have been able to take away the bad ones and today, no matter what they do, the defamation, bullies, God told me that they will suffer until they repent, it's not a curse because I told God to have mercy but He said all my enemies will bow at my feet.''
Over the years, Funmi Ayinke has spent millions of naira giving to the needy and less privileged in the society. She has operated an open policy that gave several people access to her, many youths have been employed through this covenant she has with God.
Watch Video Below
Gov Abiodun Honours Adron Homes GMD Aare Adetola Emmanuelking For His Unrelenting Efforts To Promote Peace In Ogun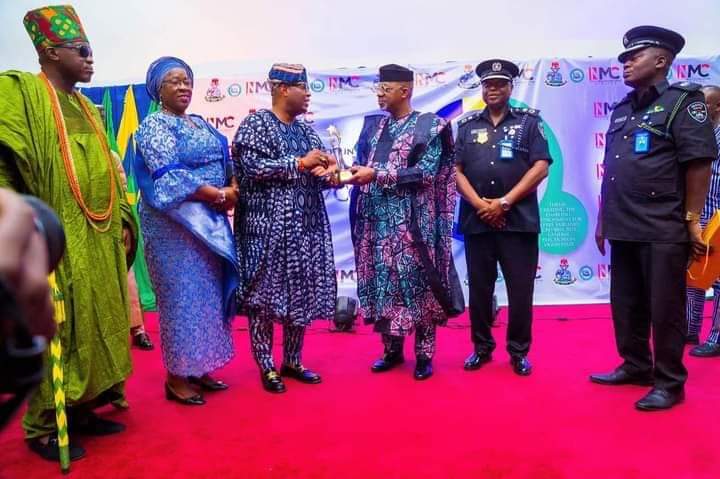 The executive governor of Ogun state, His Excellency Prince Dapo Abiodun mfr. has honoured Aare Adetola Olaniyi EmmanuelKing, The Group Managing Director, Adron Homes and Properties for his unrlenting efforts to improve security architecture in Nigeria.
Gov Abiodun presented the awards to Aare Adetola EmmanuelKing during Nigeria Police Retreat held in the state to appreciate his kind gesture to his immediate environment and to charge others to participate in the uplifting and development of Ogun state.
The Inspector General of Police, Alkali Baba was ably represented by the Assistant Inspector General of Police, IGP in charge of Zone 2 Onikan alongside the commissioner of police in Ogun, CP Lanre Bankole.
Meanwhile, Aare Adetola Emmanuelking in 2020 through Police Community Relations Committee, PCRC donated patrol vehicles to the police in Zone 2 Onikan, PCRC and divisional stations in Ilisan area to assist their movement towards quality service delivery.
Governor Abiodun described Aare Adetola Olaniyi EmmanuelKing as a rare breed in the country, saying it is not common among the rich people to support the Nigeria Police Force individually, through building of modern police station with sophisticated equipment to meet international standard.
He charged well meaning Nigerians to emulate Aare Adetola EmmanuelKing by contributing immensely towards the growth and development of Nigeria.
IBIJOKE SANWOOLU TABLE TENNIS FINAL TO HOLD DECEMBER 3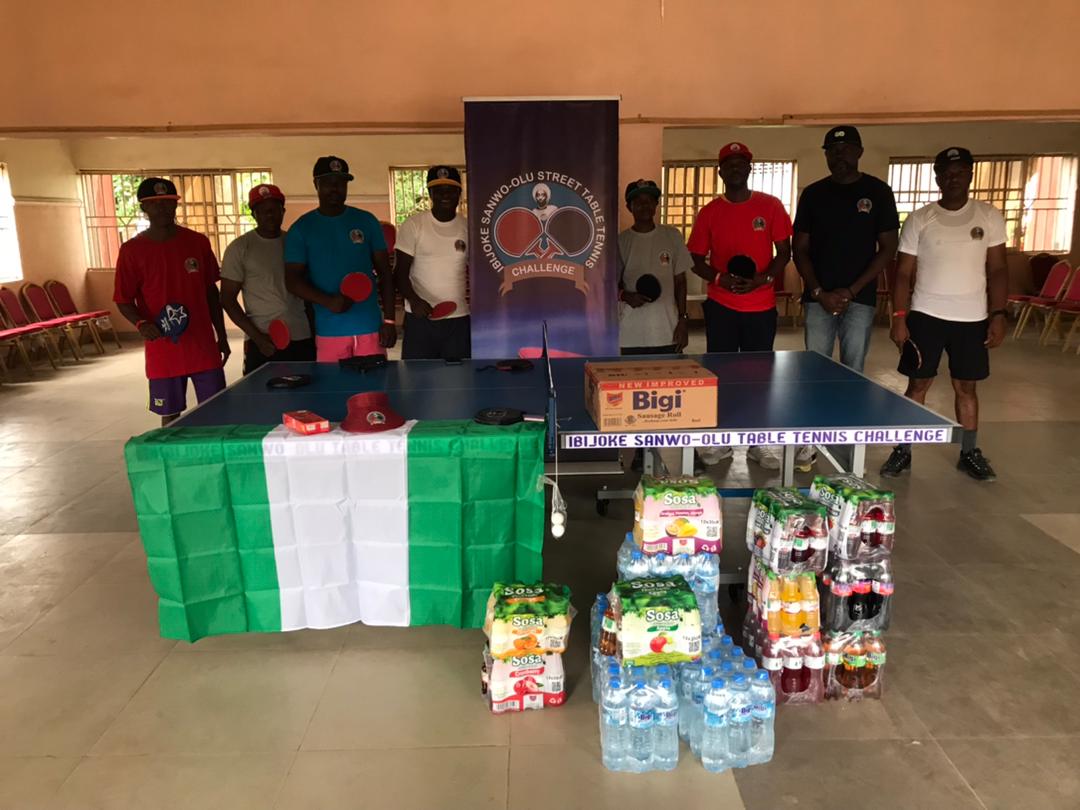 IBIJOKE SANWOOLU TABLE TENNIS FINAL TO HOLD DECEMBER 3
Sahara Weekly Reports That The final match of the Ibijoke Sanwoolu Street Table Tennis Challenge will come up this Saturday, December 3, 2022 at the council hall of the Igando/ Idimu Local Council Development Area of Lagos State.
The table tennis tournament which kicked off on Friday, November 18, 2022 had players drawn from Alimosho area squaring up against themselves to determine the champion that will go on to represent the area in the state championship slated for the first quarter of 2023.
In the final match of the competition, Omotoyinbo Tolulope will be battling Joseph Jesubomi popularly called Atorise by his teeming supporters. While Tolulope had to go through a hard fought fixture against Raimi Saka, Atorise emerged winner in his semi final fixture by defeating Ameen Mustapha in straight sets.
The semi final matches had in attendance the chairman of Igando/ Idimu LCDA, Comrade Ayinde Akinsanya and the leader of the house in the council, Hon. Prince Dauda Gbadamosi along with other executive committee members of the council as well as the supporters of the players.
The final match, scheduled for 12pm on Saturday is expected to witness a large turnout of the supporters of the two gladiators who are pitched against each other for the ultimate honor in the game of table tennis in their zone.
The Ibijoke Sanwoolu Street Table Tennis Challenge is a competition being initiated to return the glory days of table tennis to Lagos and to discover and nurture the large number of talents we have in our great state.
The competition is being supported by Peace ANYIAM-Osigwe's Africa Film Academy, Rite Foods, Tecno Phones and some private individuals who have deep interest in the game of table tennis. According to the co-coordinator of the initiative, Mr. Victor Ganzallo, the next stop for the competition is Eti-Osa Local Government, and will be powered by King Saheed Elegushi Foundation.
Power of Prayer as Apostle Suleman Raises Boy from Dead in Benin City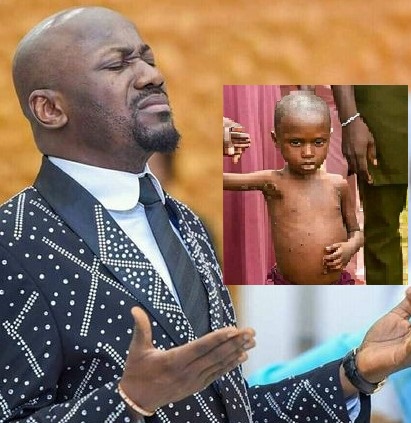 Power of Prayer as Apostle Suleman Raises Boy from Dead in Benin City
Sahara Weekly Reports That Few days ago, another shocking testimony of God's healing power was made in Benin City, Edo State, Nigeria. Popular servant of God, Apostle Johnson Suleman, prayed life into the unconscious body of a five years old boy.
Judging from the two-day 'Mighty Turnaround' crusade, the manifestation inspired believers. Normally, when a person has been declared dead for half an hour, doctors give up. But, according to the Scriptures, that was just when Jeremiah was called to pray. Jeremiah prayed and the lifeless man's heart began to beat and he came back from the dead. That was the lot of the lucky boy, whose life Apostle Suleman spoke to and revived.
So, how did he make that happen? 'It is the power of prayer," the 'Restoration Apostle' enthused in his sermon. He continued; "It's really as simple as that. And we have a testimony that the miraculous experience is having great effects on believers, it has raised people's faith levels."
Sources from the Benin City crusade said that the experience really raised people's expectations "because they saw God move".
According to Apostle Suleman in one of his recorded prayer services, "the power of prayer seeking God's intervention in human's affairs was seen most dramatically when God raised Christ from the dead. The resurrection was something the earliest followers of Jesus experienced as a real, historical event. This shows that the very power that raised Jesus from the dead is still available to us and we get it when we ask God in prayer. We ask Him and He helps us with power that exceeds our comprehension and expectations."
The Benin experience was not Apostle Suleman's first, but it has continued to stay on the front burner, given the surge of testimonies that followed the service.