Okada ban: provide alternative job, residents urge Lagos state govt.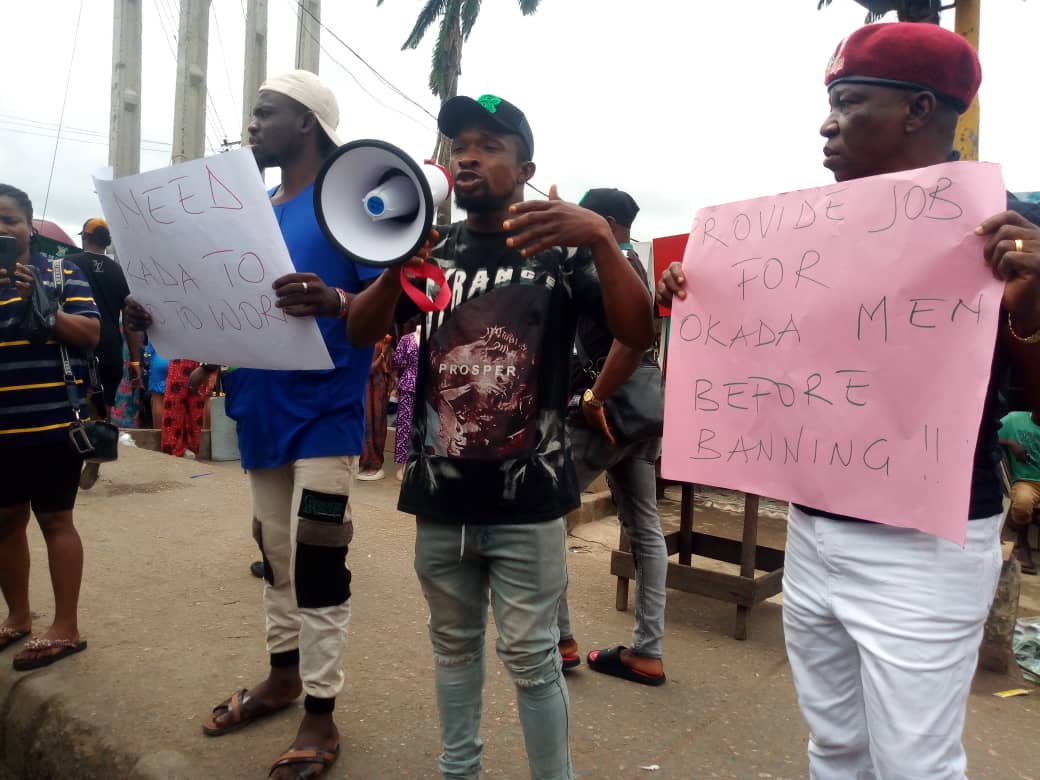 Okada ban: provide alternative job, residents urge Lagos state govt.
By Ifeoma Ikem
Residents of Alimiosho area of Lagos state have advised the state government and house of Assembly to provide alternative job before banning the commercial motorcycle operations also known as "okada'' to avoid creating more hardship for those who depend on it as means of livelihood.
The residents and motorcyclists spoke with our correspondent yesterday during a protest staged by Human right activist Comrade Iche Savior at Jakande gate, Ijegun /Isheri area in Alimiosho local government council.
They expressed fear that the Okada ban will create more difficult times for the communities.
Some of the commercial motorcyclists in the area also added that the government should have involved them in the policy making that led to the ban.
According to the residents, immediately the ban of okada was enforced, people started trekking for long distances to get to their destinations due to non accessibility of good roads in the community.
Mr Williams Okeize, a resident, said the development would worsen the current situation as some people who ride the bikes would now have to trek down to their various destinations.
According to him, majority of these residents are under abject poverty and do not have vehicles of their own, the ban will further make them miserable and worse.
"Many of these okada riders feed themselves and their families with the little they earn from riding these okadas, some of these okada riders are graduates with no jobs, there is a need for the government to provide alternatives before such ban.
Ominyi Odinaka, a Civil Engineer and Unizik graduate decried the already high rate of unemployed youths in the country, saying that the ban would cause more hardship to majority of us that graduated and with no job.
According to him, 'I graduated two years ago, I had savings of three hundred thousand to set up a business so as to earn a living but could not because of the economic situation before I had to switch to Okada riding for sometime to make up the money I need for the business.
"this ban of Okada affected some of us negatively which added more unemployed youths to the labour market.
A mother of four, Mrs Faitha Idris laments that her husband rides Okada within the axis of Kudeyibu Estate Ijegun and they manage to have two square meals on daily basis but since the enforcement began, the police has been taking advantage of it by arresting the riders and extorting them.
'I'm pleading with Gov. Sanwo -Olu to help in lifting the ban, many other families whose husbands and fathers operate Okada are dying of hunger.
" Where are we going to start from, school is resuming on Monday, meaning our children can't go back to school because there is no other job for my husband, I am a petty trader but there's no sale like before people are not buying again ", she added
Reacting to the ban, Comr Iche Savior advised the state government that instead of banning them especially in the rural area places like Alimiosho area "it is better to register them and integrate them into the ever expanding transportation .
Iche said the government and house of Assembly should have a rethink about the ban in some areas because it would increase the rate of suffering and unemployment in the state.
"We are already having challenges in the country already; the government should provide alternatives to those Okada riders before banning their activities.
" Even though the Okada operators are not happy with the job but that is the only work they do since government have no job for them.
" Okada riders covers a larger population in the state, they provide the needed services to the residents in some area that are not motorable", he said.
Miss Peculiar Chimeremma, a youth said that the ban would increase more crimes and lead to a lot of youths eventually join criminal groups.
"Some of the operators were honest business men seeking daily income to sustain their families and were not depending on government or anyone else.
She said stopping these people from their means of livelihood would not only affect their businesses but also force the users of these commercial means of transportation to trek to their destinations where other commercial vehicles cannot access
Ibogun celebrates 6th year coronation in grand style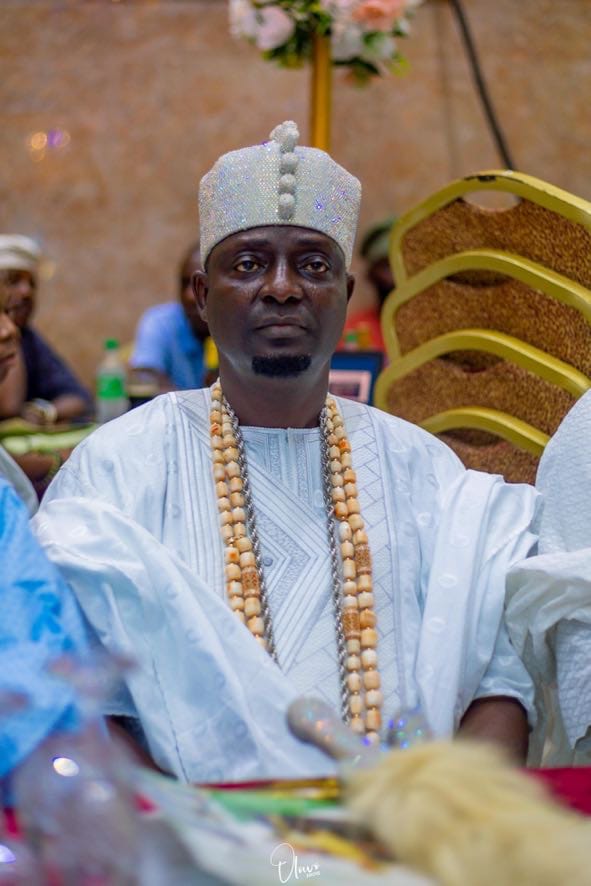 Ibogun celebrates 6th year coronation in grand style
Sahara Weekly Reports That As part of the 6th year coronation anniversary of his HRM Oba Adesina Fakayode Faluade, Anikinnikun Oluoba of Ibogun Balogun Kingdom of Abeokuta, he decided to build an untra modern civic center for the benefit of Ibogun kingdom.
Speaking with our correspondence was the Kabiesi during the lunch of the ultra modern civic center last Wednesday, the Kabiesi express his profound appreciation to God and those who came to celebrate with him.
He said "there is need to develop our community and as the royal father of Ibogun Balogun Owu kingdom, I took it upon myself to build this great edifice to bring development required to my community."
"We have other projects already excuted since I immerged as the king, one of it is the central mosque that will be commission during the ground finally of our anniversary.
We tend to impact lives in our own little way and give back to the community who has been supporting all we do in the community.
The chairman anniversary and lunching committee, High Chief Dr. Sulaimon Akinyele , Aro of Ibogun Balogun Owu kingdom said, "the king proposed to build a world class civic center, and we are all here to support his good works in order to make his aims and objectives come to pass.
He notes that there are many companies within Ibogun, there are so many degnitries that came from Ibogun Owu, including the former president Olusegun Obasanjo, who can also support this great project.
They hereby call on the governor of Ogun State, Mr. Dapo Abiodun to synergies with the Kabiesi to bring development to Ibogun Balogun by giving them good roads.
Also at the event was Engr. Adeleke Sogbesan (Chief Okanlomo)who came in from United States to show support to the Kabiesi. He notes Oluoba Ibogun is an hardworking man who has brought lots of development to Ibogun, in view of this he came in to also show is support towards the construction of the civic center.
Financial crimes in public, private space now national embarrassment – President CRAN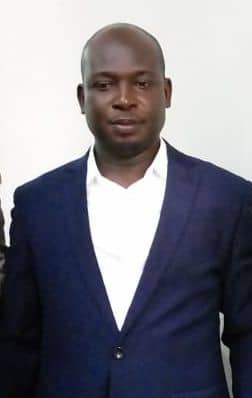 Financial crimes in public, private space now national embarrassment – President CRAN
Earlier, in his welcome remarks, the President of the Crime Reporters Association of Nigeria (CRAN), Mr. Lekan Olabulo, has frowned at the rate at which crime is increasingly committed in public and private space, insisting that the act is now becoming a thing of embarrassment to the nation.
Olabulo who lampooned corrupt public office holders, noted that those involved in syphoning the common wealth of the nation should remember that they are not insulated from being probed.
The President of CRAN, disclosed that the annual lecture cum.award series, which he said started about 30 years ago, has become a veritable platforms through which suggestions are made on how best relevant agencies and other stakeholders could tackle the menace of insecurity, bedeviling the nation.
" Outside the corridor of governance, many Nigerians particularly the youths are engaged in financial crimes such as internet fraud commonly referred to as Yahoo, Yahoo and other illicit financial businesses
" Inspite of the existence of laws to check crime in Nigeria, more youths are enlisting in the Yahoo Yahoo business with such conviction that what they are doing is illegal.
"Yahoo, Yahoo or cybercrime has come to be generally accepted by most parents as if it is a legitimate business and many communities are now in competition over the number of youths who have acquired humongous wealth through Yahoo, Yahoo", CRAN President beamoned.
Olabulo hinted that the annual lecture cum.award series started about 30 years ago has become veritable platforms through which suggestions are made on how best the relevant agencies and other stakeholders could tackle the menace of insecurity, bedevilling the nation.
TINUBU APPOINTS NCDMB GOVERNING COUNCIL AND MANAGEMENT TEAM
PRESIDENT TINUBU APPOINTS NCDMB GOVERNING COUNCIL AND MANAGEMENT TEAM
In conformity with Sections 71(1), 72, and 73 of the Nigerian Oil and Gas Industry Content Development Act (2010), President Bola Tinubu has approved the appointment of qualified Nigerians to serve on the Governing Council and Management team of the Nigerian Content Development and Monitoring Board (NCDMB):
(1) Sen. Heineken Lokpobiri — Chairman / HMS, Petroleum Resources
(2) Engr. Felix Omatsola Ogbe — Executive Secretary
(3) Oritsemyiwa Eyesan — Member / EVP Upstream, NNPCL
(4) Gbenga Komolafe — Member / CEO, NUPRC
(5) Bekearedebo Augusta Warrens — Member
(6) Nicolas Odinuwe — Member
(7) Rapheal Samuel — Member
(8) Sadiq Abubakar — Member
(9) Olorundare Sunday Thomas — Member
President Tinubu expects this highly qualified body of experts to discharge their duties with his patriotic resolve to significantly enhance indigenous industry participation in the energy sector as part of the Renewed Hope Agenda's mandate to achieve the goal of 70% indigenous content and participation in the nation's energy industry during the lifespan of this administration.
Chief Ajuri Ngelale
Special Adviser to the President
(Media & Publicity)
December 7, 2023