Over 300 Male Sudents Rescued From Sexual Assault in Kastina State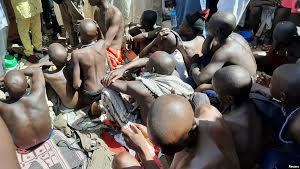 By Adejuyigbe olorunfemi
The northern police force of Nigeria has rescued over 300 young male students from an Islamic boarding school, which is known to have sexually assaulted the students. Saharaweeklyng.com reports
The police force raided the school in which is located in Daura, kastina state, after some students ran out of their hostels on Sunday to protest as regards what they have been facing on the school.
The kastina cheif of police sanusi baba spoke to the reporters saying, the children as been chained and tortured.
"We have learned that the number of detainees here exceeds 300, and they revolted because of the inhumane treatment they are subjected to," he said.
"Some of them managed to escape while (60) remained inside," he said, adding that some of them were found chained.
The kastina cheif of police continued speaking saying, the school was founded by a Muslim cleric, 40 years ago, which he then later handed it over to his son.
According to him, Parents enrolled their children in the school to learn the Qur'an and receive treatment from drug addiction and other forms of challenges faced by the students.
He also said that, The students were subjected to "inhumane conditions", some of whom revealed that their teacher "had sex with them."
He gave his word that the school officials and its teachers who fled during the raid, would be arrested and brought to justice.
According to reports, A similar event happened in Kaduna state where a nearby police station freed more than 300 students from a boarding school who suffered similar attacks.