Panic as Dog eats Gambian President-elect, Adama Barrow's 8-year old son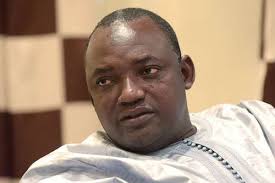 The eight-year-old son of Gambian President-elect, Adama Barrow is dead.
He died after being bitten by a dog.
According to reports, the boy died on the way to the hospital on Sunday in Manjai near the Gambian capital, Banjul.
Meanwhile, Barrow has fled to neighbouring Senegal ahead of his inauguration.
He is expected to remain there at the request of West African leaders until his planned inauguration, Gambia national newspaper said Sunday.
Barrow is currently in Dakar following consultations with the leaders of the Economic Community Of West African States (ECOWAS) at a Bamako summit.