Parents use son as collateral for N8,000 in Lagos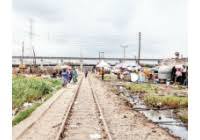 A 15-year-old teenager, Ajala Samuel, has been used as a collateral by his parents.
The Punch reports that the parents used him as a collateral to raise money for some urgent family needs. But the story changed after four months when they could not find him again. The parents had given him out to a Lagos trader, Iya Meta, who in turn paid them N8,000. It was alleged that Iya Meta also loaned out Samuel to some traders on the Lagos Island for N72,000. The traders were alleged to have further given him out to another family in the state. Two policewomen, identified as Titi and Funmilayo from the Ijora Badia division, were accused of harassing the family to refund the N72,000 paid to Iya Meta, failing which Samuel would be forced to work till October 2017 when the contract would expire
Talking to The Punch, Samuel's stepfather, Idowu Isiaka, said they started having issues when he lost his job in June 2016. He said: "I worked as a security guard for a traditional ruler. When a banner displaying the man's picture was stolen, I was put in a police cell for a week before I was released and told that I had lost my job. "At that time, Ajala's mother just had a surgery and she needed money for medications. I borrowed a motorcycle from a friend and started using it to work. Later, I had an accident with the motorcycle and broke a man's leg.
The motorcycle was seized from me and I was asked to raise money for the victim's treatment. "I called my wife and told her that we needed to raise money by all means. I told her about Iya Meta, who lived in the community and always said she needed teenagers to work for her.
We agreed to take Ajala (Samuel) to her so we could raise some money." Iya Meta was said to have offered them N8,000 as payment for the two months that Samuel would work for her. He was however shocked when Samuel did not return back to them after the expiration of the agreed date. It was when they went to Iya Meta's house in Ijora Badia in Lagos that they got to know Iya Meta had moved out. "When I called her on the telephone, she said she was in Seme (Benin Republic) on a business trip and she had taken the boy along. She apologized for not telling me. She said Ajala (Samuel) was at home and when she got home, I would speak with him. She didn't call back that day. "The following day, I called her and she told me that she had actually lied to me. She said the boy was with some people whom she had problem with.
She told me the case was at the Ijora Badia Police Station and one officer Titi would tell us where the child was." Isiaka explained that he went to the station with his wife and officer Titi told them that they must pay N72,000 before the boy would be released.
The police officer told them that Iya Meta had been paid that amount before Samuel was taken from her. And if he was going to be released, the amount must be paid back.
But Iya Meta denied the allegations. She said the police are lying about her. She said,: "Prior to Ajala's coming to my house, I had met three women –Rukky, Iya Ibeji and Eniketa. They claimed that they were textile dealers on the Lagos Island and they needed young boys and girls to work for them. "At that time, two of my cousins came from the village to work in Lagos. I handed over the two ladies to the women.
They gave me N80,000 as advance payment for their service. "It was a few weeks later that Ajala's parents brought him and I gave them N8,000.
The boy had barely spent a month when he attempted to escape. He told me that his parents had instructed him to run away after getting the money from me. "I decided to send him to the three women so he could work with them. T
hey didn't give me anything." She said a few days afterwards, she received a call from one of the girls, who claimed that she had been taken to a pepper seller who maltreated her.