Princess Folashade Olabanji-Oba sued for peace Over LG elections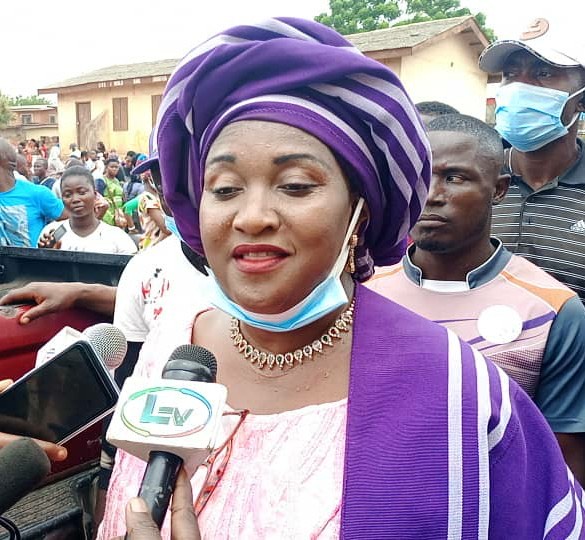 Princess Folashade Olabanji-Oba, sued for peace 
Aarabinrin Princess Folashade Olabanji-Oba who is the APC Chairmanship Aspirant and Vice Chairman, Ikorodu Local Government,  has sued for peace over the decision of the
Party
in the just concluded primary elections of the All Progressives Congress, APC.
Princess Olabanji-Oba, stated
this
on Thursday, through press release urged all aggrieved members to shun protest in order to have the peaceful atmosphere needed for Ikorodu to develop.
She appealed to youths to embrace peace; see themselves as brothers and sisters and ensure that the Party's decision does not degenerate into violence and bloodbath in Ikorodu.
"Elections is not a do or die affair for anyone, especially if the intention is genuine to serve the people. We must do everything possible to avoid bloodshed.
"We must continue to ensure that peace will continue to reign in Ikorodu, so also Lagos we can as well continue to enjoy and take advantage of the numerous achievements of our amiable Governor, Babajide Sanwo-Olu," said Olabanji-Oba.
I will advise co-contestants to realize that there can only be one winner at the end of the process and that there will always be opportunities to put themselves forward for service at other times in the future.
Folashade noted that the country is already facing many security challenges, we need peace, across the nation is  already tensed the security operatives are under strains we need to avoid anything that we bring  unnecessary tension in Ikorodu and its environs
"Lagos remains one of the most peaceful states in the country and we should not do anything to change this enviable status of the state. I, therefore, congratulate Hon. Wasiu Adeshina as the party's choice and I assure him of my total commitment to the service building and the greater Ikorodu of our dreams.
"My sincere appreciation goes to our National Leader, Asiwaju Bola Ahmed Tinubu, Lagos State Governor, Mr. Babajide Olusola Sanwo-Olu, Senator Tokunbo Abiru, Prince Abiodun Ogunleye, Asiwaju Olorunfunmi Basorun, Asipa Kaoli Olusanya, Rep. Babajimi Benson, and Hon. SOB Agunbiade.
"Also Alhaji Anibaba De-Cubano, Alhaji Olufowora, Hon Taiwo Longe, Royal Fathers, Baales, Market Leaders, NUT, NURTW, CAN, IMCA, among others. I wish all a successful and peaceful general election, 'Ikorodu a gbe wa o'," she concluded.