Racists' Bells In UK As Black Fashion Entrepreneur Attacked Inside Train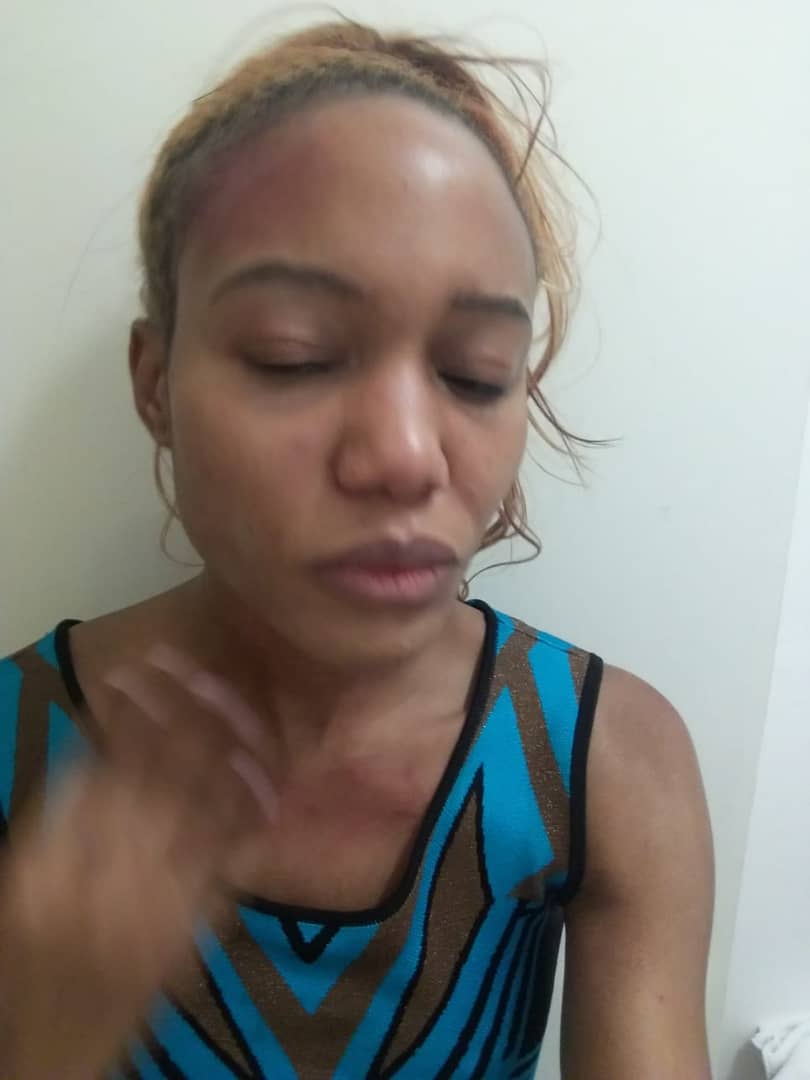 Racial discrimination and the belief that one's own skin is more superior than the other might be on the increase in the United Kingdom with the series of attacks on perceived black citizens. Just recently, international footballer and Manchester City star, Raheem Sterling was reportedly attacked verbally on the field for being black, the sad incident is still generating uproar in the soccer society.
And like they say, nothing weakens the soul and strength of any nation than the strong presence of racism. And that has been the order of the day in the United Kingdom of late.
Few days ago, an international model and fashion maestro, Phoenix Faith was a victim of assault, humiliation and battery on the London Underground by a group of caucasians who had verbally abused her inside the train before she was turned into a punching bag, presumably for being a black woman.
"I never did or say anything to them, we were all on the Central Line train together and they suddenly began to call me names, I never knew they were referring to me when I heard "the Aligator in blue" and all sorts of racial slangs but I never bothered even though I was wearing a blue dress", the beautiful young model who's the recent victim of racial prejudice told Enquirermag.
According to the story of the innocent young entrepreneur who's still in utter shock and disbelief that this kind of a thing could happen to her in London in this 22nd century, "I can't believe it and to say that the police can come out bluntly to say, there's no CCTV in the Central Line station to help apprehend those guys is still appalling. I reported the matter to the police immediately I was assaulted in the train and they told me point blank that they can't help out because there are no CCTV on the Central Line station.
According to Phoenix Faith whose fashion brand was one of the frontliners at the recently concluded London Fashion Week, "the Incident occurred at 1.30am on Saturday, 21st. April, 2019 at Chancery Lane Station on CENTRAL LINE. Exited platform at 1:47am
I got on the train from Oxford Circus going home after my dinner with a friend at Aqua Restaurant in the Middle Carriage. Shortly after I got on the train, a group of 5 white boys and 2 girls came in, they appeared slightly intoxicated but were aware of their surroundings. They surrounded me and leaning into my personal space. Shortly after, they started to make offensive comments about me for 10 mimutes trying to catch my attention saying this girl in blue blabla bla… I just stared into my phone and pretended to be engrossed with my phone.
Then they said something about my mother and I said it back at them and the next thing, they pounced on me and I found myself flat on the train floor and the side of my head being stumped on with his feet with trainers severally over 15 times in the same spot.
I thought I was going to die, all I could see were the black floors, they smelt like burnt poo and vomit.
During the stumps, my ears felt like sponge and I thought for a second I was submerged in water. I honestly thought I was going to die.
I exited the train trying to catch a glimpse of that particular guy that assauted me, all I could say was 'why why would you do this to me, what did I ever do to you?'.
This assault was heinous, despicable and a deliberate act to harm or kill me. I wouldn't want anyone to ever feel like their life is being taken from them and potentially left for dead.
I am completely shocked that this happened to me on the verge of launching and starting something new and positive. I am now afraid to even get on the Underground anymore, I urge the London Underground to make it a priority to install CCTV cameras on the trains especially CENTRAL LINE which has the highest number of crimes daily.
The main guy that attacked me is a caucasian, standing like 5'4-5'7. Slim built, he was wearing a black and white check shirt. Had a red mark under one eye and had black hair. If anyone knows his whereabouts please contact me or the police.
I don't think women, children and our senior citizens are safe on the Underground.
My life is forever changed and will never be the same again after this incident, she said urging the police and other concerned authorities to wade in.
Jite Usman