Real Reasons Sunday Oliseh resigned from Super eagles Job
Former Super Eagles captain, Sunday Oliseh, has resigned as coach of the senior national football team after collecting his backlog of salaries from the Nigeria Football Federation (NFF).
He cited "contract violations, lack of support, unpaid wages, benefits to my players, assistant coaches and myself," as reasons for his decision.
In a resignation letter sent to the NFF on Thursday, Oliseh thanked the football body for the opportunity to serve the country in the capacity he did.
Dr Mohammed Sanusi, General Secretary of the NFF, confirmed to supersport.com that the former Ajax Amsterdam midfielder has indeed resigned from his post as the coach of the Super Eagles.
"Yes, we have received a letter from him and I can tell you he has resigned as coach of the national team (Super Eagles),"he said.
"I can tell you the content of the letter yet because we haven't met to deliberate on it. We are in Zurich for the Fifa congress but as soon as we are through with the meeting, you will be in the know," Sanusi added.
Oliseh, who took over the Super Eagles job in July 2015, has had a topsy-turvy relationship with the NFF and also had a run-in with a few players.
His tenure as coach was characterised by incessant disagreements with the football ruling house that culminated in an eight minute rant on social media chiding agents, journalists and his assistants whom he claimed where working against him after Nigeria's ouster at the 2016 CHAN tournament in Rwanda.
Why We Honoured AfricentOCL UK, Several Other Top Businesses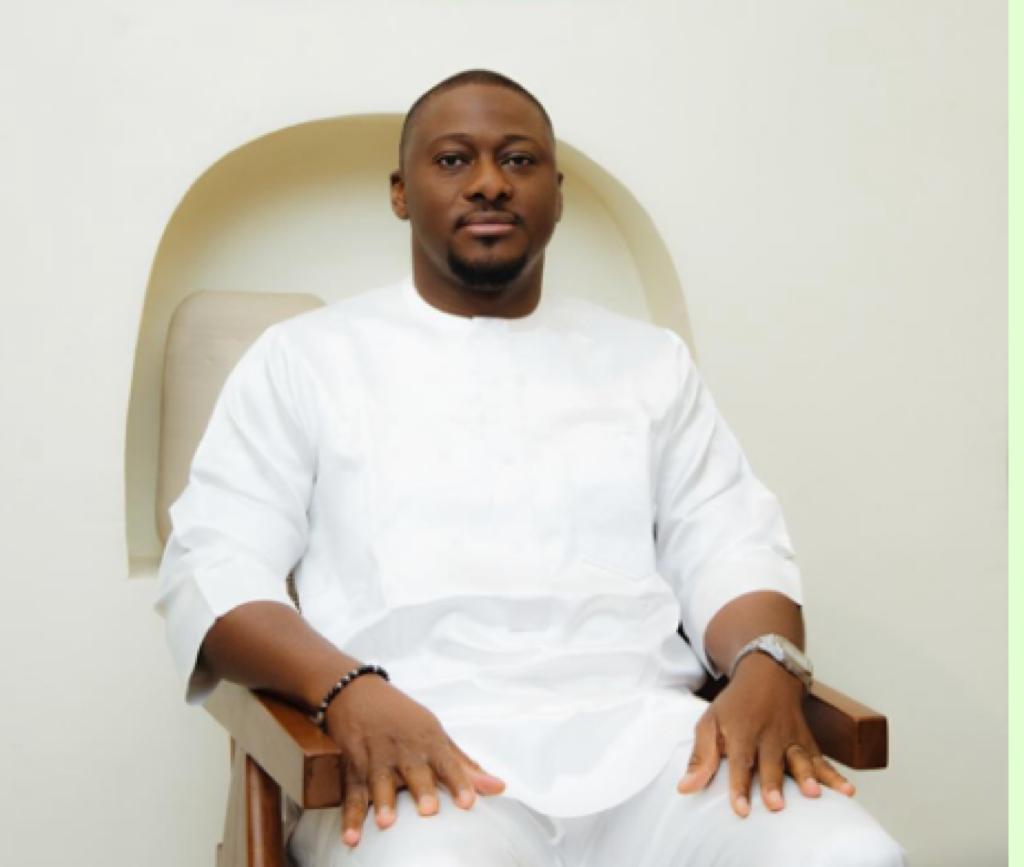 Why We Honoured AfricentOCL UK, Several Other Top Businesses
Greater London Enterprise Awards' organizers
Sahara Weekly Reports That SME News Magazine has announced the winners of its 2023 Greater London Enterprise Awards. Africentocl Uk Ltd is one of the prestigious recipients of the honour, for its contribution to the development of the maritime sector globally. AfricentOCL UK won the 'Best Maritime Materials and Vessel Chartering Provider' category.
According to a statement from the organizers, the awards event is held annually to honour outstanding top businesses for their special contributions in their sectors. Now in its seventh year, SME News' 'Greater London Enterprise Awards', the organizers say, has continued to recognize SMEs at the very beating heart of the corporate landscape, as they continue to put their best foot forward on a daily basis. "Within the awards programme, we get a deeper understanding of what makes Greater London so bold as we delve into the businesses and individuals who live and breathe progression, compassion, and innovation," the statement reads.
AfricentOCL UK was bestowed with the award, according to SME News, because of its excellent leadership in service, which distinguishes it and co-awardees and make them outstanding sector leaders. AfricentOCL is a leading global physical commodities and vessels chartering brokerage company, with a strong track record of success in the maritime sector with a unique quality of extensive experience and expertise in the physical commodities trading market.
Having developed a rare knack for managing people and resources, the AfricentOCL chief executive officer, Mr. Juwon Lawal Razaq, an official member of the Forbes Business Council and global ambassador and member of the Commonwealth Entrepreneurs Club in London, has made a remarkable impact on the maritime sector. With the courage and boldness of a lion, he has successfully confronted the daunting task of running one of the most strategic aspects of the maritime business.
His company, before the Greater London Enterprise Awards' honour, has also been recognized both in Nigeria and abroad as one of the best marine companies in the world.
According to Kaven Cooper, the Greater London Enterprise Awards coordinator, "This 2023 edition of Greater London Enterprise Awards was a delight to host", emphasizing that Africentocl Uk Ltd and other awardees were found to be "focused, determined, and soulful businesses reaching their clients and customers with pride and precision."
"We pride ourselves on the validity of our awards and winners. The awards are given solely on merit and are awarded to commend those most deserving for their ingenuity and hard work, distinguishing them from their competitors and proving them worthy of recognition," the organizers elucidate.
The Dotun Adesua Symposium Paves Way for Nigeria's Creative Industry Advancement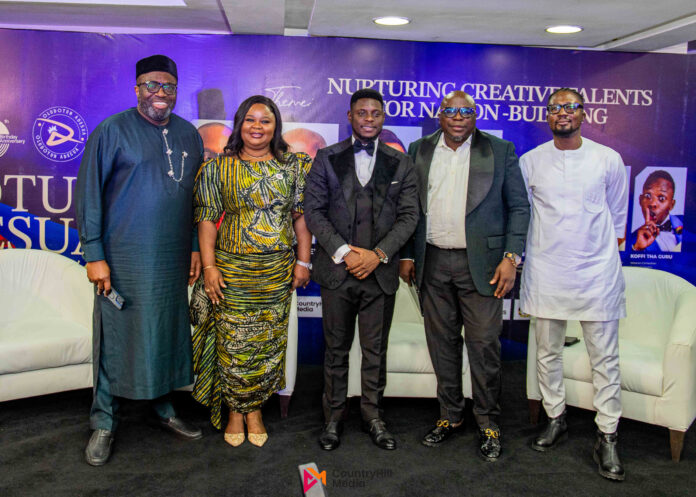 The Dotun Adesua Symposium Paves Way for Nigeria's Creative Industry Advancement
The Dotun Adesua Symposium, an earnest endeavor to cultivate meaningful dialogue within Nigeria's dynamic creative industry, has laid a firm groundwork upon which this vibrant sector can flourish and become a catalyst for national development.
The symposium, held in Lagos, brought together luminaries, industry professionals, and creative minds under the theme, "Nurturing Creative Talent For Nation-Building. "It served as a pivotal platform for driving conversations that are essential to the growth and prosperity of the nation.
At the heart of the symposium was the visionary mission to bridge the gap between established professionals, mentors, and the emerging generation seeking guidance. The symposium aimed to equip these budding talents with invaluable knowledge and insights while fostering stronger connections between industry leaders and the creative pioneers of tomorrow.
In his keynote address, President and Chairman, Governing Council of the National Institute of Marketing Nigeria (NIMN),  Mr. Idorenyen Enang set the tone for the symposium illuminating the diversity within the creative industry, with each facet underpinned by creativity at its core.
Using a metaphorical dining table, Enang vividly illustrated how consumers often engage with creative products without fully comprehending the intricate workings of the industry. He emphasized the need for professionals to expand their horizons and deepen their knowledge.
Enang went further to underscore that the journey of nurturing creative talent commences at home, drawing parallels with the farming process. He likened the act of planting seeds to the inception of creativity, asserting that the cultivation of creative talent begins with education.
"Mentorship plays an indispensable role in guiding individuals along their creative journeys, nurturing the sparks of genius within them." Enang firmly stated.
The symposium also featured a panel session where the President of the Association of Professional Party Planners and Event Managers of Nigeria, Funbi Akinyosoye shared her insights on the pivotal role of education in unlocking creative potential.
Akinyosoye recounted her personal journey, highlighting that formal education alone does not define one's ability to infuse perfectionism into their work.
She encouraged young individuals to embark on creative explorations, even in seemingly minor endeavors, reinforcing the notion that education provides the platform for them to express themselves more effectively.
Veteran Comedian and Compere, Gbenga Adeyinka the 1st, brought his wealth of experience to the panel.
He shared his experiences in propelling the comedy sector in Nigeria's southwest region, despite initial skepticism regarding his choice of location for shows.
Adeyinka emphasized his steadfast dedication to nurturing talents, which has played a pivotal role in the remarkable growth of comedy in the region. He dispelled the misconception that creativity is synonymous with chaos and underscored the importance of structure in delivering successful creative projects.
Summing up the symposium's significance, the Convener Dotun Adesua, declared that the symposium sent a resounding message: Nurturing creative talents is not merely an individual odyssey but a crucial contribution to Nigeria's cultural and economic development.
Adesua announced that the symposium marked the initiation of an annual tradition, poised to continue inspiring and connecting professionals with emerging talents within the creative industry, adding that  subsequent events would propel Nigeria forward through the transformative power of creativity and mentorship, envisioning a brighter future for the nation's creative landscape.
Celebrate Independence Day with a Star-Studded Extravaganza at Roseview Court Hotel & Apartments!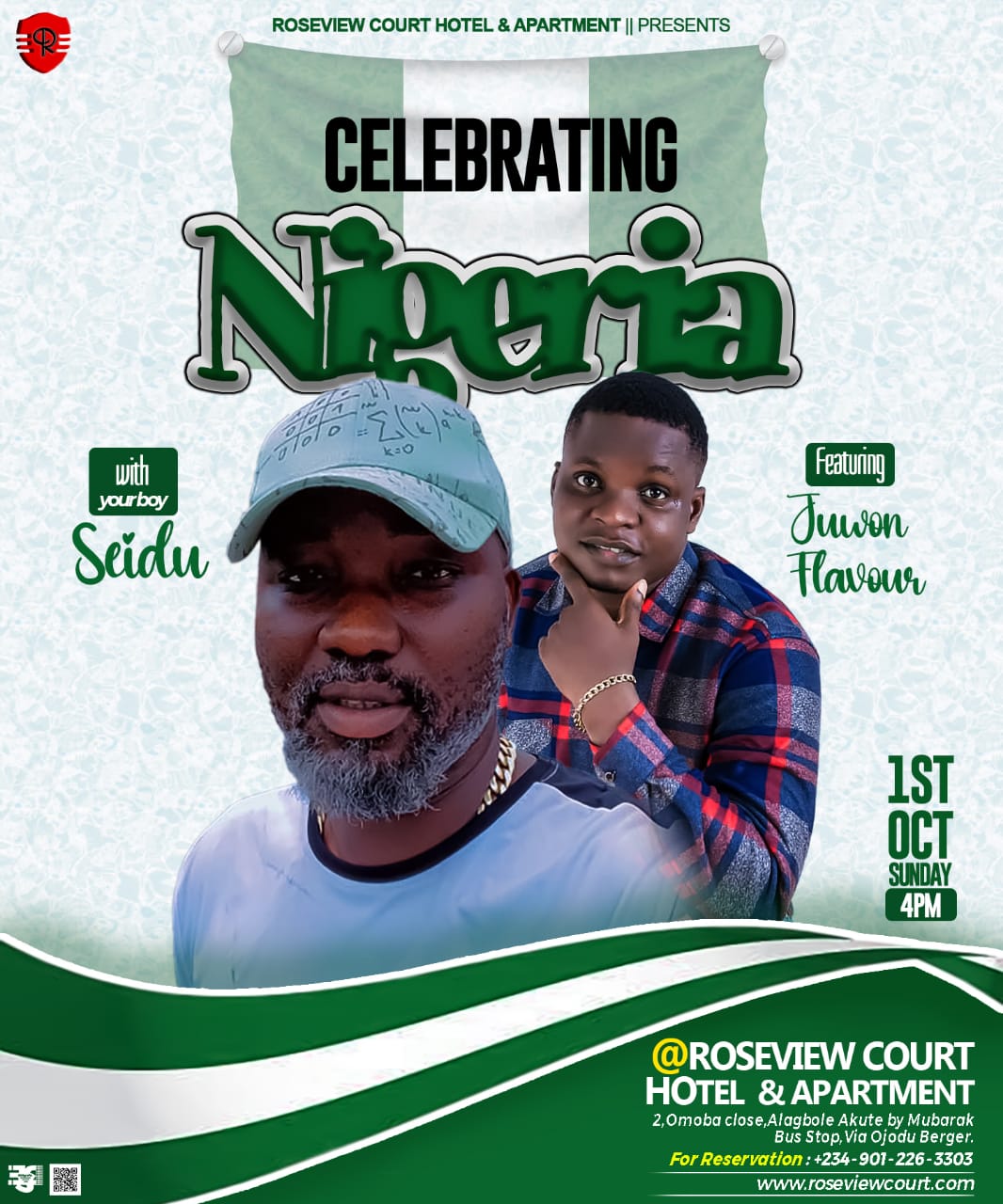 Celebrate Independence Day with a Star-Studded Extravaganza at Roseview Court Hotel & Apartments!
As the leaves begin to change and the air turns crisp, the vibrant spirit of independence takes center stage. October 1st marks a day of celebration, reflection, and unity. At Roseview Court Hotel & Apartments, we believe in commemorating this historic day in grand style. And this year, we have something truly extraordinary in store for you!
This Independence Day, come together with friends and family to celebrate Nigeria's rich heritage, culture, and the spirit of unity. Roseview Court Hotel & Apartments is proud to host an event of this magnitude, featuring the sensational Seidu and Juwon Flavour. Get ready to groove, savor delicious cuisine, and witness a spectacular performance from the sensational duo, Seidu and Juwon Flavour.
Join us on October 1st for an unforgettable Independence Day celebration that will leave you breathless. Roseview Court Hotel & Apartments has always been known for its commitment to creating memorable experiences, and this event will be no exception.
To make the most of this Independence Day celebration, book your stay at Roseview Court Hotel & Apartments. Our luxurious rooms and apartments are designed for your comfort and relaxation, ensuring your stay is as memorable as the event itself. Be sure to ask about our special Independence Day packages when making your reservation.