Top 10 Reasons to Invest in Nigerian Urban Properties by Dennis Isong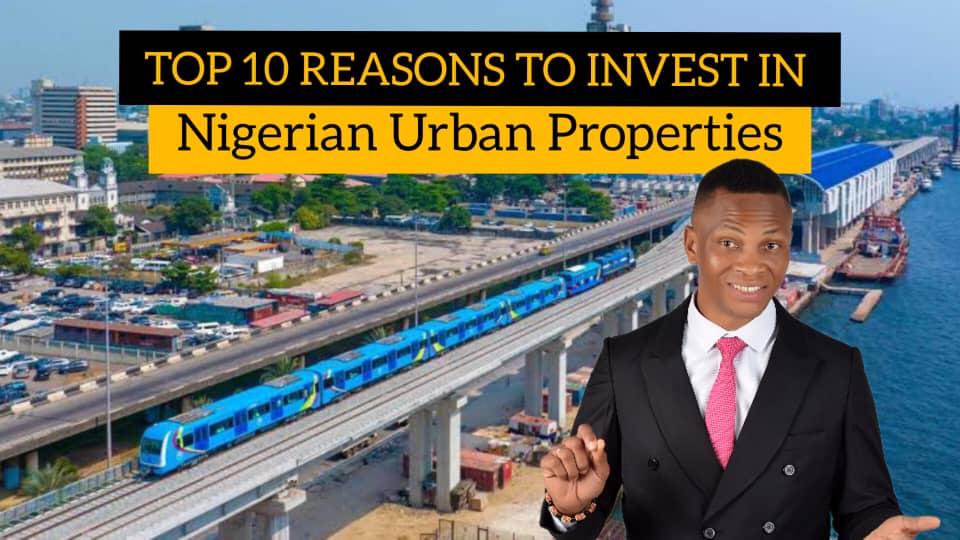 Top 10 Reasons to Invest in Nigerian Urban Properties by Dennis Isong
Sahara Weekly Reports That A number of reasons have contributed to a significant increase in urban property investment in Nigeria in recent years. Urban property investing is a desirable potential for both local and foreign investors due to a mix of a rapidly growing population, continual economic developments, and altering demographics. This article delves into ten persuasive justifications that highlight the possible wisdom of deciding to invest in Nigerian urban real estate.
Several important variables are responsible for Nigeria's increased interest in urban real estate. First off, there is a growing demand for residential and commercial space due to the country's rapidly increasing population, especially in urban regions. Infrastructure improvements, more job possibilities, and a growing middle class are just a few of the current economic factors that are fueling this demand.
Furthermore, changing demographics play a pivotal role. As more young professionals and families seek modern and convenient living spaces, the demand for well-located urban properties continues to rise. The shift towards urbanization is reshaping lifestyles and preferences, making investments in well-designed and strategically located properties a lucrative option.
Nigeria's favorable investment climate, which includes various incentives and reforms aimed at attracting foreign investors, has also contributed to the increasing interest in urban property ventures.
The government's efforts to improve the ease of doing business and provide legal protections for investors enhance the overall appeal of investing in urban properties.
A major attraction is also the potential for capital growth and rental revenue. Due to the great demand for urban properties, they frequently produce consistent rental returns, making them a dependable source of passive income.
Additionally, property values are projected to increase over time as metropolitan areas continue to expand and gentrify, providing investors with the possibility of long-term financial advantages.
Rapid Urbanization:
Nigeria is currently undergoing a pronounced phase of urbanization, marked by a significant surge in population migration towards urban centers. This transformative trend is instigating a noteworthy surge in the need for urban real estate, encompassing a diverse array of properties ranging from residential apartments to dynamic commercial spaces, as well as innovative mixed-use developments that cater to the multifaceted demands of modern urban living.
Growing Middle Class:
The growing middle class is driving a higher need for contemporary and convenient living spaces, leading to a notable uptick in the urban real estate market for properties. This trend is being fueled by the desire for improved lifestyles and urbanization, as more individuals seek modern housing options in bustling city environments. As a result, the demand for well-designed, accessible, and technologically advanced urban properties is on the rise, propelling the real estate market to new heights.
Economic Growth:
Nigeria's bustling urban centers serve as vibrant epicenters of economic vitality, drawing in a myriad of enterprises, innovative entrepreneurs, and ambitious job seekers. Exploring the prospect of property investments within these flourishing locales not only promises the allure of substantial rental returns but also opens the door to significant appreciation in capital value over time.
Infrastructure Development:
Both government initiatives and private sector investments in infrastructure are playing a pivotal role in enhancing the connectivity and accessibility of urban areas. Improved transportation links in these regions often lead to a surge in property demand and an increase in property value.
The collaboration between government efforts and private sector investments has become instrumental in shaping the connectivity and accessibility of urban landscapes. These initiatives encompass a wide range of infrastructure developments, including the expansion of road networks, the establishment of efficient public transportation systems, and the integration of advanced technologies that facilitate smoother mobility within cities.
As a direct consequence of these advancements, areas that benefit from enhanced transportation links tend to witness a substantial transformation in their property dynamics. The demand for properties in these well-connected neighborhoods experiences a noticeable upswing, driven by the convenience and ease of movement that improved infrastructure offers to residents.
Moreover, the value of properties in such areas also sees a significant appreciation, as the enhanced accessibility and connectivity contribute to the overall desirability of the location.
This phenomenon can be attributed to several factors. First, the accessibility provided by well-connected transportation systems attracts both individuals and businesses looking for convenient commuting options.
As a result, the demand for properties in these regions increases, exerting upward pressure on property prices. Second, improved urban connectivity often leads to an influx of economic activities, which can stimulate local economies and create a virtuous cycle of growth.
This economic vibrancy further enhances the appeal of the area, translating into heightened property values.
Diversification:
Real estate investment provides diversification in an investment portfolio. Urban properties offer an alternative asset class that can act as a hedge against inflation and market volatility.
Foreign Direct Investment (FDI):
Nigeria's urban property market is attracting foreign investors looking to capitalize on the country's emerging opportunities. FDI inflows can contribute to overall market growth.
Tourism and Hospitality Boom:
Nigeria's growing tourism and hospitality sector is driving demand for short-term rental properties, particularly in popular urban destinations. Investors can benefit from consistent rental income.
Government Incentives:
Government policies aimed at promoting real estate investment, such as tax incentives and ease of doing business reforms, are creating a favorable environment for urban property investors.
Cultural and Commercial Centers:
Lagos, Abuja, and Port Harcourt stand as vibrant cultural and economic epicenters, drawing in inhabitants, enterprises, and visitors. Placing investments in real estate within these thriving urban cores can lead to significant financial gains due to their dynamic nature and constant appeal to a wide range of stakeholders.
Long-Term Appreciation:
Over time, real estate has demonstrated its ability to appreciate significantly. As urban centers grow and flourish, there is a strong likelihood that property values will continue to increase due to ongoing development and prosperity. This potential for long-term appreciation makes real estate an attractive investment option.
Dennis Isong is a TOP REALTOR IN LAGOS.He Helps Nigerians in Diaspora to Own Property In Lagos Nigeria STRESS-FREE. For Questions WhatsApp/Call 2348164741041
Financial crimes in public, private space now national embarrassment – President CRAN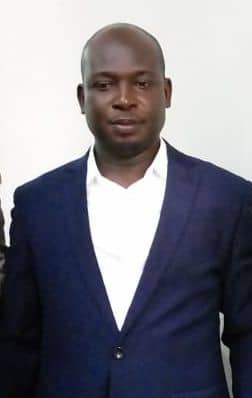 Financial crimes in public, private space now national embarrassment – President CRAN
Earlier, in his welcome remarks, the President of the Crime Reporters Association of Nigeria (CRAN), Mr. Lekan Olabulo, has frowned at the rate at which crime is increasingly committed in public and private space, insisting that the act is now becoming a thing of embarrassment to the nation.
Olabulo who lampooned corrupt public office holders, noted that those involved in syphoning the common wealth of the nation should remember that they are not insulated from being probed.
The President of CRAN, disclosed that the annual lecture cum.award series, which he said started about 30 years ago, has become a veritable platforms through which suggestions are made on how best relevant agencies and other stakeholders could tackle the menace of insecurity, bedeviling the nation.
" Outside the corridor of governance, many Nigerians particularly the youths are engaged in financial crimes such as internet fraud commonly referred to as Yahoo, Yahoo and other illicit financial businesses
" Inspite of the existence of laws to check crime in Nigeria, more youths are enlisting in the Yahoo Yahoo business with such conviction that what they are doing is illegal.
"Yahoo, Yahoo or cybercrime has come to be generally accepted by most parents as if it is a legitimate business and many communities are now in competition over the number of youths who have acquired humongous wealth through Yahoo, Yahoo", CRAN President beamoned.
Olabulo hinted that the annual lecture cum.award series started about 30 years ago has become veritable platforms through which suggestions are made on how best the relevant agencies and other stakeholders could tackle the menace of insecurity, bedevilling the nation.
TINUBU APPOINTS NCDMB GOVERNING COUNCIL AND MANAGEMENT TEAM
PRESIDENT TINUBU APPOINTS NCDMB GOVERNING COUNCIL AND MANAGEMENT TEAM
In conformity with Sections 71(1), 72, and 73 of the Nigerian Oil and Gas Industry Content Development Act (2010), President Bola Tinubu has approved the appointment of qualified Nigerians to serve on the Governing Council and Management team of the Nigerian Content Development and Monitoring Board (NCDMB):
(1) Sen. Heineken Lokpobiri — Chairman / HMS, Petroleum Resources
(2) Engr. Felix Omatsola Ogbe — Executive Secretary
(3) Oritsemyiwa Eyesan — Member / EVP Upstream, NNPCL
(4) Gbenga Komolafe — Member / CEO, NUPRC
(5) Bekearedebo Augusta Warrens — Member
(6) Nicolas Odinuwe — Member
(7) Rapheal Samuel — Member
(8) Sadiq Abubakar — Member
(9) Olorundare Sunday Thomas — Member
President Tinubu expects this highly qualified body of experts to discharge their duties with his patriotic resolve to significantly enhance indigenous industry participation in the energy sector as part of the Renewed Hope Agenda's mandate to achieve the goal of 70% indigenous content and participation in the nation's energy industry during the lifespan of this administration.
Chief Ajuri Ngelale
Special Adviser to the President
(Media & Publicity)
December 7, 2023
19-yr-old Dies Of Drug Overdose During Intercourse With A Lady (photos) 
19-yr-old Dies Of Drug Overdose During Intercourse With A Lady (photos)
Sadly, a 19-year-old boy, known as Lucky, tragically died from a drug overdose during an intimate encounter with a young lady.
Trendygists gathered that the incident occurred at Oton, after the Vigilante Checking Point, Sapele, Delta state this morning, December 7.
According to reports, Lucky took loads of drugs before engaging in intimate activities with the girl he took home the previous night.
Lucky paid the girl 50k for their encounter, an eyewitness at the scene said, adding that after two rounds, the young man tragically succumbed to the effects of the drug he had taken earlier.
The girl explained that after their sexual encounter, Lucky suddenly became distressed and hit her phone on the ground in the process. She further stated that she was unaware he was grappling with the effects of drug use.
The lady stated that she noticed that Lucky was no longer responsive at around 4 am. She hurriedly left Lucky's house with his phone but later realized that she had left her phone at Lucky's place. As she went back to take it, Lucky's neighbors noticed his absence and began to question her. Her nervous behavior raised suspicions, leading to the discovery. She was apprehended and the police were subsequently involved in the matter.
It was gathered that the police collected both phones, and Lucky's body was evacuated from the scene.
However, Lucky's family is unknown, at the time of this report, but his neighbors revealed that he only spoke about his late mother and mentioned his grandmother.