Shoprite surprises customers on a bumper Black Friday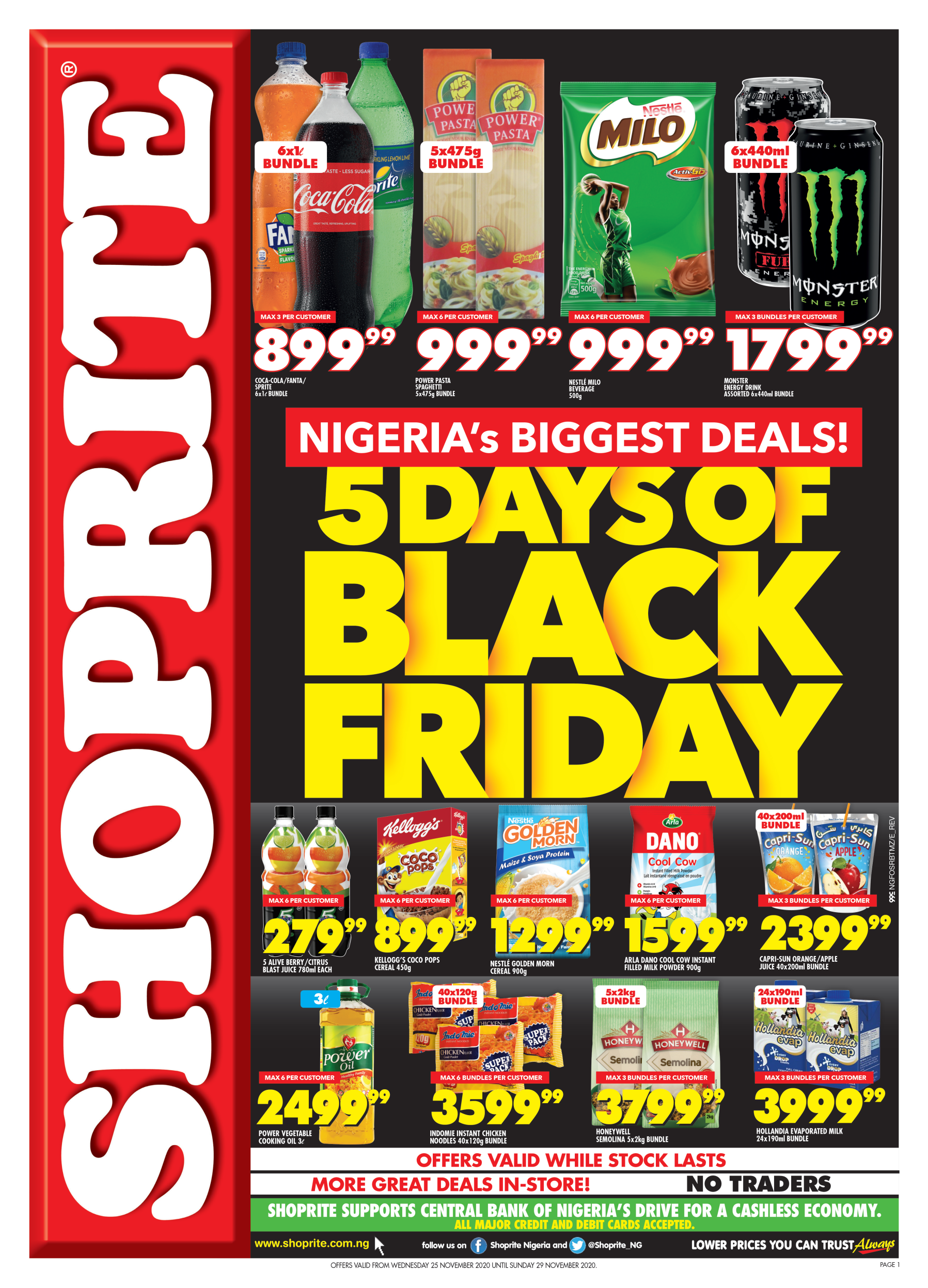 Shoprite surprises customers on a bumper Black Friday-ShopriteNigeria's supermarkets have offered early Black Friday deals and big discounts on everyday essentials as customers are increasingly looking for value, given the pressure many households are currently experiencing.
The Shoprite bumper black Friday offer begins from 25th November and ends in 29th November, 2020 and it's a pan-Nigeria value added offer.
According to the Shoprite statement, " In response to COVID-19 pandemic, Shoprite will for the first time offer early Black Friday deals and keep the deals valid for longer, to allow customers more time to plan and shop, and to prevent overcrowding."
The statement further stated that some of the great deals on offer include   Coca-Cola, Fanta, Sprite products, Power Vegetable Cooking, Ariel Washing Powder and many others products.
Stringent hygiene and sanitizing protocols will be in place at all Shoprite supermarkets in Nigeria to help protect customers and employees as far as possible.
These include, but are not restricted to, the use of face masks, hand sanitizer, social distancing and limited entry where necessary to avoid overcrowding. Customers are encouraged to pay by card and to capitalize on the extended trading hours to make the most of the deep-cut specials that will be on offer.
Ghana Takes Center Stage In Russia At Nana Tamakloe Is Set To Speak At BRICS+ Fashion Summit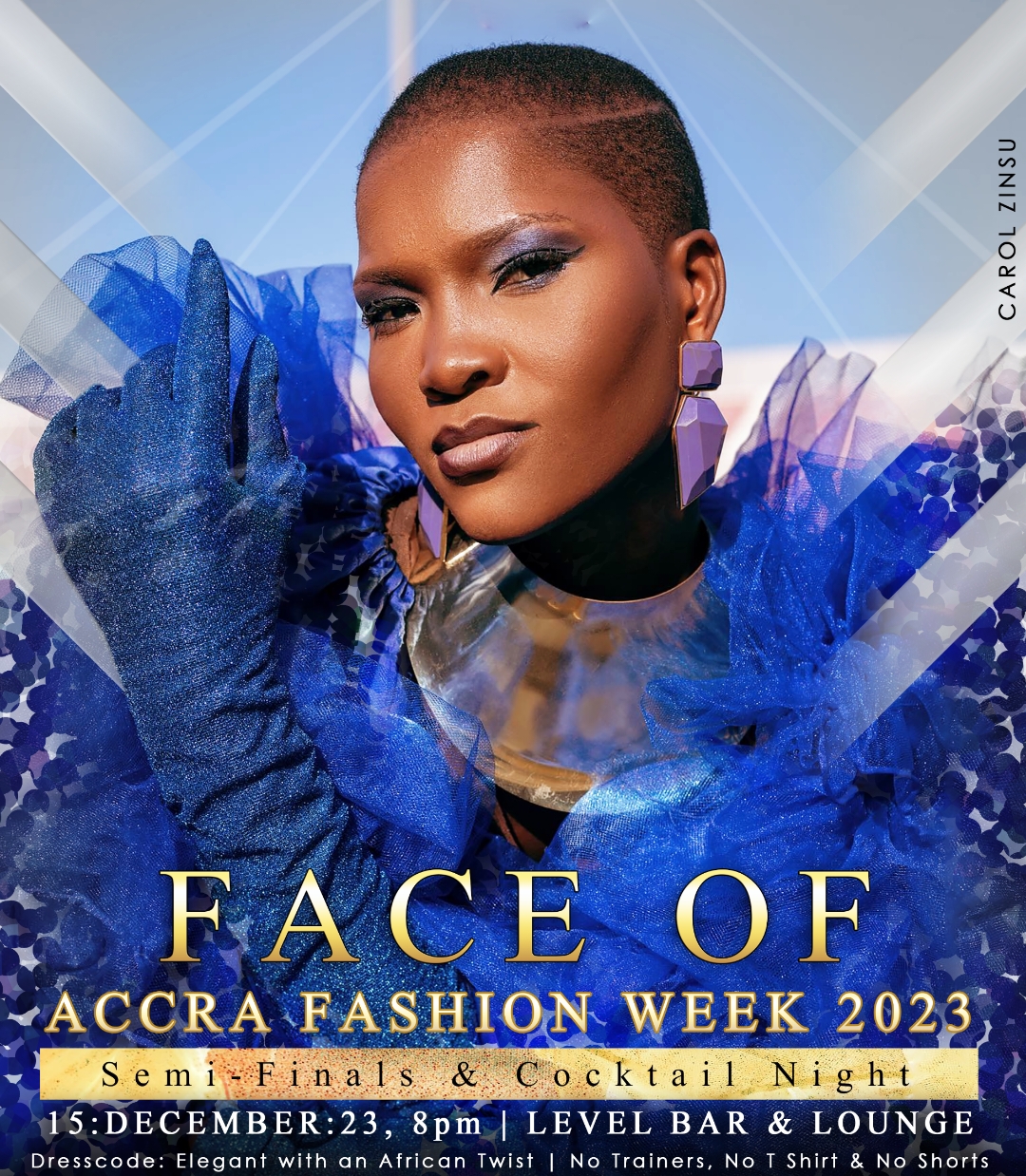 Ghana Takes Center Stage In Russia At Nana Tamakloe Is Set To Speak At BRICS+ Fashion Summit
Nana Tamakloe, the face behind Accra Fashion Week and Africa's leading fashion blog, FashionGHANA.com, has been invited as a notable presence at the ongoing BRICS Fashion Summit in Moscow. The summit, hosted by Moscow Fashion Week, kicked off its proceedings on November 28 and is set to wrap up on December 2.
Tamakloe, known for his influence in reshaping African fashion, has been turning heads with his creative international approach. His journey from launching the continent's premier fashion blog in 2012 to curating the celebrated Accra Fashion Week has been marked by trendsetting moments.
Last year, Tamakloe found himself on the international stage and being invited to and honored in USA at the Memphis In May Festival in the USA, sharing the limelight with figures like King Otumfou, Stonebwoy, and Okyeame Kwame. This global recognition speaks volumes about his impact on Ghanaian culture, and now, he's bringing that influence to Russia to the BRICS Fashion Summit.
Organized under the umbrella of Moscow Fashion Week, the BRICS Fashion Summit has become a gathering of fashion elites. Editors, event organizers, representatives from major publications, clothing specialists, bloggers, instructors, and emerging designers from various corners of the globe have converged to create an atmosphere of creativity and collaboration.
Originally synchronized with Moscow Fashion Week, the BRICS Fashion Summit is more than just a stylish rendezvous; it's a strategic endeavor to cultivate the ethos of the BRICS Fashion community. Stemming from the BRICS—an intergovernmental organization uniting Brazil, Russia, India, China, and South Africa—the fashion community aims to redefine the industry's dynamics.
The summit goes beyond national boundaries, boasting participation from over 30 countries, from the streets of China to the landscapes of Nigeria. The BRICS Fashion Summit is positioning itself as a global hub for sartorial excellence.
Tamakloe's role at the summit is more than just attendee status; he's on a mission to ensure Ghana doesn't just participate but actively shapes the narrative of the BRICS Fashion Summit. His goal is to play a decisive role in steering the creation of the BRICS Fashion community, putting Ghana at the forefront of global fashion discussions. Other guest from Ghana also include researcher Makeba L. Boateng and Nana Brenu.
As the spotlight intensifies on Moscow, Nana Tamakloe's active presence becomes a symbol of Ghana's growing prominence in the international fashion scene. The BRICS Fashion Summit isn't just about trends; it's a platform where cultures meet, and Tamakloe is steering Ghana's fashion story into the global limelight.
This year, Accra Fashion Week is poised to welcome representatives from 17 nations to the vibrant city of Accra. This spectacular event is slated to unfold against the iconic backdrop of the Kwame Nkrumah Mausoleum, from December 13th to the 17th, 2023. The anticipation is further heightened as delegates from the BRICS Fashion Summit are set to grace the occasion, amplifying the international flair.
Adding an extra layer of significance, the African Fashion Summit, scheduled for December 15th, 2023, promises to be a pivotal moment. This special day will feature an exclusive update on the happenings at the BRICS Fashion Summit, creating a nexus where global fashion conversations seamlessly converge. Accra Fashion Week is poised not only to showcase diverse styles but also to serve as a dynamic platform fostering international collaboration and discourse. Save the dates for a week of sartorial splendor and cross-cultural connections.
Poshglow Skincare's CEO Folasade Omotoyinbo Launches 'Feeding for All' Initiative to Combat Hunger in Nigeria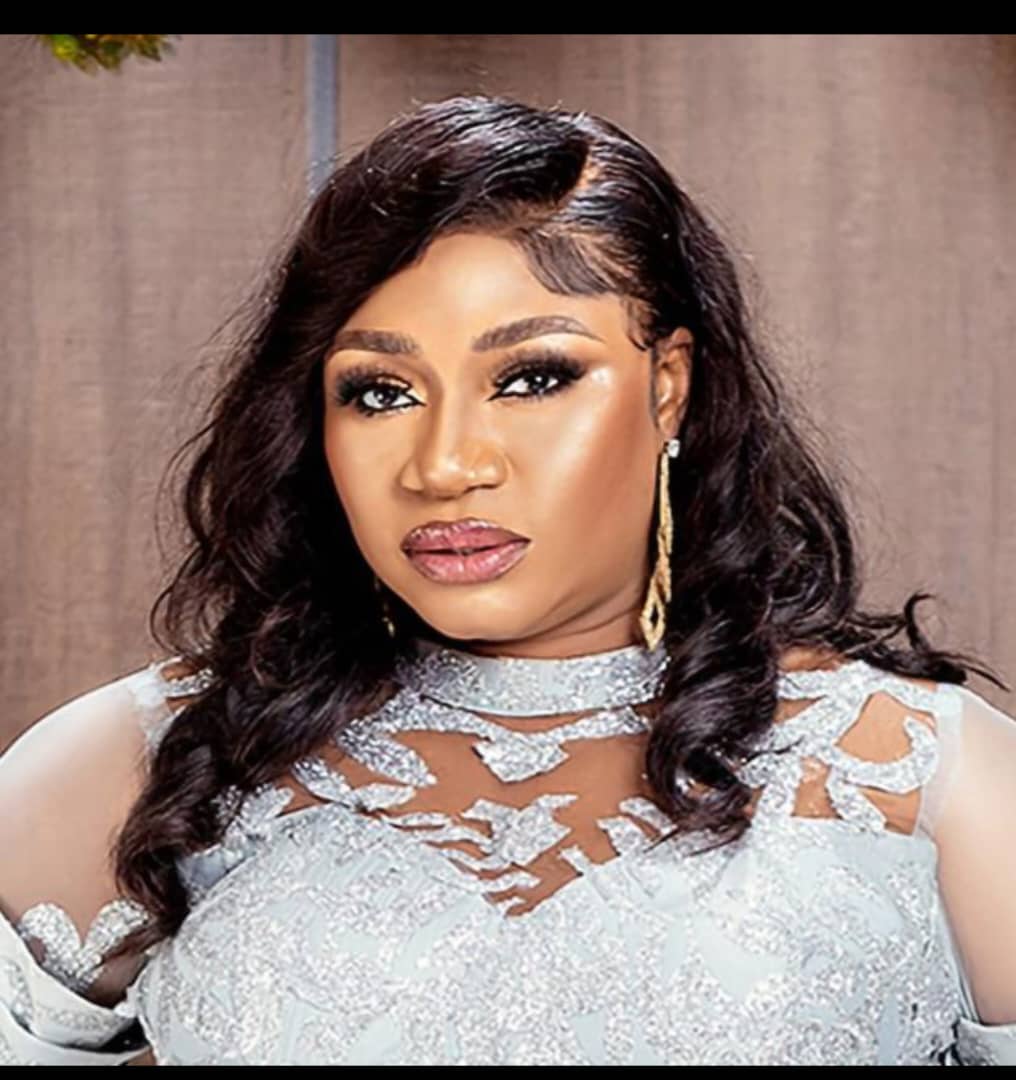 Poshglow Skincare's CEO Folasade Omotoyinbo Launches 'Feeding for All' Initiative to Combat Hunger in Nigeria
Poshglow Skincare, a renowned name in the beauty industry, is not just celebrating its 6th anniversary; it's embracing a remarkable journey of compassion and change. Folasade Omotoyinbo, the CEO of Poshglow Skincare and a celebrated aesthetician and beautician, is spearheading an initiative that's set to redefine the fight against hunger in Nigeria.
Omotoyinbo's journey from a certified beauty therapist in London to a prominent entrepreneur in Nigeria is a testament to her unwavering commitment to societal betterment. Her leadership has led Poshglow Skincare to prestigious accolades, including the City People Entertainment Award for Best Skincare Brand in 2020, and now she's channeling her brand's success into a humanitarian endeavor.
"I believe in a holistic approach to wellness, extending beyond skincare to meet fundamental human needs like food and nutrition," Omotoyinbo explained.
"The Folasade Omotoyinbo Foundation is about building a healthier, stronger community where well-being is accessible to all, regardless of their economic status."
The foundation's vision is nothing short of ambitious. It involves the establishment of food banks in strategic locations across Nigeria, with a long-term mission to provide nourishment to millions of households. This initiative reflects Omotoyinbo's broader goal of community empowerment, a hallmark of her leadership at Poshglow Skincare.
"Feeding for All is not just about providing food; it's about instilling hope, promoting self-sufficiency, and creating a ripple effect of shared prosperity in our communities," she elaborates. "We're not merely setting up food banks; we're nurturing a culture of mutual support and resilience to drive our society towards sustainable development."
In an industry where the focus is primarily on external aesthetics, Omotoyinbo's human-centered approach stands out. Her advocacy for organic and natural skincare, combined with her venture into humanitarian service, underscores a multifaceted approach to wellness and community engagement.
As the Folasade Omotoyinbo Foundation officially launches, it marks a pivotal chapter in the illustrious story of Poshglow Skincare. With Folasade Omotoyinbo at the helm, orchestrating a symphony of positive change, the anticipation surrounding the launch resonates with the hope and transformative impact the foundation aspires to anchor across Nigeria.
Omotoyinbo's story is an evidence to the potent blend of entrepreneurship and philanthropy, redefining success in the business world to encompass a broader spectrum of societal impact. Her indelible mark on both the skincare industry and the humanitarian sector positions her as a vanguard of sustainable change, etching a legacy that transcends commercial success. This launch is not just a celebration of Poshglow Skincare's 6th anniversary; it's a celebration of hope and a hunger-free Nigeria. For your information, Folasade is blessed with a heart of gold, she has been putting smiles on people's face for so long and it's what she enjoy doing.
Mighty Wears Nominated for Next Rated Fashion Designer and Young Entrepreneur of the Year at the Lagos Achievers Award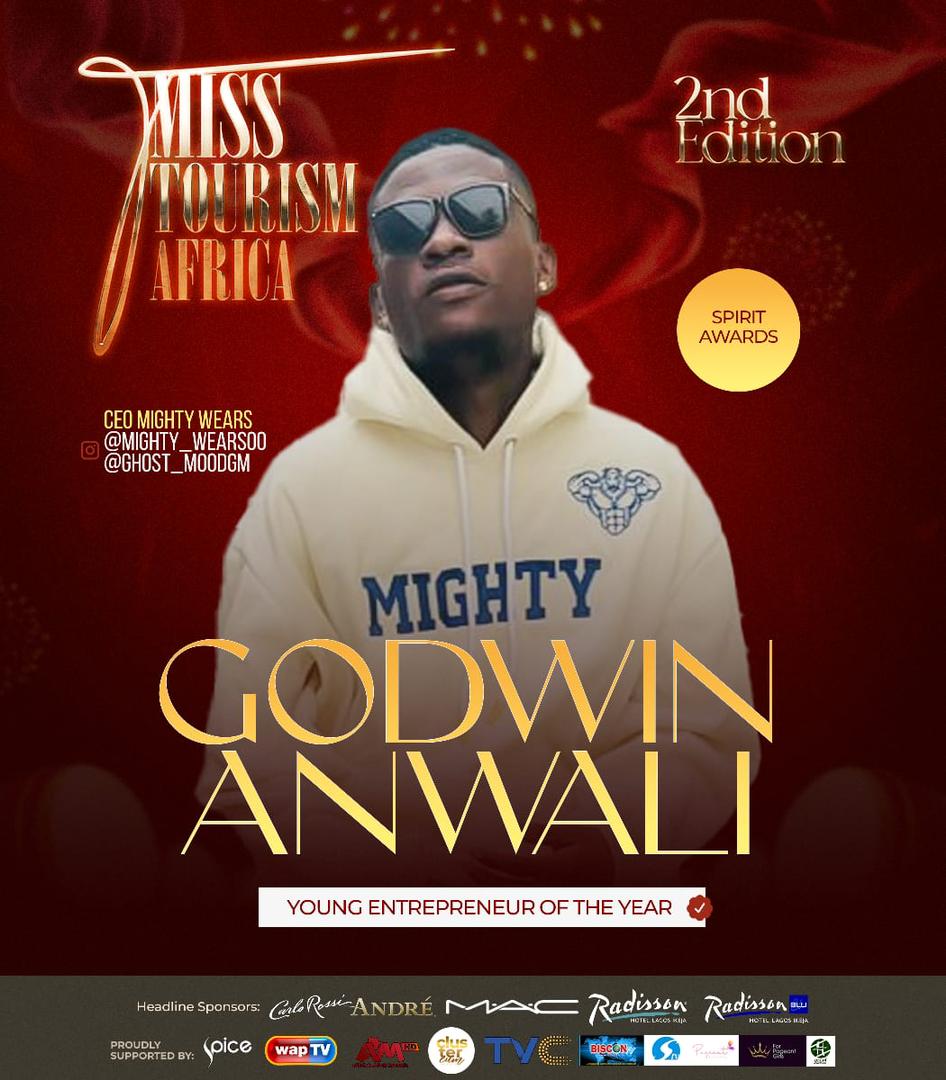 Mighty Wears Nominated for Next Rated Fashion Designer and Young Entrepreneur of the Year at the Lagos Achievers Award
Mighty Wears, a young and promising fashion label, has garnered significant recognition for its unique blend of style, innovation, and business acumen. This recognition has now culminated in a double nomination for the Next Rated Fashion Designer and Young Entrepreneur of the Year categories at the prestigious Lagos Achievers Award.
One remarkable aspect of Mighty Wears' journey is their commitment to sustainability. In an industry often criticized for its environmental impact, they have taken a different path. Their collections feature sustainable materials and ethical production practices, setting an example for responsible fashion.
The Lagos Achievers Award nomination shines a spotlight on Mighty Wears' exceptional work and contributions to the fashion world. It's not just an acknowledgment of their talent but also a recognition of their dedication to making fashion more sustainable and inclusive.
As we eagerly anticipate the results of the Lagos Achievers Award, one thing is clear: Mighty Wears is a rising star in the Lagos fashion scene, and their future is as promising as their designs. Whether they take home the award or not, Mighty Wears has already left an indelible mark on the fashion industry and continues to inspire fashion enthusiasts.
Stay tuned for the Lagos Achievers Award ceremony, where Mighty Wears' journey as a next-rated fashion designer reaches a new milestone.