Stop giving false hope to your followers; submit yourself honorably to security agencies, Ogun APC replies Adebutu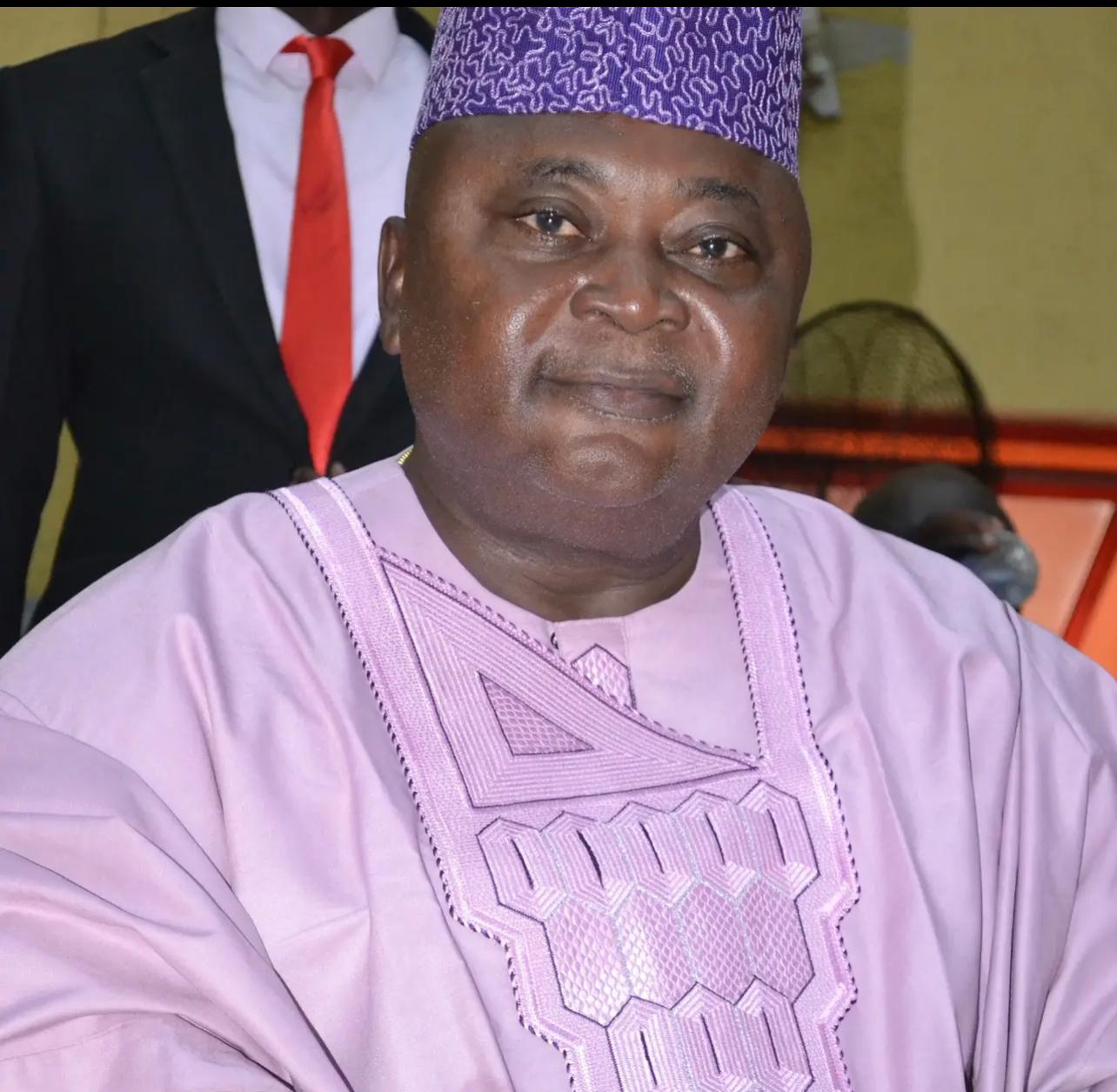 Stop giving false hope to your followers; submit yourself honorably to security agencies, Ogun APC replies Adebutu
The Ogun State chapter of the All Progressives Congress (APC), on Friday, said the most honourable thing for the candidate of Peoples Democratic Party, PDP, in the March 18th governorship election, Hon. Oladipupo Adebutu, to do was to submit himself to security agencies over the allegations of electoral fraud levelled against him.
The party also advised Adebutu to stop dishing out false hope to his followers, insisting that his alleged atrocities during the last poll would be pursued to a logical conclusion in the competent court of justice to serve as a deterrent to others.
Ogun APC was reacting to a statement in the media credited to Adebutu, where he raised issues concerning the last gubernatorial election in the state, including the involvement of a former governor of the state, Gbenga Daniel, among others.
In a statement signed by the Assistant Publicity Secretary of the party in the State, Olusola Ogunsanya Blessed, and made available to newsmen in Abeokuta, the State capital, the party said the statement issued by Adebutu was laced with intent to cover up certain atrocities and change the real narrative.
The party claimed that going by the tune of the Adebutu's statement, the PDP chieftain and Daniel must have been embarrassed by the exposition of their alleged shenanigans and conspiracy during the last general election.
The statement read in part: "While Adebutu, in his cognitively impoverished piece dripping with vile abuse, failed woefully to defend the fact that Gbenga Daniel, against good conscience, worked for him and his party, the PDP, and betrayed the party that gave him a ticket and even sponsored him to emerge as a Senator of the Federal Republic of Nigeria, he tried to be clever by half by denying the allegation of bribery levelled against the former Ogun Governor with overwhelming evidence.
"For every discerning political watcher, it is crystal clear that Adebutu and Daniel were seriously embarrassed by the exposition of their atrocities in the public glare, and so the bribery, criminal conspiracy and money laundering suspect currently hibernating in a foreign country resorted to defending the indefensible and further exposing the astounding degree of moral decadence and perfidy that defines their relationship.
"Adebutu's pattern of defence in which he described Daniel as "a very rich man in his own right" obviously depicts how shallow he is despite his age. His line of thought regrettably defies critical reasoning and is a reflection of his highfalutin and bogus persona.
"It is even more childish for the PDP guber candidate to ignorantly mention his father and Gbenga Daniel as benefactors of Governor Dapo Abiodun, astutely elevating beer parlour gossip and clueless innuendos as tools of public engagement.
"On the issue of performance and reelection of Governor Dapo Abiodun, it is surprising that a man like Oladipupo Adebutu, who is known to be irredeemably indolent and mortally afflicted with mental laziness could accuse any government of non-performance and corruption, when he lacks the intellectual stamina to do a thorough assessment of government policies and activities".
The statement further accused Adebutu of stooping so low to be involved in alleged electoral malpractices and money laundering and brazenly comprised the electoral process.
It added that Governor Dapo Abiodun had the people solidly behind him and had since settled for governance, urging Adebutu to summon courage and come back home to face justice.
"The most pertinent among issues raised by Adebutu in his treatise is that of acceptability and popularity of Governor Dapo Abiodun. The salient question to ask Adebutu is this: If as he claimed Governor Dapo Abiodun was not popular and couldn't have won the March 18th poll, why did Adebutu and his accomplices resort to broad-day rigging by conniving with Zenith Bank to issue 200,000 ATM verve credit cards, preloaded with N10,000 each to bribe the electorate in the State?
"A popular candidate would only have carefully monitored his votes like Governor Dapo Abiodun did, and not stooped so low as to go the way of criminality, audaciously breaching the sanctity of the electoral process like Adebutu and the PDP did.
"Finally, if Adebutu is the man he claims to be, he should summon the courage to come back home and submit himself to the security agencies for prosecution. This is not the time for him to give false hope to his gullible followers.
"And to be sure, the people of Ogun State are solidly behind their Governor, and are very optimistic that their stolen votes by Adebutu and the PDP through massive rigging will be retrieved by the Tribunal soonest", the statement further read.
AdeDimeji Lateef, Dele omo Woli , Bash , Other A-list Comedians storm ijebu for Mc Baffy's Ijebu Go Laugh '23 Edition*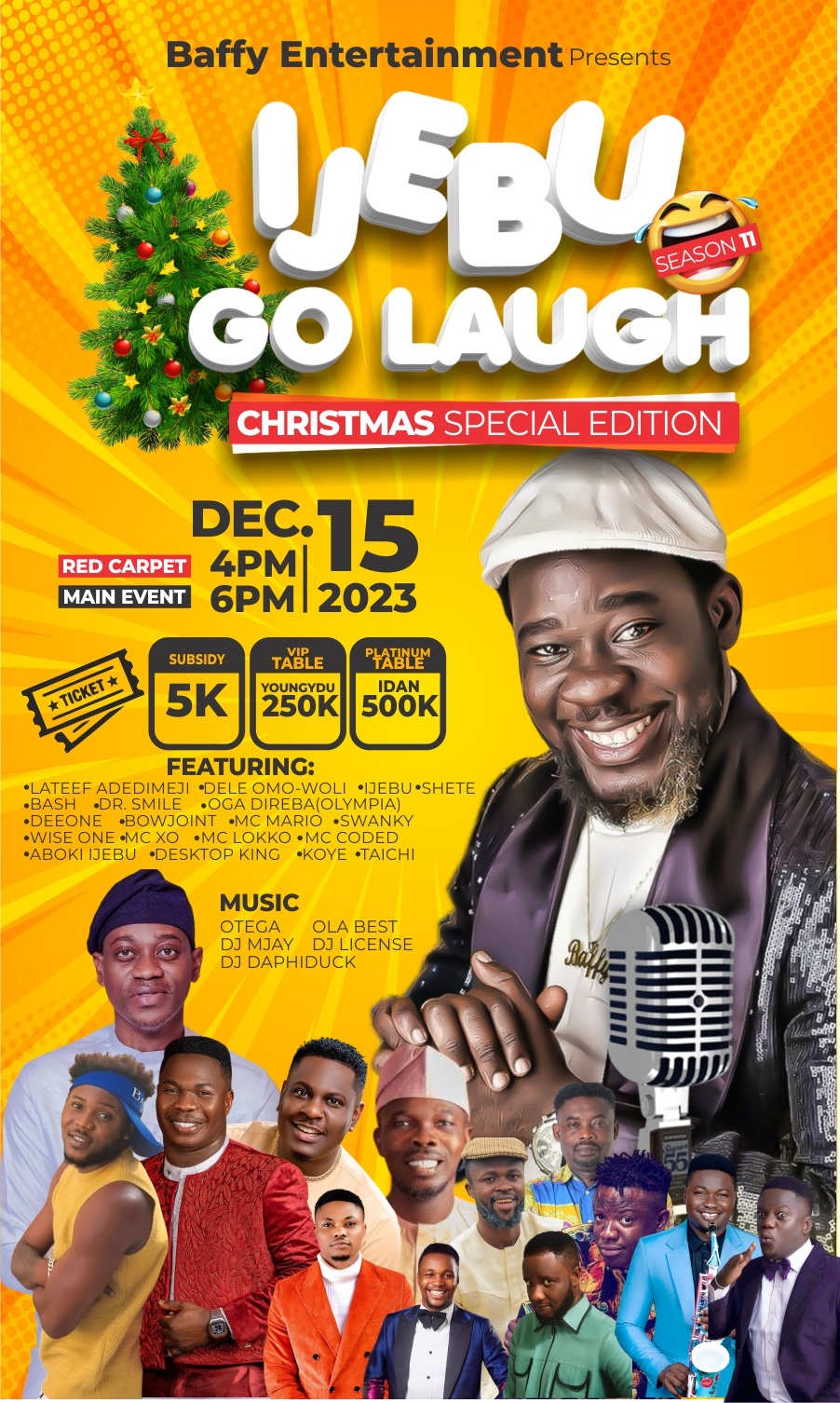 AdeDimeji Lateef, Dele omo Woli , Bash , Other A-list Comedians storm ijebu for Mc Baffy's Ijebu Go Laugh '23 Edition*
Fast-rising comedian and Master compere, Ayodeji Atanda prominently known around town as Baffy De Comedian will in few days time bring the AY Live experience to Ijebuland.
The grand event which promises to be a hit will hold on Friday, December 15, 2023 at the upscale Rolak Hotel and Suites, Imowo road, Ijebu Ode, Ogun state, starting from 4pm.
The annual comedy concert which has gathered momentum in recent years will have A-list comedians and artists like Lateef Adedimeji, Dele Omo-Woli, Ijebu, Dr Smile, Bash and Mc Mario in attendance.
Others music artistes and Nollywood celebrities expected are Olabest, Otega, Hephta, Koye, Shete, Mc Coded, Dj License and many others.
According to the convener of the award-winning programme, Mc Baffy, the comedy concert has been holding successfully in the last 11 years. We are out to thrill the audience with a breathtaking performance. I am bringing an AY LIVE experience to ijebu for ther first time and I am sure my people will be impressed.
DSS Raid: Igboho Denies Turning Into Cat To Escape Arrest
DSS Raid: Igboho Denies Turning Into Cat To Escape Arrest
Sunday Igboho, a Yoruba Nation activist, has finally spoken out about rumours that he transformed into a cat during a midnight raid on his home by the Department of State Services (DSS) in July 2021.
In an interview, Igboho refuted the report, saying that nothing like that occurred during the DSS raid.
He added that the DSS fired sporadically during the raid, killing multiple cats.
According to the activist, the DSS wanted to either kill or arrest him during the raid.
He said, "It is true that some cats were killed during the attack. Because the DSS just kept firing bullets in all directions. I was rearing cats as pets, and I had many of them in my house. So, anything or movement attracted sporadic gunshots.
"Their mission was to either kill me or arrest me and take me to an unknown destination, but the Almighty God is greater than anybody in this world, including the despotic ex-President Muhammadu Buhari."
Igboho added that he does not know whether the DSS brought three herbalists during the raid.
Yoruba Movie Gist Awards To Hold At RM Place Magodo Lagos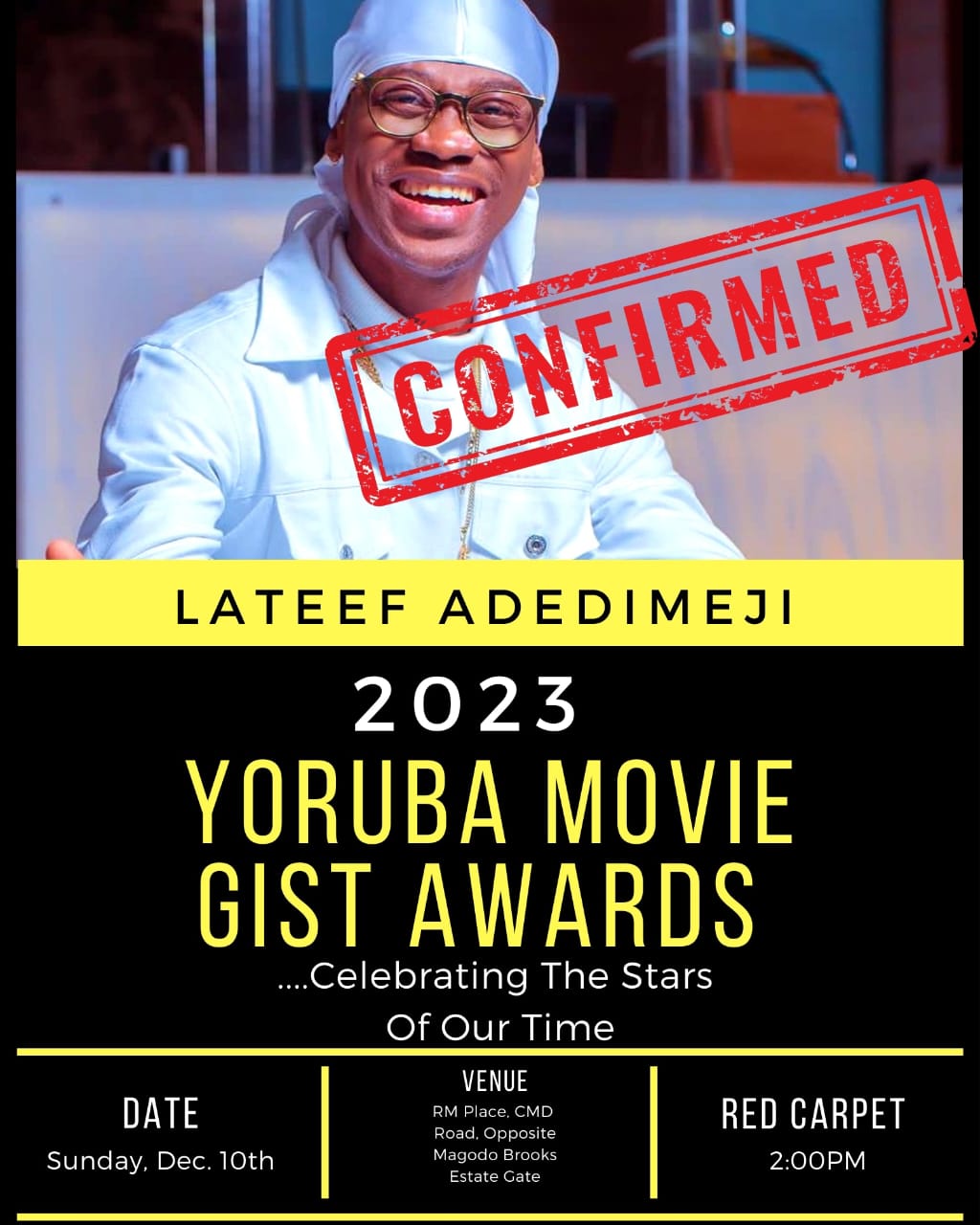 Yoruba Movie Gist Awards To Hold At RM Place Magodo Lagos
Olakiitan Adetutu Communications, spearheaded by Gbolahan Adetayo, the brains behind the esteemed Yoruba Movie Gist Awards, has disclosed RM Place, Opposite Brook Estate, CMD Road, Magodo, Lagos State, as the designated venue for the much-anticipated 2023 edition of the awards.
The prestigious ceremony is set to commence with a glamorous red carpet session at 2 pm, strictly adhering to a punctual schedule, and the main event will follow suit at 4 pm. The organizers emphasize a strict "No African time" policy, ensuring a timely and seamless experience for attendees.
This star-studded occasion promises the presence of top-tier Nollywood personalities, including the likes of Lateef Adedimeji, Ayo Olaiya, Yinka Salawu, Wumi Toriola, Omowunmi Ajiboye, Biodun Okeowo, and an array of other luminaries from the Yoruba movie industry.
Save the date, as the 2023 Yoruba Movie Gist Awards at RM Place, CMD Road, Magodo, Lagos, is destined to be an evening of glamour, recognition, and celebration within the vibrant landscape of Nollywood.