TB Joshua's Family Special!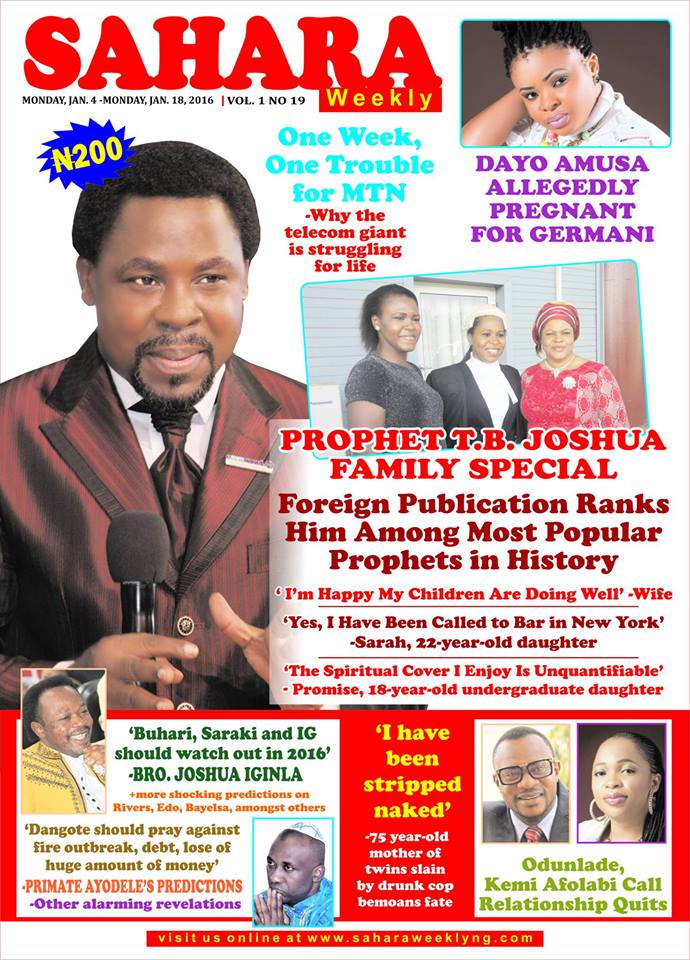 TB Joshua's Family Special!
Sarah and Promise are very lucky. They are Prophet TB Joshua's daughters and doing so well in life. Sarah was called to the Nigerian Bar on Wednesday, December 16 and she's also looking forward to being called to the New York bar in the United States of America soon. Promise is 18 and study­ing Politics and International Relations at London School of Economics in the United King­dom. It's obvious that they're both apples of the renowned prophet's eyes. In the interviews that follow, both reflected on life as daughters of Prophet TB Joshua and what this has added to their lot in life.
Excerpts:
Congrats, how do you feel being called to the bar today?
I am grateful to God, my family and friends who have been of help to me. I am humbled and privileged to have succeeded and called to bar to­day (Wednesday December 16). So, I am very happy.
How does it feel being the first-born of Prophet TB Joshua?
I am privileged and fortunate to be the daughter of such a humble and great man of God called T. B Joshua. He is someone I look up to, because he's a man of God and he has been able to guide me every time I need him. I am so happy, so humbled to be his daughter. He has been a good guide. Therefore, I can't afford to disappoint him and God, because to whom much is given, much is expected. And I definitely love him.
How would you describe TB Joshua, is he a good father?
He is a true example of humility. I have seen so many things in him that are worthy of emulation. As a father, he is the best anybody can pray to have. I am not just saying that because he is my father but also because it's the truth. Also, it's not what I think about him or what people think about him that counts but what God says about him.
Some people don't under­stand your father. They seem to have wrong impres­sion about him, what's your take on this?
That's why I said he is a true man of God. Like I said earlier, it's not what people say that counts but what God says. Everybody has the right to air their opinion but God's opinion counts most.
What's his reaction to your success story?
He's very happy and proud of me. I am always happy whenever he is proud of me. He has given me so much and I feel I have a lot to offer and can't disappoint him.
What's the special gift or words of encouragement he has given you?
He always says that life is an experience. I know my dad and he is a living example of how to live; he's humble and devoted to God.
People see him as a successful Minister of God, with interna­tional repute. Can the same be said of him as a family man?
Definitely, he is and that's why I said he is the best dad I could ever wish for. I am so grateful to God and proud to be his daughter.
As Pastor T. B Joshua's daughter, how do your friends relate to you? Are you under pressure to introduce your friends to your dad, most espe­cially, for prayers?
My friends were sur­prised that I am his daughter. And yes, they always want me to intro­duce them to him.
Has the name TB Joshua opened doors for you?
When people know that I am his daughter, they are always sur­prised. And that spurs me on to work harder and achieve what I want.
For every success there is a story to tell, what were your greatest challenges and how did you overcome them?
We all have challenges but with what my father has taught me, I see chal­lenges as stepping stones to greater heights. Also, chal­lenges are not personal because God is involved in seeing you through. Every stumbling block is a lesson to move higher in life.
Now that you've been called to the bar, what's next?
I have also been called to bar in New York. I passed and will be called to bar at New York Supreme Court in January 2016.
Tell us about your educa­tional background?
I went to Ronik International School, Ikotun, Lagos. I did my Law degree at the London School of Economics. And I did my Masters in New York.
Are you daddy or mum­my's pet?
I am daddy's pet because I admire him a lot and the best is yet to come.
furthermore, Sister to Sarah, Promise Joshua, also had a chat with journalists
Excerpts:

Can you briefly introduce yourself?
My name is Promise Joshua. I am sister to Sarah Joshua who has just been called to the Nigerian bar today. I am studying Politics and International Relations at the London School of Economics. I am happy to be here to celebrate with my sister.
How has life been as Prophet T. B Josh­ua's daughter?
That's a nice question. Life has been great. I feel it's a privilege to be Prophet T.B. Joshua's daughter . He is one in a million. I have never seen anyone like him. He is a world fig­ure who has done quite a lot. It's a great honour to be a child of Prophet T.B. Joshua.
Would you de­scribe him as a strict father, a discipli­narian?
He has a bit of everything. It's good to have some balance. I think he is quite tough, he teaches us what to do. He wants us to succeed by emulating the path of honour he has chosen. He is a disciplinarian for sure, and I think my sister has imbibed his principles of hard work and godli­ness, and that has led to her success. By God's grace, we are following his path and seeing results. My sister, who is just 22, studied Law at London School of Economics and went to New York for her bar exams. She has also been called to the Nigerian bar. She will be called to the bar in New York shortly. Her ability to have combined the New York and Nigerian bar ex­ams is a testimony to the disciplined upbringing our father gave us. She has been a role model and I am fol­lowing her footsteps.
How old are you?
I am 18.
Are you mummy or dad­dy's girl?
I think I am more of daddy's pet. I am closer to my dad.
How do you react to the negative comments about your dad?
I think that life is full of challeng­es, and one thing my dad has taught us, is that the road to success is not a red carpet. From him, we have learnt that whenever criticism and condemnation come our way, we should see them as stepping-stones to greater heights. Moreover, he has taught us to see unpleasant situa­tions in life as a way of strengthen­ing our faith in God, because like he always says, crown and glory are not without their own pains. Even Jesus, the saviour of the world was reviled, condemned and crucified by man­kind whom He had come to save. You should be scared when your life is too smooth, so says my father. Whenever I hear negative comments about my dad, I encourage him to carry on, because I know most sincerely that he is on the right path. I really admire him as a man in his own world, who has accomplished a lot. He is definitely a role model.
Can you marry a pastor?
If God wants it, why not?
Have you ever benefitted from being a daughter of Prophet T. B Joshua?
First, the spiritual cover I enjoy is unquantifiable. I have recorded a lot of successes in many things I have done in life. I also think I have received a lot of favours being his daughter. He has impacted so many lives in the world, and so, many peo­ple out there want to help me once they know I am his daughter. Being his daughter has opened so many doors in my life.
What is the greatest les­son he has taught you?
I have learnt quite a lot from him. It's difficult to point to just one. But I think I can say one great thing I have learnt from him is that challenges are good.
How was growing up in the home of T. B Joshua?
It's an experience I will live to remember. It's unique in the sense that I grew up in the midst of many people. Being a church of all nations, I have learnt a lot from people of different cultures and climes, and that has made me a very simple and open-minded person.
What is the greatest gift you have received from your father?
He has given me a couple of gifts including the Holy Bible. But one gift I will not forget in a hurry is the trainers I received from him for my gym activities. We wear the same size of shoes and it was nice receiv­ing that gift and sometimes sharing some of his footwears with him.
What size do you wear?
I wear size 9.
Comly Cuisine boss, Comfort Okpoyo adds a year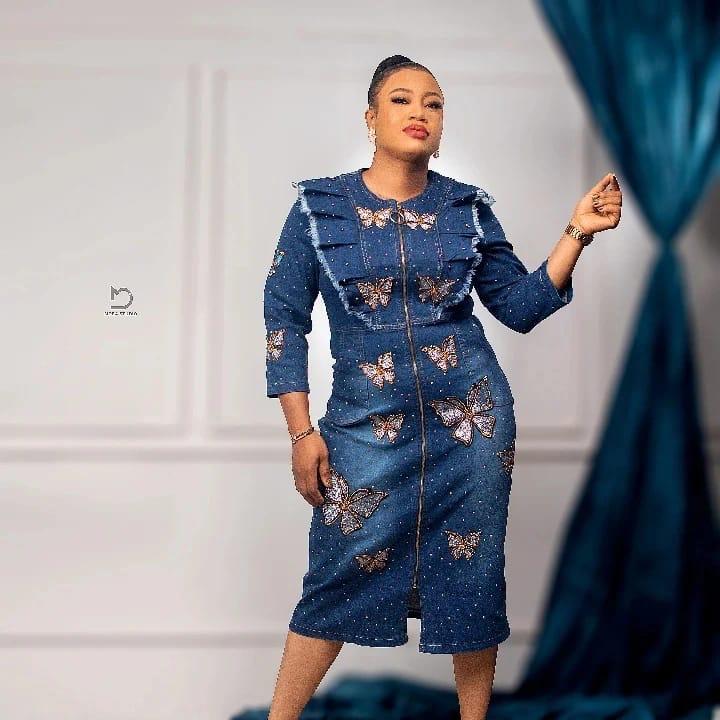 Comly Cuisine boss, Comfort Okpoyo adds a year
The stylish CEO of Comly Cuisine, Comfort Okpoyo, became a year older today, 26 May, 2022.
The elegant Okpoyo runs one of the fastest growing culinary outfits in Lagos and has a lot of top Nigerians as her client base.
She celebrated the birthday at her posh apartment in Surulere and was surrounded by clients from all strata of the society, family and well wishers.
She is fast becoming the caterer of choice at all A-class events.
Visitors at her birthday were wowed by the different cuisine she prepared as she used her birthday to showcase her cooking dexterity and a tasting session.
FAKE NEWS: SCOTT TOMMEY DEBUNKS ARREST RUMOUR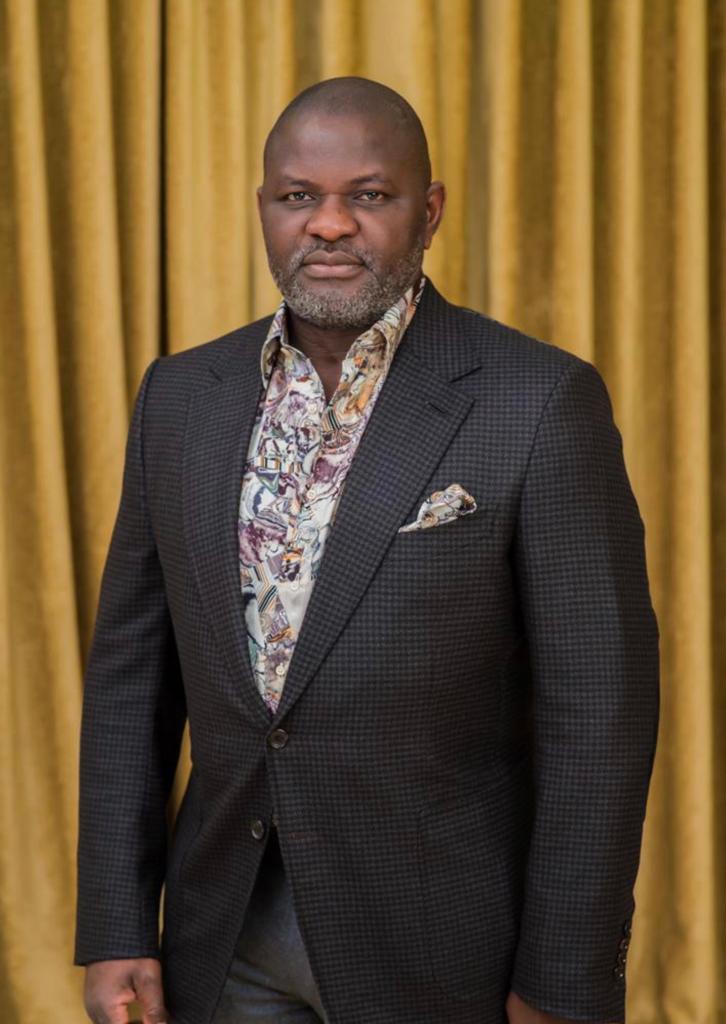 FAKE NEWS: SCOTT TOMMEY DEBUNKS ARREST RUMOUR
But for the need to set the records straight before some unprofessional platforms run with a mere rumour fabricated from a pit of hate, top businessman, Scott Tommey would ordinarily have remained his reticent self and allowed his detractors to choke on their evil machinations.
But in an era when utter falsehood can be easily manipulated and dressed in a robe of credibility, fifth columnists should not be given an opportunity to have a field day while flying a kite bearing fake news.
Consequently, through his Media Adviser, Peter Okechukwu, Scott Tommey, the Group Managing Director of Osmoserve Group, has debunked the false claim that he has been arrested by the Economic and Financial Crimes Commission (EFCC) in Abuja.
Tommey, who has been in business for well over two decades without any scuffle with government authorities, described the story as a "mere rumour concocted from a diseased soul needing urgent surgical attention."
"In over twenty years of running a business that has grown to become one of the most sought after groups in Nigeria, I have never been involved in any act that sabotages the economy or anything that has the tendency to tarnish my hard earned image.
We place premium value on transparency and accountability in all my businesses. So that story should be discountenanced and not be dignified with any mileage," Tommey said in a statement made available to TheCapital.
Debunking the story as utter lies, Peter Okechukwu, the Special Adviser on Media and Communication to Osmoserve, "This is calling on unsuspecting public to be wary of their shenanigans, as we also wish to sound a note of warning to all those who have made it their pastime to sponsor malicious write-ups, tweets and online publications against Osmoserve Global and our MD, Mr Scott Tommey, that their day of reckoning is not far away," Okechukwu expressed
Entertainer Bovi Ugboma becomes GoAmbassador
Entertainer Bovi Ugboma becomes GoAmbassador; advocates meaningful Youth Participation in the 2023 General Elections.

Ace Entertainer, Bovi Ugboma has joined other distinguished celebrities in endorsing the GoNigeria advocacy campaign for effective youth participation in the country's electoral processes re the 2023 General elections. He is the latest GoAmbassador and is helping to intensify the enlightenment initiative in the actualization of better outcomes from the forthcoming elections.

The Entertainer and latest GoAmbassador's appointment is coming at a time the public enlightenment campaign themed GoNigeria, an advocacy to sensitize Nigerian youths to participate in the electoral process, is gaining greater momentum in the run up to INEC's 30 June, 2022 deadline for voter registration.

GoAmbassadors are celebrities and outstanding people in various endeavours that include the arts, sciences, entertainment, tech professionals, performing artists, sport persons, innovators and social advocates, who have all bought into the GoNigeria initiative and are helping to deepen the conversation on this very important national issue that is of utmost importance for Nigerian youths.

Anap Foundation have been partnering with celebrities (GoAmbassadors) who wield an appreciable fan base and/or followership on social media with a strong voice and influence on young people through what they do. The overall aim is to encourage Nigerian youths to register and vote en-masse in the 2023 General Elections. Hence, Bovi Ugboma's addition to the growing list of GoAmbassadors is a positive development that will add great value to the works of the foundation as the international entertainer's social influence is expected to deepen the ongoing voter sensitisation campaign, which is aimed at getting the young demographic that constitutes over 80 percent of the electorate to become politically active and also, further stimulate their direct involvement in the 2023 general elections, thereby shaping the nation's political destiny. In his debut video for the GoNigeria advocacy campaign, Bovi uses comedy to ridicule a vote buying politician who pretends in public not to be seeking to buy votes, whilst actually seeking to do so in private.

GoNigeria is an initiative of Anap Foundation, a non-profit organization committed to promoting good governance in Nigeria. Anap Foundation is partnering with enlightened celebrities (GoAmbassadors), corporate bodies eager to support the initiative via co-branding (GoPartners) as well as many enthusiastic young volunteers who will help to amplify the messaging to their age mates (GoVolunteers). The overall aim is to encourage Nigerian youths to register and vote en-masse in the 2023 General Elections.

The 18 Initial Advocates of the GoNigeria Movement are drawn from all the 6 geopolitical zones (3 from each zone). They are: Atedo Peterside (Convener), Aisha Yesufu, Nuruddeen Lemu, Dike Chukwumerije, Folarin Falana (Falz), Bishop Matthew Hassan-Kukah, Arunma Oteh, Hamzat Lawal, Tomiwa Aladekomo, Osita Chidoka, Dr. Tony Rapu, 'Yemi Adamolekun, Muhammad Ali Pate, HH Muhammad Sanusi II, Dr. Salamatu Hussaini Suleiman, Kashim Ibrahim-Imam, Ayisha Osori and Ibrahim Dahiru Waziri.

To know more about Anap Foundation's GoNigeria Initiative, visit:  www.GoNigeria.com