Top 5 Actors From Osun State and the name of their Town (Photos)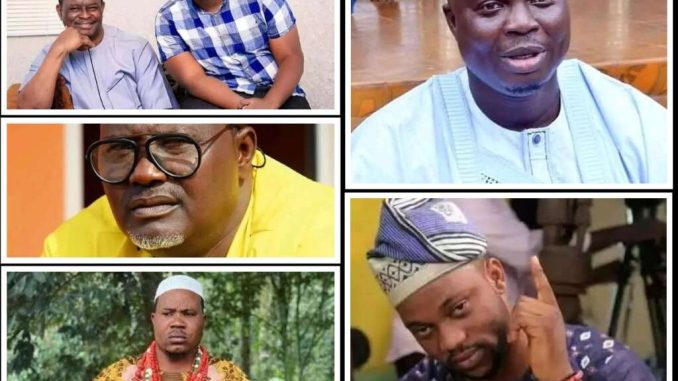 Top 5 Actors From Osun State and the name of their Town (Photos)
They are popular celebrities in the movie industry. These top five popular actors share a common bond. They are from the same state, Osun.
BOLAJI AMUSAN (MR LATIN)
Bolaji Amusan, born October 15, 1966, is a Nigerian comic actor, filmmaker, director, and producer. He was born on October 16, 1966, at Gbongan, the headquarter of Aiyedaade Local Government Area of Osun State southwestern Nigeria. He married Ronke Amusan in 1999 and has two kids. He began acting in 1988 and featured in a movie titled 50-50, produced in 1992 by the late Akin Ogungbe, and joined ANTP in 1989. He has produced over 40 movies mostly comedies.
He is the current director for organization and business in the professional association known as Theater Arts and Motion Pictures Producers Association of Nigeria Before he got to this level he served at local and state; Mr. Latin is the CEO of Mr. Latin TV an Mr. Latin Foundation.
  Femi Jacobs 
Femi Jacobs, born Oluwafemisola Jacobs on 8 May, is a Nigerian actor, speaker and singer from Osun State.
He came into prominence for playing Makinde Esho in the film The Meeting, which also stars Rita Dominic and Jide Kosoko.
For his role in The Meeting, he received a nomination for Best Actor in a Leading Role at the 9th Africa Movie Academy Awards. He also won the award for Best Actor in a Comedy at the 2015 Africa Magic Viewers Choice Awards (AMVCA).
Femi jacobs studied mass communication at Lagos State University and marketing management at Lagos Business School. He also trained as a pilot in South Africa, stopping short of a commercial pilot license.
For his role in The Meeting, he received a nomination for Best Actor in a Leading Role at the 9th Africa Movie Academy Awards. He also received nominations for Best Lead Actor in a Film at the 2013 Nigeria Entertainment Awards, for Favourite Male African International Emerging Screen Talent at the 2014 Screen Nation Awards, and for Best Supporting Actor of the Year at the 2015 City People Entertainment Awards. He won the award for Best Actor in a Comedy at the 2015 Africa Magic Viewers Choice Awards (AMVCA) and Best Supporting Actor (English) at the 2014 Best of Nollywood Awards (BON
Antar Laniyan
Antar Babatunde Laniyan who is simply known as Antar Laniyan is a Nigerian actor, movie producer, and director born on May 26.
He is known for his action roles in most Yoruba movies.
He is from the Osun state part of Nigeria and grew up at the Army Barracks, Ilaro.
He attended a Muslim primary school and Baptist secondary school in Lagos before he proceeded to the University of Ibadan where he obtained a Bachelor of Arts degree in Theatre Arts.
He started acting at an early age around 1976 while doing stage dramas but began professionally in 1981, about 37 years ago under Ben Tomoloju. His first role was as a "Major general" in the film" Everybody wants to know during his days at the Kakaki Art squad
Antar Laniyan has also starred in several films including Amiwo, Arewa, Durodola, and Sango, a film scripted by Wale Ogunyemi, and produced by Obafemi Lasode.
Antar was the director of the first episode of the award-winning television soap opera 'Super story" produced by Wale Adenuga. He also directed "Oh Father Oh Daughter" produced by Wale Adenuga.
Antar Laniyan is married with three sons. One of his sons, Ifeoluwa Laniyan had described his father in a recent interview with Vanguard that he is a friendly and disciplinarian at home
The talented actor has won numerous awards for his efforts including The AMVCA, Yoruba movie awards, and so on.
 Damola Olatunji
He is a popular Nigerian actor and movie producer born on February 2
Damola is the second child in a family of six and hails from Edo Agbo in Osun state.
He had his primary and secondary education in the Ife part of Osun state and studied Engineering at Yaba College of Technology (YABATECH) in Lagos.
He is well known for his energetic roles in Yoruba movies.
Damola started acting at a very tender age while joining the drama group where he performed on stage plays.
He was introduced into acting by fellow actor Yomi Fash Lanso and got his role in the movie "Ojo (Rain)" produced by Opeyemi Aiyeola and directed by Yomi Fash Lanso.
Damola is married to actress Bukola Awoyemi and their union is blessed with twins, Dave and Debby. Not too many people know that Damola had a first wife who is based in the UK, her name is Raliat Abiodun Olatunji. Their marriage only lasted for a year before he met Bukky on the set of a movie location.
In case you don't know who Bukola Awoyemi is, she's a Yoruba actress popularly known for the movie "Arugba". She was born in 1988 in Kwara state and studied Performing arts at the University of Ilorin.
Damola Olatunji who acts mostly in romantic roles in movies has starred in more than 50 movies which include Oro Inu and Semilore.
Murphy Afolabi
The famous Nigerian actor was born in Osun State. He is from the town of Osogbo. His birthday is celebrated by his fans, his friends, his family, and himself on May 5th. This year the celebrity turned 44
After completing school, the future actor entered Ire Polytechnic. His main field of study was movie production, mass communications, and theater art. The Nigerian celebrity graduated 17 years ago, in 2001
Murphy Afolabi began acting long before his college years and graduation when he was a little boy. His first experience was a movie titled 'Ifa Olokun' under Dagunro's guidance.
Today the actor is well-recognized for his movie such as 'Owowunmi,' 'Jimi Bendel' and 'Mafi Wonmi.' He is also a famous film scriptwriter in Nigeria and boasts a big number of nominations. His talents have been noticed and he has been nominated as the best director, actor, and producer by City People.
Murphy Afolabi's biography in the movie industry features more than 60 films. Besides being fond of writing scripts and producing films in the Yoruba language, the actor enjoys an exciting life full of entertainment, and happy and sometimes scary moments.
There was a time when Murphy Afolabi was returning from a nightclub to one of Lagos hotels he was staying in. A gang of armed robbers attacked when he got to the hotel. He was attacked and lucky to escape their bullets. This could have been a horrible tragedy, but the actor was blessed (that night at least two people were killed, and the actor was robbed of his money, handsets, laptop, and other things kept in the car).
However, Murphy Afolabi reportedly has no wife and had no wedding yet. He keeps dating new women, and posts impressive photos of him with gorgeous actresses, his 'sisters,' 'brothers' and daughters on his Instagram account but there is no word from him about his current second half.
Murphy has at least one child. Her name is Fathia Afolabi, and the famous actor periodically mentions her name in his Instagram posts. For example, he recently congratulated her on graduating from primary school and going to secondary school. However, the actor does not share information about her mother with the public.
There are also rumors about the second child, a girl name Moyosoreoluwa (according to different sources). However, the popular Yoruba actor denies that this girl is his child.
He seems to love his daughter and posts images of the girl on his Instagram account. However, you will not find photos of Murphy Afolabi's wife or their wedding, because the actor is keeping his private life a secret. We don't even know if he is truly married or not.
Naira Marley: I'm Not Responsible For DJ Splash's Mental Illness
Naira Marley: I'm Not Responsible For DJ Splash's Mental Illness
Embattled Nigerian singer and Marlian Records henchman, Azeez Fashola, popularly known as Naira Marley has denied claims that he is responsible for DJ Splash's mental instability.
Also, he cleared the air on rumours that he (DJ Splash) was once signed to Marlian Records.
The 'soapy' crooner has been tongue-lashed in recent times on different allegations since the death of his former signee, Mohbad.
Among such allegations was that DJ Splash ran mad after taking substances given to him by the Marlian team.
DJ Splash's mother, in a recent video shared by actress Iyabo Ojo during her visit, alleged that since her son left Naira Marley's house, he had been mentally unstable.
However, in an interview with Reno Omokri on Thursday, Marley denied all the allegations.
According to him, DJ Splash was never officially signed to his music label, and neither was he responsible for the DJ's mental instability.
He added that the DJ had parted ways with Marlian Records before his mental instability began.
He said, "DJ Splash was never signed to Marlian Music. I know him as a DJ, but he has never deejayed with me at shows or anything, it is not like he is my DJ. They just gave him the title because I took a picture with him.
He added that he did not know how the DJ's mental instability started, and neither was he (DJ Splash) still associated with Marlian Records at the time.
"When whatever happened to him, he was not at my house, and I do not understand where all this is coming from," he noted.
Real Reasons Glo Unveiled Kizz Daniel, Asake, And Chike As Brand Ambassadors
Real Reasons Glo Unveiled Kizz Daniel, Asake, And Chike As Brand Ambassadors
Three Nigerian music acts, described by Globacom as "role models who have gone through the grind to stand on the highest pedestal of their dreams", signed an agreement as Glo brand ambassadors at a colourful ceremony at the company's corporate headquarters in Lagos.
They include Ahmed Ololade, globally known by his brand name, Asake, is a graduate of the Obafemi Awolowo University, Ile Ife, Osun State, while Oluwatobiloba Daniel Anidugbe, the Buga exponent, generally known as Kizz Daniel, has a degree in Water Engineering from the Federal University of Agriculture, Abeokuta, Ogun State.
The third new Glo ambassador, Chike as he is called by his fans, was born as Chike Ezekpeazu Osebuka.
He is a graduate of Computer Engineering, from Covenant University, Ogun State.
The company, which marked its 20th anniversary in August stated that it "is celebrating this with the endorsement of these new ambassadors to project the power of youth and enterprise and how much they can achieve with the right focus, passion and dedication that can come from seeing others who have succeeded. This is very much part of our tradition as we believe the strength of a nation lies in the ability and potentials of its youth".
It explained that the engagement of the new brand icons "is meant to project the best Nigerians as models for younger people who are tirelessly aspiring to succeed. This is more important in an era where positive heroes and mentors are scarce and hard to come by. The intention is not just to promote the growth of music, Nollywood and sports where we have been very prominent, but also to encourage our teeming youths to aspire toward realizing their dreams by looking up to these ambassadors as mentors".
Globacom, which since inception has always sponsored major events and supported talented as well as enterprising young Nigerians by making them Glo ambassadors, explained that this innovation has become a practice for which Globacom has always led the way in Nigeria.
Congratulating them, Glo which stated that "having these stars as ambassadors of is our way of inspiring a whole generation of young people with vision who can do better and achieve more without losing hope along the way, even when confronted with challenges," pledged to continue to promote the sector as it held great prospects to promote Nigeria to the world and also transforming lives.
On their part, the new ambassadors promised to represent the Glo brand by projecting the ideals of the company at all times.
They thanked the founder and Chairman of Globacom, Dr Mike Adenuga Jr., for considering them worthy of being appointed as the company's brand ambassadors.
Serie A: Oliseh advises Osimhen to quit Napoli over TikTok video
Serie A: Oliseh advises Osimhen to quit Napoli over TikTok video
Former Super Eagles head coach Sunday Oliseh has advised Victor Osimhen to leave Serie A champions Napoli.
Napoli mocked Osimhen in a TikTok video posted earlier this week after he missed a penalty in the 0-0 draw at Bologna.
The forward reacted by deleting all of Napoli's pictures and videos from his social media handles, with his agent threatening to take legal action against the club.
The 24-year-old snubbed a number of his teammates on his arrival at the team hotel ahead of Napoli's Serie A clash with Udinese on Wednesday.
Commenting on the issue, Oliseh wrote on his X handle:" Forever proud to be Nigerian; One must show personality, work hard & refuse to be intimidated. let Racists and ingrates talk! That's why they are eternal losers who secretly wish they were created like you! Osimhen needs to leave Napoli as soon as yesterday!!."
The forward has scored four goals in six league appearances for Rudi Garcia's side this season.