Training! Training!! Training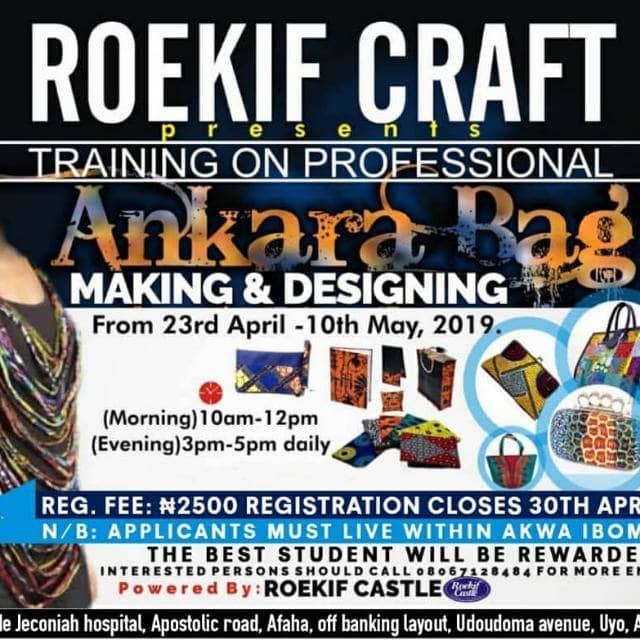 PRESS RELEASE
Training! Training!! Training!!
The people of Akwa Ibom State here is another opportunity for you to come and grab creativity,self development and be self employed as ROEKIF CRAFT present to you a 2- weeks training on bags,purse, ties(both male and female),belt,wallet,, jewelry and many more which will commence on 23rd of April – 10the of May, 2019 with morning and afternoon session ( 10:00am-12:00p, 3-5:00pm).
Addressing Newsmen in Lagos last week, the Convener Lady ITOHOUKEME Elijah said, To participate, your required to come with a token of #2500 for registration.
Venue: Beside Jeconiah Hospital ,Apostolic Road Eden Urua, off Banking Layout Udoudoma Avenue, Uyo, Akwa Ibom State.
Note: All successful participant will be rewarded with certificate of participation and the participant will be given an opportunity to participate at the up coming Nigeria Television FASHION SHOW and Needlekraft FASHION SHOW show 2019 in Lagos.
For further details and Enquiries call/WhatsApp : 08067128484,07031358121, 07034241242.or email at roekif@gmail.com.
Powered by : ROEKIF CASTLE
Supported by : Cornel Media Consult (CMC), AKBC,PLANET FM.