Victor Moses Welcomes Baby Girl
24 years old football star, Victor Moses has scored another goal. The super Eagles player  has been blessed with another child. Two years ago , September 2012 , Bentley Moses was born. The former Chelsea FC player, just welcomed his first daughter, Nyah. She arrived earth on 7th of February 2015.
We can't really say if the two kids are with one woman. Bentley was born by his then girlfriend. Congrats bro, your clan is fast expanding.
Serie A: Oliseh advises Osimhen to quit Napoli over TikTok video
Serie A: Oliseh advises Osimhen to quit Napoli over TikTok video
Former Super Eagles head coach Sunday Oliseh has advised Victor Osimhen to leave Serie A champions Napoli.
Napoli mocked Osimhen in a TikTok video posted earlier this week after he missed a penalty in the 0-0 draw at Bologna.
The forward reacted by deleting all of Napoli's pictures and videos from his social media handles, with his agent threatening to take legal action against the club.
The 24-year-old snubbed a number of his teammates on his arrival at the team hotel ahead of Napoli's Serie A clash with Udinese on Wednesday.
Commenting on the issue, Oliseh wrote on his X handle:" Forever proud to be Nigerian; One must show personality, work hard & refuse to be intimidated. let Racists and ingrates talk! That's why they are eternal losers who secretly wish they were created like you! Osimhen needs to leave Napoli as soon as yesterday!!."
The forward has scored four goals in six league appearances for Rudi Garcia's side this season.
BREAKING: Ogun wins first medal in Asaba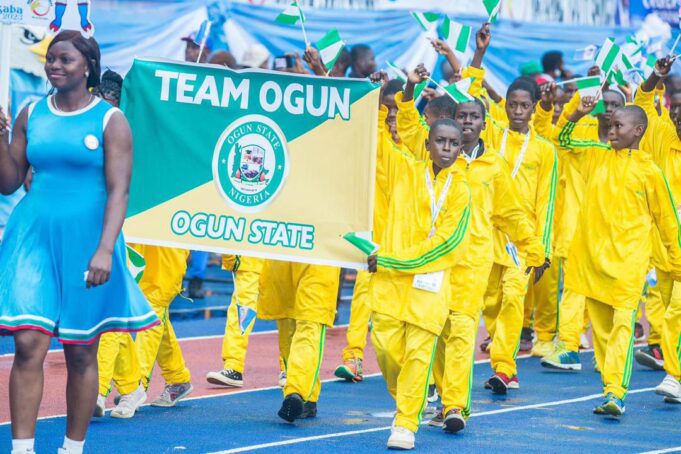 BREAKING: Ogun wins first medal in Asaba
Team Ogun has recorded its first medal at the ongoing National Sports Festival in Asaba, Delta State.
Mojeed Rilwan won Bronze in the 40kg Boys after a very hard-fought encounter against his rugged Edo State opponent.
A fight of 3 minutes for junior categories couldn't end until 34 minutes in a straight fight without any break.
#Asaba2023 #NationalYouthGames #TeamOgun #BuildingOurFutureTogether #ISEYA #DapoAbiodun
Megan Rapinoe's X account still active, claim of Elon Musk ban is false | Fact check
Megan Rapinoe's X account still active, claim of Elon Musk ban is false | Fact check
The claim: Elon Musk banned Megan Rapinoe from X
A Sept. 15 Facebook post claims an outspoken female athlete was banned from a popular social media platform.
"Breaking: Elon Musk Banned Megan Rapinoe From Twitter," reads the post. "Full story in the first comment."
It was shared more than 50 times in six days.
Our rating: False
Rapinoe's account on X, formerly Twitter, was still up as of Sept. 21. The story in the comment below the post claims the supposed ban happened after a back-and-forth exchange between Musk and Rapinoe on X, but there are no records of any such interaction.
No evidence of any X interactions between Rapinoe, Musk
Rapinoe's X account, a formerly verified account under the handle @MPinoe, was still accessible as of Sept. 21.
A review of archived screenshots of the account did not indicate it had recently been banned.
Though the article linked in the comments claims a ban came after an argument between Rapinoe and Musk on X, there is no evidence of any such exchange. A search of both Musk and Rapinoe's X accounts found no posts about or to the other.
Fact check: No, CNN did not announce EU citizens no longer need to work; it's a deep fake
Rapinoe is an outspoken advocate for various issues, including race, gender equality and LGBTQ rights. She has referred to herself as a "walking protest" and has knelt during the U.S. national anthem in protest of police brutality, as reported by CNN.
In various X posts, Musk has decried what he calls the "woke mind virus" that he claims is infiltrating institutions such as higher education and the media. He has also criticized what he described as an "anti-American self-destructive element in … elite circles within the U.S.," Fox News reported.
Musk has banned various users since buying the social media platform in October 2022. They include journalists who tweeted or reported on Musk's ownership of the company, comedian Kathy Griffin and Kanye West. The accounts have since been reinstated.
USA TODAY has previously debunked claims that Rapinoe stomped on an American flag, that Musk admitted to being a flat earther and that Musk intends to buy Meta.
USA TODAY reached out to the user who shared the post for comment but did not immediately receive a response.
Our fact-check sources:
Thank you for supporting our journalism. You can subscribe to our print edition, ad-free app or e-newspaper here.
Our fact-check work is supported in part by a grant from Facebook.