'Video of me asking Nigerians to vote Buhari was doctored' – Saraki cries out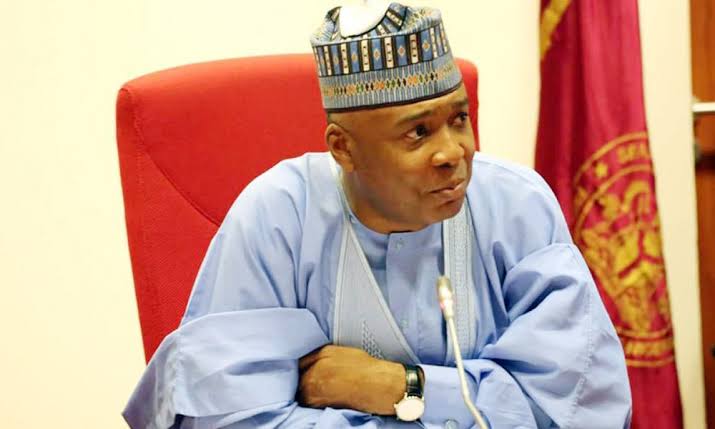 Bukola Saraki, the director-general of the Peoples Democratic Party (PDP) campaign organisation has denied asking Nigerians to re-elect President Muhammadu Buhari.
A video clip currently trending on the internet showed Mr Saraki canvassing votes for Mr Buhari in his native country home, Kwara State.
This is coming few days after a fake letter allegedly emanated from a foreign firm to Saraki inundating him that Atiku Abubakar, the PDP candidate for the election will loose to Buhari.
The president who is seeking a second term in office is running for the exalted office on the platform of the All Progressive Congress (APC).
Saraki, the President of the 8th Senate, who has been campaigning for Mr Abubakar, his party's presidential candidate, is seen addressing crowds of supporters in his native language in the clip apparently urging them to vote for the APC candidate.
But denying he made such utterances, the top lawmaker said the clip showing him seeking votes for Buhari has been falsified.
The Senate President stated this in a statement by his media aide, Olu Onemola.
"For the second time in 3 days, the APC has doctored another campaign instrument — simply for the sake of pushing out propaganda," Mr Onemola said in a series of tweets Friday afternoon.
"In what world would Saraki, the DG of Atiku's campaign, who has seen first hand the incompetence of Buhari ask people to vote for a failed President?
"The entire tape has been doctored, much in the same way that the APC faked a letter to the Senate President earlier this from Brian Ballard and even went as far as forging his signature.
"The public should disregard the desperate antics of the losing APC. We all want a Better Nigeria, and none of us would encourage even half a person to vote for Buhari," the spokesman said.

Obasa Celebrates Sanwo-Olu At 57, Praises Gbajabiamila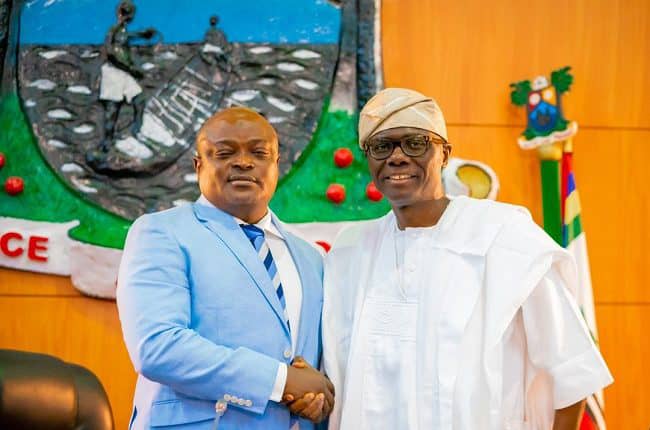 Obasa Celebrates Sanwo-Olu At 57, Praises Gbajabiamila
By Olorunfemi Adejuyigbe
The Speaker of the Lagos State House of Assembly, Rt. Hon. Mudashiru Ajayi Obasa, has congratulated Governor Babajide Sanwo-Olu and the Speaker of the House of Representatives, Femi Gbajabiamila, as they both mark their birthdays.
While Governor Sanwo-Olu celebrates his 57th birthday, Gbajabiamila is 60.
In his congratulatory message to Sanwo-Olu signed by his Chief Press Secretary, Eromosele Ebhomele, Dr. Obasa told the Governor: "Your purposefulness and dedication to serving the people of Lagos has resulted in unprecedented achievements even in the face of current economic realities.
"Under your administration and supported by the state legislature, our dear state has kept on setting the pace for others to follow as we grow greater and develop better.
"As you celebrate your birthday, my colleagues and I pray to God to continue to keep you in good health, amen."
The Speaker also commended Gbajabiamila for making Lagos and Nigeria proud over his maturity and the ways he had run the affairs of the House of Representatives.
"Your exemplary leadership and initiatives in the conduct of legislative business have constantly stood you out as a worthy legislator that deserves to be celebrated.
"History will always be kind to you as the architect of transformational leadership in the House of Representatives with your remarkable landmark achievements.
"I wish you sound health, outstanding success, more wisdom and long life, amen," Obasa prayed.
Eromosele Ebhomele
Chief Press Secretary to the Speaker of the Lagos State House of Assembly.
BURATAI: SAHARA REPORTERS STOP MISLEADING US WITH YOUR FAKE NEWS.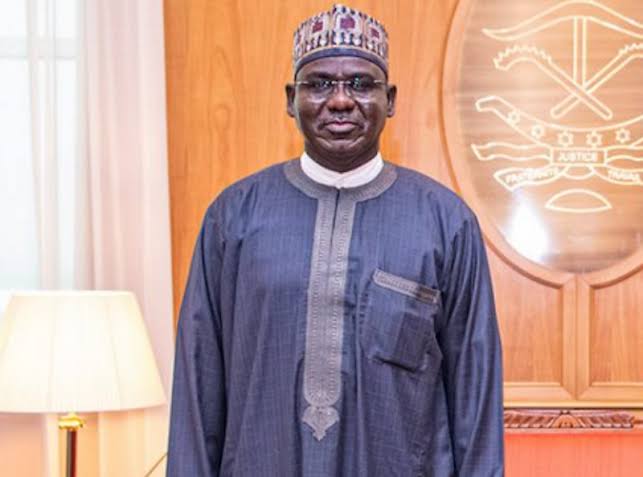 BURATAI: SAHARA REPORTERS STOP MISLEADING US WITH YOUR FAKE NEWS.
By Olorunfemi Adejuyigbe
The National Coordinator Fusion 774, a political support and Socio-economic advocacy group, Cmrd Sadiq Jikta, while reacting to a report by Sahara reporters and some online news media, on the report of 23rd June,2022. Involving Amb. T Y Buratai, the former Chief of Army staff (COAS) and Ambassador to Benin Republic, said;
"Our attention has been drawn to a malicious report by Sahara reporters titled: Exclusive: Anti_graft Agency, ICPC Uncovers Billions in Cash meant for Arms Ammunition To Fight Boko Haram in Abuja Home of Ex-Chief of Army Staff, other online news media also had shares of their misleading reports.
Those reports are unsubstantiated, fake, mischievous and the figment of their imagination. It is unfortunate that such widely followed news media platform will engage in smear campaign. Sahara reporters have the reputation for peddling fake news.
After I read through the misleading publications, I chatted with the Ambassador, called people around him, he was surprised in hearing the fake news himself. I even went further to calling a friend at ICPC who debunked the news and informed me of their official public statement that cleared the Ambassador.
I can authoritatively say that those reports were false targeted to smear and rubbish the image and reputation the gentleman have built for himself over the years.
I wonder what they intend to achieve by fabricating lies just for attacking his hard earned reputation.
How could someone that left office for over two years give out arm contract? This report is false in all totality. Does it mean he still run the office of the COAS even after retirement? This is ridiculous and sound too petty.
In case you don't know, let me give you a hint of the type of person that he is. A lot of contractors have approached him after leaving office to influence military contracts for them, but he declined, telling them to go and try their luck, that he doesn't believe in interfering in another man's job, that when he did his era he didn't condone interference. So he will not do it to his predecessors. Also when I heard of 50 watches and Rolex I laughed, this is someone that leads a moderate life style, any body that knows the Ambassador knows that he is not a flashy type of person.
It has been made known that available facts indicate that the property is not his, it is owned by owner of K Salam Construction Company, a military contractor. This is a misrepresentation of facts.
The good thing is ICPC have come out to give public statement dissociating him from the reports. This is just a media trial by some mischief makers. Period.
Gbajabiamila @60: You are a worthy ally in service to the nation – Senate President
Gbajabiamila @60: You are a worthy ally in service to the nation – Senate President
By Olorunfemi Adejuyigbe
The President of the Senate, Ahmad Lawan has felicitated the Speaker of the House of Representatives, Rt. Hon. Femi Gbajabiamila on the occasion of his 60th birthday.
Lawan notes with delight his smooth working relationship with Gbajabiamila, describing him as a worthy ally in the service to the nation.
"I join the family, friends and political associates of Mr Speaker in rejoicing with him for reaching this milestone in happiness and good health.
"My friend and brother Femi is a great Nigerian patriot and committed servant of the people.
"Since the inauguration of the ninth Assembly in June 2019, I have been really impressed working side by side with him and our other colleagues in developing the Legislature and making it work, always better, for the people of this great country.
"Together, we have steered the ship of the National Assembly with the aim, every day, to ensure stability and good governance in our country.
"This smooth working relationship has been made possible by the fact that we share a grand vision of effective delivery of service by our governmental institutions to the Nigerian people.
"Mr Speaker has been a worthy ally in this voyage of service to the nation and, with the continuous cooperation and understanding of our colleagues in both Chambers, we shall together anchor safely next year, satisfied that we have given our best," Lawan says.
The Senate President wishes Gbajabiamila a happy birthday celebration.
Signed:
Ola Awoniyi
Special Adviser(Media)
to President of the Senate
Friday, 24th June, 2022