Why I Blame Primate Ayodele For The Death Of Davido's Son, Ifeanyi Adeleke

The Nigerian entertainment industry is currently mourning after the death of Ifeanyi Adeleke, the only son of popular musician, David Adeleke popularly known as Davido.
Many people have expressed sadness over this news because Ifeanyi was always fun to watch, especially for the fact that Davido treats him with so much care, gives him attention, and always showcases him on social media at every given time.
Apart from this, Ifeanyi was Chioma's child, the one whom Davido plans to get married to in 2023 as it was announced some weeks earlier after they reconciled.
Ifeanyi was not just a celebrity's child, everyone that loved Davido showed him the same affection and this is why I am seriously shattered by the sad occurrence. It should not have been Ifeanyi at all.
However, before this sad news happened, I once stumbled on the prophecy of a Nigerian prophet, Primate Ayodele who is known for releasing prophecies concerning every sector of the country including sports, politics, entertainment, education, governance, and many more through his annual book of prophecy titled Warnings To The Nations.
During the release of the 2022/2023 edition of the prophecy book, Primate Ayodele mentioned some musicians and warned that they need to pray against unforeseen occurrences. Among the artists he mentioned are Davido, Obesere, Pasuma, Naira Marley and others.
The death of Ifeanyi Adeleke still remains the most unforeseen occurrence in this year because there was no sign that something of such would happen. He celebrated his birthday some days ago, Davido and Chioma still saw him yesterday before they travelled to a family function only for them to be told that He drowned in the swimming pool. It's just a mysterious happening that is begging for clarity.
Although Primate Ayodele only did his job as a prophet to warn the musician, I would blame him partially because as a prophet, he should have tried to reach out to Davido to at least pray for him and warn him personally ahead of what will befall him.
I believe the man of God saw clearly what was going to happen but as an elderly man, there was a need to wrap the words around what he said so he won't be seen like a prophet of doom. Sincerely, Primate Ayodele should have tried to reach out to Davido, maybe he would have been saved from this unfortunate incident.
Written By Oladipupo Sodiq, A Die-hard fan of Davido
Gov Abiodun Honours Adron Homes GMD Aare Adetola Emmanuelking For His Unrelenting Efforts To Promote Peace In Ogun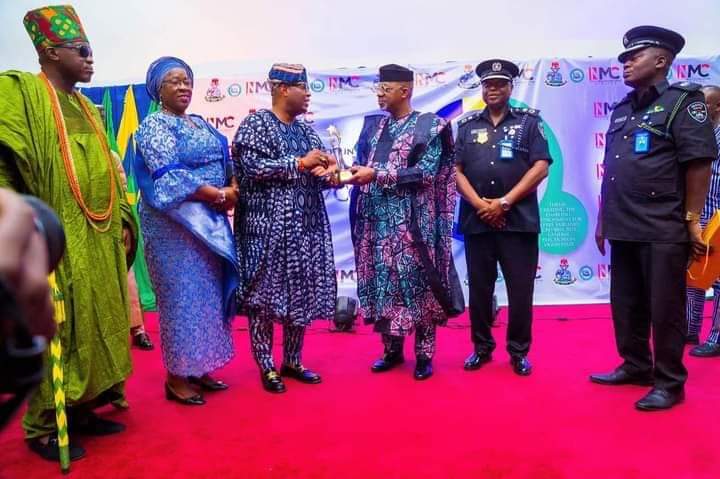 The executive governor of Ogun state, His Excellency Prince Dapo Abiodun mfr. has honoured Aare Adetola Olaniyi EmmanuelKing, The Group Managing Director, Adron Homes and Properties for his unrlenting efforts to improve security architecture in Nigeria.
Gov Abiodun presented the awards to Aare Adetola EmmanuelKing during Nigeria Police Retreat held in the state to appreciate his kind gesture to his immediate environment and to charge others to participate in the uplifting and development of Ogun state.
The Inspector General of Police, Alkali Baba was ably represented by the Assistant Inspector General of Police, IGP in charge of Zone 2 Onikan alongside the commissioner of police in Ogun, CP Lanre Bankole.
Meanwhile, Aare Adetola Emmanuelking in 2020 through Police Community Relations Committee, PCRC donated patrol vehicles to the police in Zone 2 Onikan, PCRC and divisional stations in Ilisan area to assist their movement towards quality service delivery.
Governor Abiodun described Aare Adetola Olaniyi EmmanuelKing as a rare breed in the country, saying it is not common among the rich people to support the Nigeria Police Force individually, through building of modern police station with sophisticated equipment to meet international standard.
He charged well meaning Nigerians to emulate Aare Adetola EmmanuelKing by contributing immensely towards the growth and development of Nigeria.
IBIJOKE SANWOOLU TABLE TENNIS FINAL TO HOLD DECEMBER 3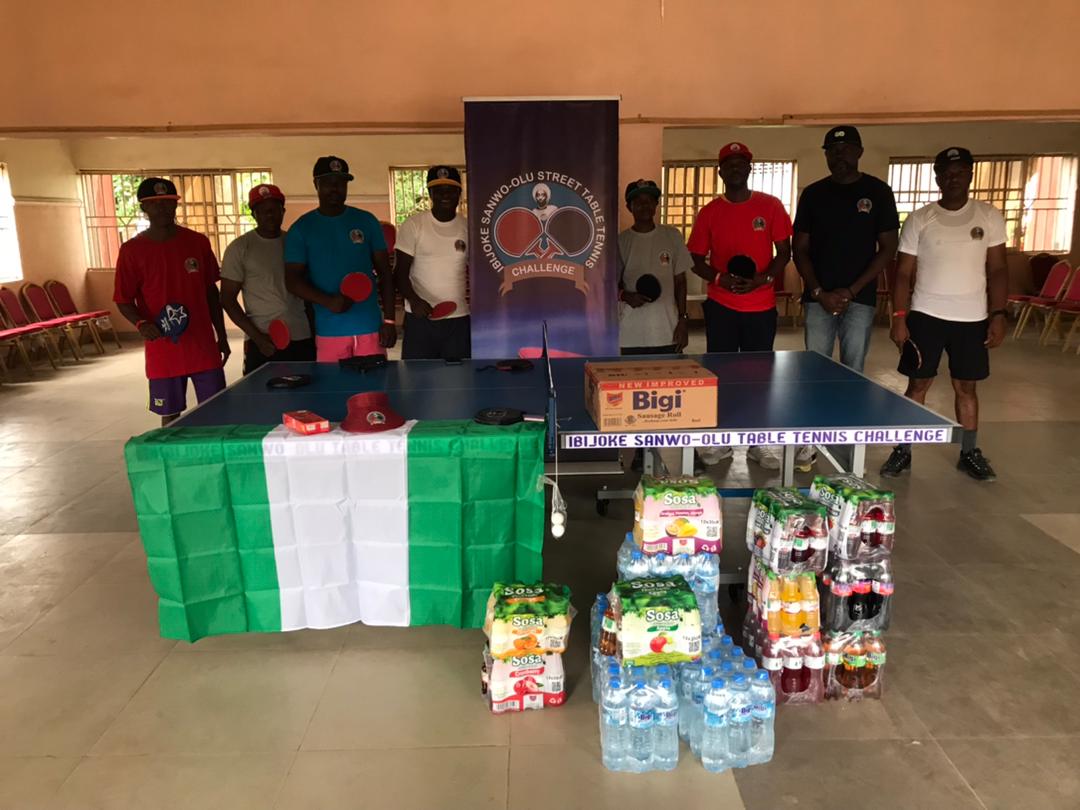 IBIJOKE SANWOOLU TABLE TENNIS FINAL TO HOLD DECEMBER 3
Sahara Weekly Reports That The final match of the Ibijoke Sanwoolu Street Table Tennis Challenge will come up this Saturday, December 3, 2022 at the council hall of the Igando/ Idimu Local Council Development Area of Lagos State.
The table tennis tournament which kicked off on Friday, November 18, 2022 had players drawn from Alimosho area squaring up against themselves to determine the champion that will go on to represent the area in the state championship slated for the first quarter of 2023.
In the final match of the competition, Omotoyinbo Tolulope will be battling Joseph Jesubomi popularly called Atorise by his teeming supporters. While Tolulope had to go through a hard fought fixture against Raimi Saka, Atorise emerged winner in his semi final fixture by defeating Ameen Mustapha in straight sets.
The semi final matches had in attendance the chairman of Igando/ Idimu LCDA, Comrade Ayinde Akinsanya and the leader of the house in the council, Hon. Prince Dauda Gbadamosi along with other executive committee members of the council as well as the supporters of the players.
The final match, scheduled for 12pm on Saturday is expected to witness a large turnout of the supporters of the two gladiators who are pitched against each other for the ultimate honor in the game of table tennis in their zone.
The Ibijoke Sanwoolu Street Table Tennis Challenge is a competition being initiated to return the glory days of table tennis to Lagos and to discover and nurture the large number of talents we have in our great state.
The competition is being supported by Peace ANYIAM-Osigwe's Africa Film Academy, Rite Foods, Tecno Phones and some private individuals who have deep interest in the game of table tennis. According to the co-coordinator of the initiative, Mr. Victor Ganzallo, the next stop for the competition is Eti-Osa Local Government, and will be powered by King Saheed Elegushi Foundation.
Power of Prayer as Apostle Suleman Raises Boy from Dead in Benin City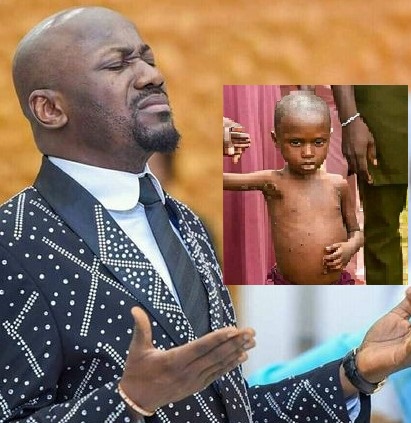 Power of Prayer as Apostle Suleman Raises Boy from Dead in Benin City
Sahara Weekly Reports That Few days ago, another shocking testimony of God's healing power was made in Benin City, Edo State, Nigeria. Popular servant of God, Apostle Johnson Suleman, prayed life into the unconscious body of a five years old boy.
Judging from the two-day 'Mighty Turnaround' crusade, the manifestation inspired believers. Normally, when a person has been declared dead for half an hour, doctors give up. But, according to the Scriptures, that was just when Jeremiah was called to pray. Jeremiah prayed and the lifeless man's heart began to beat and he came back from the dead. That was the lot of the lucky boy, whose life Apostle Suleman spoke to and revived.
So, how did he make that happen? 'It is the power of prayer," the 'Restoration Apostle' enthused in his sermon. He continued; "It's really as simple as that. And we have a testimony that the miraculous experience is having great effects on believers, it has raised people's faith levels."
Sources from the Benin City crusade said that the experience really raised people's expectations "because they saw God move".
According to Apostle Suleman in one of his recorded prayer services, "the power of prayer seeking God's intervention in human's affairs was seen most dramatically when God raised Christ from the dead. The resurrection was something the earliest followers of Jesus experienced as a real, historical event. This shows that the very power that raised Jesus from the dead is still available to us and we get it when we ask God in prayer. We ask Him and He helps us with power that exceeds our comprehension and expectations."
The Benin experience was not Apostle Suleman's first, but it has continued to stay on the front burner, given the surge of testimonies that followed the service.